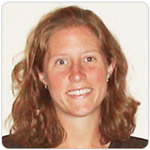 This month, in recognition of our site's opening, we've decided to combine December Advent with a fun "Get to Know Our Designers" event. Each day, you'll get a chance to learn about one of the amazing members of our Design Team.
First up for Day One is our very own Laura Passage (who many of you also know as Wishing Well Creations). She's got a really playful, papery design style that we know you will love, and she is known for the bright rainbow colors she often uses for her products.
5 FUN FACTS
Before I had kids, I worked for over a decade as a college soccer coach.
I once held a wild chipmunk in my hands. In related news: chipmunks enjoy Nutri-Grain bars.
While in college, I spent a semester working in NYC and I interned at Rolling Stone Press.
During my honeymoon, our cruise ship caught fire in the middle of the Caribbean and we came within about 10 minutes of being evacuated onto life-boats. The fire stopped 9 cabins away from ours!
In my life, I have had 2 knee surgeries, 1 lower back surgery, and 2 emergency c-sections.
5 FAVORITE THINGS
Dessert: Haagen Dazs coffee ice cream (yes, brand-specific! no others can even compete!)
TV Show: Lately, that spot is held by The Walking Dead… a show I once told my husband I'd have zero interest in watching. True story.
Product I can't live without: Aquaphor. I've convinced my kids it will cure anything. Even sibling rivalry. "Just put Aquaphor on it!"
Book: After over 2 decades and more than one reading, I still love (and will always love) the complete and uncut version of Stephen King's The Stand.
Convenience Item: probably my iPhone. Cliché, I know. I care not. So convenient. 😉
MY FAVORITE PRODUCT
This is so tough, because I always tend to be crushing on my most recent products the most… but I do have a special spot in my heart for …And The Pursuit of Happiness because it's got such an overall happy feel to it (and even though it's theme-specific, it's also generic enough to use all year long).
If you love Laura's products and would like a chance to win one free kit from her shop… leave a comment here on this post and let us know what you love, and why you love it! At the very end of our 2014 December Advent series later this month, we'll randomly choose one winner from all comments!