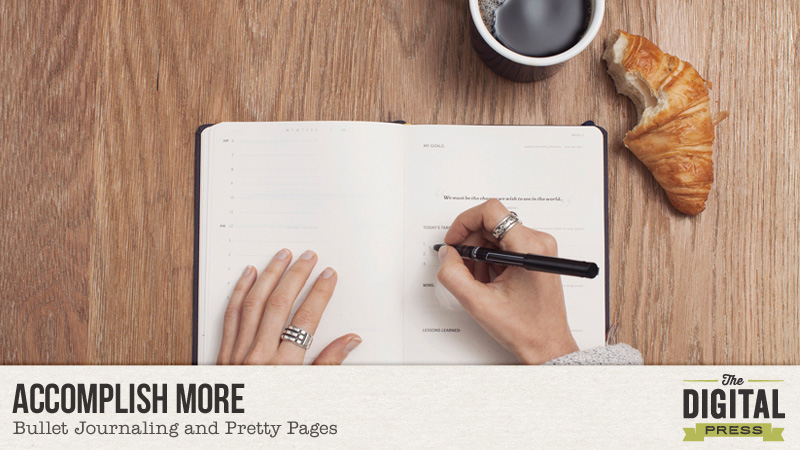 We all need more time in life to do the things we really want to do, and not all of us are stellar at organizing our time.
Enter the recent "planner craze" that is sweeping the planet. I'm sure you've all seen zillions of pretty planners all over the internet.
I love the idea of all of the pretty planners that are out there along with subscriptions, clubs, and Facebook groups. In fact, The Digital Press has a wonderful array of planning supplies in the store here. Among them, you'll find such gems as Miss Tiina's great annual line of planner supplies… Mari Koegelenberg's gorgeous planner-specific goodies… Hat of Bunny's planner printables… Laura Passage's scrapping planner products… and more!
I've bought planners, downloaded some others, and played around with a lot of different planning ideas. Unfortunately, so far none of them have worked well for me. And then… I stumbled across the idea of a bullet journal. To me, a dated planner just doesn't fit my needs because I don't have that many things going on in a given month that I need to track. For me, it is all about lists and keeping ideas & projects from falling through the cracks.
The basic idea of the bullet journal is to keep a small notebook in which you can maintain a regular stream of tasks and lists. You can find out more about bullet journaling at the bullet journal site, and there are literally thousands of links on Pinterest. But it is a generally simple method of using an index — "collections" — that are sort of over-arching categories… and then "rapid-logging" your ideas/thoughts — which is where the bullets come into play. Under categories you create your logs, lists, charts, graphs or other items. Then, as a final step, you simply migrate those tasks into action by moving them to a calendar. To me, it is a far simpler method of tracking and planning. You don't spend so much time on the planner itself — and instead, spend more on completing the tasks themselves. I don't end up migrating because I keep things pretty simple, and that is how it works for me.
There are a lot of people who are hard-core serious about their bullet journals (or bujo) and some dedicate hours upon hours to their journals, hand-drawing lots of fancy dividers, headers, sketches and everything else you can imagine. People use fountain pens or other fancy writing instruments, do calligraphy or other elaborate writing, etc. I love that idea, but have no time or patience to do something like that.
In terms of the more elaborate style of bullet journaling… here is a sample page spread from Kara at Boho Berry (someone I follow who is also a fellow bullet journaler)…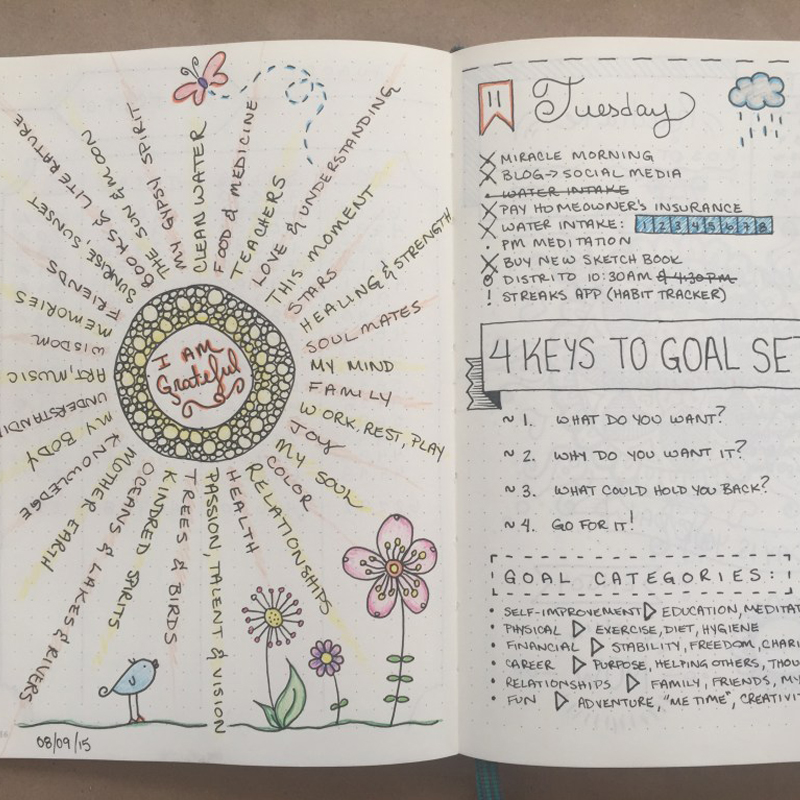 I love this. But at the same time, for myself, I feel that if I spent that much time "planning," I wouldn't have time for the actual "doing."
But I do find that I want pretty pages like these (which our very own TDP team member Amanda created in a previous blog post).
Recently, it dawned on me that I can just use regular ol' digital scrap supplies and create my own "pretty" bullet lists with those. Pretty and practical all at once. I am not as detailed or prettified as I could be, but it is a quick and easy page that gets me doing instead of planning. And if I want to get wild and crazy, I can shift it slightly, print it out and paste it into my physical bullet journal. If not, I can keep it on my desktop, send it to Evernote, or put it onto my phone.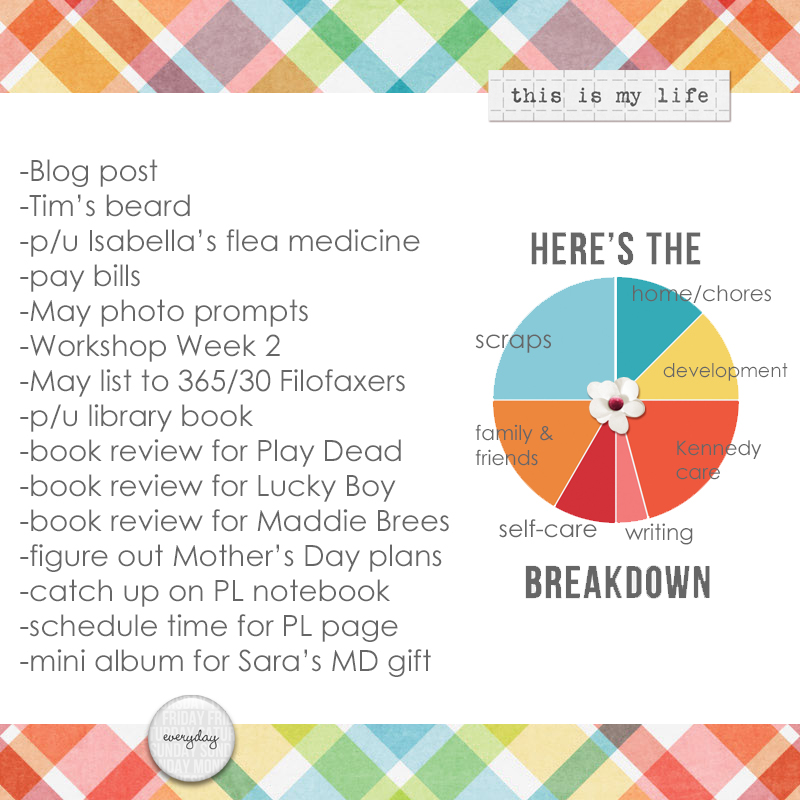 See… easy peasy. A simple way to get my to-do list done — and add some color and fun while I'm at it. I used the pie chart as my version of the "Level 10 Life" (but because I'm not currently working or dealing with much in the way of finances, I left those out and added some of my own). I can track and see what needs adjusting and where I should put more emphasis week to week. I can accomplish more, but still give a little bit of style and prettiness. Win-win!
How do you plan out your week? Do you worry about making it "pretty" or just stick to functional? I invite you to come join us in TDP's forum for this week's challenge related to this post!
---

About the Author  Kimberlee is a lover not a fighter; a stay-at-home gran, a poet, and a lifelong learner. She grooves on saturated colors, Tuesday dance parties, optimism, glitter and sunshine. She colors outside the lines.  She is a dreamer. She is a collector of moments.  She is all about the story.  Kimberlee completed her MFA in Creative Writing and recently finished her M.Ed. in Instructional Design but still can't figure out what she wants to be when she 'grows up.'