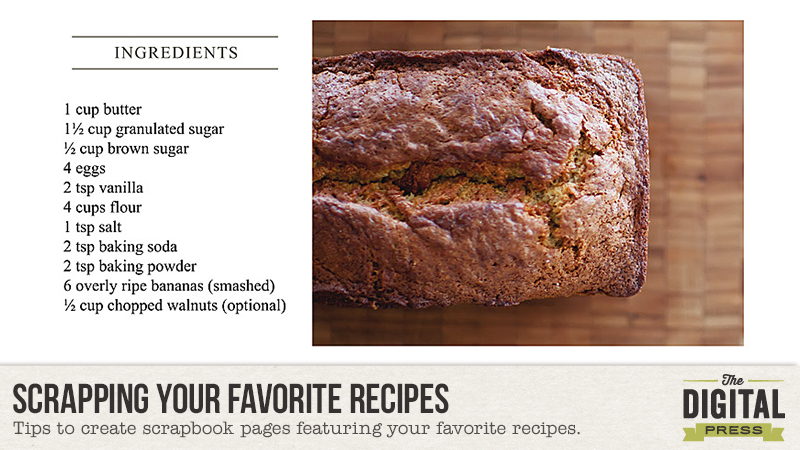 Well, the end of the year has crept up on us once again. Can you believe it is already December? November flew by way too fast for my tastes, and now Christmas is just around the corner. It's that time of the year when everybody is feeling festive and getting into the holiday spirit. It's also that time of the year when you won't be able to resist the holiday goodies.
Holiday parties, cookie exchanges, holiday meals with friends and family… why is it we always schedule our social events around FOOD? It's because we LOOOOVE to eat, of course! As an added bonus, it's always fun to include this time of year in our scrapbooks. I love to document the parties… but even more than that, I love to scrap my recipes! One of my ongoing projects is to create a family recipe book. I'm always printing off recipes from the web, and I also have a lot of old, handwritten recipe cards that have been passed down for generations.
Here are some tips to creating recipe pages and recipe books:
Add recipe pages to your books or create a dedicated album with divided sections for main entrees, sides, desserts, etc.
Take photos along the way as you cook. Everyone loves to see the progression, so photograph the steps as well as the final product.
Handwritten recipes are a bit more sentimental, so scan the original cards in to add some of that old-time charm.
Keep it simple. I LOVE using this template album from Anita Designs. The pages of my book look coordinated and easy to read.
So, in the spirit of the holidays, let's share some of our favorite holiday recipes! I will be posting more of my favorite recipes, ranging from side dishes to cookies to cocktails in the forum. Head on over to share your favorite recipes.
---

About the Author  Farrah Jobling is a member of the Creative Team here at The Digital Press.  She lives in Denver with her amazing family — Mike, Nicholas (8), Claire (6) and Hope (1.5 yr old puppy). She works from home as a photographer and enjoys scrapping her personal photos.