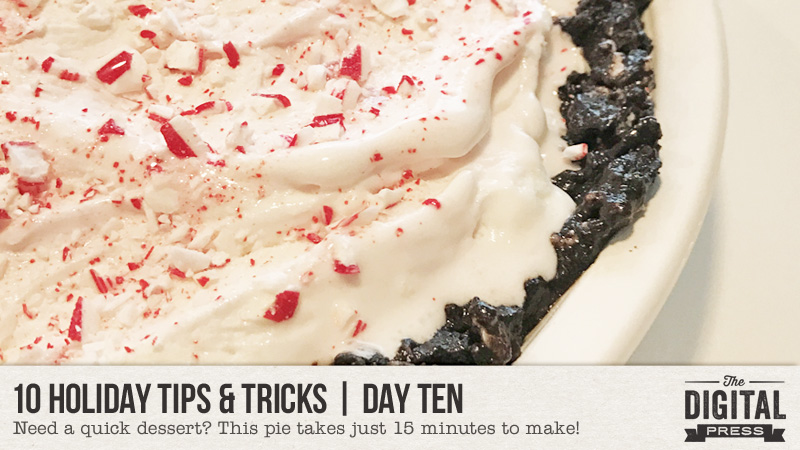 Hello, and welcome to the very last day of our 10 Holiday Tips & Tricks series here on The Digital Press blog!
Today I am here to share with you an amazing last-minute tip for those of us who need to whip up a quick dessert for the upcoming holiday weekend.
Whether you suddenly find that you need to take a dessert to share at a friend or family member's house… or you find that you will be having unexpected guests over to your house at the last minute… or you simply love holiday desserts and want to give this a try… this recipe is a total win!
And by "total win" I mean that it takes only about 15 minutes to make it, it's delicious, and it's even customizable! 😉
LAURA'S EASY-PEASY PEPPERMINT OREO ICE CREAM PIE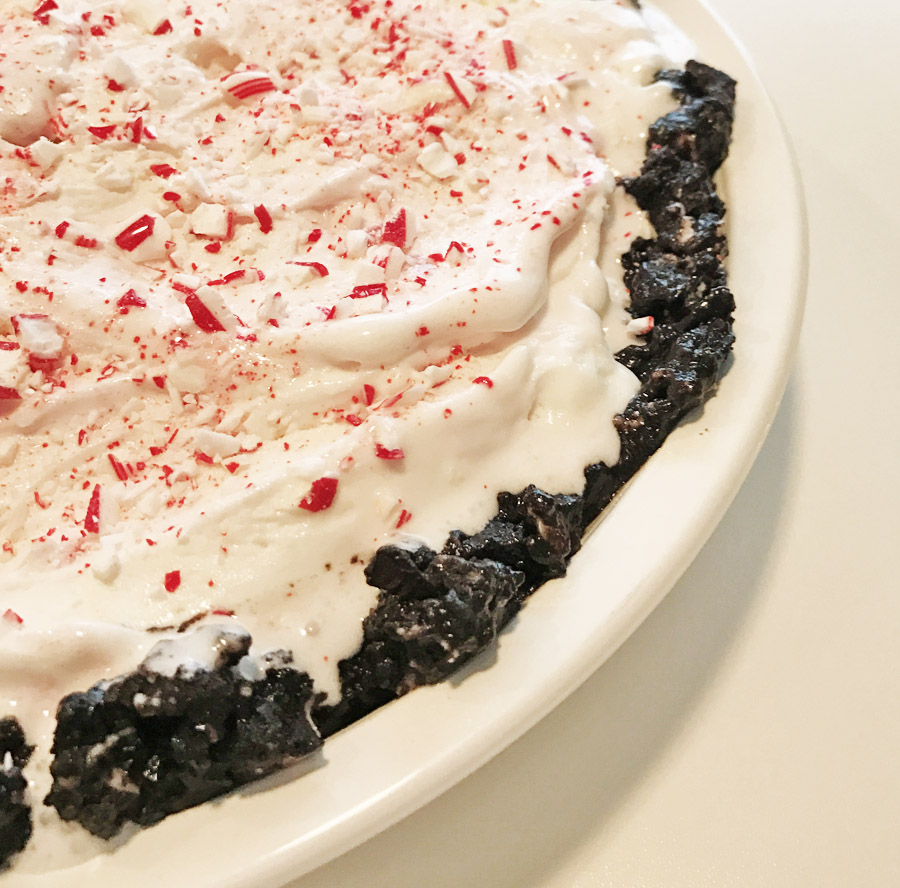 It cannot be stressed enough how quick and easy it is to make this pie. Seriously. It literally involves only 4 ingredients.
INGREDIENTS
1 container of peppermint ice cream (about 1 quart?)
25-30 Oreo cookies (if you buy one package, you can eat 5-10 of the cookies inside and use the rest to make the pie

#winning

)
1/2 cup butter (or similar; I use "I Can't Believe It's Not Butter Lite" because it tastes just as good and has less fat/calories)
1-2 candy canes (or equivalent amount of peppermint candies)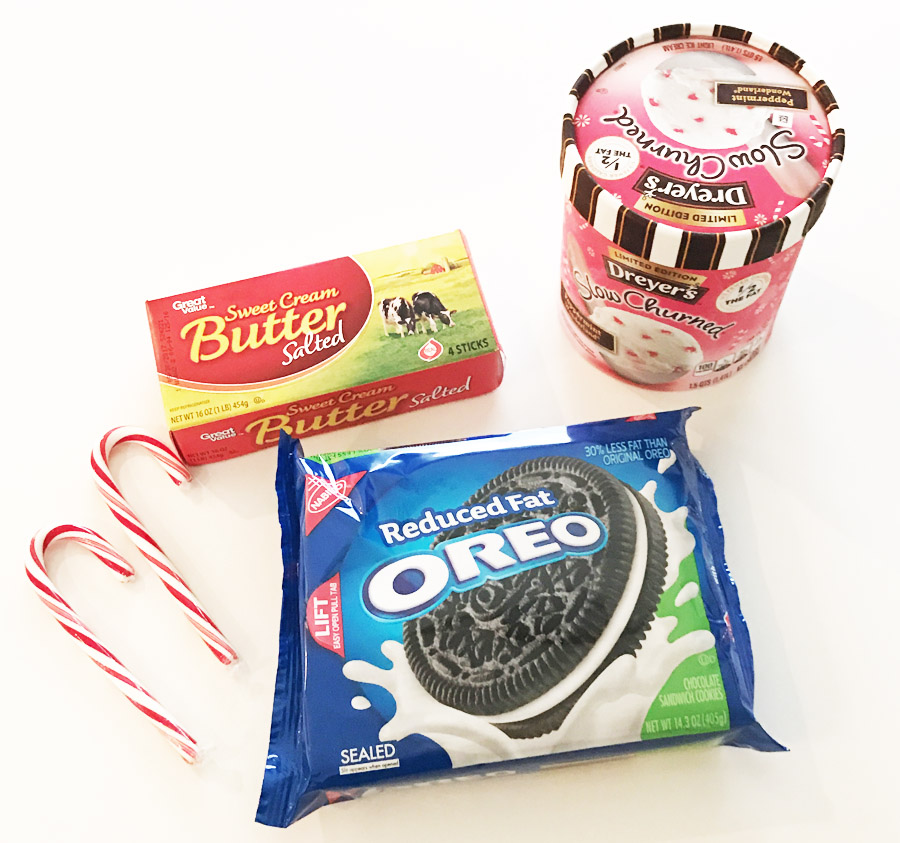 INSTRUCTIONS
Let the ice cream sit out on the counter while you work on the next few steps, to ensure that it will be softened enough to spread around by the time you need get to that step.
Put your cookies into a large (gallon-sized) zippered plastic bag and crush them with a rolling pin (or a bottle of wine, if you don't own a rolling pin. We are crafters, people! We do what we have to do to get by with the supplies we have on hand!).
Melt the butter (microwave in 20-second intervals until it's fully melted), and then add it and the crushed cookies in a large bowl. Combine until the cookies are just coated in the butter; stop stirring before everything gets too sticky/wet (or else it will be too hard to press into the pan without it sticking to your spoon).
Press the cookie mixture into the bottom of a pie plate. I find that it helps to use a light coating of cooking spray inside the pie plate, first, to keep the crust from sticking to the pan later.
Add the ice cream on top of the cookie crust layer. Place large spoonfuls near the center, and press down so that it pushes outward toward the edges of the pie crust as you work. Use the back of the spoon to even out this layer once it's added, and also to swirl the melty ice cream on the top until it looks like you "did it all on purpose" (technical term).
Put your peppermint candy into a small (quart-sized) zippered plastic bag and crush it with your rolling pin / wine bottle. Then sprinkle the crushed candy on top of your pie.
Put the pie into the freezer for an hour or two until it hardens enough to be easy to cut/serve.

Once it's been in the freezer for a while… all you have to do is cut, serve, and eat! It's seriously that easy.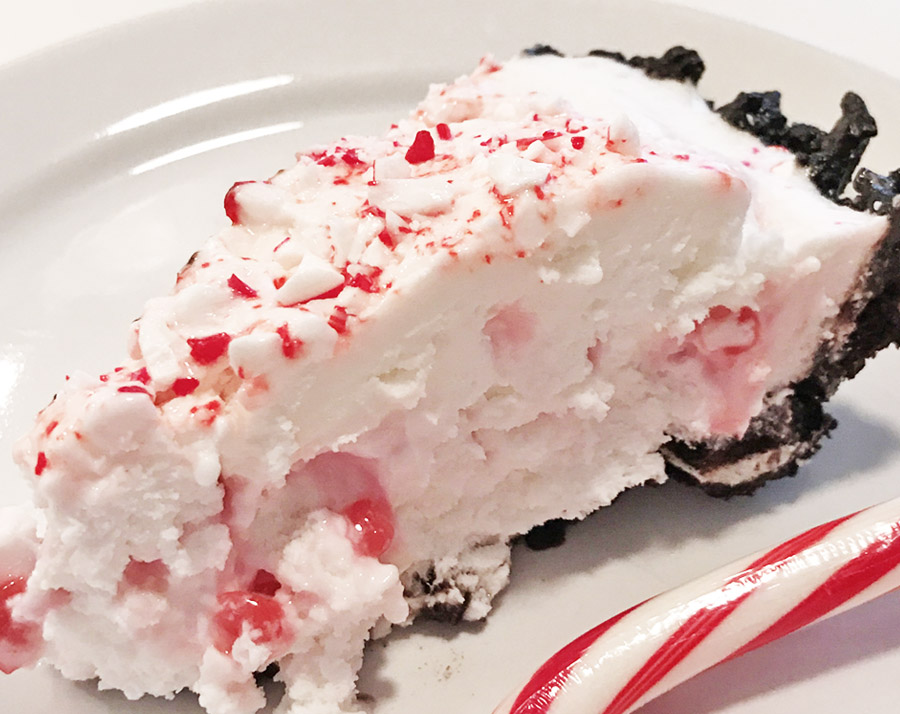 FUN VARIATIONS / CUSTOMIZATIONS
Let it be known that I have also made this pie using coffee ice cream (get the good stuff, people — Haagen Dazs — don't mess around with imposters!), and I used chocolate shavings on top of the pie in place of the peppermint candy. To. Die. For.
I also have a friend who made this pie with a couple of pints of Ben & Jerry's Cherry Garcia ice cream (cherry & chocolate chunks). She swears by it.
Myself, I have always wanted to try it with some Ben & Jerry's Chunky Monkey (banana ice cream with chocolate chunks & walnuts)… but I've never gotten around to it. "Someday…"  *daydreams about dessert*
In truth, it really doesn't matter what ice cream you use — it's the Oreo crust that makes this ice cream pie so perfect. You can pair it with whatever floats your boat!
For now, though… I hope you have a very happy holidays and a fantastic weekend with your family and friends! 😉
---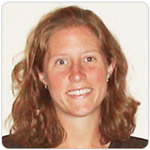 About the Author  Laura Passage is the owner of The Digital Press, and also the designer behind Wishing Well Creations by Laura Passage (WWC). She works now as a graphic designer in both the digital and paper scrapbooking industries, but previously spent over a decade working as a college soccer coach. She lives in the Pacific Northwest with her husband and two young sons (affectionately referred to as The Tiny Terrorists), and will rationalize eating coffee ice cream for breakfast to anyone who questions it.