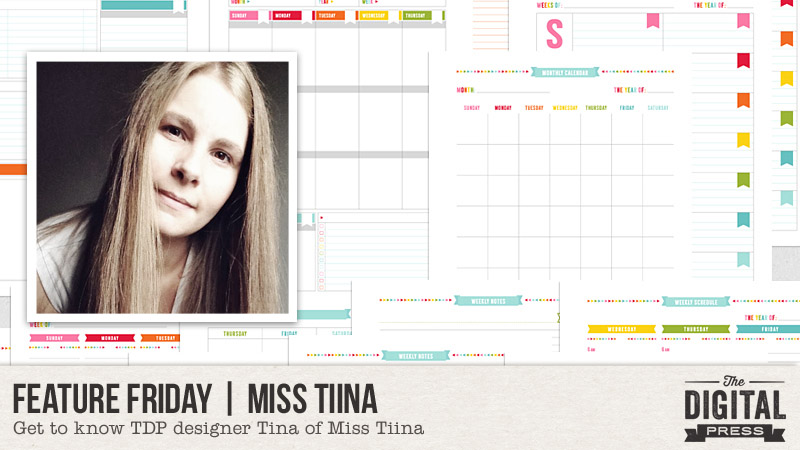 Now that our special holiday lineup is over and we've kicked off 2017… our Feature Friday series returns to The Digital Press' blog this week, and I'm excited to feature the designs of Tina Raparanta (known more commonly to many of us as Miss Tiina).
One fun bit of trivia (which you may have even found yourself wondering, on occasion)… why does her design name of Miss Tiina have 2 "i"s in it? You will be amused to know that it wasn't a purposeful decision and there really isn't any deep meaning behind it. Instead, it all dates back to a spelling error that her bank made when she set up her business banking account, years and years ago. So she just went with it!
As you click through Miss Tiina's shop, I'm confident you'll find yourself smiling. Really, you will! 🙂 Her designs are bright and cheerful, clean and simple. Her shop is the perfect place to stop to set up an amazing organization system for your busy life… and your memory-keeping as well (as she has a few different pocket card and paper sets available, as well). We're just a couple of days into the new year; what better time to start, right? You can cross organization off your list of New Years' resolutions!
Here is a look at just a few of my favorite products by Tina…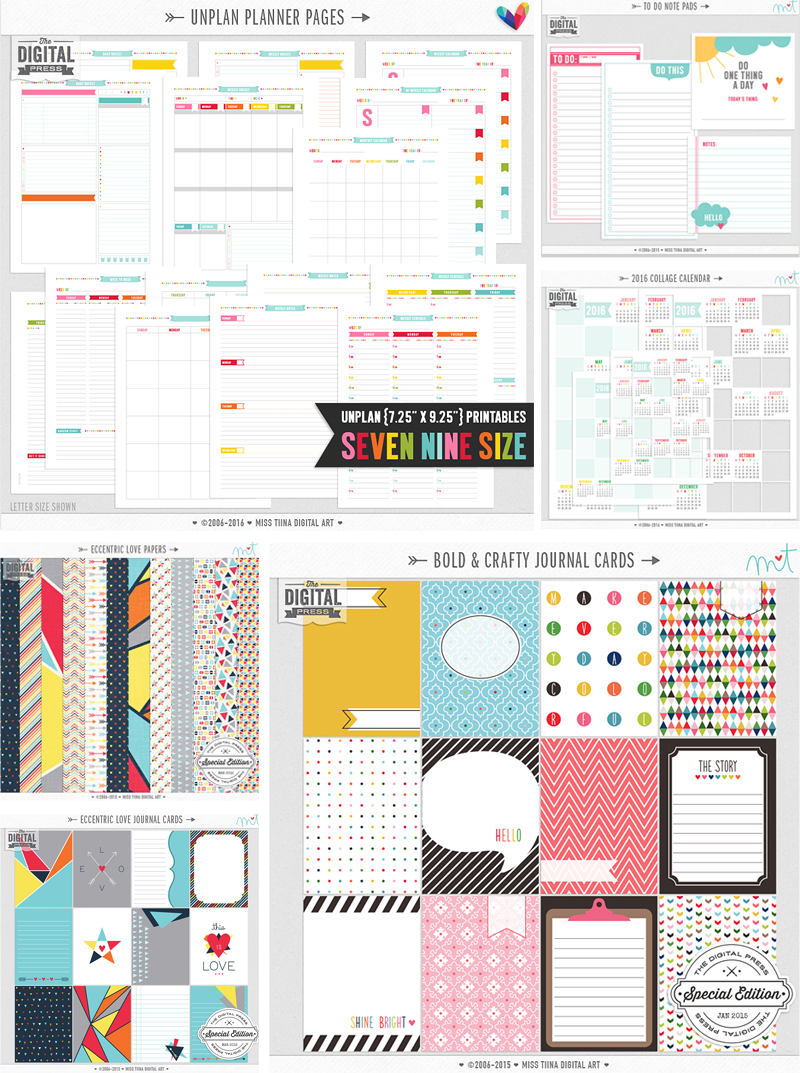 I asked Tina a few questions so we could learn a little bit more about her, and here's what she had to say…
Where do you live?
I live in the freezing cold north of Ontario, Canada, right on top of Lake Superior.
When you're not designing, what do you do with your time?
When I'm not designing, I'm spending time with my man and our 3+1 crazy kiddos who I adore.
What are 5 tidbits of trivia we might not know about you?
—I'm addicted to eating freezies and frozen grapes.
—I hoard cute things, rainbow things, and stationery.
—Flannel is my favorite fabric.
—I have never traveled outside of Canada, except once as a kid.
—I have 2 middle names and so do all of my kids.
Which of your products is your favorite?
That's always a tough one to answer, because I love so many! I think I take the most pride in my main planner series, though. It's definitely been the most-loved item by my customers! Here's a look at the 2017 version…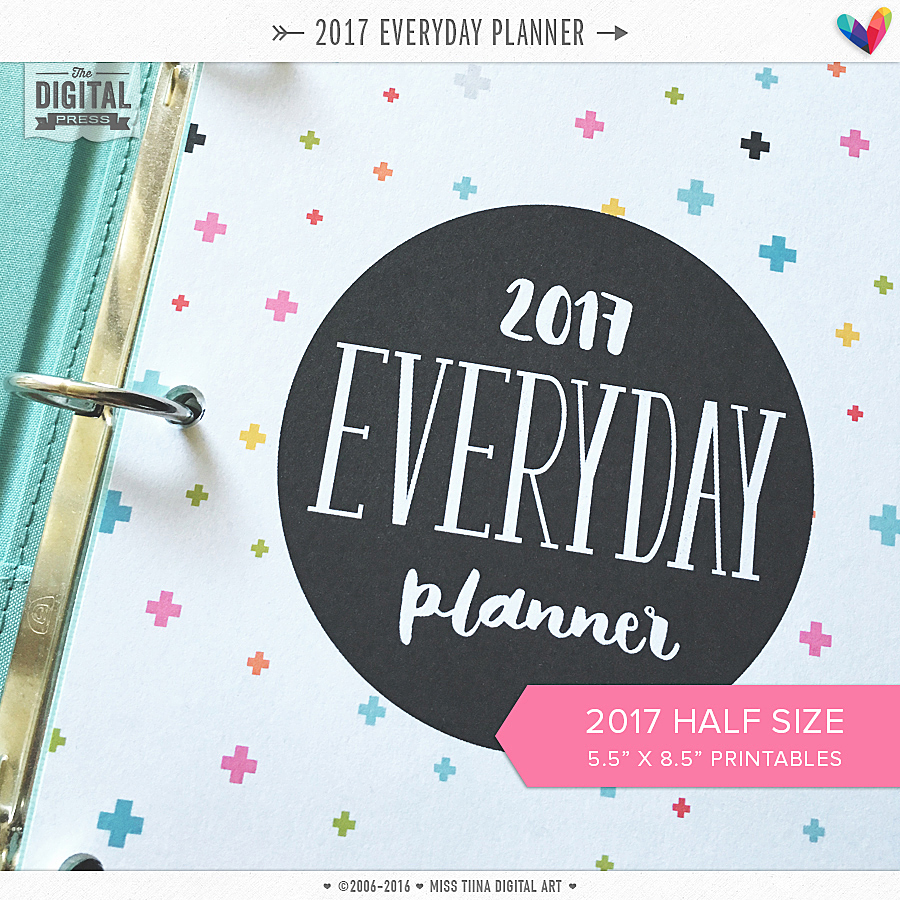 Tina's products are so handy if you want to be well-organized!  Here a few examples of her products in action, as well as close-ups of what you'll find in a few of her calendar and planner sets here at The Digital Press…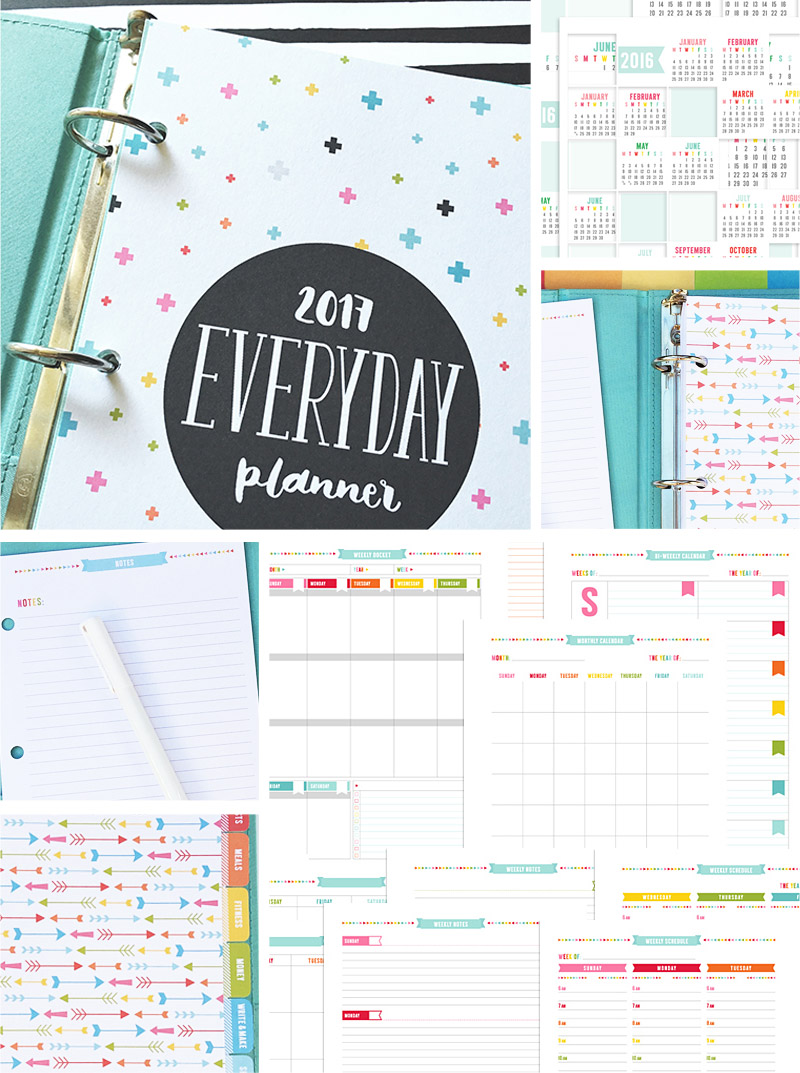 I'm glad you spent some time with me today and got to know Tina better. My guess is that after reading this, you might be bitten by the organization bug, too! 😉 I know I have been! That's why this last bit of info is great news… if you visit her shop this week you will enjoy 30% OFF her awesome products (sale runs through the end of 1/12)!
---

About the Author  Barbara is a member of the creative team here at The Digital Press. She lives in Minnesota, is married and has two awesome kids (a 20 year old son and a 17 year old daughter) as well as an adorable 10 year old Soft Coated Wheaton Terrier. In her free time she loves to play around in Photoshop (you can learn a little something new every time you use PS right?!), take photos, and try out new recipes for healthy dishes. (Her 2017 resolution is to try new veggies every week!). Life is good!