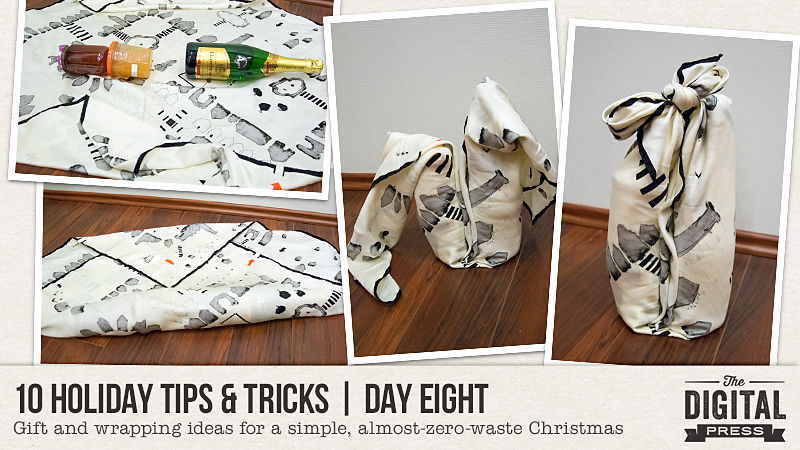 Hey everyone! It's Day Eight of our 10 Holiday Tips & Tricks series, and I'm here to share my latest project / passion… Zero Waste or ZW (although "zero" seems very extreme, any action in the right direction is a good thing!).
I've always been green, but I recently read Béa Johnson's book and started to implement some tips to reduce the amount of garbage we create. Minimalism, simplicity and Zero Waste go hand in hand, and I'm happy to share some ways you can help save the planet while still enjoying Christmas and giving gifts to your loved ones!
The best way to have a ZW Christmas is by picking immaterial or consumable gifts. Here are a few examples for kids (or grown ups, too!) :
Lessons (music, dance, sport)
Passes (zoo, natural park, amusement park)
Subscriptions (to a magazine, for example, or to a software *ahem… Photoshop!*)
Events (concert, sport competition)
Activities (even better to do as a family or as a one-on-one activity with a parent or special adult: mini-golf, bowling, skating, cinema, game night)
Crafting (and the material you need to create the art piece)
Coupons (for a movie night at home with popcorn and they pick the movie, a pass on one of their chores, permission to stay later than usual, etc.)
Gift card to their favorite store, so the recipient gets the pleasure to choose in addition to the pleasure of the gift itself
"recipe in a jar" for cookies, muffins, hot chocolate, sauces and more
Money (the ultimate consumable gift). You could try to fold the bills origami-style to make it more fun!
If you want to give a material gift, here are a few ideas:
choose second-hand gifts
pick environmental-friendly and long-lasting materials: wood, metal, sturdy plastic (Legos are virtually immortal!), fabric, glass (not for kids, obviously)
create DIY gifts like homemade soap, candy, jam, caramel or chocolate sauce, beauty products or home decor
The wrapping can be the perfect ZW final touch to your eco-friendly gifts. Avoid metallic paper which can't be recycled. Why not use newspapers or plain kraft paper on which you (or your kids) can draw or stamp? Use cute jars, wooden boxes or baskets to store your gifts. Last but not least, fabric is a great way to wrap and can be re-used over and over again by the recipient. Simple bags (DIY or bought) can be re-used for grocery shopping, for example. A nice piece of fabric (or even a scarf, so that the wrapping is a gift too!) can make stunning gifts using the japanese furoshiki technique.
Here are two examples of my ZW gift giving this year.
For my brother and SIL, I offered them a photo session of their newborn baby girl when she was born in October and created the birth announcements. They think they'll pay me back for the printing of the announcement but I've decided will be their Christmas gift. As I still want to physically give them something, I've created a cute card that matches the CD cover for their newborn pictures. This card can be recycled once it has fulfilled its purpose.
For my parents in law, I've bought wine and cooked homemade jam. They have everything they need and DEMANDED that we don't give them any gift. Well, I'm a rebel and I know they will enjoy the fact that I made the effort to create something for them. To wrap this up I decided to try furoshiki with a scarf I don't use very often and that I think my mother in law would like. Maybe she'll re-use it, maybe not (in that case I'd take it back), we'll see!
Here's how I wrapped the jars and bottle: I started with the jars and the bottle on the scarf, pointing to opposite corners.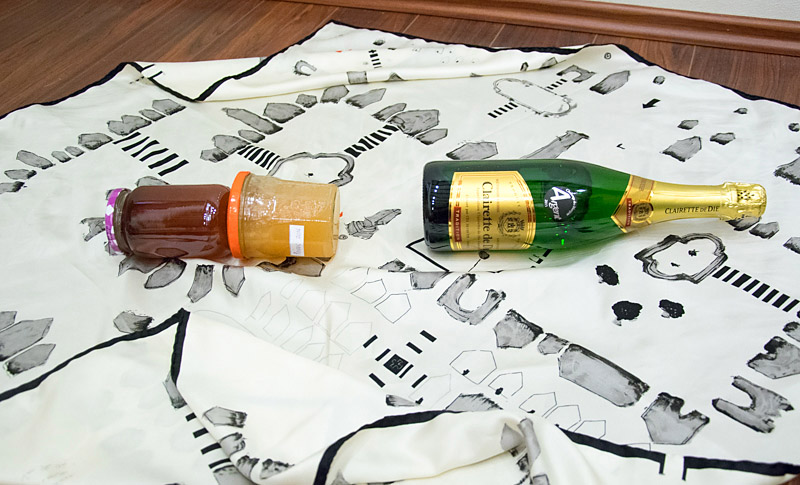 I covered the gifts with the scarf (the part that was closer to me) and folded the pointy end back in.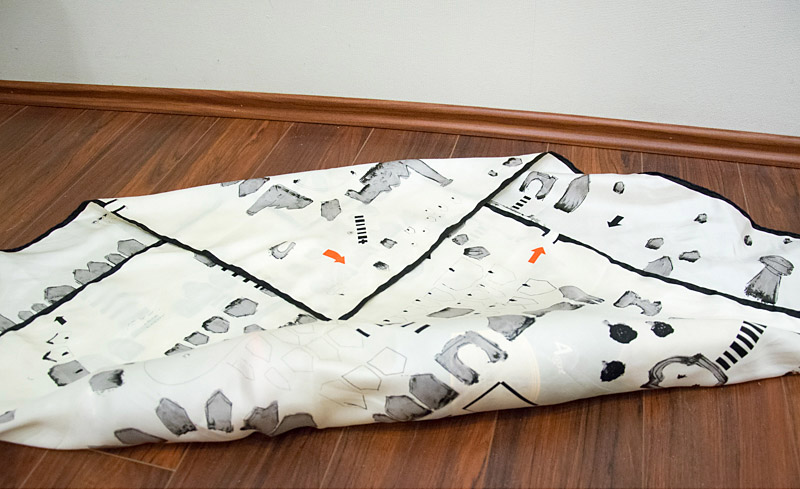 Then I rolled the gifts away from me and then folded the "roll" in the middle to put the jars and the bottle back up. Finally, I just had to tie a knot with the ends of the scarf and my wrapping was done!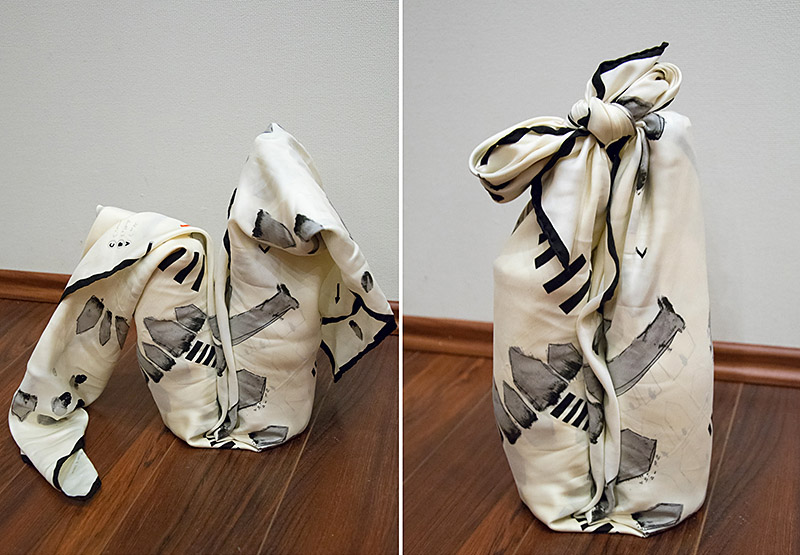 It was very easy, even for Mrs-Two-Left-Hands here, and I just love how original it looks! Plus I don't have to deal with tape, too short paper roll and ribbons… That's a big win in my book!!
Here are the two cards I've created so far, one for my brother and SIL (on the left), the other one for my inlaws (on the right). I used the stunning Holiday Sparkle collab for those creations because I love its timeless elegant look. I simply added one of the already made journaling cards, created another one with a paper I liked, added a few elements, printed them, cut them out and adhered the elements on the cards, wrote my message and I was done. It took me no longer than 5 minutes. I used natural twine so that it can still be recycled.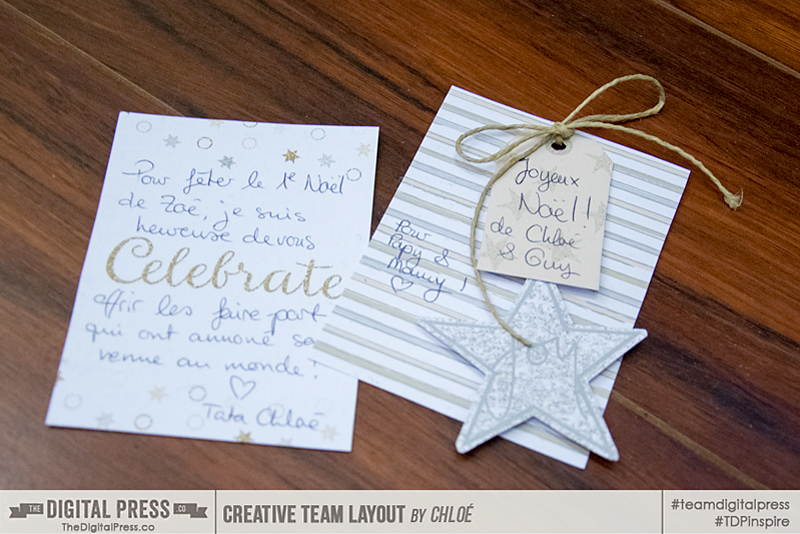 I hope you enjoyed those tips to have a greener (and simpler) Christmas. Have fun celebrating with your loved ones!
---

About the author  Chloé is in charge of PR and communication for her small town by day, is a digiscrapper "by night," and a photographer whenever the light is beautiful. She lives with her man and fur-babies in a small town of Alsace (in the northeast of France), where she loves to read, watch good TV shows (TWD being her absolute favorite), and just hang out with her friends — no matter if they are close by, online, or away in her Swiss hometown. She recently became quite obsessed with Bullet Journaling, Miracle Morning and Zero Waste.