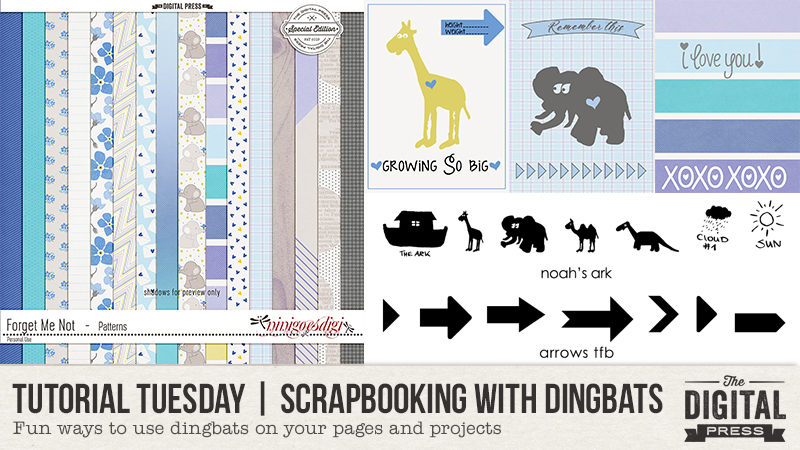 Hello, and welcome to another edition of our Tutorial Tuesday series here on The Digital Press blog! Today I'll share with you some of my favorite ways to use dingbat fonts on your pages and projects.
Just what is a dingbat? Even though dingbats fall in the "font" category because they are associated with keyboard keys, they are not characters that will make a legible text. Instead, they are fonts that have shapes, symbols, or designs of various kinds in place of what would normally be letters and numbers.
Where can you find dingbats? Start by looking at your favorite free font download sources. Watch out, though… because you might get sucked in like I did while looking at all of them and addicted as you imagine all of the possibilities of things you can use them for.
1. CREATE YOUR OWN CARDS
In the first example shown here, I will share with you some journaling cards I created using dingbats. Creating your own cards can be really handy if you have something very specific in mind for your particular project, and the cards that come with your digital collection of choice don't have that very specific thing you need. Custom-created dingbat cards to the rescue!
Here's a look at what you can do…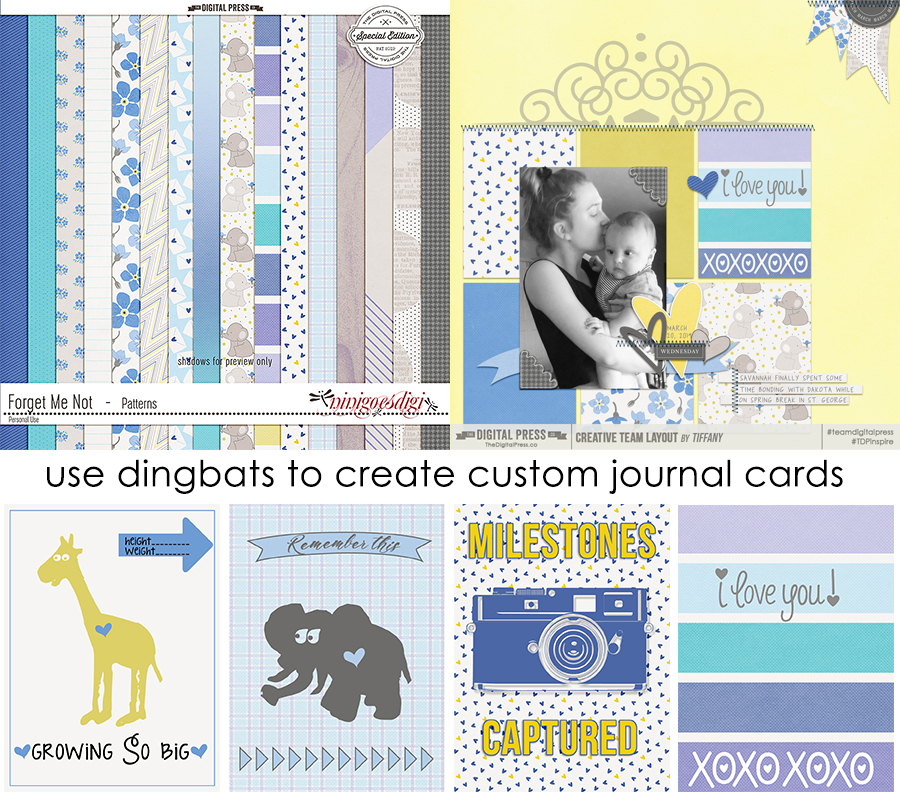 As you can see, I used a paper pack designed by ninigoesdigi, and then added my own dingbats to create a few card images.
Below, you will see a listing of the dingbats I used to create my cards… as well as some dingbats you will see featured in the next example (below) for clipping masks.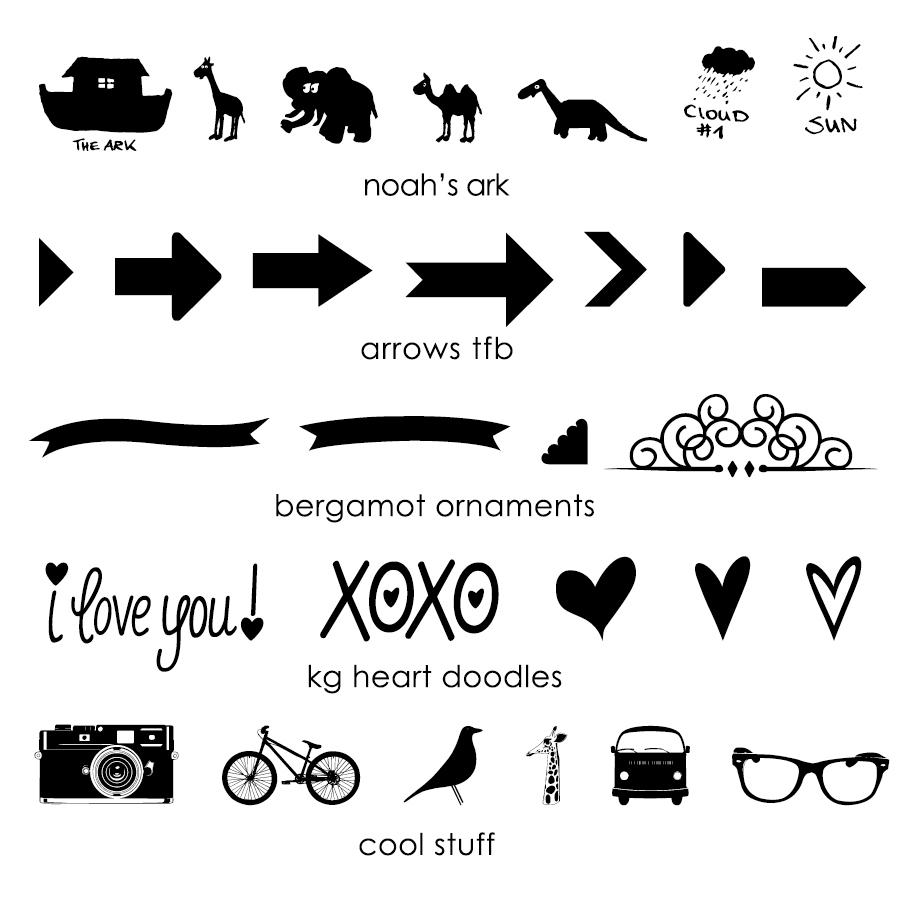 2. CREATE CLIPPING MASK SHAPES
In this next example, you can see the result when dingbat shapes are used as clipping masks. I was able to create arrows, banners, tags, and heart accents to dress up my pages. If you are unfamiliar with how to use clipping masks, The Digital Press has a wonderful tutorial HERE.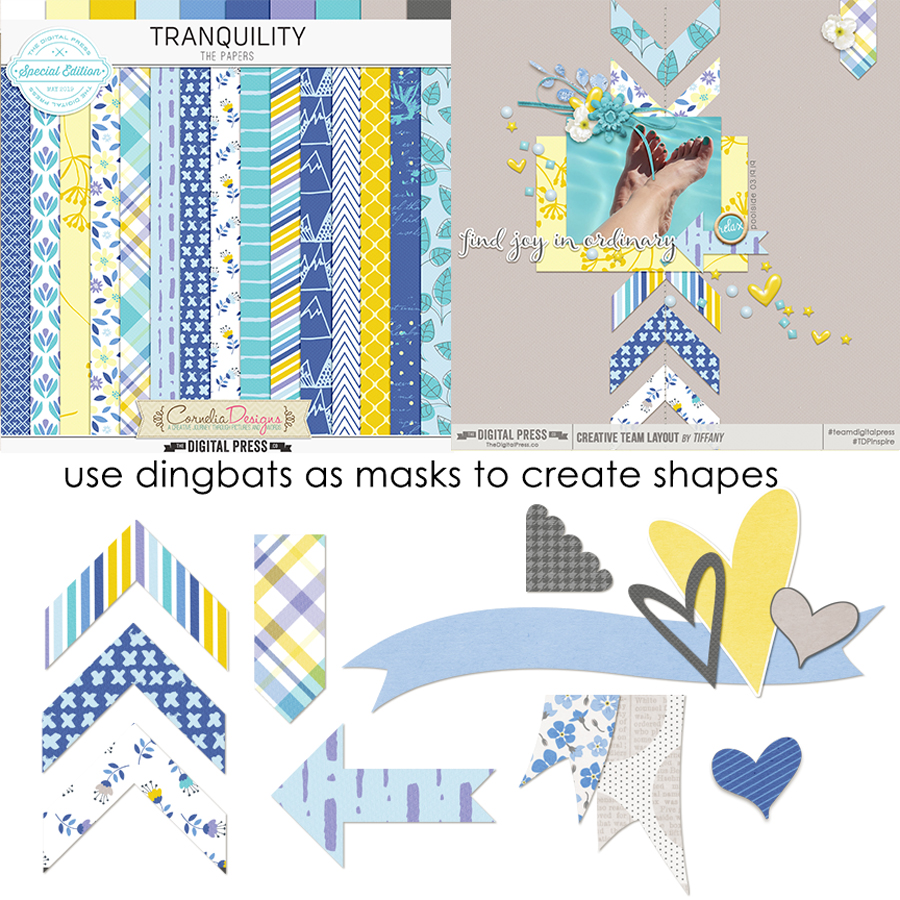 For this clipping mask example, I used a paper pack designed by Cornelia Designs (from the May 2019 Special Edition collection, so it actually coordinates perfectly with the cards I showed you up above). As you can see, you can clip papers straight to the dingbat shapes in order to create "die-cut" paper pieces to use as embellishments. Fun, right?
3. CREATE ALPHAS AND TITLES
In this next example, I have used dingbats in place of some letters in my titles. This technique reminds me of the pre-made titles I used to purchase in my paper scrapbooking days. Word art has always been a fun way to add visual interest to scrapbooking pages.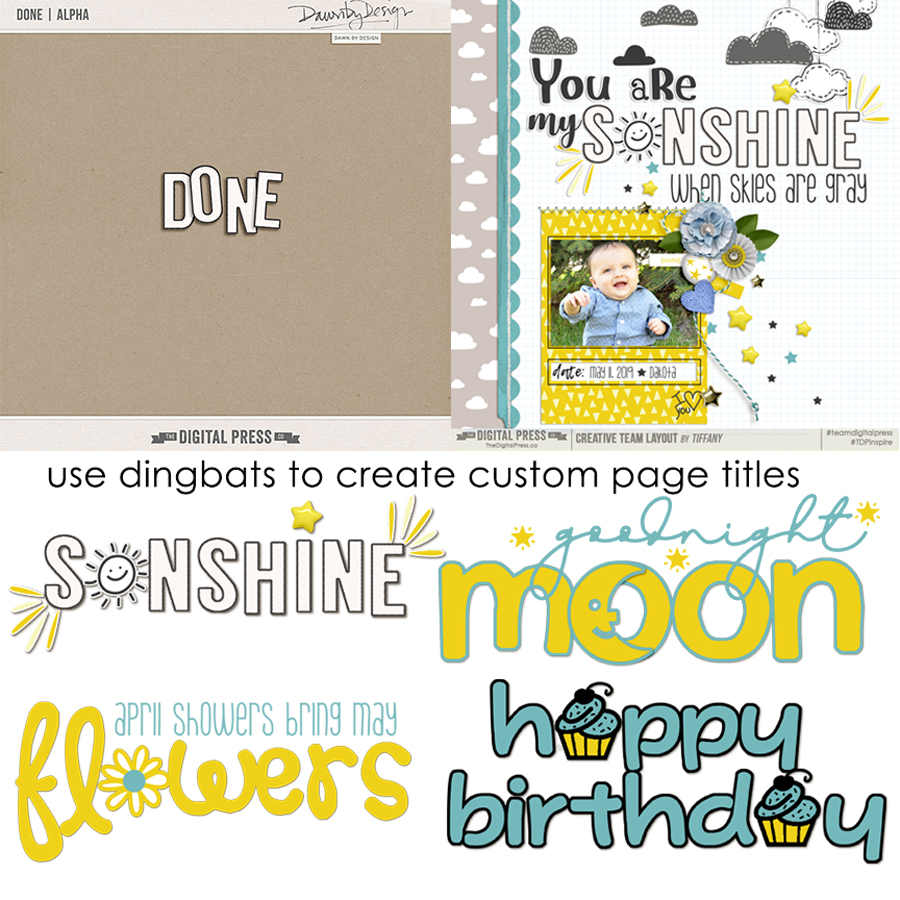 As you can see, I mixed some of the dingbats with an alpha that was designed by Dawn by Design (you can find it in her shop here at The Digital Press).
Here, you will see a listing of the dingbats I used to create the page titles shown above, as well as some dingbats you will see featured in the following example in which I used dingbats as page accents (see below)…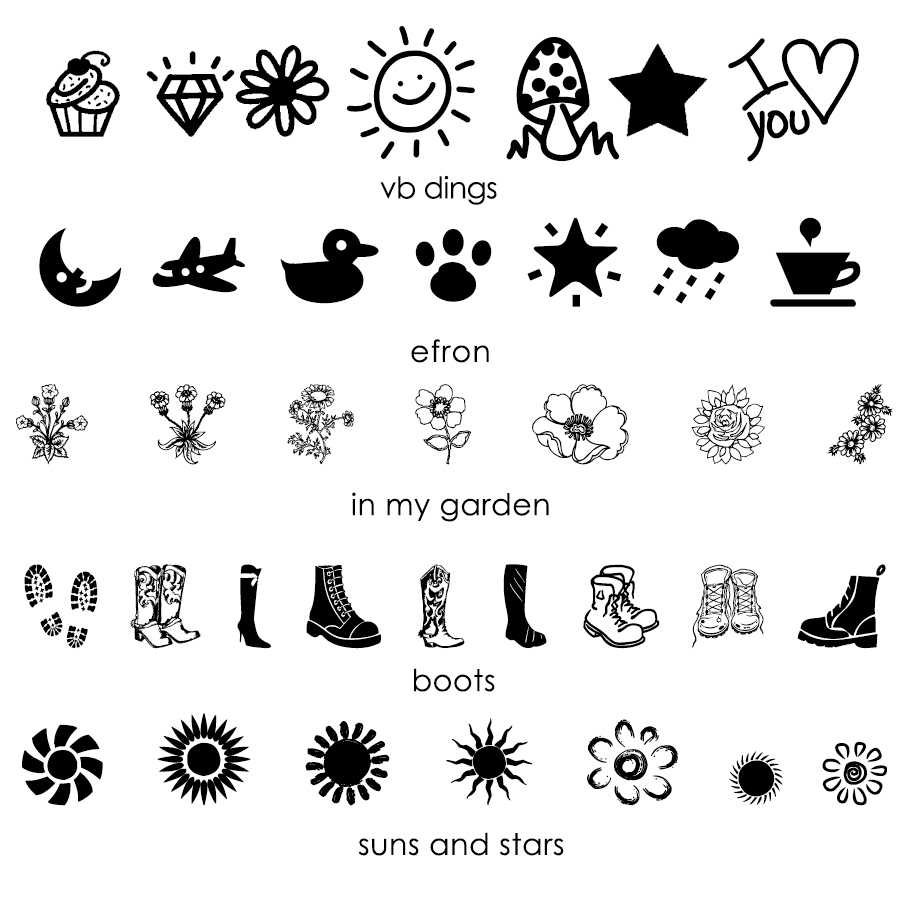 4. CREATE PAGE ACCENTS AND STAMPS
Finally, in my last example, you will see how I added the dingbats just as they are, to my pages — as page accents and stamps. I really liked the way they dressed up my projects and filled in some of the spaces.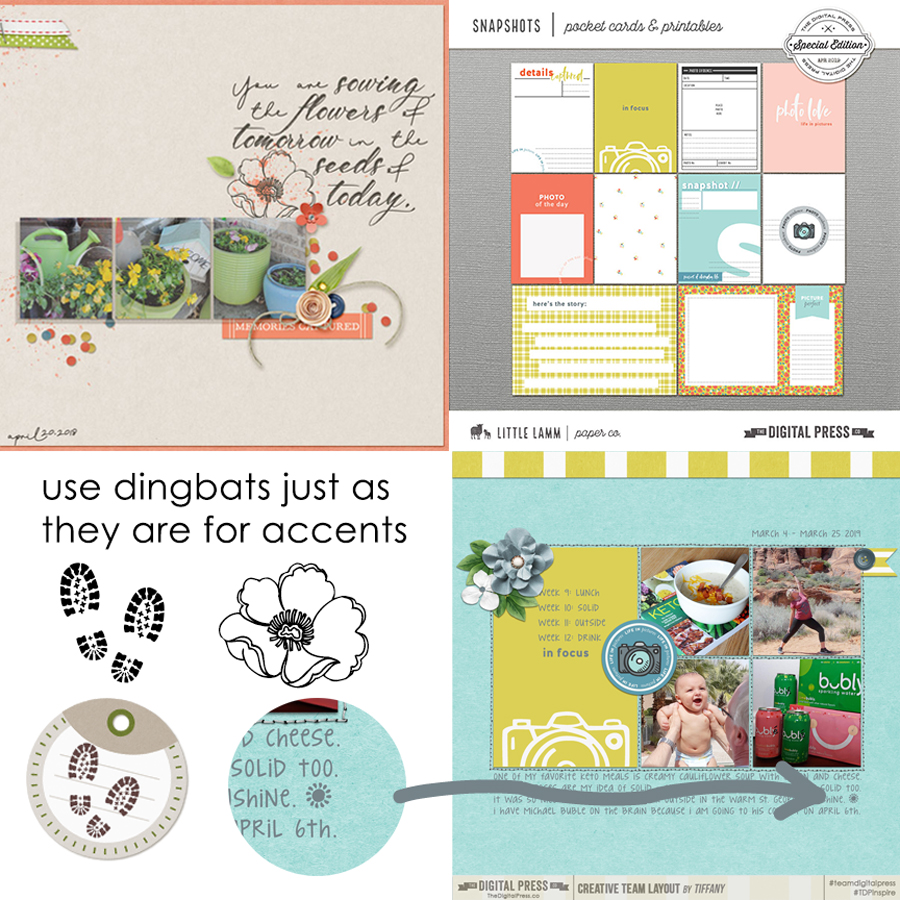 For this example, I used some pocket cards designed by Little Lamm Paper Co. and I added some dingbats to my page as accents.
As you were reading through this tutorial, I bet you came up with some ideas of your own about how you might want to use dingbats! I'm pretty certain that I only just scratched the surface of all the things you could do. Endless possibilities!
If you have your own fantastic ideas, we would love it if you shared your ideas — either here in the comments, or in the TDP forum. We'll keep our eyes open for projects using dingbats posted in our gallery and will hope to see yours soon!
---

About the Author  Tiffany is a creative team member at The Digital Press and has been scrapping for over 25 years. She resides with her family in Idaho, but dreams of warmer climates. Family will likely keep her in Idaho, so vacations will have to do. Her scrapbook subjects include her husband, four children, one grandson and two dogs – as well as whoever and whatever will stay put for the snap of the camera. Other things that keep her busy include teaching fitness classes at the gym and working as a hospice/home health nurse.