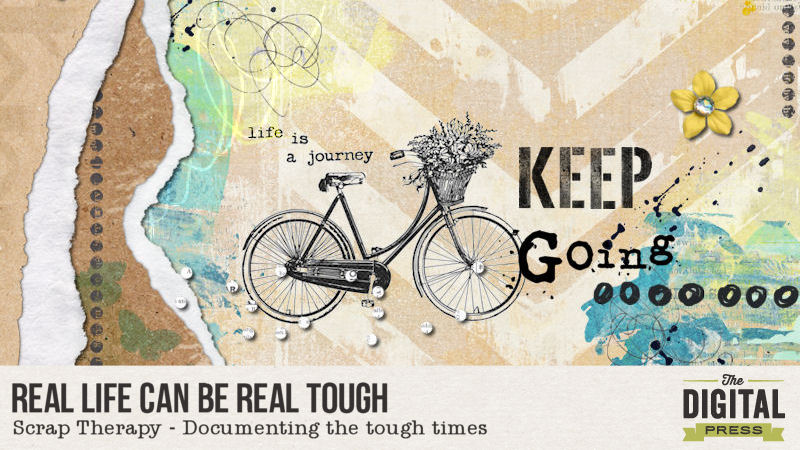 As "Memory Keepers" we strive to document our lives, from the everyday "little" things to the big events or occasions, vacations or day trips and milestones or achievements. Our pages and projects tell our story, document our life, and they will be around for generations to come! Our loved ones, ourselves, family, friends all smiling and joyful, jubilant and merry!
Now all of this is absolutely great to see, amazing to look back on, and it is simply wonderful to reminisce about those magical and joyous times in our lives when looking through our printed books, or handmade projects! However, what about those times of worry, times of stress, those hiccups along life's path? Those cloudy days, the sick days, times when you or a loved one has felt heavy hearted? We all have these moments, and there is no harm in sharing or documenting them! Don't be afraid to lay testimony to those moments in your life too, because "Real Life" can be "Real Tough"!
The tough times, sadness, down days and nail biting moments are just as important to remember, and sometimes scrapping them out can make dealing with those sad, gloomy and bleak times a little easier! I like to call it "Scrap Therapy!"
Here is an example of documenting the sad and difficult times of family life. Erin (Miimsgirl) documents here in this layout the passing of a family pet and shows the sadness and grieving from her sons eyes. A part of  life we all experience for the first time in many different ways, and something that is monumental for a child and can be the very beginning of watching your children grow into compassionate  and caring young people.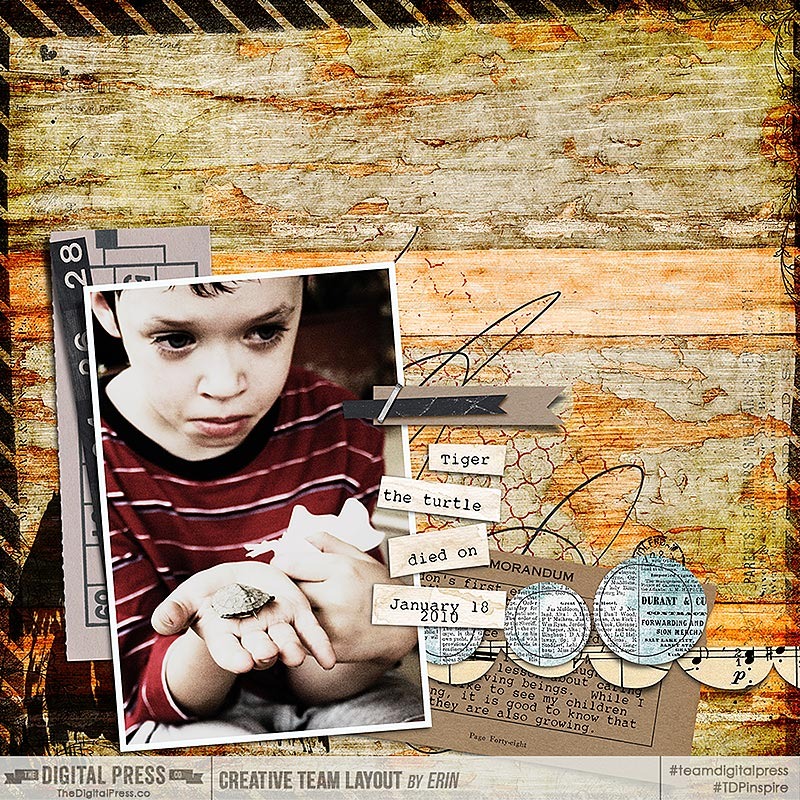 Credits:  Monsters in my Head by Sugarplum Paperie & Studio Basic 
"Scrap Therapy" can also take you out of your usual comfort zone, I first tried an "Art Journal" style page when I was going through a particularly tough time back in 2013, I was struggling with my chronic illness and the comments of "But you don't look sick" plus lots of  "well meant" advice or "bright ideas" had me ready to just scream! My page was dark and messy with a mix of brushed, painted  and bold stamped alphas, lots of paint and some serious heartfelt journaling! It took a whole weight off my shoulders just by  "scrapping it out".
"Real Tough" doesn't necessarily mean something heavy or depressing!  I'd like to share with you my most recent "Art Journal" style page. In this page I'm expressing what's going on right now in my weight loss journey, it is starting to get a bit rocky, I've hit a bump in the road and need to power on through it! I'm reminding myself to "keep my chin up" I'm documenting my struggle yet being positive about it too,  reminding myself that this is a journey and I need to keep going!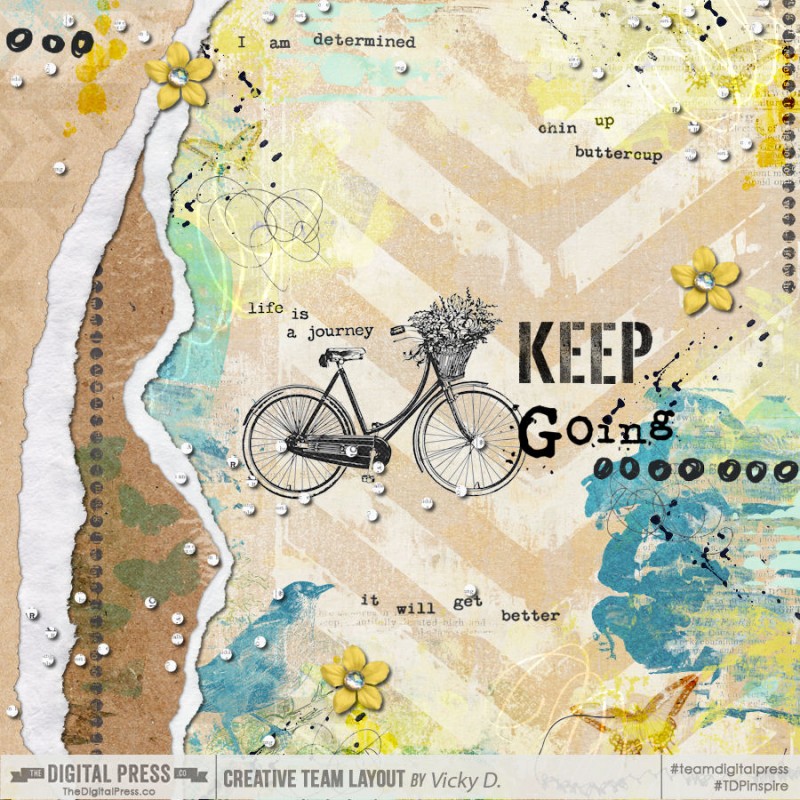 Credits: Heart Art : Value Bundle #10 & Let's Go Outside : Collection by Sugarplum Paperie
Another visit to the gallery had me admiring this arty and creative layout by Pamie! Journaling is a fantastic way to document your feelings and emotions, your thoughts and worries.
Here Pamie documents a time in her families life when things seemed so uncertain, yet there were some blessings in disguise too! Getting those thoughts out of her mind and into a visual diary of sorts, had her noticing and realizing that although it was a rough ride, life had a way of working things out in the end!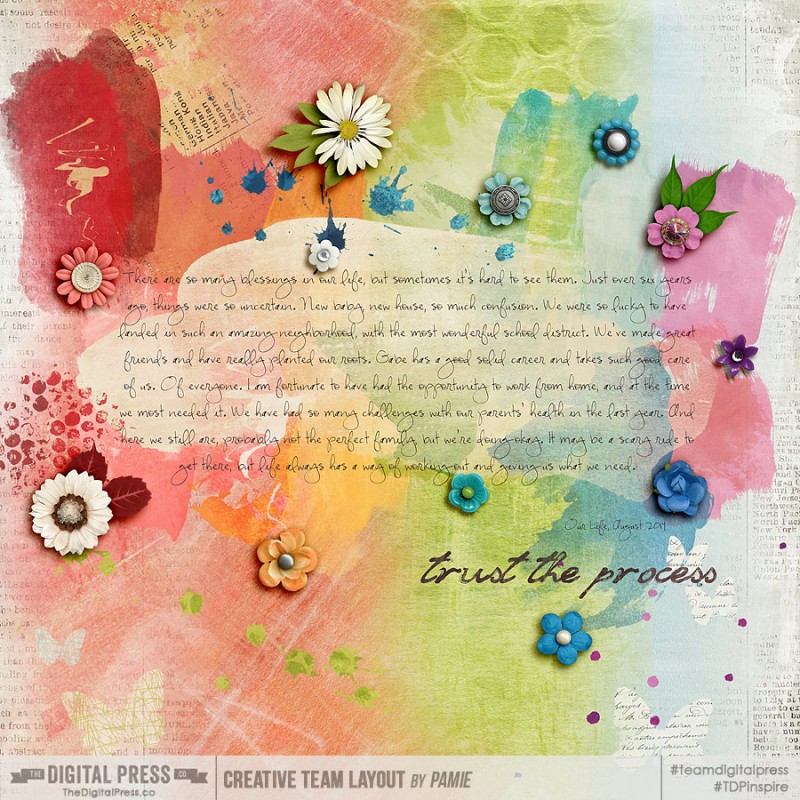 I'm going to leave you with this page I made documenting my everyday life living with chronic pain and having to self inject every 2 weeks. I scrap my families every day moments, vacations and achievements in "Pocket Style" pages, so why leave out the "Real Tough" side of our life in this style of memory keeping? It is telling a story of part of me, the fact I have overcome my fear of needles to a certain extent, that I have been braver in the last year than I ever though I could be.
I'm hoping that one day I can look back on this time in my life  and see how far I have come since the treatment began, that I can remember how tough it was and hopefully how easier it has become? Who knows what the future holds, but at least I have documented  the memories and events of my life right now!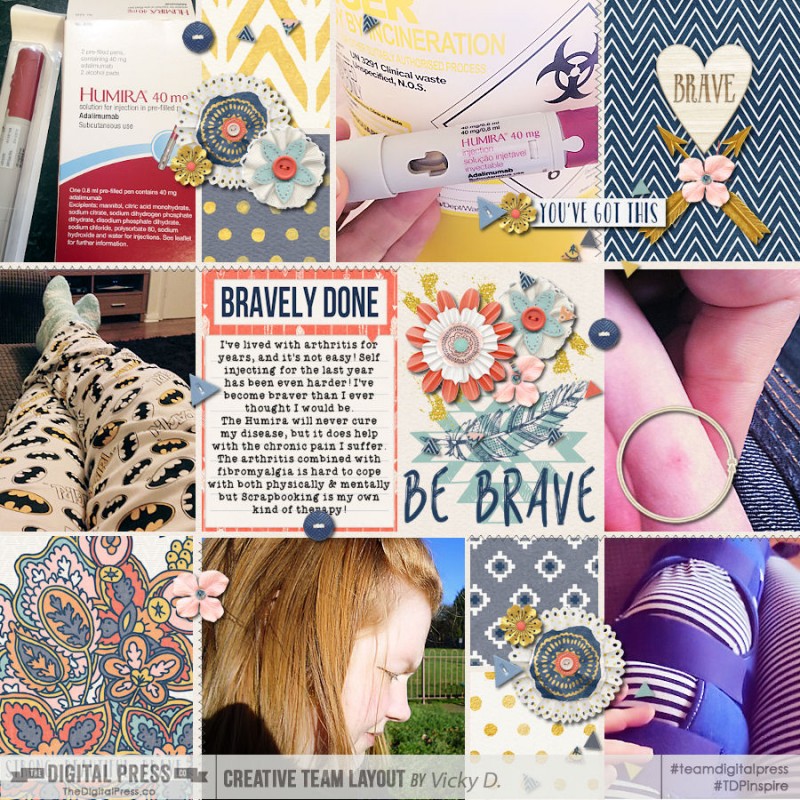 Credits: Be Brave : The Kit & Be Brave : Journal Cards by KimB – Everyday Life Templates Set 4 by Sabrina's Creations
So yes, "Real Life" can be "Real Tough" but I hope you can see that documenting those tough times is easier than you think, and that these moments are just as important to document  as all the wonderful happy, bright and cheery pages we see in the galleries and have printed in our memory keeping books.
Please join me in the Forum where I am hosting a challenge this month, and hoping to help you get those "Real Tough" times documented too.
---

About the Author: Vicky is a member of the Creative Team here at The Digital Press. She is a stay at home Mum who lives in the UK about 10 or so miles from Central London, with her husband and their "karate mad" 8 year old son. She is an avid reader, memory keeper and coffee lover! With an obsession for Yankee candles!