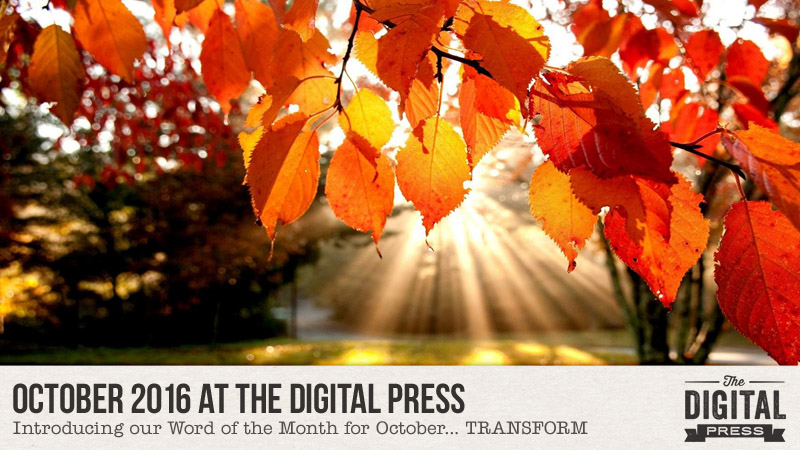 Well folks, we've just wrapped up our big Digital Scrapbooking Day (DSD) celebration this past weekend here at The Digital Press… and now with the start of a new week — its time to really dive into the month of October and all that it will be bringing our way!
For the month of October 2016, we will be focusing on a new Word of the Month… TRANSFORM. It's a simple word, but one that that conveys so much possibility and carries so many different meanings — especially this time of year. There's the view of "transformation" with regard to the changing of the seasons; here in the United States, one of the most documented and noticeable season changes is that of summer-to-fall. The colors become so vibrant, and the weather is so noticeably different, and it's so easy to document the changes that you can see — visually — all around you. There's also the view of "transformation" with regard to holidays we tend to celebrate in the month of October (such as Halloween!), in which people transform themselves into something different through use of costumes. And then, finally, there's the view of "transformation" with regard to changes we make within ourselves… transforming ourselves through constant work and self-improvement and self-assessment.
Here's a look at just a few visual representations of this idea of transformation, with regard to our Word of the Month — TRANSFORM…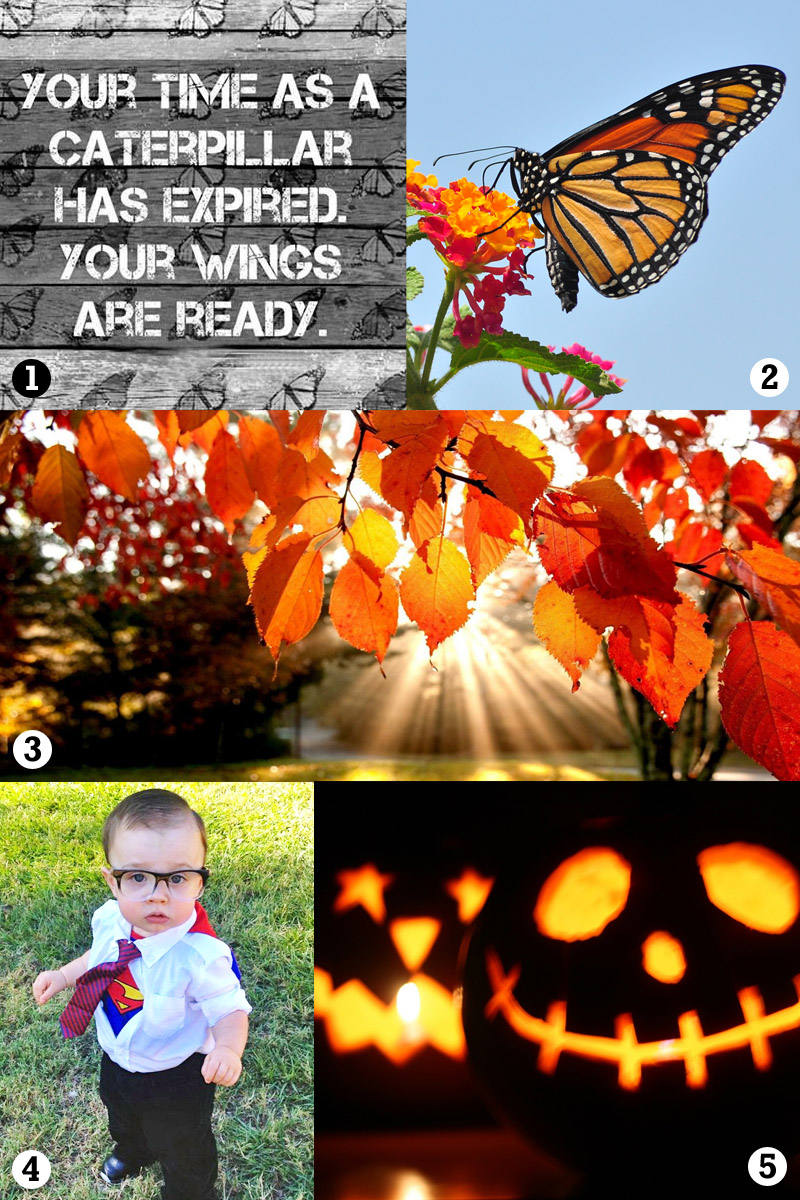 image credits [1] [2] [3] [4] [5]
Looking for ways to incorporate this idea of TRANSFORM into your scrapping and crafting this month? Come join us at TDP! We're jumping into another month of our popular Challenge System for October, and there are so many fun new things in store for you throughout the upcoming month — including a challenge that specifically calls upon our new word of the month — TRANSFORM. 🙂
We have 9 new challenges waiting for you in THE CROSSWORD SECTION — a.k.a. our forum's challenge section — a fun play on words that we love because (a) #WeAreNerdyThatWay, (b) our challenges have always been loosely connected to our Word of the Month at TDP (get it? "crossword" haha)… and (c) it fits nicely into TDP's news/press theme.
Here's a peek at the challenges you'll find throughout October 2016…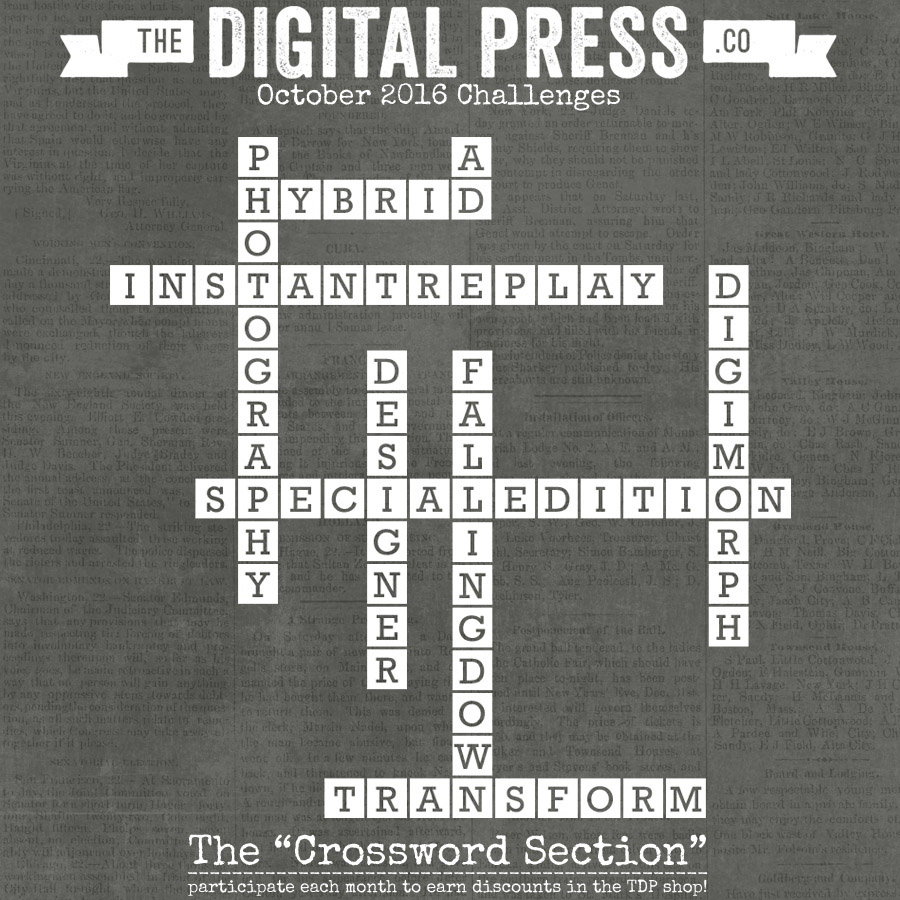 Get more information about our monthly challenge system HERE.
Meanwhile, make sure you check out our newest TDP collaborative collection, Family Game Night, which launched this past weekend in the shop. It's only been available for 3 days now but already is one of our most popular-ever designer collaboration collections here at TDP (and it's easy to see why)! With 45 papers, 96 elements, 9+ pocket cards, 3 matching themed mini-kits, layered templates, cutting files, and more… it's a must-have for scrapping your family's game night memories, creating fantastic party decorations, and more!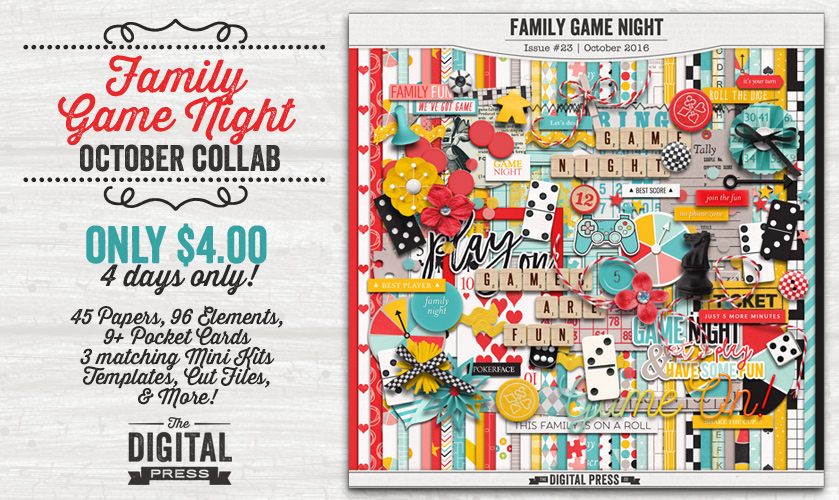 As always, you'll be able to grab this monthly designer collaboration collection for just $4 for the first 4 days of the month (after which time it goes back to regular price… so grab it while the 4-for-$4 deal is on!).
Come check it all out! We look forward to spending October with you at The Digital Press.
---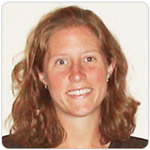 About the Author  Laura Passage is the owner of The Digital Press, and also the designer behind Wishing Well Creations by Laura Passage (WWC). She works now as a graphic designer in both the digital and paper scrapbooking industries, but previously spent over a decade working as a college soccer coach. She lives in the Pacific Northwest with her husband and two young sons (affectionately referred to as The Tiny Terrorists), and will rationalize eating coffee ice cream for breakfast to anyone who questions it.