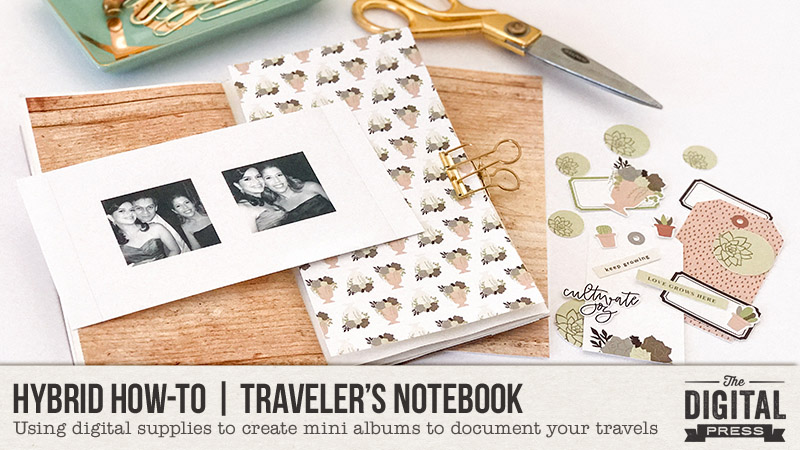 Hello everyone! It's Saturday, and therefore it's time for another edition of our Hybrid How-To series here on The Digital Press blog! Today I'm going to show you how make a traveler's notebook using supplies from your digital stash.
Supplies Needed:
A small notebook
Any physical supplies/embellishments you might want to add (I used enamel stickers and glitter tape)
Digital kit of your choice (I used Rooted By Sahin Designs)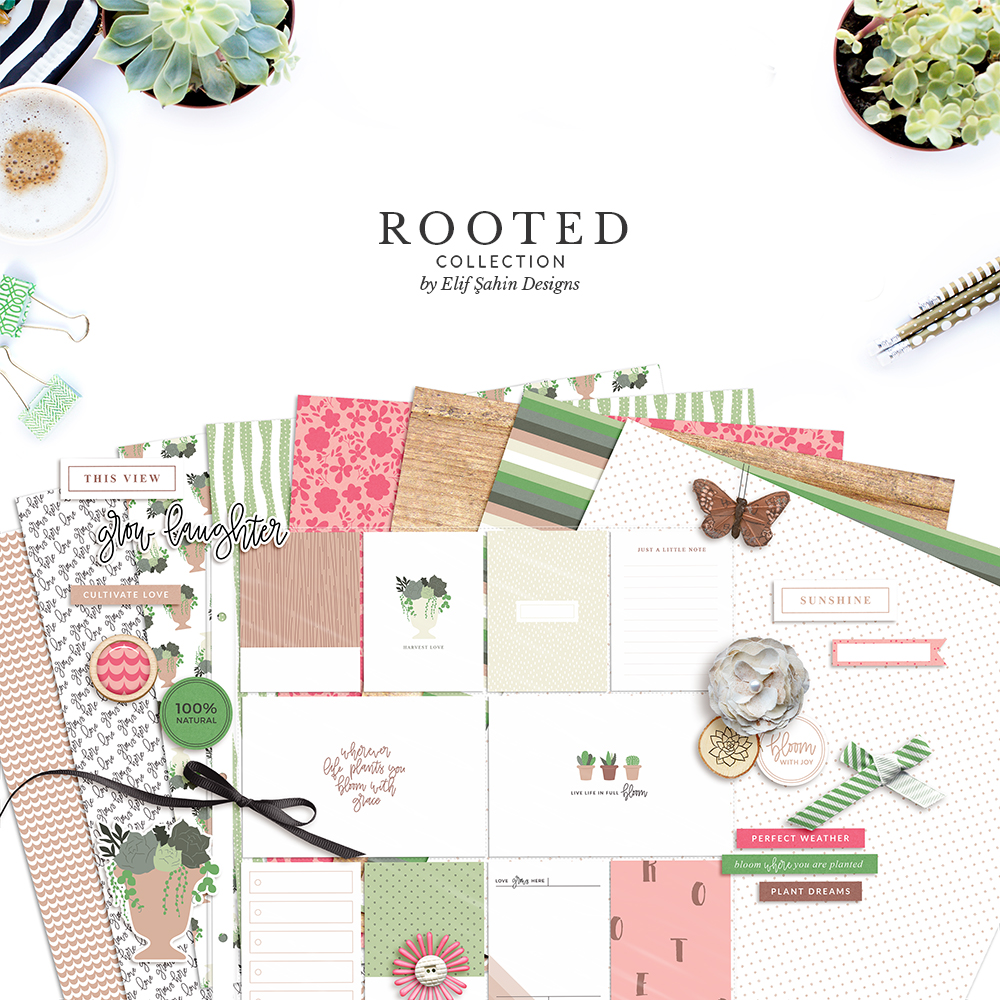 Instructions:
First, I measured my notebook and then opened a new  document in Photoshop and used a canvas that was the same size as my notebook's pages. By dragging different papers and elements from my digital kit onto my canvas in Photoshop, I made a 2-page spread as shown the image below…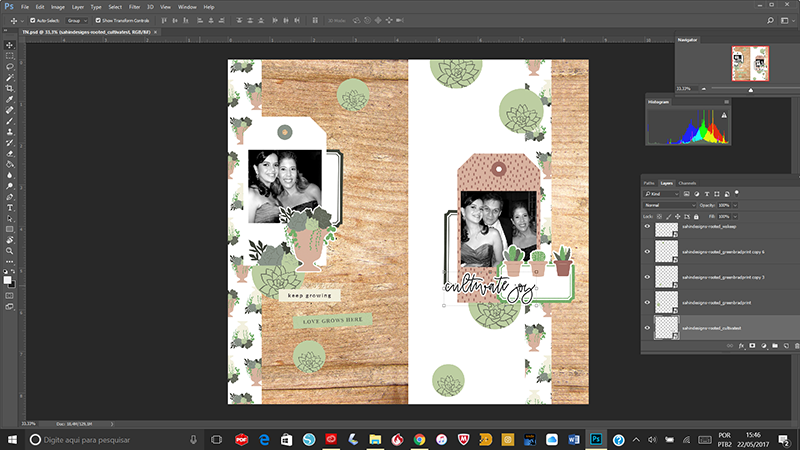 I always make my hybrid projects in Photoshop first, in order to print the papers and the elements in the correct size and quantity. Then, once I know which items I want to use, I print them out separately. After printing, I cut out all of the individual pieces using my Silhouette Cameo (you can also use scissors and fussy cut everything, too, if you don't have a cutting machine). This transforms the printed digital elements into beautiful die cuts…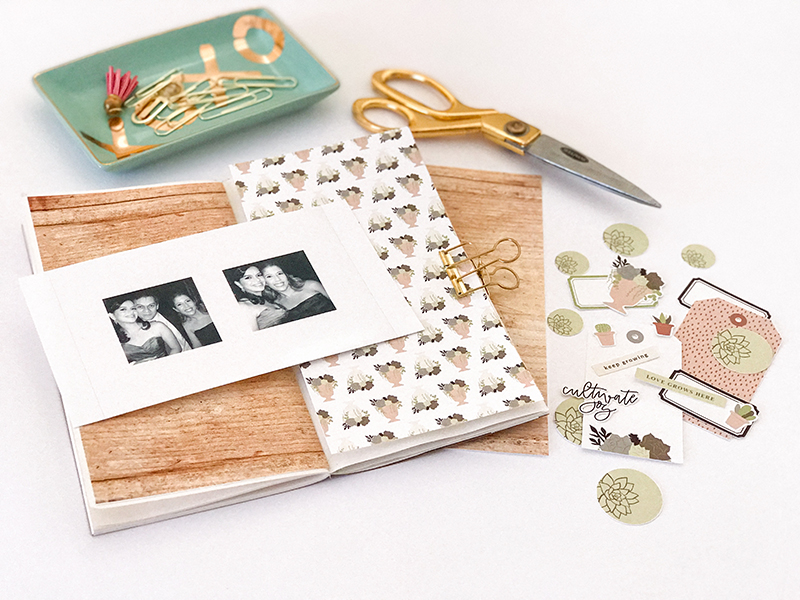 Now, it's time to assemble it, which is always so much fun! You'll notice that as I began arranging my items, I changed my mind a little bit and the final spread is different from the digital version I originally made in Photoshop (up above).
Here is a look at the final project as it took form…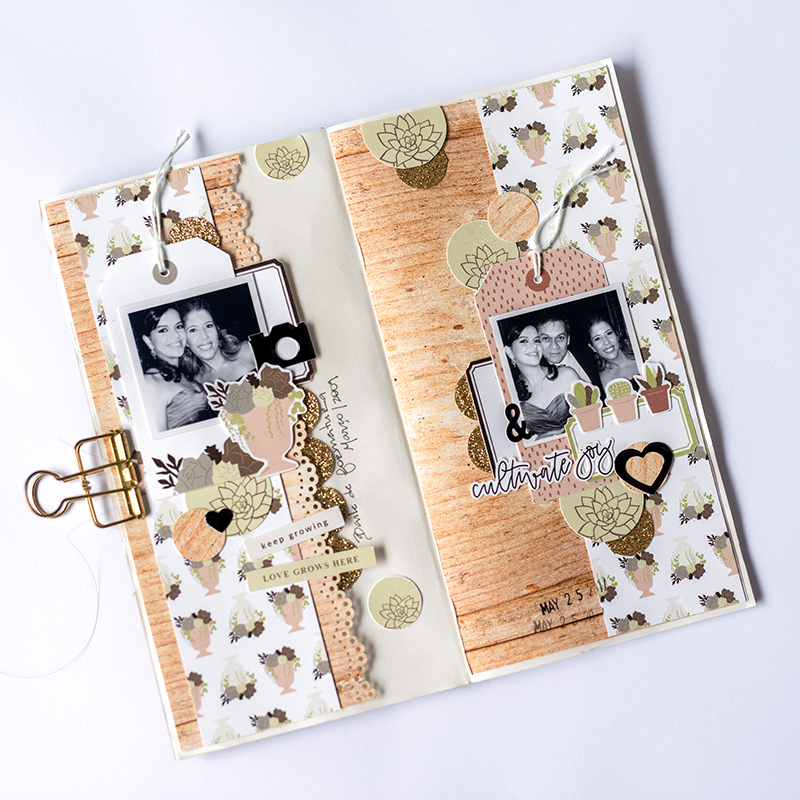 I used some enamel stickers, glitter tape, and a scalloped border punch just to give more depth and details to my spread…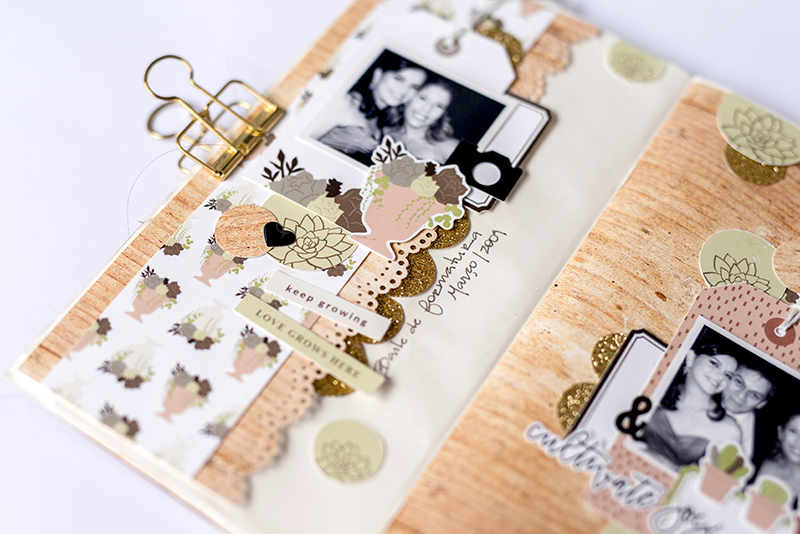 I really love using digital kits and turning them into physical projects. It's so much fun to see something that starts out digital take form in a physical format… and the added benefit is that we can print digital products as many times as we want!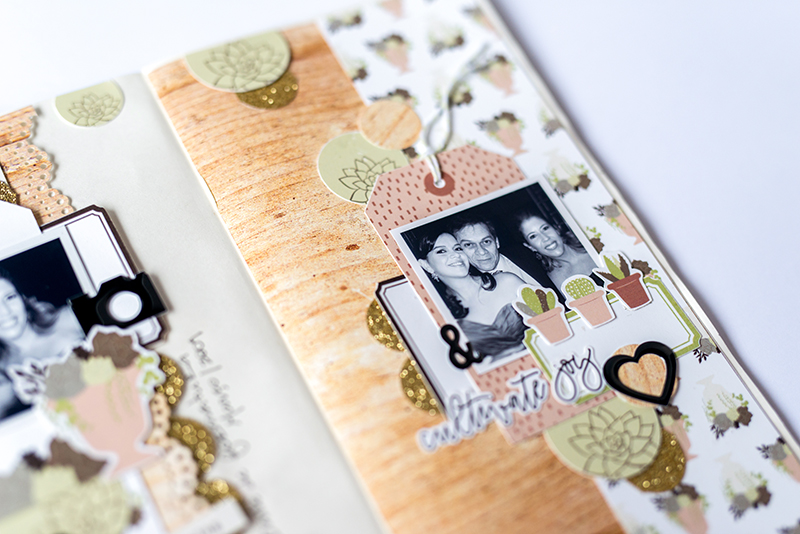 As you can see, a traveler's notebook such as this is an easy and fun project that you can make in just an hour or two using any notebook or planner you already have on hand.
If you'd like to give this a try, too, don't forget that you can earn challenge points at The Digital Press! Come visit the CROSSWORD SECTION in The Digital Press forum, and you'll find this month's Hybrid Challenge thread (*NOTE* for each month's Hybrid Challenge at TDP, you get to choose one of the two (2) "Hybrid How-To" tutorial posts from here on the blog for that month, and then you get to make your own version of that chosen project). If you choose to give today's project a try… all you have to do is make a traveler's notebook using digital papers and elements that have been printed and cut into a physical format (similar to mine, but it doesn't have to be identical in size or format — you can do what works for you!).
Give it a shot, and share your final results with us! We can't wait to see what you come up with. 🙂
Have a great weekend… and happy scrapping!
---

About the Author  Andrea Albuquerque is part of the Hybrid Creative Team here at Digital Press. Andrea has been a scrapper since 2010 and a photographer since 2012. Although she adores the flexibility and creativity of digital, she can't resist playing with paper, paint, and embellishments… so hybrid scrapping is the perfect medium for her! She lives in Brazil with her hubby.