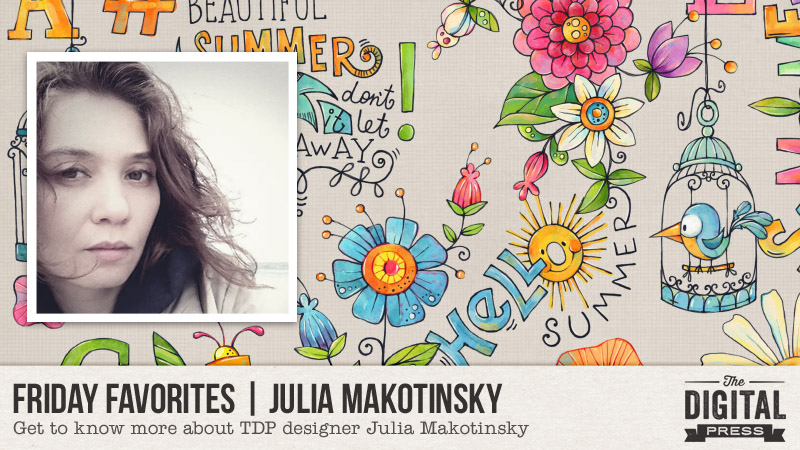 Hello everyone, and welcome to another edition of our designer feature series here on The Digital Press blog in 2019 — Friday Favorites! This year, we are learning a bit more about each of our fantastic designers by having them share some of their favorite things with us each week (so much fun!).
This week, the spotlight is on the awesomely-talented Julia Makotinsky ! This is actually Julia's 3rd feature here on the blog (you can find her most recent feature article from June 2018 HERE… and/or her Foodie Friday article from February 2018 HERE w/ yummy food ideas/recipes).
This time around, in order to learn even more about Julia, we asked her to share one (or more) of her favorite things with us… and this is what she had to say…
---
"When my family and I came to the US, we found our new home in New York. It's been over 20 years now and I love seeing the ocean from my windows first thing in the morning. There is something magical and calming about the ocean and I never get tired of it. I've been walking the same beach all these years and only lately discovered such thing as "beach combing". I always loved looking for things on the beach, but lately it has become an obsession.
I also discovered a new beach nearby, which is a true treasure hunter paradise. It's an abandoned place which holds various household items from the 40s, 50s, and 60s. If I ever get sad or lost for ideas, I go to that beach to just get lost in the search for history, bits of pottery, toys… while listening to the waves crush against the shoreline.
Here are just some of my finds…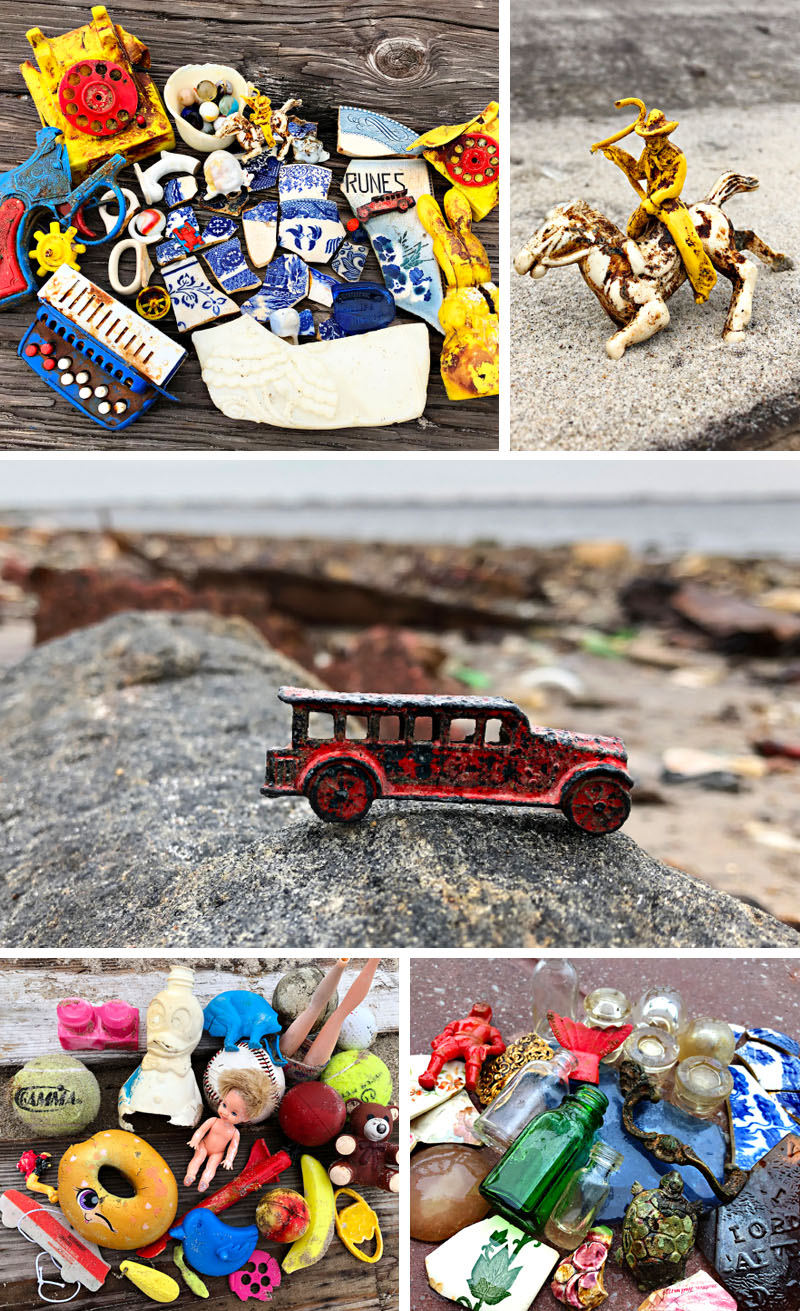 …and being a designer, I always look for pieces of pottery to get some pattern design ideas from for my papers, or color combinations, and just have fun exploring. I always thought I was the only crazy person looking for stuff to find on the beach, but as it turns out IT'S A THING! called "beachcombing" — who knew? 🙂 …and there are others who do the same exact thing. Makes me wonder if any of our followers have the same hobby as I do? And if not, I just hope you'll find this little fact about me interesting to read!"
---
Isn't that so fun?! Kind of amazing… the history that can be found just laying around on a beach somewhere… 🙂
For those of you who aren't already as familiar with Julia's design work, she creates the most amazing doodles and fanciful elements.  Her work is fun and quirky and so easy to play with!  Julia has so many different products too!
Here is a sampling of some of the items you'll find in Julia's shop here at The Digital Press…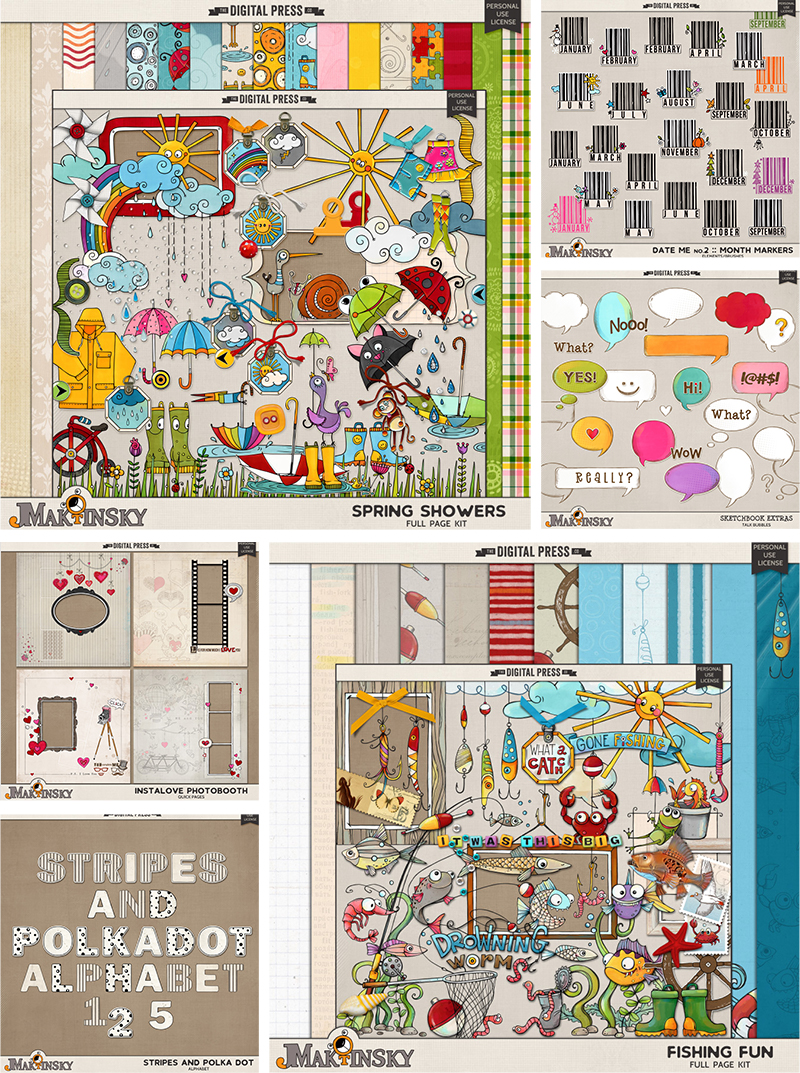 And to give you just a glimpse of how versatile her products are, and show you many of the fun ways they can be used… here's a look at just a few of my favorite projects from the gallery at TDP, which is always full of beauties from Julia's shop…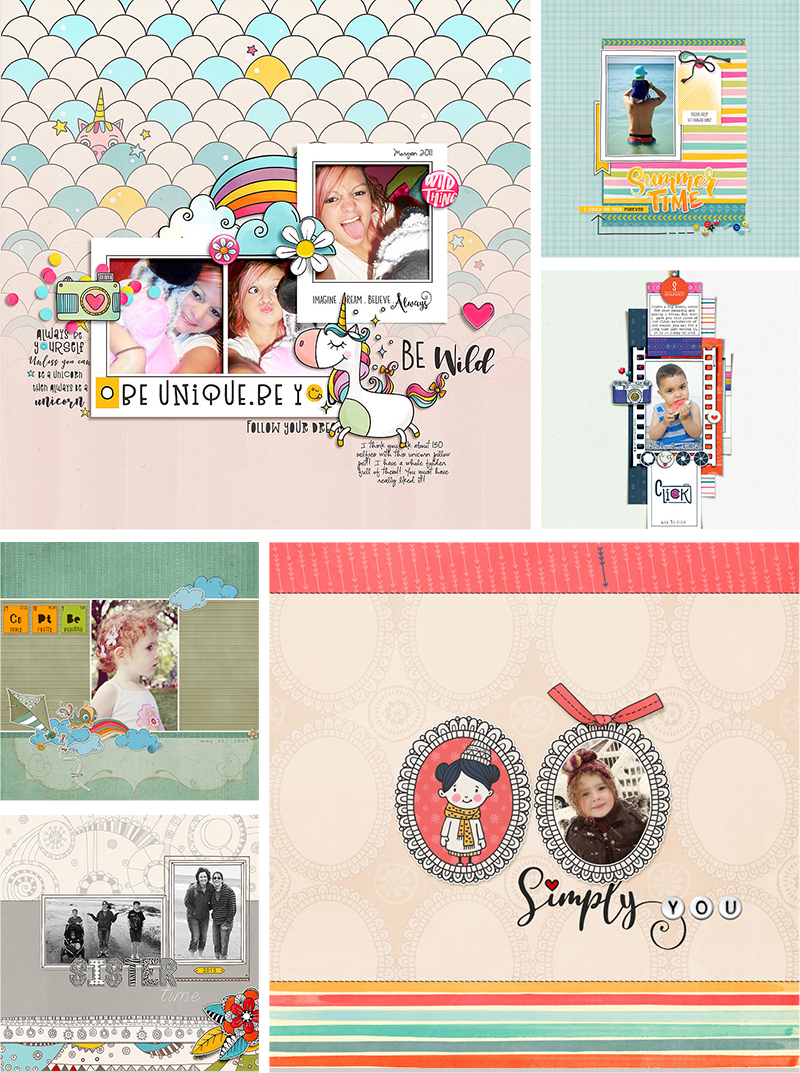 Aren't those layouts super inspiring?!
Hopefully, today's Friday Favorites article has given you even more insight into Julia's persona and creative style (and again, if you want to know even more about her — scroll up and use the links to her previous features here on TDP's blog, where's there's lots of good stuff!).
And the best news of all?! …during Julia's upcoming feature week here at The Digital Press, you can enjoy the chance to score an amazing deal in her shop if you use the following coupon code when purchasing her digital goodies (this code/sale will be valid through 11:59pm ET on Thurs 3/14). Don't miss it!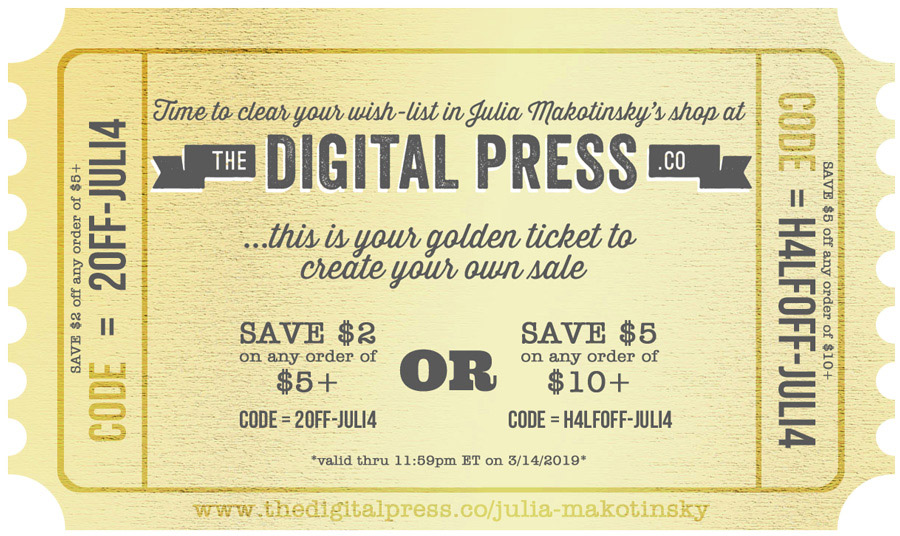 [ if you have trouble seeing the coupon image, above, the codes are as follows: "save $2 off any purchase of $5+" by using code = 2OFF-JULI4 . . . or "save $5 off any purchase of $10+" by using code = H4LFOFF-JULI4 ]
---

About the author  Robin is a member of the creative team here at The Digital Press. A wife of 26 years and a mom of 4 crazy children (3 in college and 1 still at home), she says that her life occurs mostly in the car as she transports said crazy kids to their many, many homeschool activities. When not driving, Robin loves to make her family cringe by pulling out her camera again (and again, and again…).