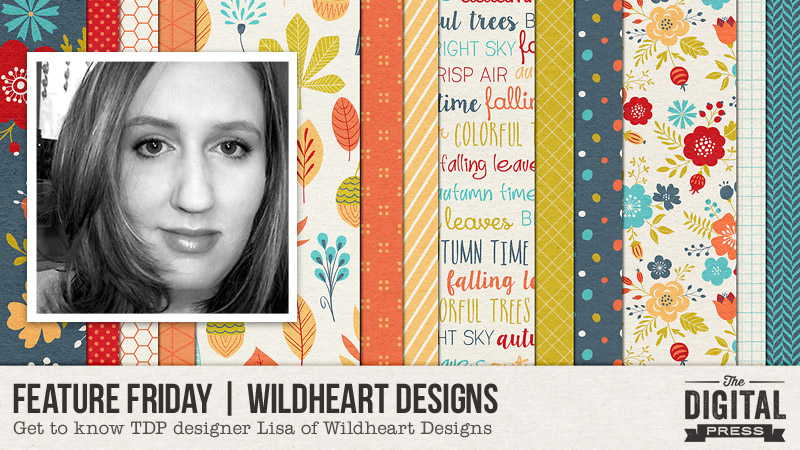 Happy Feature Friday! This week, we're excited to introduce you to Lisa of Wildheart Designs. Lisa creates digital products that have a traditional paper-realistic style, with lots of textured elements that can be layered on top of each other in Photoshop, as well as fun themes and bright colors. Her kits are almost always bright and colorful and fun to work with.
This is just a small sampling of the inspiring product offerings you'll find in her store here at The Digital Press…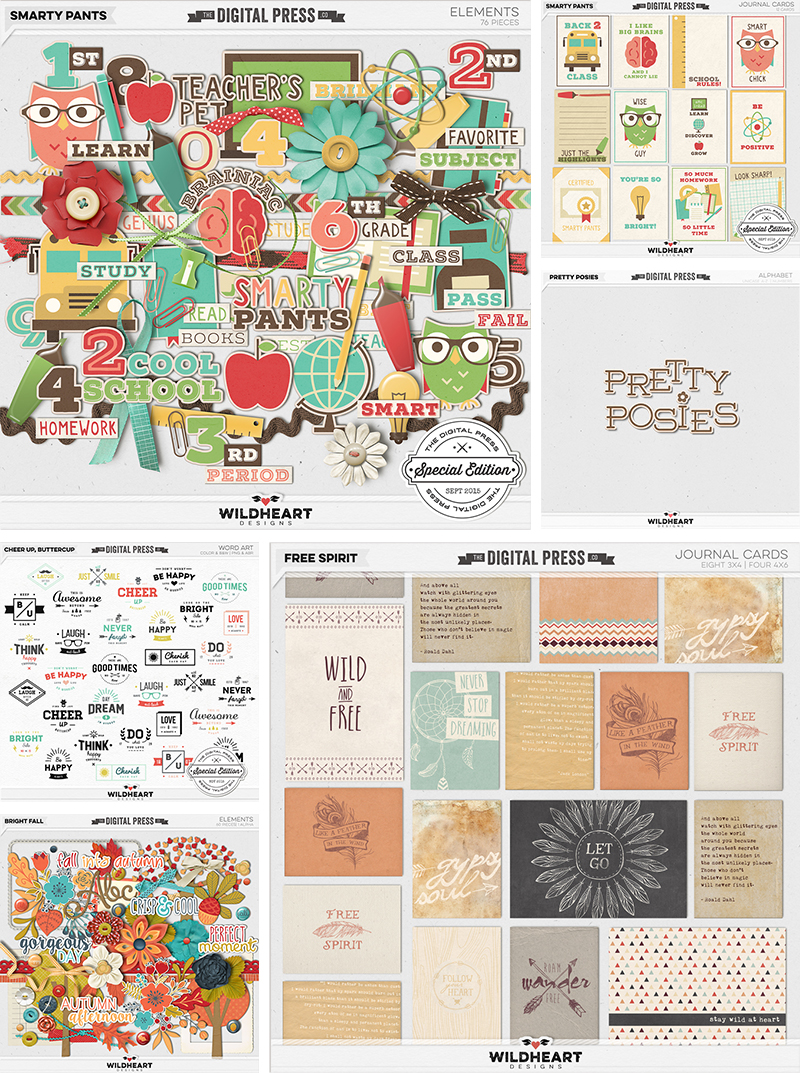 And now, let's get to know Lisa a little better! We asked her to answer a few questions so we could learn more about her…
Where do you live?
I recently moved back to my hometown in Florida, after 15 years in Utah. 🙂 Talk about a climate change!
When you're not designing, what do you do with your time?
I hang out with my family… binge-watching Netflix, reading conspiracy theory books, working on my epic ghost romance novel series, or plotting ways to make my 4-pound chihuahua and Chiweenie dogs instafamous.
What are 5 tidbits of trivia we might not know about you?
—I'm afraid of birds. Not so much pretty birds like parrots or parakeets in nice cages that don't fly around… but wild birds, like seagulls, pigeons, etc. If we go to the beach or the park and there are a ton of birds hanging out, I freak out. The sound of flapping wings, uuuggghh. It makes my skin crawl.
—I recently discovered coffee. I'm almost 40 and never been a coffee drinker until recently. I was like, "where have you been all my life?" I'm in luuurvvveee!
—I have ADHD. While controversial to admit these days, since opinions about it vary greatly, I was just recently diagnosed at 39 and it has changed my life and how I look at it. I have a lot more self-compassion and I better understand the struggles I've had over the years. It also runs in my family, and it's really helped us all grow closer, understand our challenges and develop strategies to compensate. I've learned to accept and even love my ADHD tendencies! Although it makes it tough to design on a regular basis and my releases can be sporadic, I try to embrace inspiration whenever it strikes.
—I don't know how to ride a bike. We grew up in a scary part of town when I was kid, so I never learned. By the time we moved, I was a teenager and wasn't interested in learning. I do, however, have some mad scooter skills and still have my purple Razor from back in the early 2000s when scooters were cool. 🙂
—I own over 20 pairs of Crocs. I ordered my first pair of Croc flip flops 8 years ago and fell IN LOVE. It's like walking on marshmallows! I am a flip-flop girl and I cannot stand closed-toe shoes if I can help it, so I only own two of the "ugly" clog styles — the fur-lined slippers, and a pair of hot pink ones (because HOT PINK!). The rest are all sandals or flip-flops and they are awesome!
Which of your products is your favorite?
I would have to say my Smarty Pants collection, since the colors were from a Special Edition palette and I suck at color selection. The journal cards, especially, are my favorite!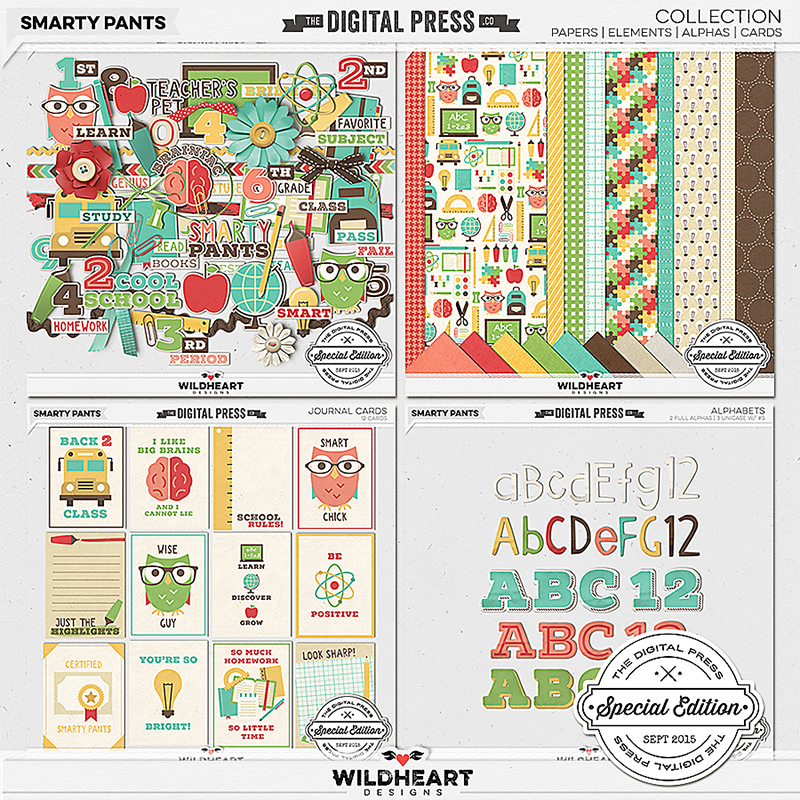 Here is a sampling of some of my favorite projects using Lisa's designs…
If you haven't already browsed through Lisa's shop here at The Digital Press… definitely check it out HERE! You will want to take a peek this week, for sure, because her entire shop will be 30% OFF through the end of next Thursday (sale will end at 11:59pm ET on Thurs 8/18)!
---

About the Author  Lindy Krickbaum is a member of the creative team at the Digital Press. She is a happily-married wife, and best friend to her twin sister. She currently lives in Johnson City, Tennessee in the United States. Lindy is a self-admitted scrap-a-holic, rarely missing a day to scrap. She also enjoys designing jewelry, reading, and traveling every chance she gets.