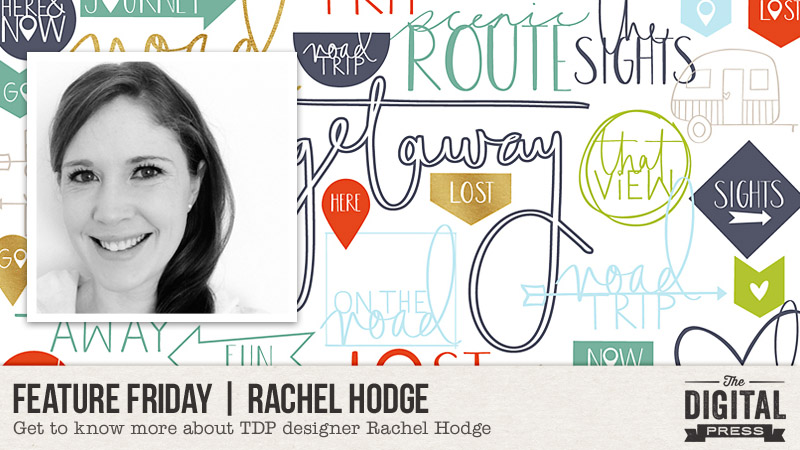 It's Friday, and time for another edition of our Feature Friday series here on The Digital Press blog! This week, we are featuring Rachel Hodge and her fun and fabulous designs.
Rachel has actually been featured before three different times on the Digital Press blog in the past (you can find her August 2016 feature HERE; her March 2017 feature HERE; and her January 2017 Foodie Friday feature HERE.
For today's Friday feature, we asked Rachel to share 5 things we may not already know about her…
I do NOT like summer — Why, you ask? …because I can't enjoy a nice cup of tea in the middle of the day because I'm literally melting!
I love my kids THE MOST …when they are all quiet & sound asleep in bed!
I'm totally loving dark chocolate at the moment, particularly for breakfast… or lunch… or pre-dinner…
I love finding new recipes to try out on Pinterest — yup, I actually don't just pin… I try!
Did I mention how much I love my kids when they are asleep? Probably should add that in there JUST IN CASE YOU MISSED IT 😊
Mmm, sleeping children and chocolate… these are things I love, too! And speaking of things to love… well, if you have a browse through Rachel's store at The Digital Press, I think you will find yourself falling in love with many of her word art sets and cards! Rachel has created such a variety of word art sets, from the fun and lively, to the calmly sweet and simple. Here is a selection of some of my favorite products from Rachel's shop…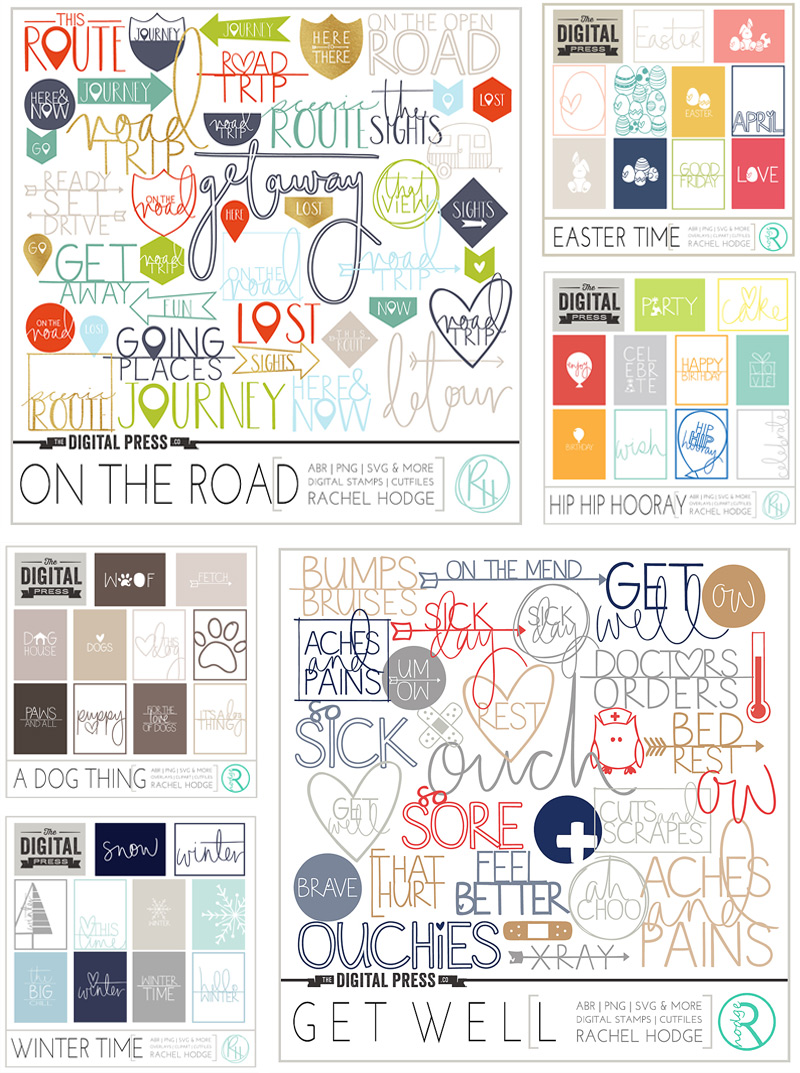 Additionally, here's a look at some of Rachel's products in action… used as titles, word art, stamps, cute stickers and journal or filler cards; for digital and hybrid projects. I think they add a beautiful hand-made touch to everything…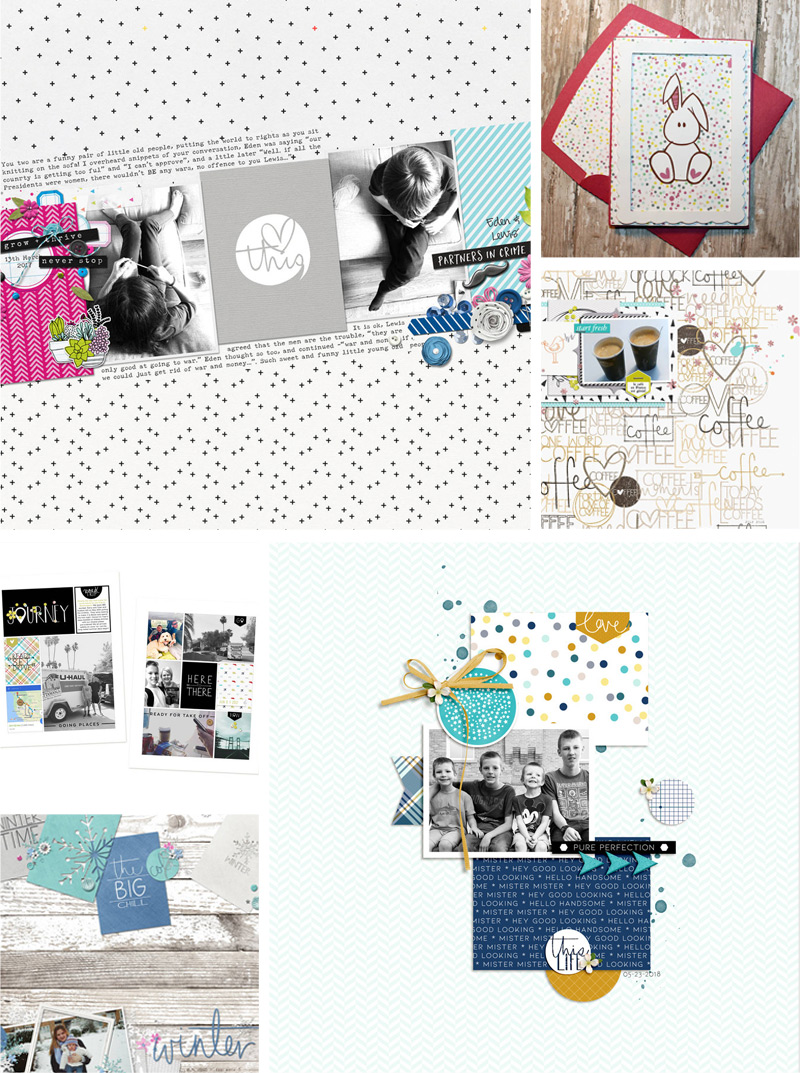 I hope you have enjoyed finding out a little more about Rachel Hodge, and I will bet you have already found something in her store at The Digital Press that makes you smile, or makes you want to try using her words or cards in your next project! To celebrate her feature week, her entire shop at The Digital Press will be 30% OFF all week long (sale ends at 11:59pm ET on Thursday 6/21).
Additionally, Rachel has a special Free-with-Purchase offer for everyone this week! Don't miss out on this opportunity to stock up on your favorite products from Rachel Hodge… and you can snag this fantastic hand-drawn cutting file set — On the Road — for FREE with any $10+ purchase in her shop — this week only (again, this offer ends at 11:59pm ET on Thursday 6/21).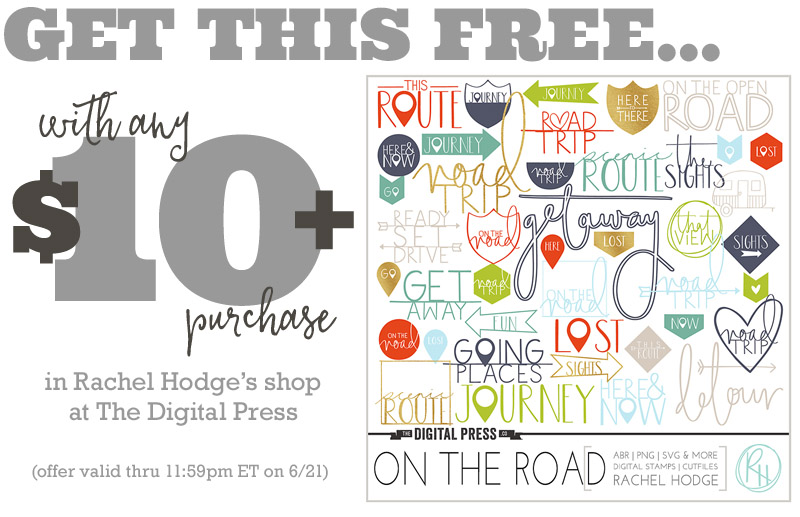 ---

About the Author Corrin is a member of the creative team here at The Digital Press. She is a fan of the Big Bang Theory and a lover of cozy pajamas or flip flops when the sun finally shines! She lives in the breezy South of England with her husband and 4 crazy kids, who regularly discover & plunder her secret chocolate stashes, and hopes that maybe this will be the year she reaches the bottom of the laundry pile!