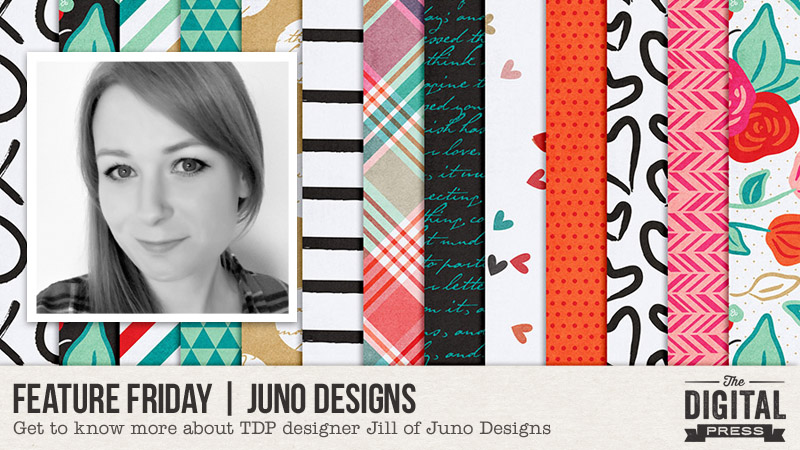 Hello, everyone, and welcome to another edition of our Feature Friday series here on The Digital Press blog!
This week, I'm very happy to be highlighting the amazingly talented Jill of Juno Designs. This is Jill's second feature here on the blog (you can find her first feature from September 2016 HERE)… and whereas last year we used our feature series to help you get to know some fun trivia about your favorite designers — this year, we're going to use our designer feature series to give you a little peek into our designers' creative spaces and more insight into their creative processes.
Jill lives in the Netherlands with her boyfriend and their 2 pet rabbits. About her job as a designer, she says, "I feel very lucky to spend my time doing what I love
most. If I'm not designing, I like to work on my Project Life album or the occasional 12×12 layout. I also enjoy being outside, going for walks, or geocaching if the weather allows it. But since it rains more often than not here in Holland, I love watching Netflix and reading, as well."
Here's a look at Jill's creative space, where she works her design magic:…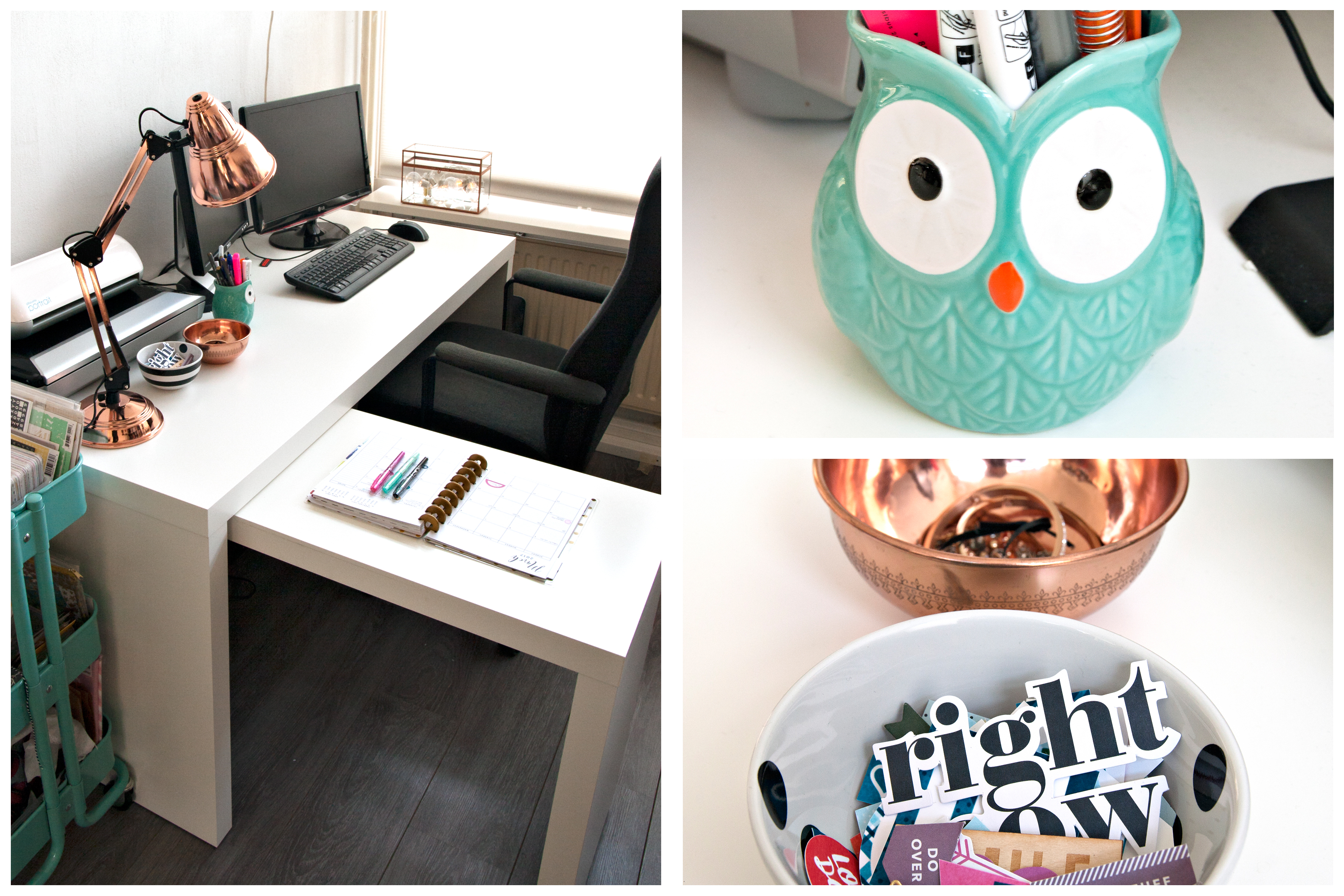 Here's what she says about her workspace: "At the moment, my workspace isn't anything special. I recently moved in with my boyfriend and we don't have a spare room for my office yet, so I have a desk in the corner of the living room. We are planning to move house in the near future, so I'm keeping my fingers crossed for extra space. But I like my little corner of the room. I love my cute little pen holder and I always have a few bowls filled with labels, die cuts and wood veneers on my desk. I feel like it helps keep me inspired and reminds me to keep up with my Project Life album as well (which can be a problem sometimes LOL)."
What a beautiful space! And did you see that adorable owl pen holder? Could it be any cuter?
We asked Jill to provide us with a Top 5 List that is representative of her at this point in her life… and she chose to share 5 things she currently loves.
Jill's Top 5 "Things I Currently Love"…
Project Life. I fell off the wagon last year, but I'm determined to finish an album for this year.
Binge-watching Netflix. My boyfriend and I are currently watching Breaking Bad.
Anything Copper and/or Rose Gold. Jewelry or homeware… I want it all! LOL
Tea. I drink a lot of tea, and mint tea is my favorite.
Books. I've always loved books. Buying, collecting, and reading them.
I don't know about you, but I can sooooo relate to her choices (especially #2 and #5)!
Jill has an amazing, realistic, and paper-like design style. She uses bright colors, gold, and glitter like nobody else… and even though her kits are often themed, they are super versatile and can be used for any type of page!
Here are just a few of my favorite products from the Juno Designs shop at The Digital Press…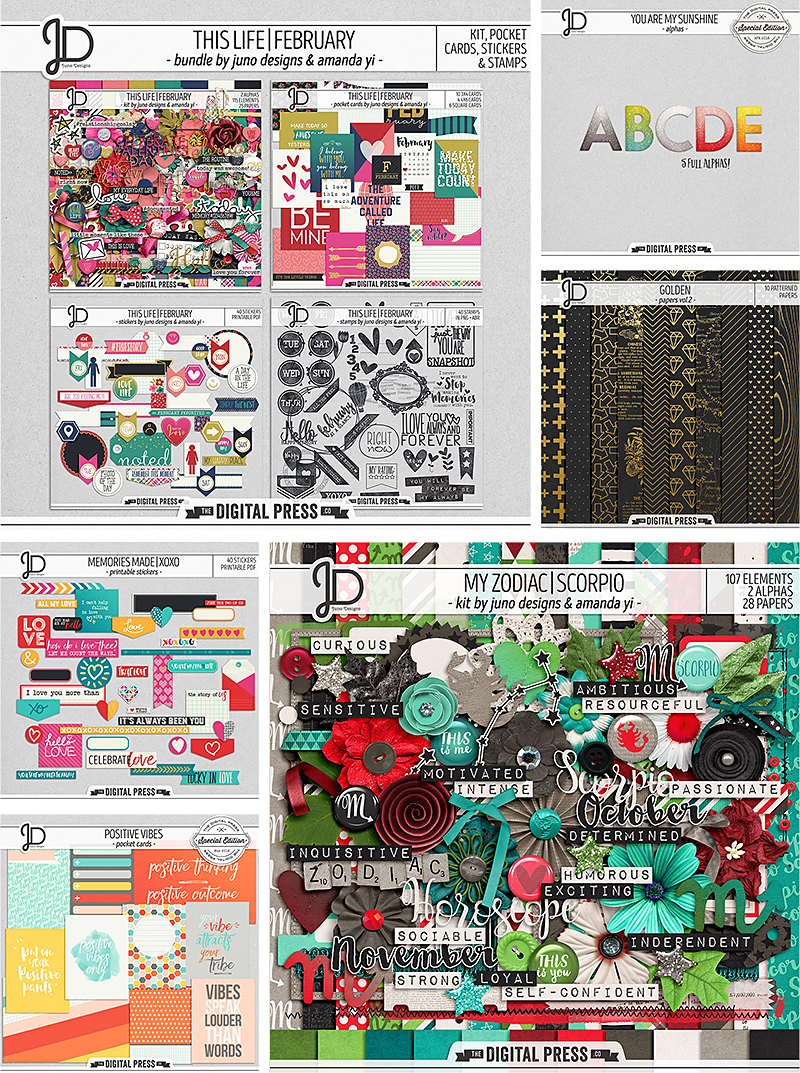 As mentioned above, Juno Designs' kits are super versatile and allow users to create anything they can imagine — from minimalistic layouts to pages that are full of clustery awesomeness; from traditional 12×12 pages to pocket pages; and more!
Here, you can see just a teeny tiny sampling of layouts (in many styles!) that have been created with Jill's products…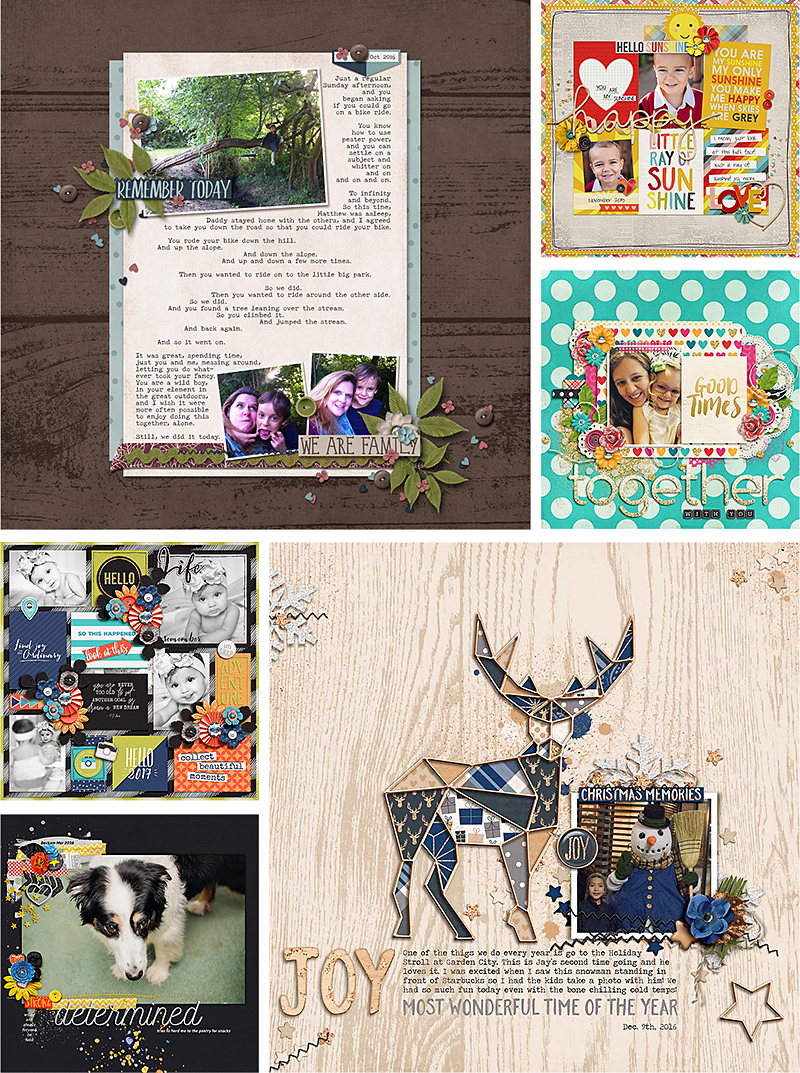 I hope you enjoyed learning a little bit more about Jill's workspace, her creative process, and also discovering her amazing products! And as if all of this fun info wasn't enough… the entire Juno Designs shop will be 30% OFF throughout her feature week (the sale ends at 11:59pm ET on Thursday 3/16), including her newest releases!
Additionally, Jill has a special Free-With-Purchase offer for everyone this week! Don't miss out on this opportunity to stock up on your favorite wish-listed products from Jill… and you can also snag her "Lucky In Love" Kit for FREE with any $10+ purchase in her shop — this week only!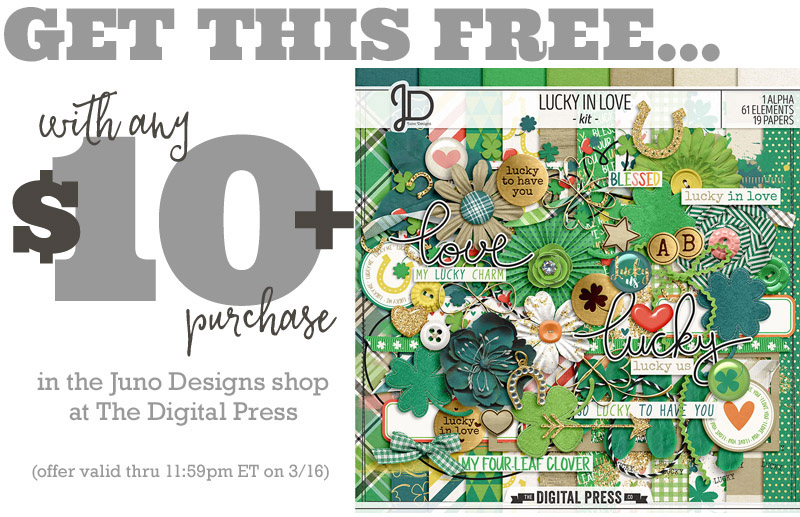 ---

About the author  Chloé is in charge of PR and communication for her small town by day, is a digiscrapper "by night," and a photographer whenever the light is beautiful. She lives with her man and fur-babies in a small town of Alsace (in the northeast of France), where she loves to read, watch good TV shows (TWD being her absolute favorite), and just hang out with her friends — no matter if they are close by, online, or away in her Swiss hometown. She recently became quite obsessed with Bullet Journaling, Miracle Morning and Zero Waste.