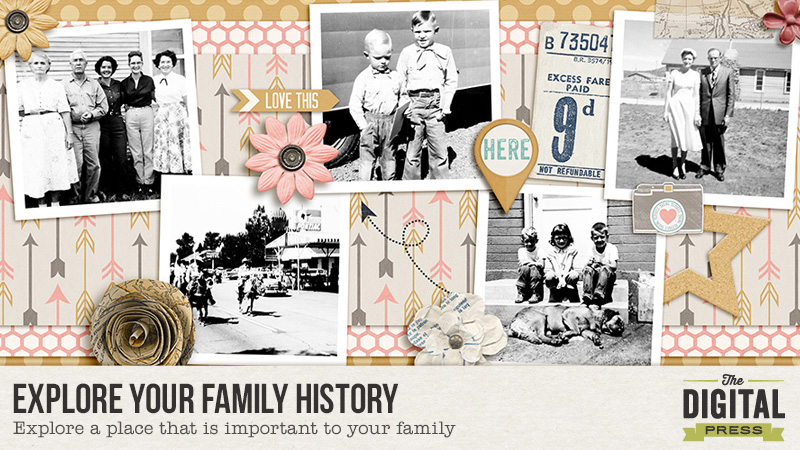 My Dad was born and grew up in a VERY small town in northern Arizona. Until a couple of years ago, I had no idea how my family ended up there, or even how my Grandparents met.
My Grandpa moved to Tucson in the 1930s – his Grandfather had died of tuberculosis and the family doctor recommended that his Grandma and Mom, who both had the disease, move the rest of the family to the dry Arizona climate for health reasons.  My Grandma's family moved from Oklahoma during the Dust Bowl.  They packed all of their belongings into a truck and drove west on Route 66 until they ran out of money in the tiny town of Williams, Arizona (it's very Grapes of Wrath).
My Grandpa and his brother owned a small construction company, and they were working out at the Camp Navajo Army Depot when he met my Grandma, who was working as a Secretary in one of the buildings.  As they say, the rest is history!
A scrapbook layout with some of my family history was definitely needed – I thought The Road Ahead by KimB and Digital Scrapbook Ingredients was perfect for this story.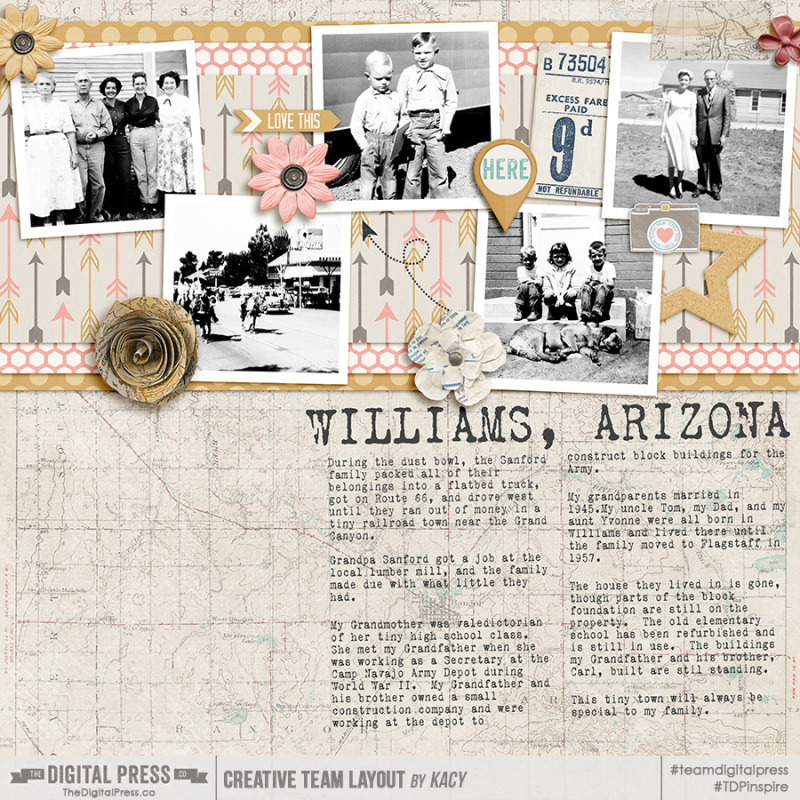 I love all of the family photos from Williams – the annual Rodeo, the old buildings in town, my dad in an adorable bow tie and jeans, my Grandparents on their way to church, or my aunt and the family's dog.  And my Great-Grandparents even make an appearance (off to the left) – one of just a few photos of them still in existence.
It is fun to think about the "what ifs".  What if my Grandma's family had made it farther west?  What if my Grandpa never moved north for work?  My dad (and my sister and I) wouldn't exist!
We'd love to see your layouts – join us in the forum!

About the Author:  Kacy is a member of The Digital Press Creative Team.  She's an Environmental Engineer living in Arizona with a cranky, pudgy, but insanely cute calico kitty.  She enjoys scrapbooking, crocheting, dancing awkwardly to electronic dance music, Grumpy Cat, cupcakes, Stephen King books, and men in kilts.