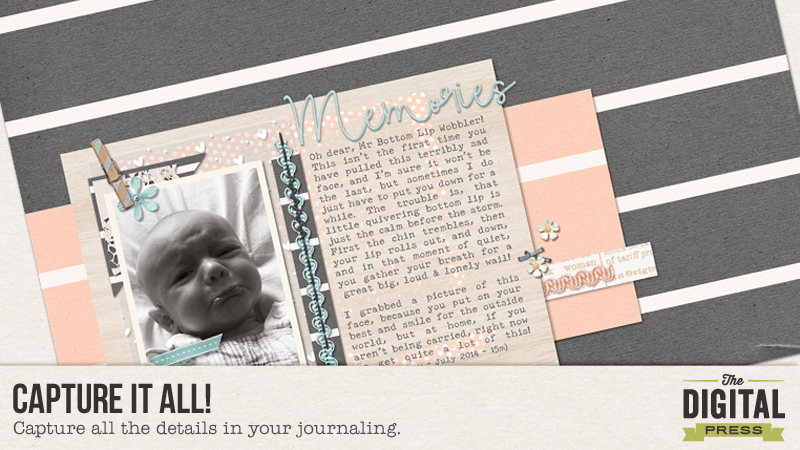 Most of the pages I scrap are an attempt to capture one little moment in time, one little joke, or one single experience.
I am pretty good at documenting who said what, as well as the where and when of things happening. Mostly, I am happy with that minimal amount of information… as it is enough to jog my memory so that when I eventually look back at the pages I have scrapped, each recorded moment comes flooding back into my memory and I can experience it all over again.
The notes about these little details are a really simple (but important!) way to document all of these important memories. Sometimes it's all too easy to look back on a photo, with no other context, and forget those little details. That's why these little bits of journaling can be so important and meaningful.
Most of the little moments I am trying to capture these days are the sights and sounds of my children. My oldest is changing fast… becoming a teenager already (insert teen eye roll here)! My youngest is a toddler, however, and while watching him do all sorts of things, I remember how quickly this stage passes by, as well. Therefore, for some of the pages I make, the basic information of who, where, when, or why… are not enough. I also want to remember the sounds, smells, sights, or feelings of a moment. I want to capture it all!
In the following page, I wanted to remember my little son's wobbly bottom lip. There would be a good few seconds of this quivering lip, giving me a chance to pick him up again before he started to wail! But a year on from the photo, he no longer does this little trick! I have journaled about the way he looked, and about those quiet few seconds before the wailing began — the sight and the sound of the moment I'm capturing.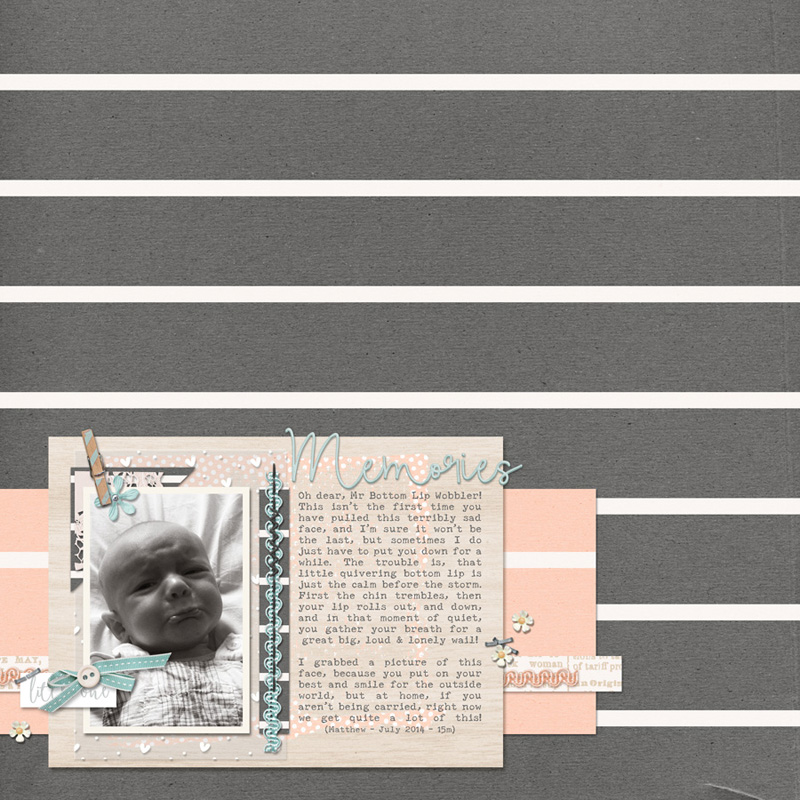 Now it is your turn! Come on over to the forum and join into our weekly scrapbooking challenge!
I can't wait to see what you choose to scrap about… and how you will describe the way it feels, sounds, smells, tastes… and all that stuff!
---

About the Author  Corrin is on the creative team here at The Digital Press, and is a fan of the Big Bang Theory and a lover of cozy pajamas. She lives in the currently wet & chilly South of England with her husband and 4 crazy kids, who regularly discover & plunder her secret chocolate stashes! She is still trying to get the house straight after moving 2 years ago. Who knows… maybe this will be the year she reaches the bottom of the laundry pile!