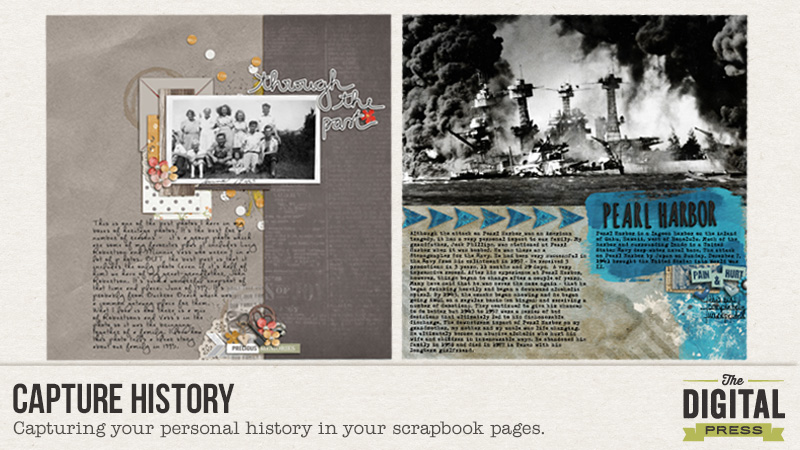 One of my favorite things about scrapbooking is that it allows me to capture the history of my life in ways that would never be documented otherwise. I have always loved knowing about the history of the people in my life, so I'm making an effort to include my story and the story of those who came before me in our family scrapbooks. We've likely all heard the old adage about those who don't know history being doomed to repeat it… and, well, I think understanding where we come from and what we've experienced makes our lives more rich and nuanced! Take the time to include history in your scrapbooks, and you will be rewarded in many ways!
There are so many different ways to include your personal history in your scrapbook pages. The most common way is to scrapbook about the people, places and events from your family's history. One idea is tell stories from the past that don't have photos associated with them. You can tell about how an event in history affected your family like I did with the layout below about Pearl Harbor…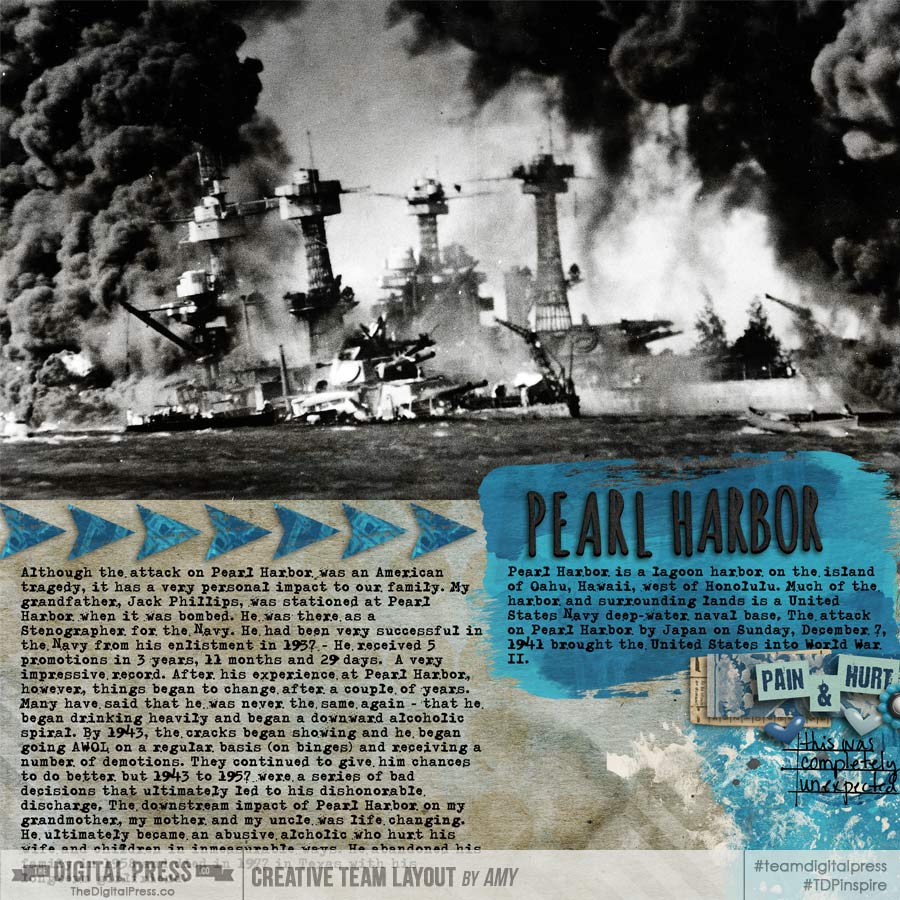 Another thing to remember is that you can still scrapbook photos that you don't have a lot of information about; you can always talk about why a photo is special to you, or about questions you have or different things you wonder about as you look at the photo. For the layout below, I don't have a lot of information about the photo… but I decided to journal about what I notice when looking at it, and what it means to me.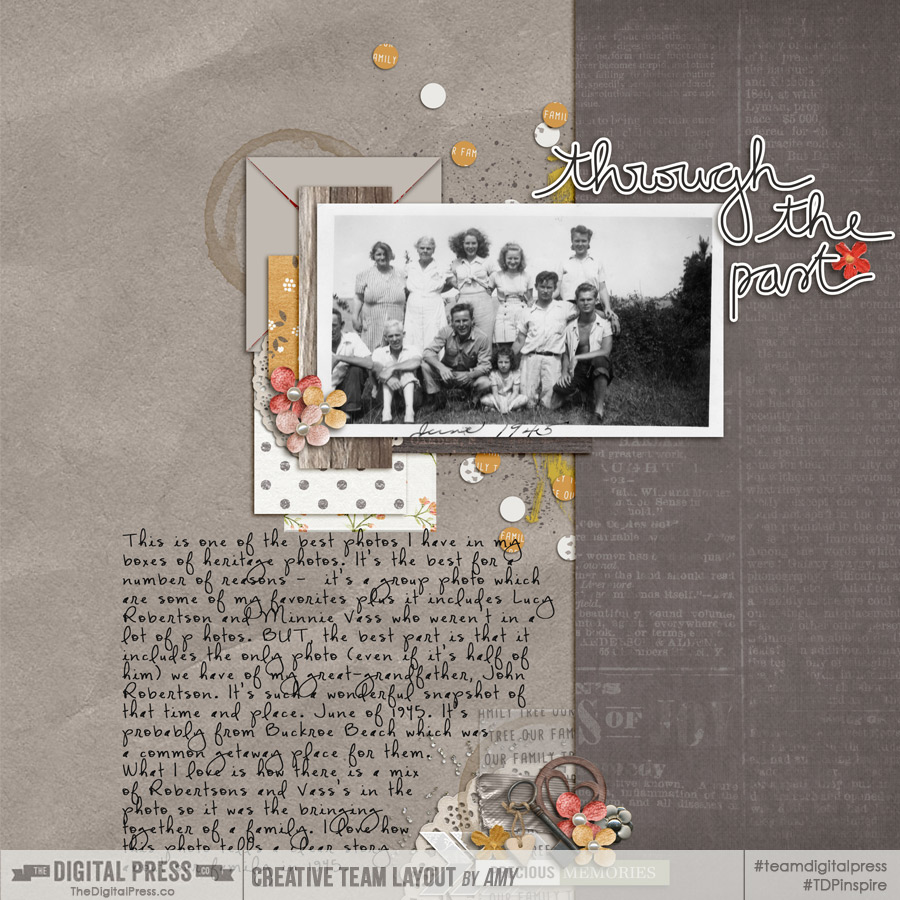 Not all pages about history have to be hundreds of years old, however. Telling stories about your own childhood will also allow you to capture your personal history. Your family will love learning about you as a child! Here is a layout that I created about my childhood and one of our adventures…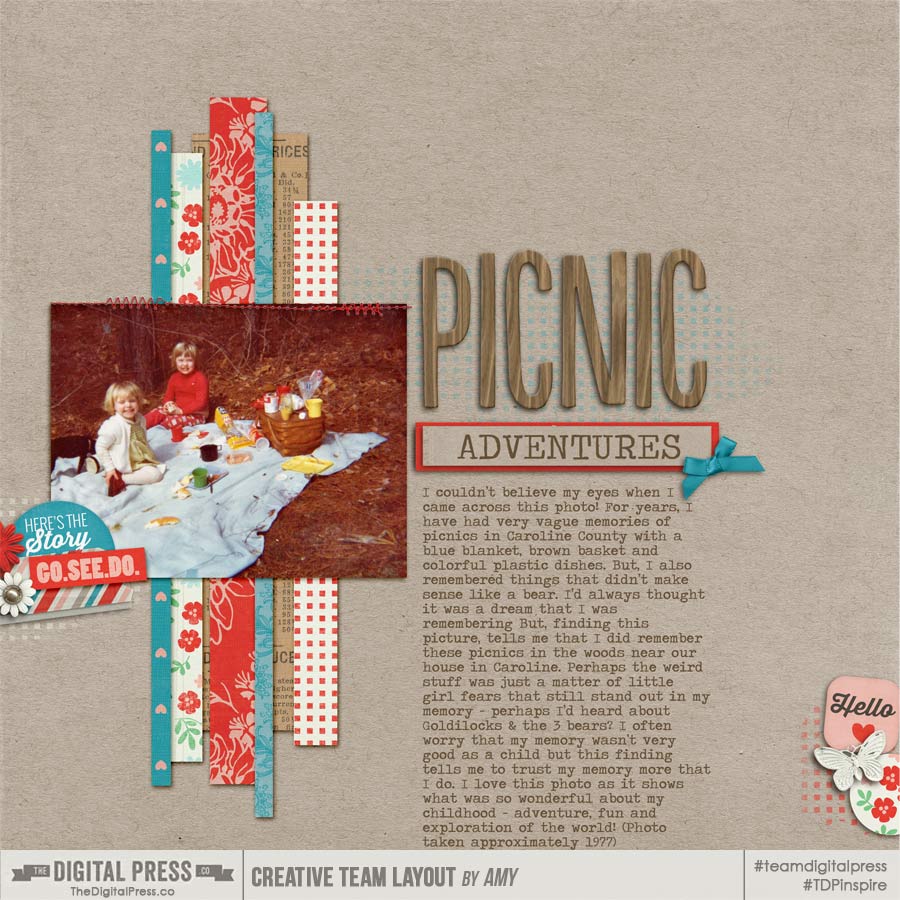 It can be rewarding to take the time to make sure that you're including your history in your pages. It's a great way to get in touch with your roots and help you figure out what you can learn from the past.
Now it is your turn to capture history. Come on over to the forum and join our weekly scrapbooking challenge! I can't wait to see the pages you create about YOUR personal history!
---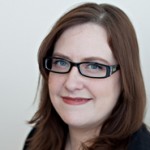 About the Author  Amy lives in Richmond, Virginia with her husband of 14 years and their 11 year old boy/girl twins. Their 20 year old daughter is in the midst of her third year at West Virginia University! Amy has been scrapbooking since the early 1990s, but discovered digital scrapbooking in 2005 when her twins were born and has primarily scrapped digitally since that time. She is passionate about telling her family's stories and documenting their life together! Amy is a huge reader (mostly literary fiction), and is a pop culture junkie! She also LOVES all things beauty & makeup!