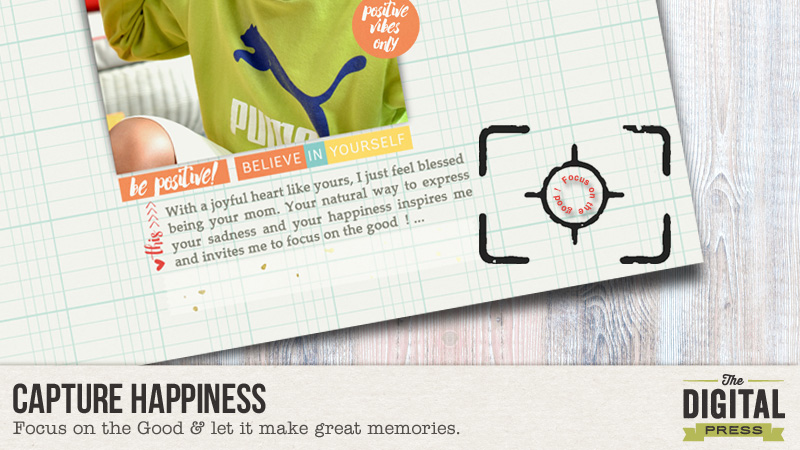 Scrapbooking is all about making memories, right?
When you browse through the gallery, you will notice that most of the layouts and projects you find reflect happiness. Of course! We are all positive people, emitting positive vibes, and chasing positivity in life. We are able to scrap when we are sad, but we do scrap more and get more inspiration when we keep in mind happy moments.
In revisiting all of my layouts from over ten years of scrapping, I realized that I made at most five layouts of sad times. This does not mean that my life was only happy during that time; I cannot lie, as there was joyous, tearful, funny, as well as sad times. I asked myself, "why I am not interested in scrapping those angry or sad times?" I do not have the answer, and do not want to find out why! 🙂  I just choose to focus on the happy.
My thousands of layouts are not only focusing on big happy events I have experienced. No! They are just drawing happiness from little moments: a smile, a joke, great weather, or warmhearted words heard here and there from my loved ones.  Of course I never miss an opportunity to scrap a happy event. I do this because as I open my albums and scroll through the memories captured, I  get a nice feeling from great memories. This gives me a reason to scrap more. Happiness is within every little thing; we just need to capture it and make great memories.
Just this week, I scrapped the page you see below. The photo and memory of that moment captured reminded me how much I love being a Mother.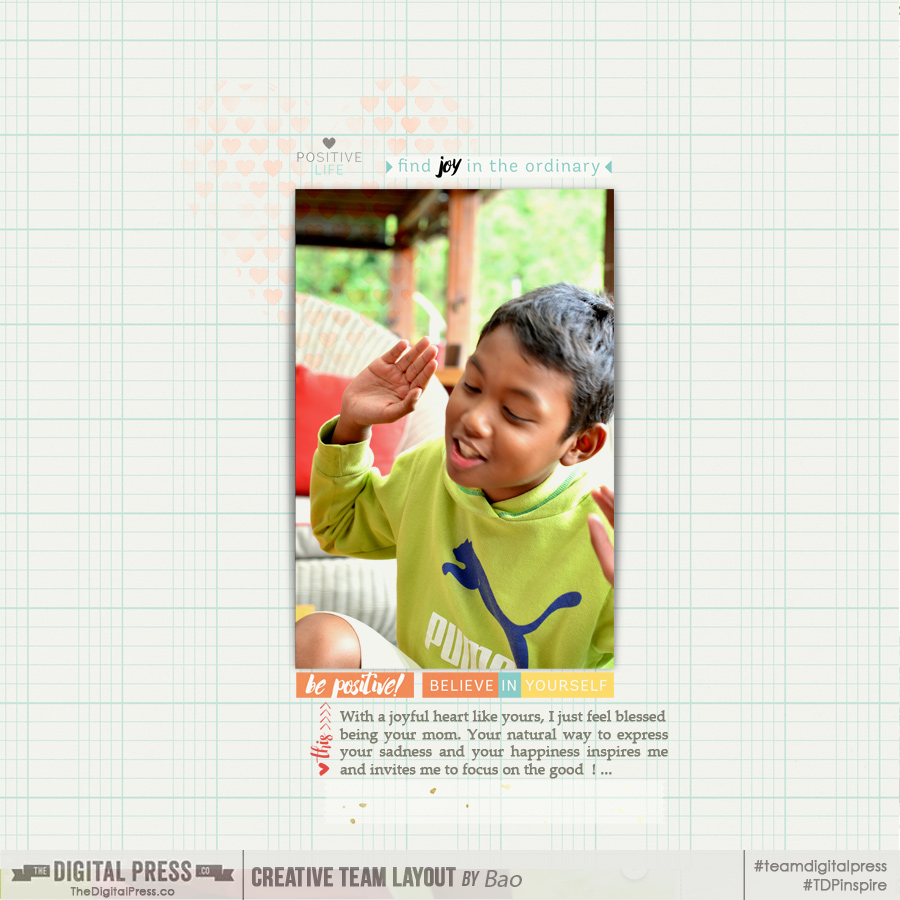 With this idea of capturing happiness in mind… the question to ask now is this — what about you? What is your last captured moment of happiness?
I invite you to come over to the forum and join us in a challenge this weekend — all about capturing happiness in your scrapping!
---

About the Author  Bao is a creative team member at The Digital Press. She has been a digiscrapper for about ten years now, and her style tends to be clean & simple. Most of the time she scraps her family's photos. She also loves, however, to scrap other subjects such flowers, nature, environment, and foods. She says hello to all of you from her big island of Madagascar, and feels blessed to live there.