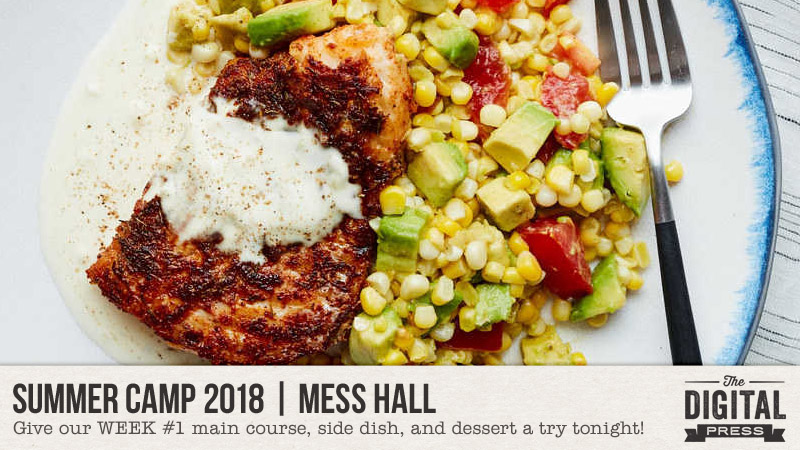 Hello, and welcome to the first edition of this summer's weekly "Mess Hall" feature — part of The Digital Press's big SUMMER CAMP 2018 event this July!
If you haven't already checked out our lineup of activities for SUMMER CAMP 2017… definitely swing through the forum, grab yourself a badge tracking card, and join the fun! We've got events, challenges, tutorials, and more lined up throughout the month of July… including a weekly FOOD article!
Each Sunday throughout the first 4 weeks of July, members of our team will be here on the blog sharing a meal with you — a main course, a side dish, and a dessert (or a drink!) that are each tried-and-true (tested personally by members of our team!). Give any of the meal items a try, and you could earn a SUMMER CAMP 2018 badge! Get the full details HERE.
The WEEK #1 meal is very, very worth a little time in the kitchen, folks. Trust us on this (and it's actually really quick & easy!).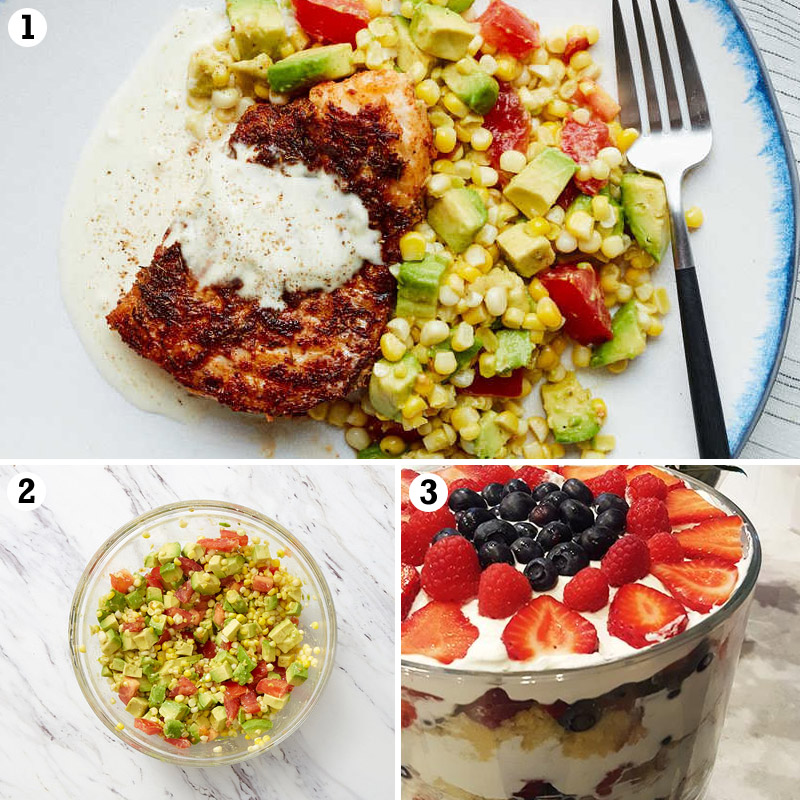 photo credits to [1] [2] Plated and [3] TDP creative team member Amie Wheeler
What is that up there, you ask?
Blackened Cod with Garlic Aioli
Avocado and Corn Salsa
Triple Berry Trifle
Seriously, just YUM to all of it. You won't be disappointed if you give any of these recipes a try.
---
BLACKENED COD WITH GARLIC AIOLI
This blackened fish recipe comes to us from TDP designer Laura Passage (and she adapted it from a recipe she found on Plated), and it's become a go-to in her family's meal rotation. It is the perfect summer meal… light and yet flavorful, and with a kick of spice that comes from the blackening process! For those who don't love seafood… you can also substitute a chicken breast in for this dish, if desired.
INGREDIENTS NEEDED
—10-12 oz cod
—juice of 1/2 fresh lemon
—1-2 cloves of fresh garlic
—2 oz mayonnaise
—spice mix: equal parts (1 tsp each) of paprika, cayenne pepper*, onion powder, garlic powder, & dried thyme
*use more or less cayenne pepper depending on how spicy you wish this dish to be
INSTRUCTIONS
—Mince the garlic (use as much or little as you prefer) and set aside.
—Make the spice mix by mixing all 5 dry spice items together in a small bowl.
—Dry cod filets, season both sides with salt and pepper, and rub the spice mix on both sides of each filet; set aside to allow flavor to marinate.
—Heat about 1 Tbsp of olive oil in a pan (preferably non-stick) over medium-high heat; once oil is hot/shimmering, add spice-coated cod filets to pan.
—Sear the fish about 2-4 min per side, until the spices are blackened and a fork inserted gently into the filet meets very little resistance.
—Meanwhile, make the garlic aioli in a small bowl by mixing the mayonnaise, garlic, and juice of 1/2 lemon. Season with salt and pepper (to taste).
—Serve fish with garlic aioli spooned over the top of it (or you can also use small dipping bowls for the aioli, if you prefer).
[recipe adapted slightly from an original recipe found on Plated]
---
AVOCADO AND CORN SALSA
This dish is also a favorite of Laura's family… they eat it year-round (but especially in the summertime when fresh corn and avocados are easy to find in the store, and when home-grown tomato is easy to come by!). Super easy to make, and truly delicious.
INGREDIENTS NEEDED
—1-2 ears fresh corn
—1-2 ripe tomatoes (or small pint container of grape tomatoes)
—1 fresh ripe avocado
—juice of 1/2 fresh lemon
—olive oil
—salt & pepper
INSTRUCTIONS
—Heat about 1 Tbsp olive oil in a pan (preferably non-stick) over medium-high heat; cook corn about 5 min, stirring often, until corn begins to char/brown.
—Remove corn from heat and place in medium bowl; set-aside.
—Meanwhile, as corn cooks… medium-dice tomatoes (or cut each grape tomato in 1/2 or 1/3) & medium-dice the avocado; add both items to bowl with corn.
—Add juice of 1/2 fresh lemon and about 1/2 Tbsp olive oil to bowl; stir gently.
—Season with salt and pepper (to taste).
[recipe adapted slightly from an original recipe found on Plated]
---
TRIPLE BERRY TRIFLE
This Triple Berry Trifle is a favorite of mine (Amie), and it is not only beautiful… but it's also soooo good! It's super easy to put together & perfect for a busy holiday party or event (such as the upcoming 4th of July here in the States)!
INGREDIENTS NEEDED
—1 angel food cake (you could make your own, but often the bakery at the grocery store has pre-baked, naked angel food cake)
—1 lemon pound cake (again –grocery store pre-made works perfectly!)
—1 pint fresh strawberries (sliced)
—2 pints fresh raspberries
—1 pint fresh blueberries
—1 – 16oz container heavy whipping cream
—1/2-1 cup powdered/confectioner's sugar (to taste)
—1/4 teaspoon cinnamon
—1 teaspoon vanilla extract
INSTRUCTIONS
—Whip the heavy whipping cream, the sugar, the cinnamon, and the vanilla in a mixer until soft peaks form.
—Slice the angel food & lemon pound cakes; slice strawberries while cream comes together.
—Assemble the trifle as follows:
First, layer the angel food & pound cake, breaking the slices into pieces that fit into your bowl/container; then, add a layer of berries. Next, spoon a layer of the cream on top of the berries. Keep going to make 3 or 4 more layers, depending on the size of your bowl, finishing at the end with a layer of cream. Decorate the top with remaining berries. Cover and refrigerate until ready to serve.
.
Want to give one of these recipes a try and earn your WEEK #1 MESS HALL BADGE for TDP's SUMMER CAMP 2018? Come get the details in the forum —> HERE.
---

About the Author  Amie is a craft-loving dental hygienist who lives in Washington state. She loves her husband, her two crazy kids, and her English Bulldog… as well as coffee, baking cupcakes, daffodils, glitter & sprinkles, reading a good book, and lip gloss — not necessarily in that order.