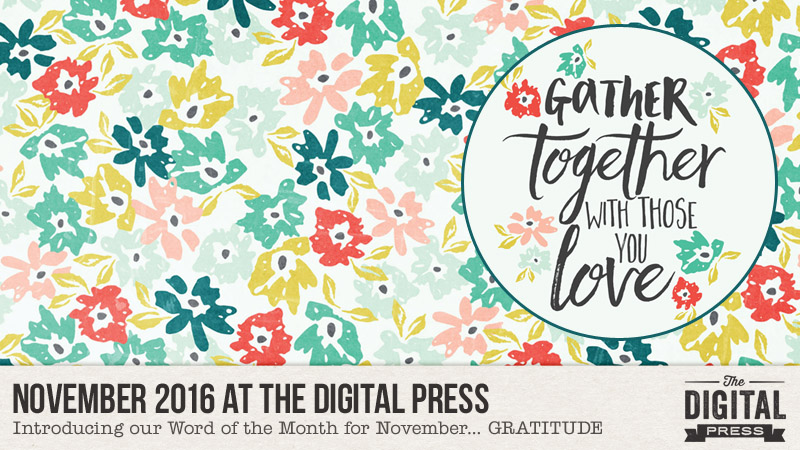 Well, it's happened… it's November, and the beginning of the holiday season is officially upon us. Here in the United States, Thanksgiving is a mere 3 weeks away (this is true; don't faint). Rather than fight it… I've determined that we need to embrace it. And thus, it's time to really dive into the month of November and all that it will be bringing our way!
For the month of November 2016, we will be focusing on a new Word of the Month… GRATITUDE. It's an obvious choice, given the holiday that dominates the landscape of November each year… but in truth, it's more than just a "word that happens to match a holiday." If embraced, this concept of gratitude can represent a shift in our approach to life… in our way of thinking… in our way of acting and reacting to the things that happen in our life… and more. Gratitude is about appreciation, and about recognizing and celebrating the blessings in our lives.
Here's a look at just a few visual representations of our new Word of the Month — GRATITUDE…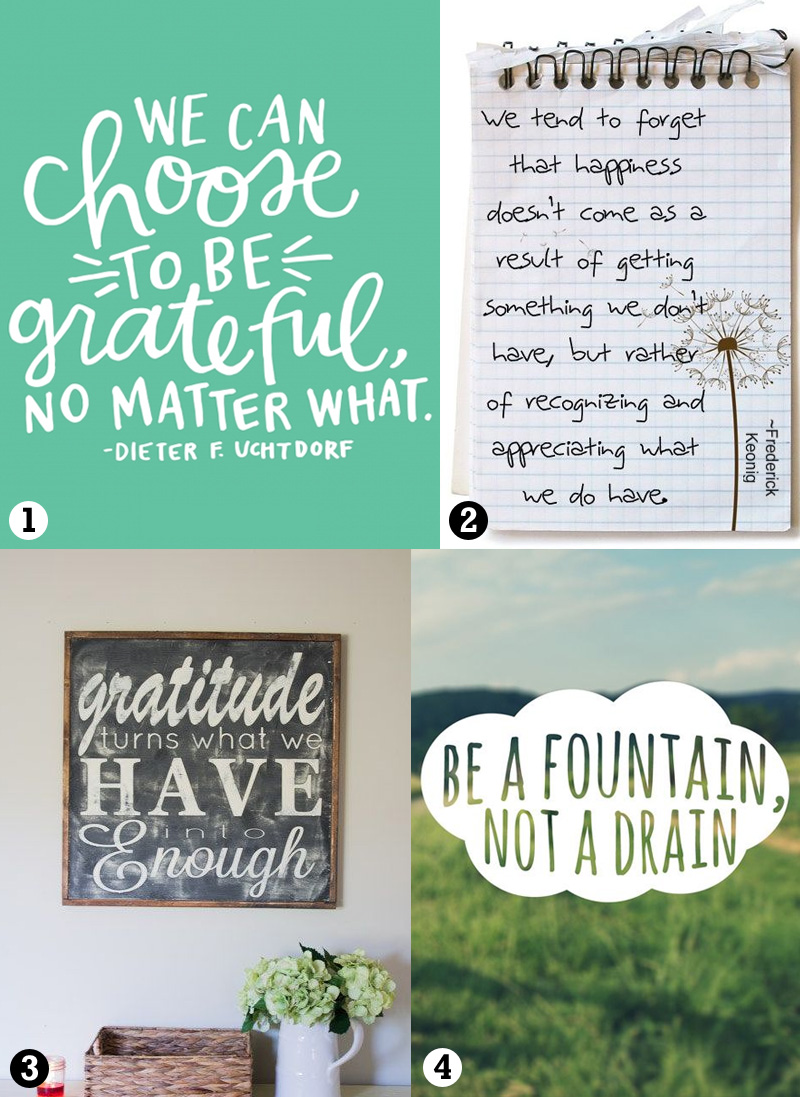 Looking for ways to incorporate this idea of GRATITUDE into your scrapping and crafting this month? Come join us at TDP! We're jumping into another month of our popular Challenge System for November, and there are so many fun new things in store for you throughout the upcoming month — including a challenge that specifically calls upon our new word of the month — GRATITUDE. 🙂
We have 9 new challenges waiting for you in THE CROSSWORD SECTION — a.k.a. our forum's challenge section — a fun play on words that we love because (a) #WeAreNerdyThatWay, (b) our challenges have always been loosely connected to our Word of the Month at TDP (get it? "crossword" haha)… and (c) it fits nicely into TDP's news/press theme.
Here's a peek at the challenges you'll find throughout November 2016…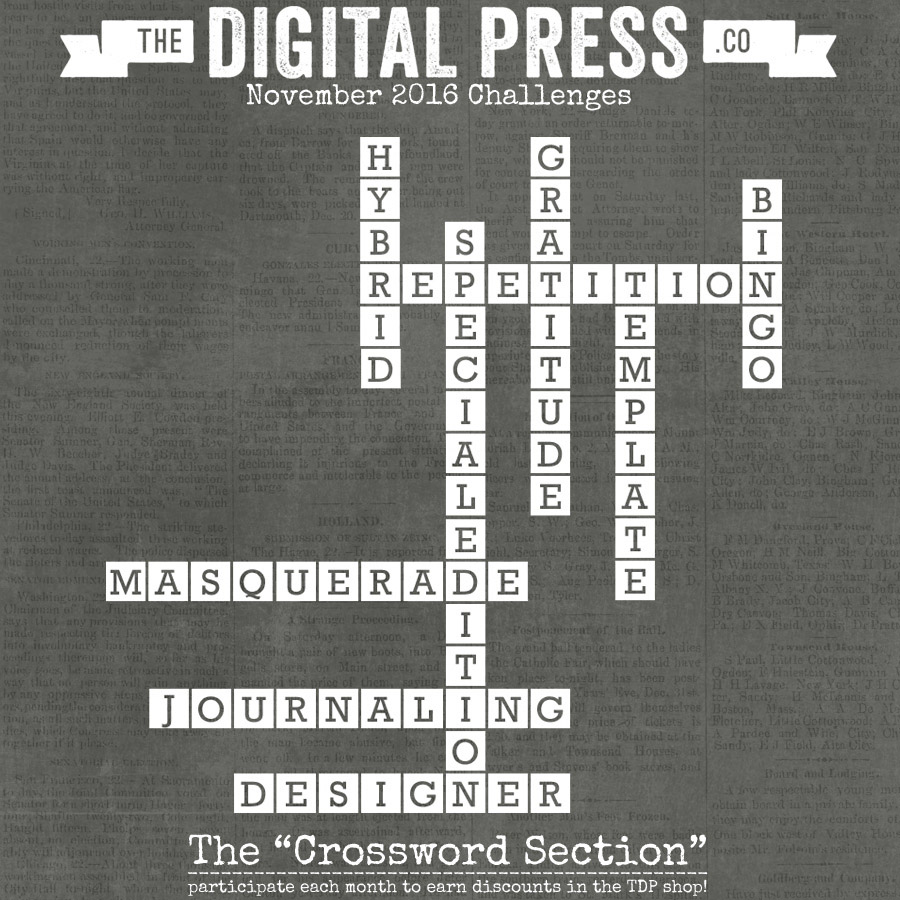 Get more information about our monthly challenge system HERE.
Meanwhile, make sure you check out our newest TDP collaborative collection, Blessed, which launched yesterday in the shop. It's a gorgeous, luxurious collection filled with 42 papers, 89 elements, 16+ pocket cards, 1 full alpha set, layered templates, cutting files, and more! Come check out the inspiration that you'll find in the shop listing for this beautiful collection… you won't believe how versatile and gorgeous this kit is in action!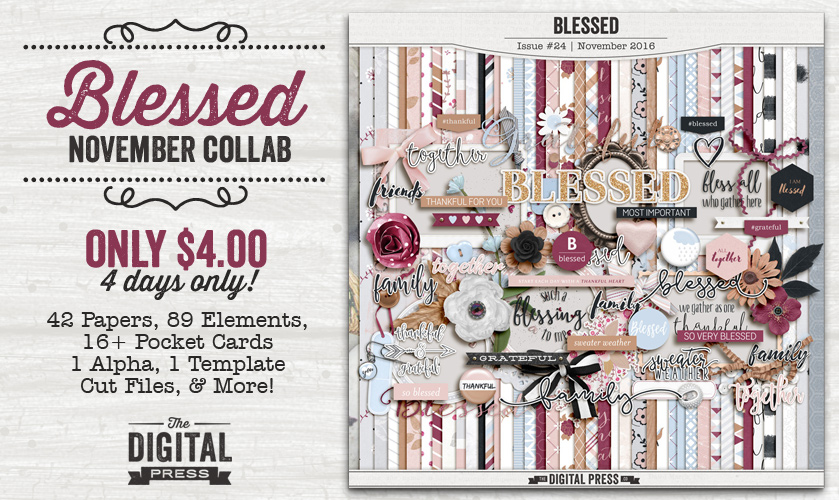 As always, you'll be able to grab this monthly designer collaboration collection for just $4 for the first 4 days of the month (after which time it goes back to regular price… so grab it while the 4-for-$4 deal is on!).
Come check it all out! We look forward to spending November with you at The Digital Press.
---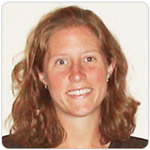 About the Author  Laura Passage is the owner of The Digital Press, and also the designer behind Wishing Well Creations by Laura Passage (WWC). She works now as a graphic designer in both the digital and paper scrapbooking industries, but previously spent over a decade working as a college soccer coach. She lives in the Pacific Northwest with her husband and two young sons (affectionately referred to as The Tiny Terrorists), and will rationalize eating coffee ice cream for breakfast to anyone who questions it.