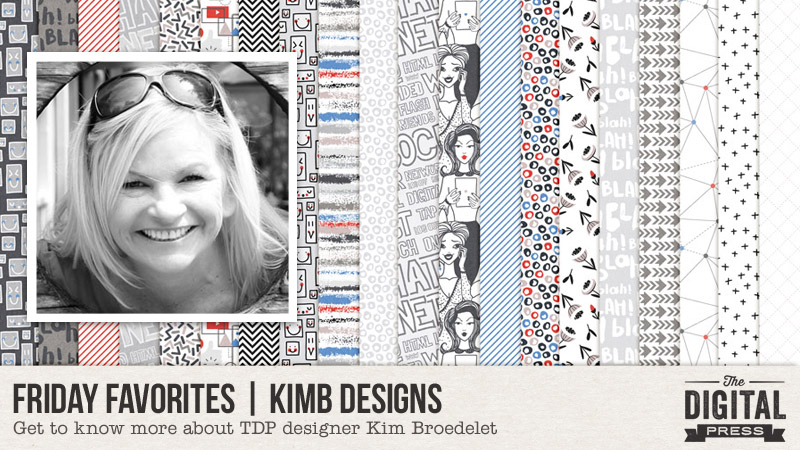 Hello everyone, and welcome to another edition of our designer feature series on The Digital Press blog in 2019 — Friday Favorites! This year, as you know, we've been learning a bit more about each of our amazingly-talented designers by having them share some of their favorite things with us each week.
This week, the spotlight is on the creative designer behind KimB Designs., Kim Broedelet. This is actually Kim's fifth feature here on the blog (you can find her first feature from June 2016 HERE, another from February 2017 HERE (including a peek at her creative work space), her Foodie Friday post from January 2018 HERE (including some yummy recipes!), and her most recent feature from June 2018 HERE).
This time around, in order to learn even more about Kim, we asked her to share some of her favorite things with us, and here's what she had to say…
---
"My favorite thing at this moment? I found this question difficult to answer to be honest… as yes, I do have a ton of favorite 'things' (like Alien perfume, GHD hairstraightener, Urban Decay lipgloss)… but all of those things, if gone tomorrow, would not really worry me. The following would, however…
My FAVORITE thing right now is more a collective group of 'feelings' under one word — HOME.
I know that sounds a little weird, but after living away from all that I love for over 10 years, HOME is my most favorite thing in the world right now.
I am incredibly lucky to live on a Golf and Wild Life Estate. Not only do I get to experience my own private 'game drive' on my front lawn each day, but I get to play golf again with my hubby, my son, and my friends right on my doorstep. For the first time in my life I actually know all my neighbours — socially and by name.
I'm enjoying quality time with my folks, laughing my sides sore with my friends, loving that I can be a part of my kids lives each and everyday, being back at the ocean. I'm the happiest and most content I've been in years. Even though this is the shorthand version, it all adds up to that ONE thing…
Love : Laughter : Living : Family : Friends = HOME "
---
As for Kim's designs… if you aren't yet familiar with the KimB Designs shop at TDP, you'll find that she creates a fantastic collection of kits, pocket cards, word art stamps and bits, printable elements and more! Her color choices are always gorgeous, and her products appeal to everyone from the strictly-digital scrapper to the traditional paper-style hybrid scrapper. Here's a look at a few of my favorite items from her storefront at TDP…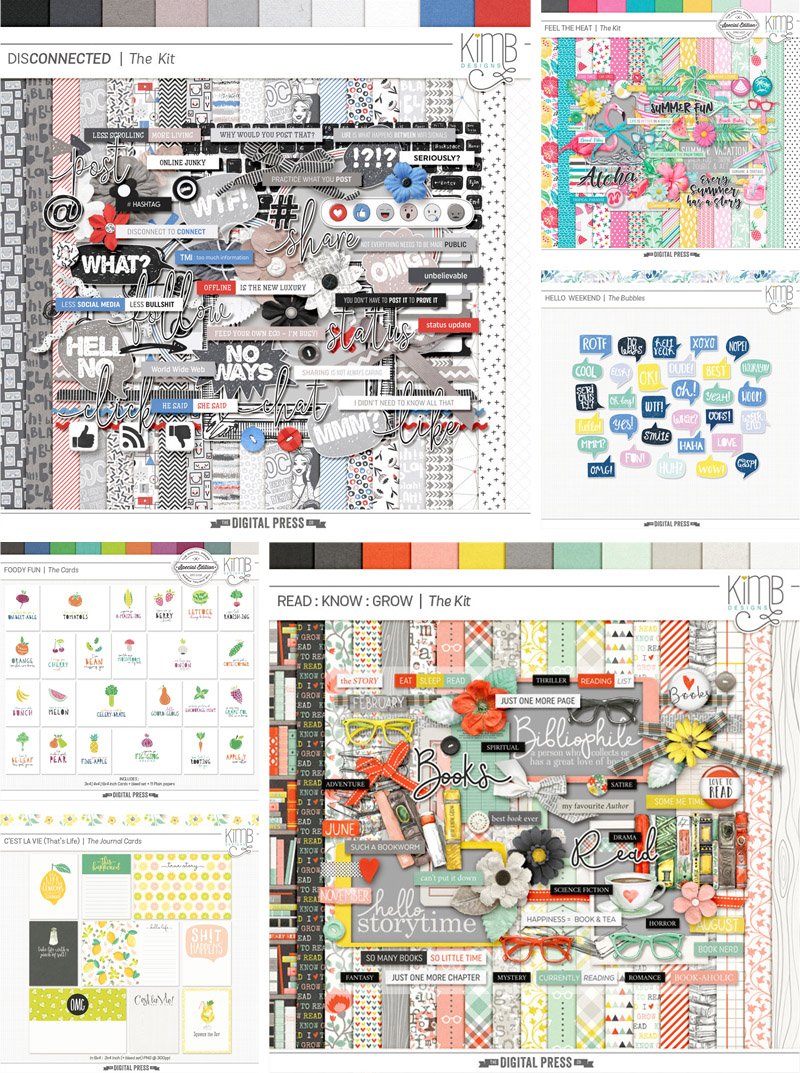 Additionally, here are a few of our favorite layouts from Kim's gallery to showcase the versatility of her products and to inspire you by showing you the myriad of ways her digital goodies can be used…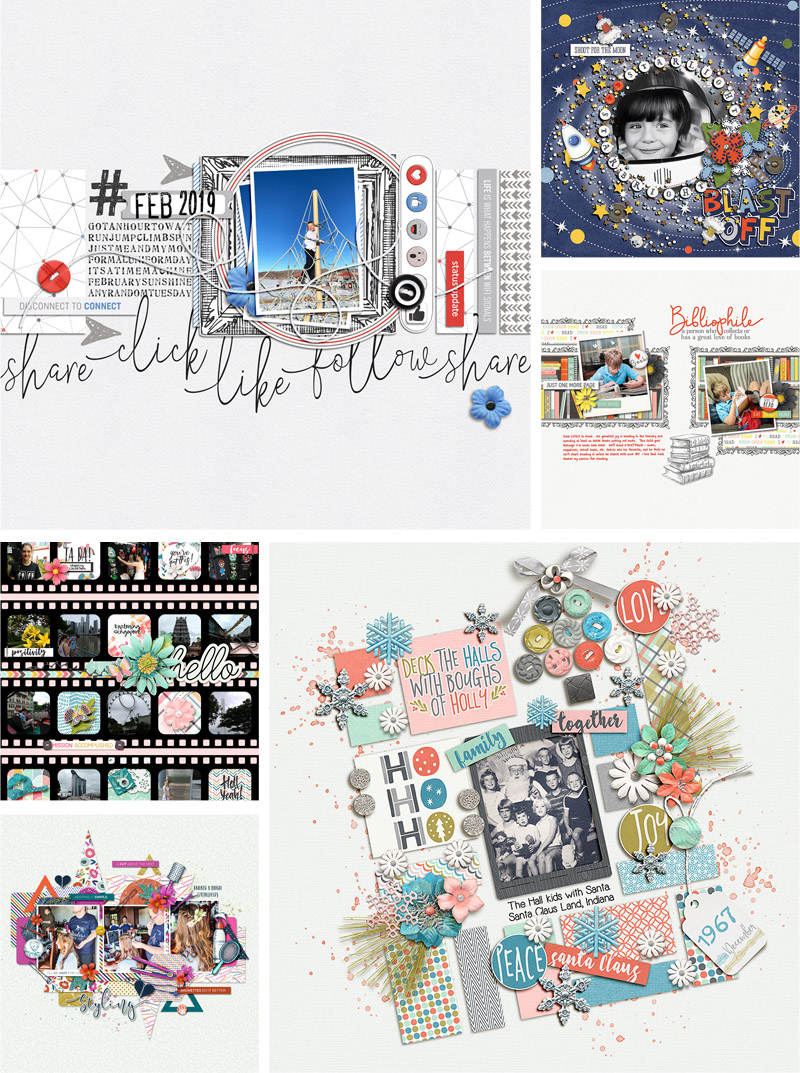 Hopefully, today's Friday Favorites article has given you even more insight into Kim and her day to day life (and again, if you want to know even more about her — scroll up and use the links to her previous features here on TDP's blog, where's there's lots more good stuff!).
And the best news of all?! …during Kim's upcoming feature week here at The Digital Press, you can enjoy the chance to score an amazing deal in her shop if you use the following coupon code when purchasing her digital goodies (this code/sale will be valid through 11:59pm EST on Thurs 4/18). Don't miss it!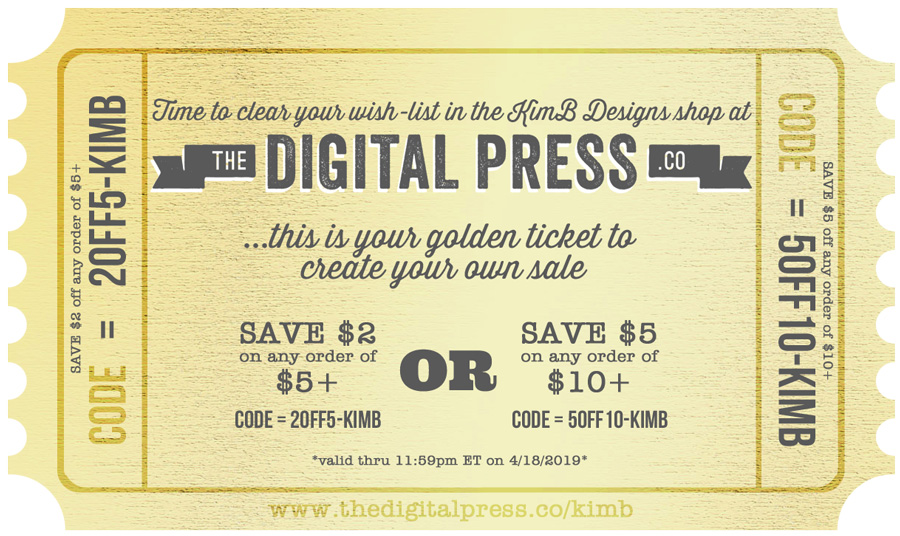 [ if you have trouble seeing the coupon image, above, the codes are as follows: "save $2 off any purchase of $5+" by using code = 2OFF5-KIMB . . . or "save $5 off any purchase of $10+" by using code = 5OFF10-KIMB ]