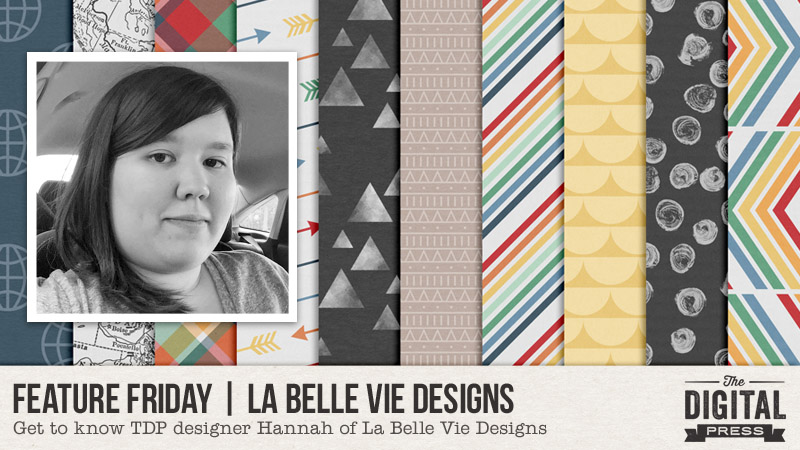 Welcome to another Feature Friday! This week, we're excited introduce Hannah of La Belle Vie Designs. Hannah's kits are always full of fun patterned papers, but she doesn't stop there. Hannah also creates great alphas, wordart, stamps, and templates. You'll find all sorts of scrapbooking components in her store at The Digital Press — it's a one-stop shop! The color palettes are always full of fun, bright colors… with kits for both boys and girls.
Here are a few of my favorites from La Belle Vie Designs…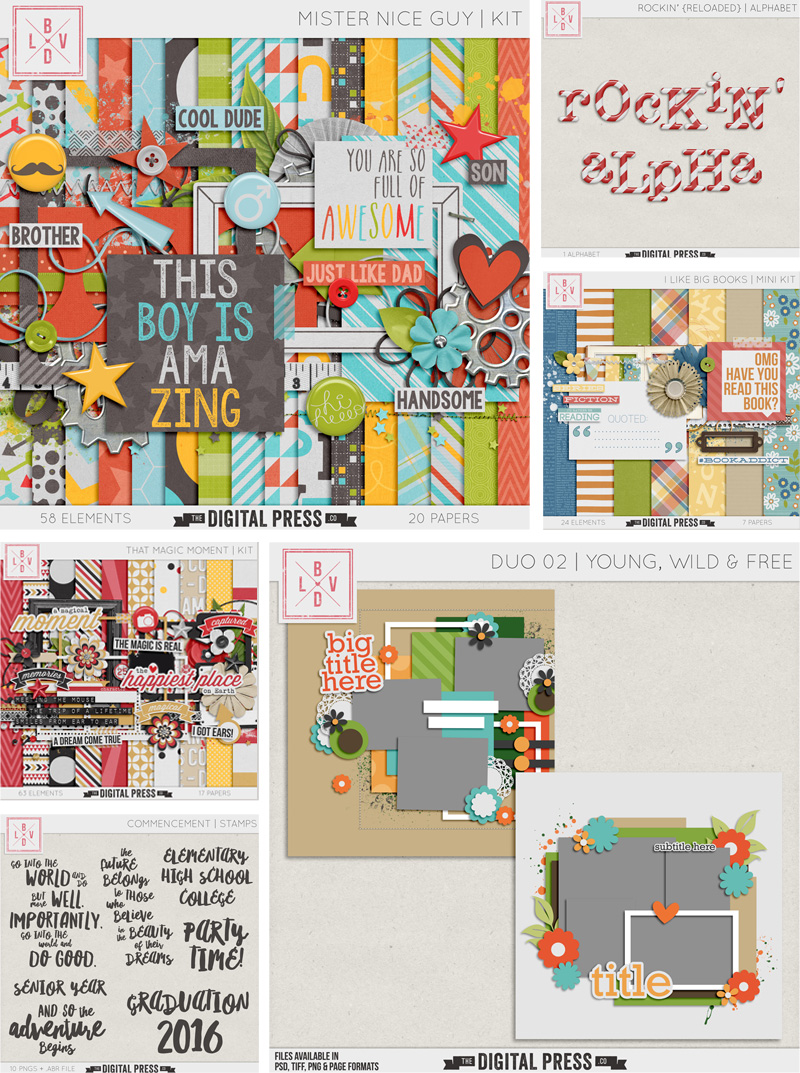 One of the things I really love about being a part of the digital scrapbooking world is getting to know the designers. They're always so willing to share a little bit about themselves. I asked Hannah a few questions to get to know the designer behind the La Belle Vie label. Here's what she had to say…
Where do you live?
Minnesota. I'm about a half hour outside of St. Paul and Minneapolis, so we're far enough away to enjoy the peace and quiet (but not too far away for a football game or the Farmer's Market!).
When you're not designing, what do you do with your time?
I'm a SAHM to four awesome little monsters (three girls and one super-spoiled little boy), so my free time is really limited 🙂 LOL On the rare occasion that I do have some time to myself, I like to read, bake cupcakes, and binge watch all things on Netflix (right now I'm re-watching Gilmore Girls).
What are five tidbits of trivia that we might not know about you?
—I absolutely love coffee, but I couldn't stand it while I was pregnant with Liam (my youngest). It was kind of horrible — ha ha!
—I hate wearing socks! Wintertime is torture for me!
—I met David (my fiancé / partner in crime / laundry-folder-extraordinaire) by accident …literally! I was teaching my younger sister how to drive, and she hit his car. No one was hurt and there wasn't really that much damage to the car, so I figured I'd probably never see him again. Clearly, he had other ideas. 😉
—I'm a history nerd. It was always my favorite subject in school, and I'm almost always reading some sort of autobiography or historical non-fiction book (right now I'm reading Washington: A Life by Ron Chernow).
—I love grocery shopping. Seriously. Probably sounds weird, but there's just something about it that I love. It probably helps that most of the time I go by myself, 😉
Which of your products is your favorite?
Grace (Hat of Bunny) and I recently worked together again, and I love our most recent collab kit Under the Sea! The Little Mermaid has always been my favorite Disney movie, so I was excited to add an Ariel-inspired kit to my Disney-themed collection…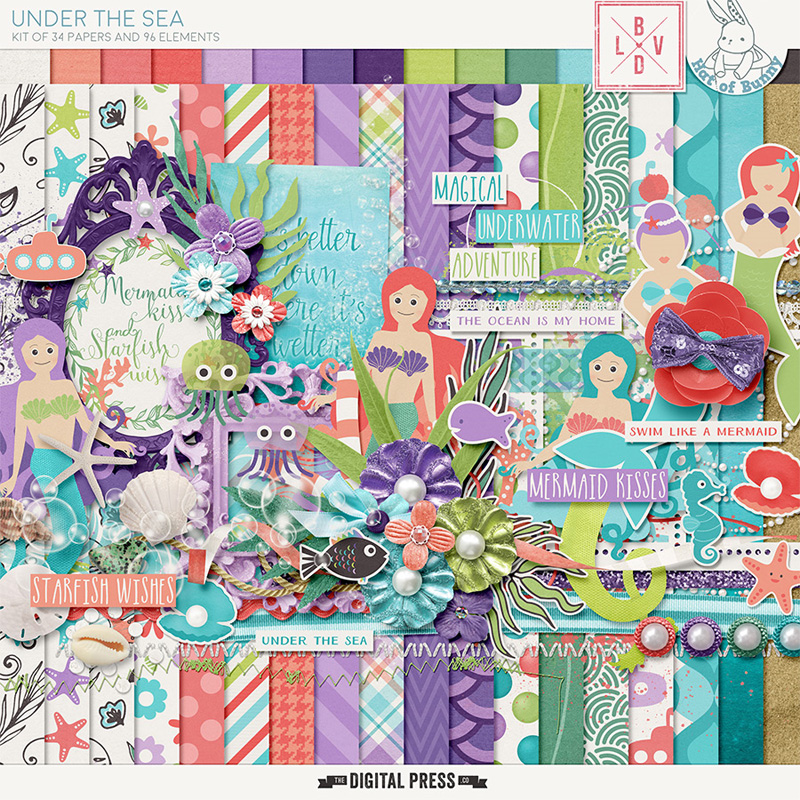 Isn't that a great kit? I don't see purple too often, but this works so well with the theme.
While I was looking through her store for items to share, I also compiled a few of my favorite layouts so you could see what people have created when using her kits…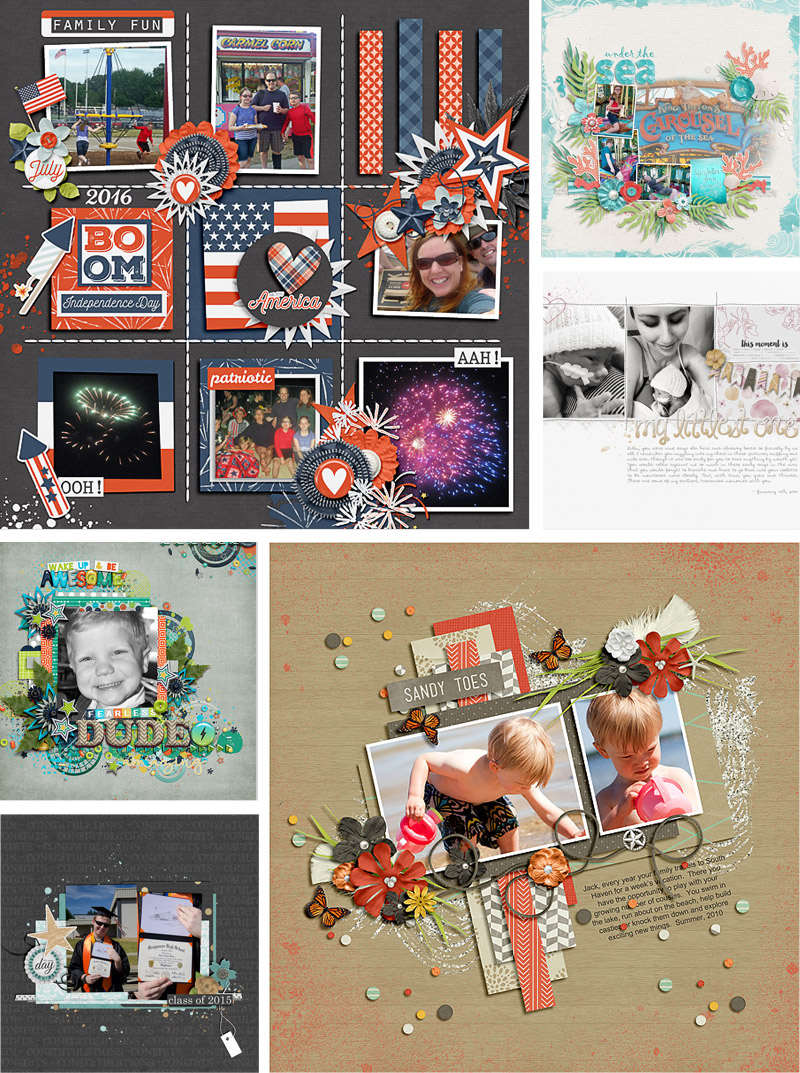 If you haven't already browsed through the La Belle Vie Designs shop here at The Digital Press… definitely check it out this week, because her entire shop will be 30% OFF through the end of next Thursday night (sale will end at 11:59pm ET on Thurs 8/25)!
---

About the Author  Kat Hansen is a creative team member here at The Digital Press. A Director of Human Resources by day, she loves the opportunity to spend a few hours each day being creative. Vacation memories feature pretty heavily in Kat's scrapbooking pages, as do her son and "daughter" (of the four-legged furry kind). Kat has quite the sense of humor (she "blames" her father for this), which she incorporates into her journaling and memory-keeping.