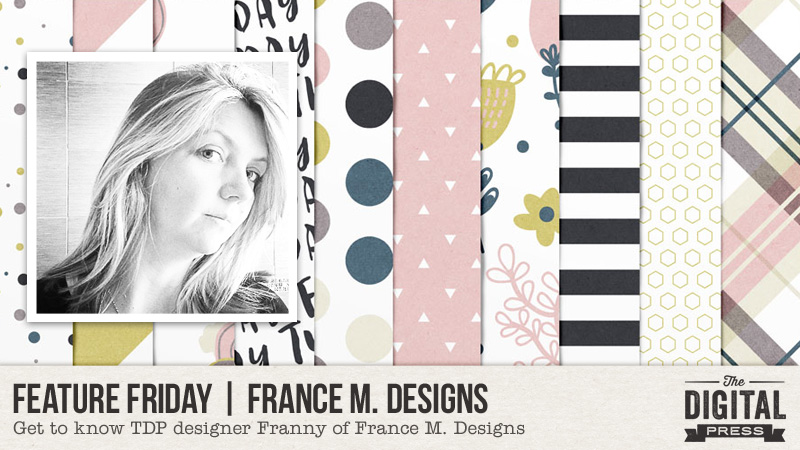 Happy Feature Friday! Today you get the opportunity to get to know France Meunier, also known as France M. Designs! I've had the chance to get to know France over the past few months, and not only is she an amazing, kind, and generous person… she is an incredibly talented designer. Her products are whimsical, unique, and charming… with a perfect mix of traditional paper-style designs and graphic elements. Her kits include amazing word art (because who doesn't just LOVE word art?!), realistic flowers, traditional flat elements (perfect for those paper-style or pocket-style layouts), and versatile stamps that are perfectly-crafted.
This is just a small sampling of the inspiring product offerings you'll find in her store here at The Digital Press…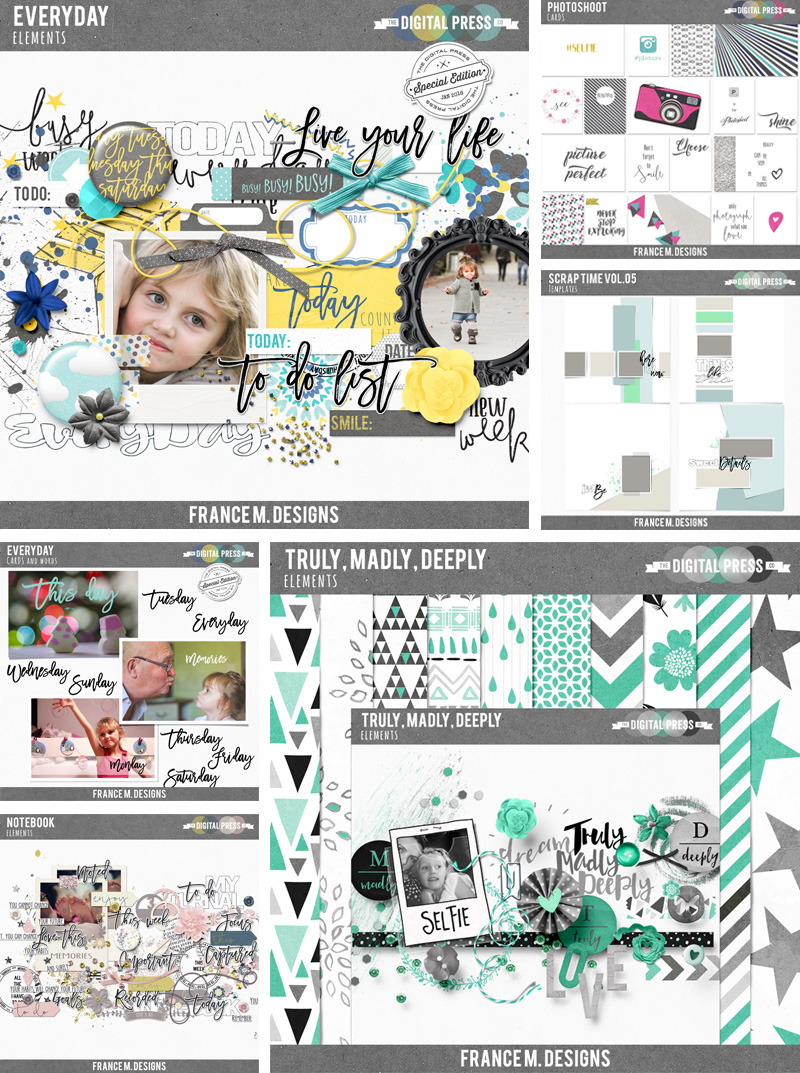 We asked France some questions about her life outside of the crafting world so we can get to know her even better! Here's what she had to say…
Where do you live?
I live near Lyon, in France. With my future husband and our 2 girls.
When you're not designing, what do you do with your time?
First and foremost, I'm a mother… so I spend most of my time with them. The grandparents are near us, so we are often with them on the weekends. I bake, a lot… macaroons, meringues, rainbow cakes, and a lot of other cakes are my passion (I intend to create my own business to sell them). I love watching TV shows and movies, listening to music, and reading a good book. And of course, I love taking pictures and scrapping… but I don't seem to have much time to scrap!
What are 5 tidbits of trivia we might not know about you?
— Often, I do not wear the same socks!
— When I was young, I didn't like my name. France is the name of my country too… but now, I love it!
— I met my man at work. We worked in a sports shop, and you know what? I don't like sports!! haha!
— I love red nails
— I'm still a little girl… I love watching cartoons with my girls… Especially Disney or Pixar cartoons.
Which of your products is your favorite?
I should say, "the one I am working on!" But — I really like Awakening…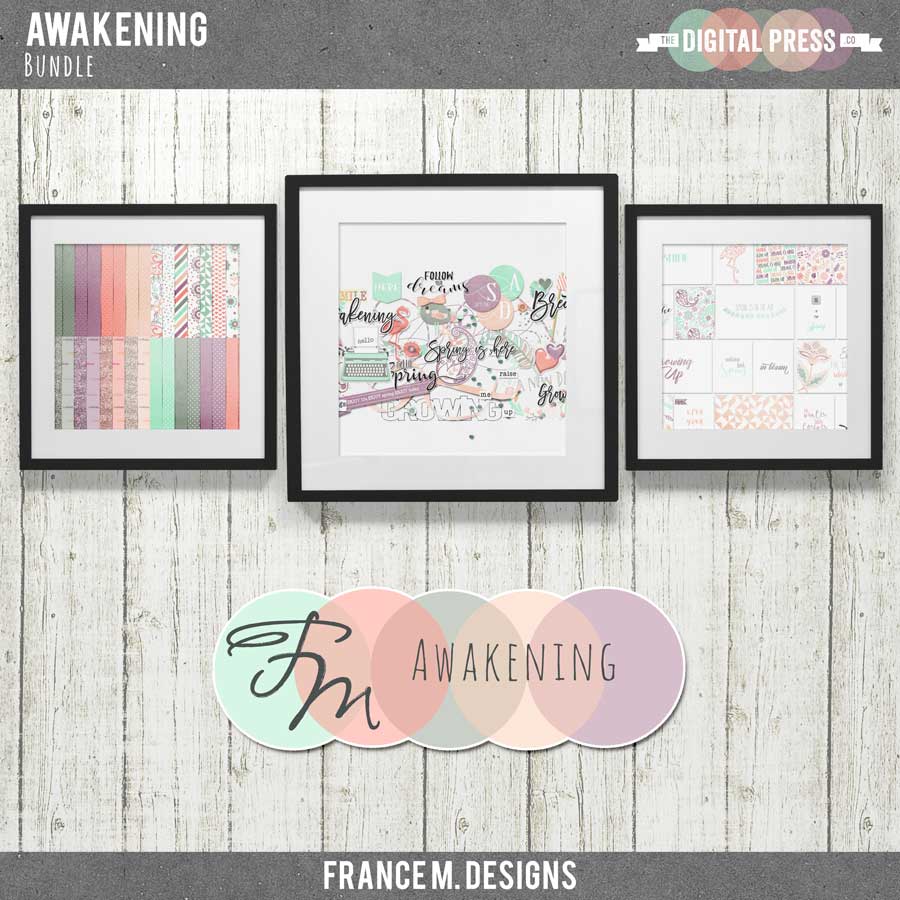 Now that you know more about Franny, check out her products in action (and see how versatile her products are)! You don't have to scrap in a particular 'style' to love her products. They are perfect for paper-style layouts, graphic layouts, and pocket-style pages alike…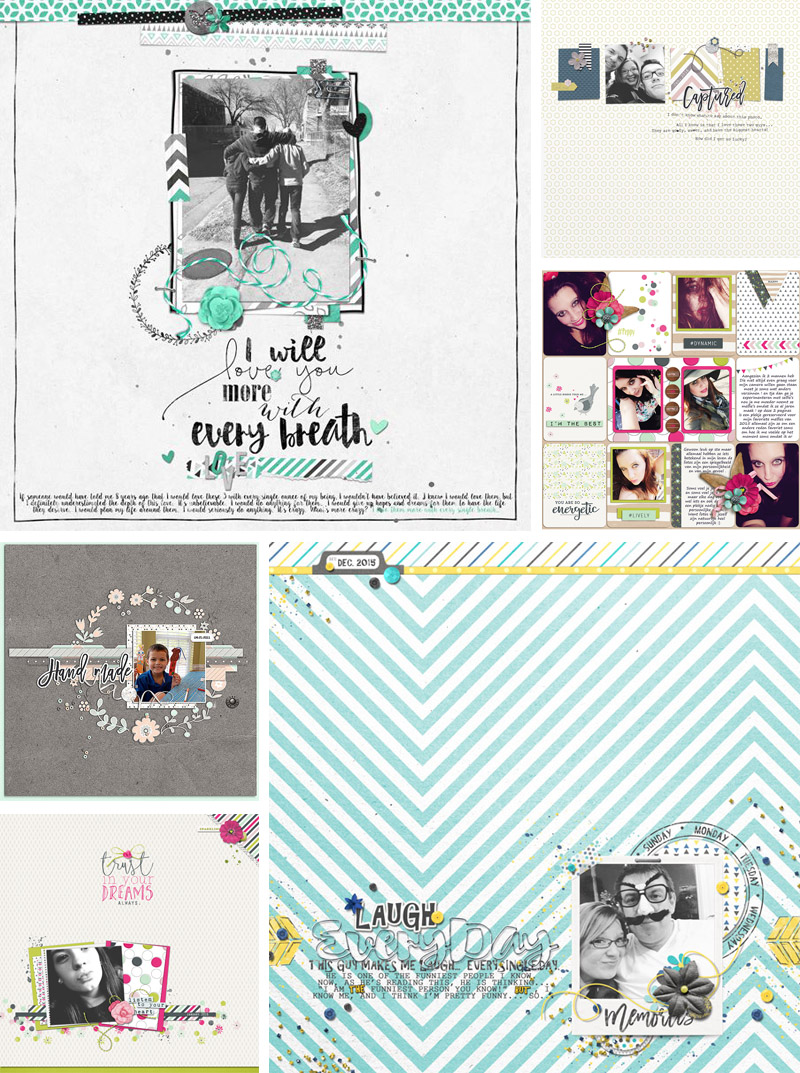 Now that I have you drooling over all of this loveliness, your next step is to go over and take advantage of the 30% OFF SALE IN HER STORE throughout this week. I mean, you just cannot lose here… beautiful, unique products to inspire your creativity — and at a great discount, this week only (sale will end at 11:59pm ET on Thurs 6/23). Happy Scrapping!
---

About the Author  Heidi Nicole is happily married to an amazing man, a step-mama to 2 wonderful kiddos, and mama to 3 sweet and sassy furbabies. She's a radiation therapist by day, and creator of pretty things by night (she's pretty confident that she's hit superhero status, but refuses to wear a cape). She loves cats and huskies, coffee, audio books, Friends reruns, St. Louis Blues hockey, cooking, baking, and traveling. Oh, and wine… she really likes wine. She lives a normal and happy life, and enjoys all the absolutely extraordinary people she gets to share it with on a daily basis!