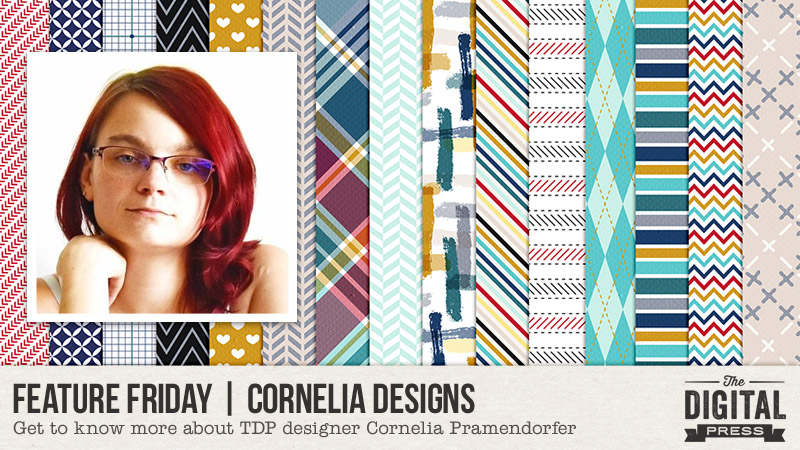 Hey there! After our annual "blog break" this past month, we're back! Welcome to another edition of our always-popular Feature Friday series here on The Digital Press blog.
I love getting to know our designers better thanks to these posts… getting a peek into their creative minds, into their lives, and into their passions outside of digital design. This week, I have the honor of introducing you to one of the newest members of our design team — Cornelia Pramendorfer of Cornelia Designs. She joined the The Digital Press family in May, and we're so thrilled she's here!
In order to learn more about her, we asked her to share with us "5 Things We Might Not Already Know About Herself"…
Beside designing digital products, she also creates book covers and she's an author. She already has five (5!) books published in the romance genre!
She's a new mom to a little baby boy, who is right now 4 month old and she's newly engaged to a wonderful man and father and can't wait to marry him. (Awwww!)
She's a gamer… and loves to play role play games like World of Warcraft, Rift, and Final Fantasy.
In her free time (if there is any, LOL ), she loves to read. She loves fantasy books, and about 3/4 of her books are actually in English, even if its not her native language (she's from Austria).
She really can't cook, so its not her who does the cooking most of the time… but she can (and loves to) bake.
A geek girl and romance author that loves to bake?! …can I move in with you, Cornelia? LOL
If you take a peek through the Cornelia Designs store at TDP, you'll see that she designs both templates and kits/collections — all equally fabulous! She has an elegant and realistic design style. Her templates are super fun and creative, and can work for scrappers who are very clustery and love lots of layers — or — easily toned down for a more minimalistic look. Furthermore, if you like themed kits that are full of amazing details and gorgeous color combinations, and which can be used for both themed and/or generic pages… you'll love Cornelia Designs!
Here are a few of my favorite products from Cornelia's shop at TDP, in order to give you just a small sample of the fabulousness of her products…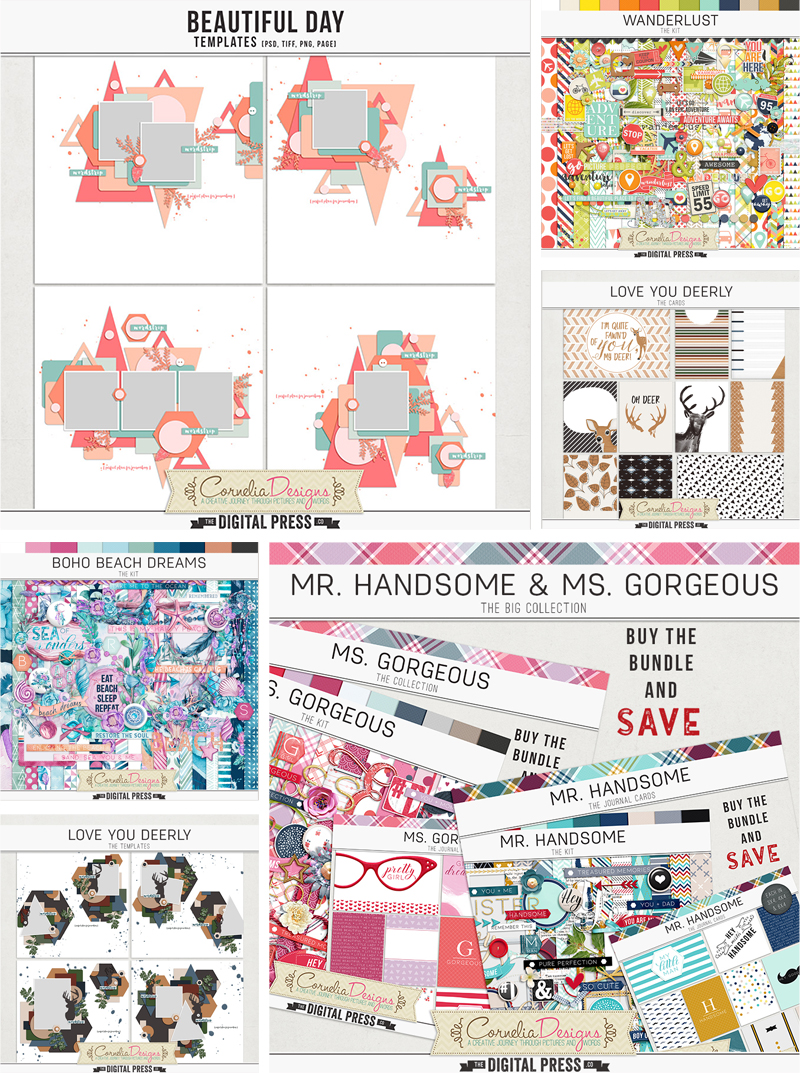 Furthermore, in order to show you how much fun her products are to work with, here are a fantastic layout examples I found that use products from the Cornelia Designs shop at TDP…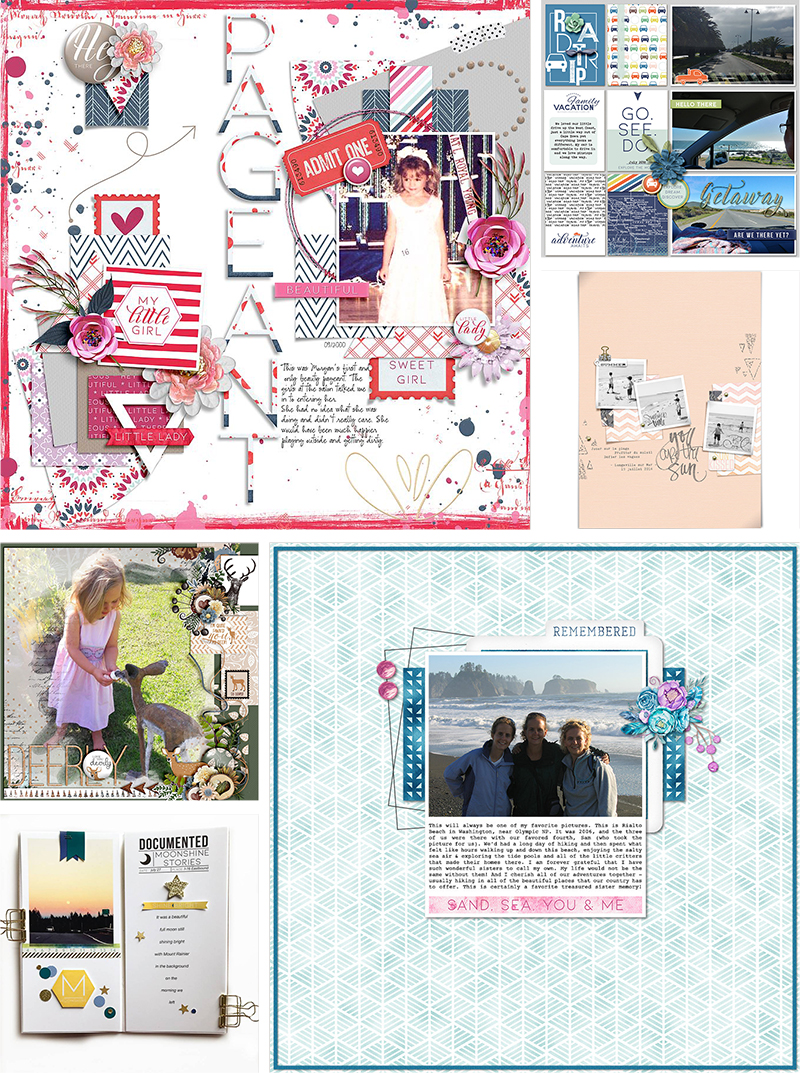 Whether clustery or clean… hybrid or digital… pocket-style or artsy… as you can see, Cornelia's products are super versatile!
I hope you had fun "meeting" Cornelia today for her very first Feature Friday here at TDP, and that you are just as excited about her gorgeous designs as I am! If so, I have good news… because during her upcoming Feature Week here at The Digital Press, Cornelia's entire shop will be marked down 30% OFF all week long (the sale will end at 11:59pm ET on Thurs 9/13). Don't miss it!
And that's not all! Cornelia also has a special Free-with-Purchase offer for you this week, as well! Don't miss out on this opportunity to stock up on your favorite products from Cornelia's shop, and you can also get this fantastic (and brand-new! just released today!) layered template set — Half Split — for FREE with any $10+ purchase in her shop (this week only, though… because again, this offer ends at 11:59pm ET on 9/13).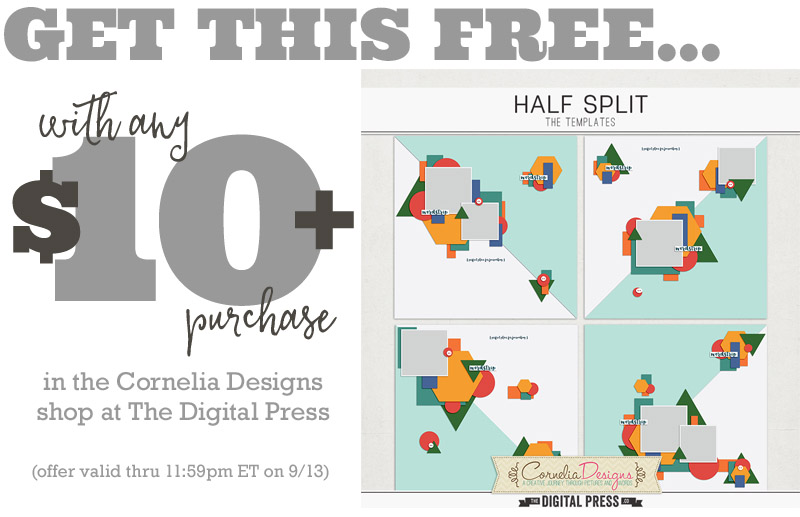 ---

About the author  Chloé is in charge of PR and communication for her small town by day, is a digiscrapper "by night," and a photographer whenever the light is beautiful. She lives with her man and fur-babies in a small town of Alsace (in the northeast of France), where she loves to read, watch good TV shows (TWD being her absolute favorite), and just hang out with her friends — no matter if they are close by, online, or away in her Swiss hometown. She recently became quite obsessed with Bullet Journaling, FlyLady and Zero Waste.