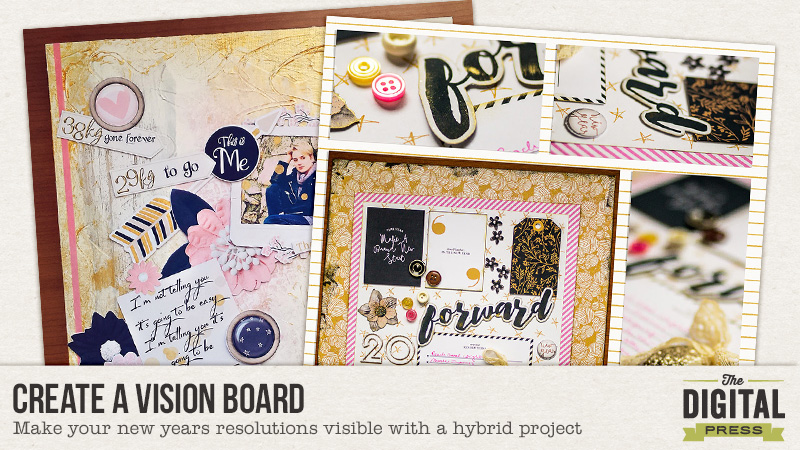 Have you set any intentions or resolutions for 2016? I have been a big goal setter in the past years and close to never pulled through the first month of the year. Last year was different. I achieved most of what I envisioned at the beginning of 2015. What did I do differently? I did not only jot down my goals, I also made scrap pages about them and made my goals visible.
This year I want to achieve even more and decided I would make my vision boards hybrid and hang them in our gallery.
A vision board is tool used to help make your goals more clear and visible, to be able to focus on them on a daily basis. It's a canvas for your desired future life with images that represent what you want to see, feel, do and be in your life.
Sounds intriguing? Good! I will show you what I made, hybrid and mixed media style.
I got out my "real" canvas and planned out on what I wanted to do on which goal. For this one I decided on the "A New Me" kit by River Rose. I printed three paper pieces, tore the edges and glued them to the canvas with my structure paste. After it dried, I painted some gold paste on. I got my cameo a workout with printing and cutting elements and an older photo, that shows me when I was at my current (hopefully to soon be) goal weight. I arranged all the pieces before I glued them to the canvas and added some washi tape.
It was the first time I did hybrid on a canvas and I love how it turned out.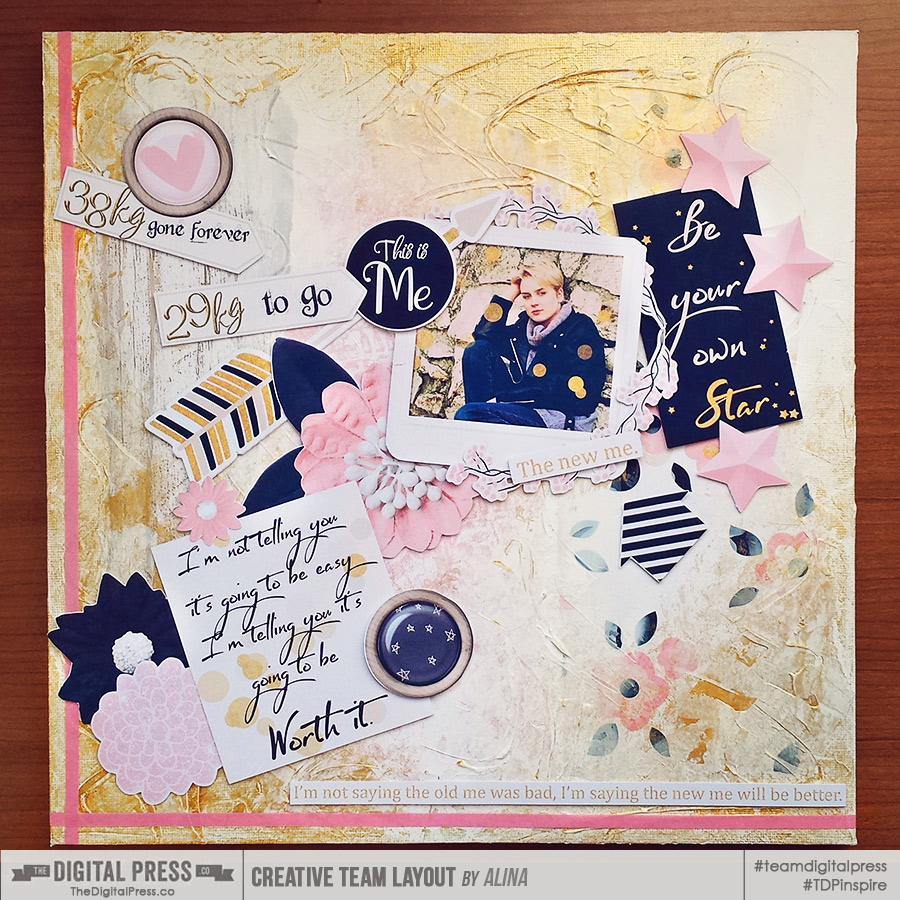 Here's a pictured outline of the process with my second canvas. I used "Fresh Start" by Mari Koegelenberg for this one. I was printing and ripping the paper, getting structure and color paste on it and added the print and cut embellishments.

And here's the full layout.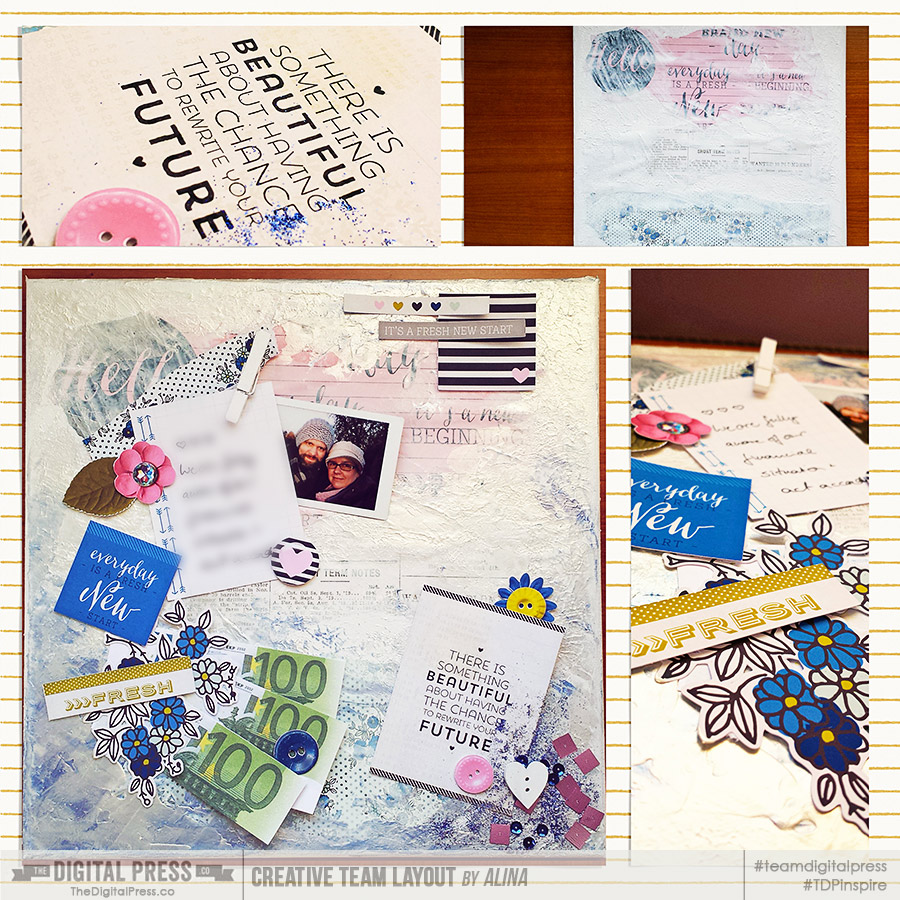 I did several canvases for my goals. I also made one with my one little word for 2016. I used "Midnight" by Sahin Designs.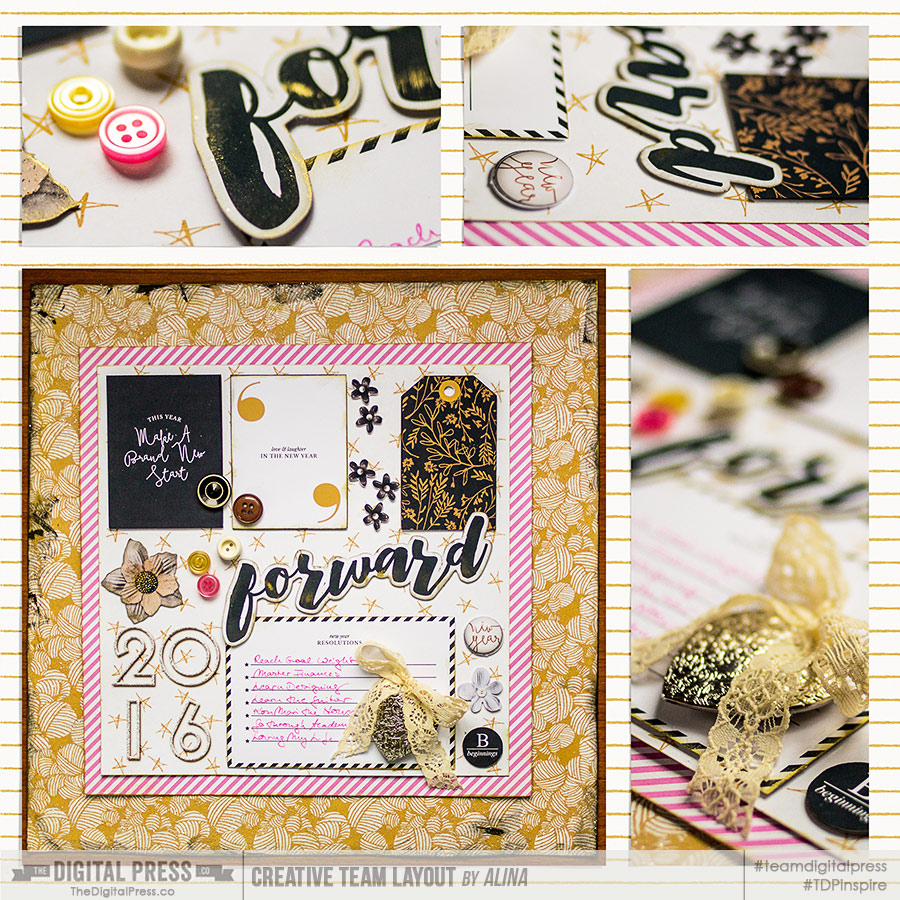 I enjoyed the process of doing something mixed media style. I also found, that it's not as time consuming as I thought. It takes more off time when waiting for paste and color to dry, but it's sweet to come back to a layout from time to time to add something new.
Now it's your turn! Visit us in the challenge forums and show us your own vision board creations!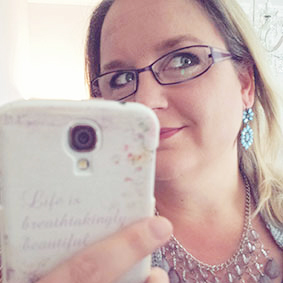 About the Author: Alina enjoys sitting in front of her large computer screens too much. Apart from that she loves walking her dog and watching sunsets while being amazed of life in general. She is married to her best friend. Tries to manage the needs of her two cats and her dog and badly fails when they all want their cuddle time at once. Everything else is scrapping, taking photos and currently crafting. Having said that, she needs a bigger craft room.