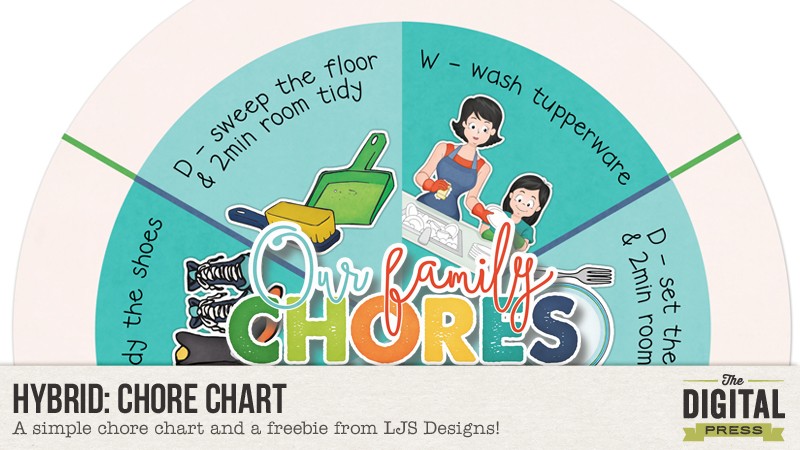 I am sure you have heard the saying, "desperate times call for desperate measures." Well, things in my house are getting pretty desperate!
One thing that I have wanted to do for a while now is to get my children a little bit more on board with helping out around the home. They do have ONE job to do around the house each day… but as they are getting older and more capable, I think it is time for them to accept responsibility for a little bit more!
Until now, we have used a very basic job chart…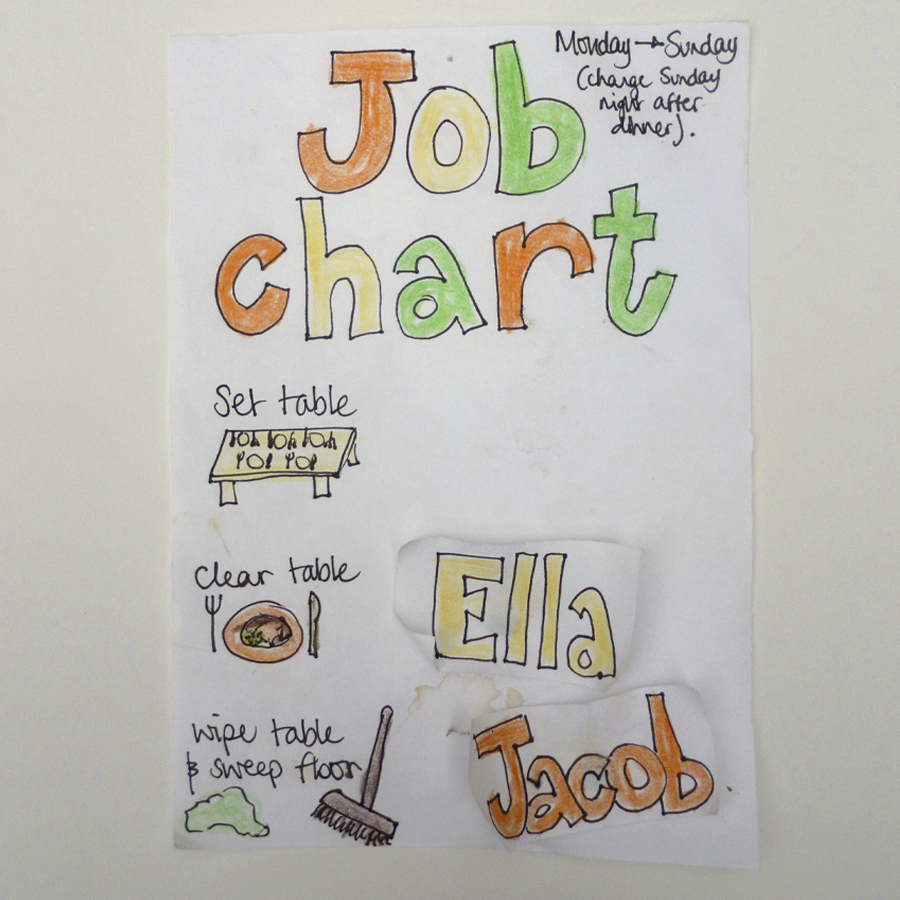 Yep, pretty basic, huh?!
I think I originally drew it really fast, with the only 3 colored pencils that were on hand! It has worked well enough — we simply move the names down one place each week so that the children rotate around the best and worst job — but the chart has got rather tatty now, and poor Eden has lost her name altogether (she has tried getting out of doing her job by telling me that her name isn't on any of the jobs listed, which must mean that she doesn't have to do a job!).
So the time has finally come for an all-new and improved job chart (or "chore chart," if you prefer!). This time, I wanted to include the daily jobs that I expect the children to do… but also a reminder about keeping their room tidy and their clothes put away. I also wanted to add a new weekly job for each of them, as well.
LJS Designs released the My Crazy Life  collection a couple of weeks ago, and I knew it was just what I needed for my project. I love the cheerful colors and the cute elements/images (it contains elements like a sink full of dirty dishes, a mother carrying a mountain of dirty laundry, and a stack of beautifully-folded, neatly-ironed laundry, too! So perfect for a chore chart!).
To make my chore chart, I used the My Crazy Life papers and elements, and Lorie (the designer behind LJS Designs) also honored a special request from me and kindly made-up a special CHORE CHART FREEBIE (<–click here to download it!). This free download is available for everyone, and goes alongside the kit to help illustrate even more chores! Finally, I also used a few elements from her Family Dinner kit, as well.
Here's a look at everything I used… and please note that the kit names (above) are all linked to each item in The Digital Press shop, and/or to the direct download for the freebie… 🙂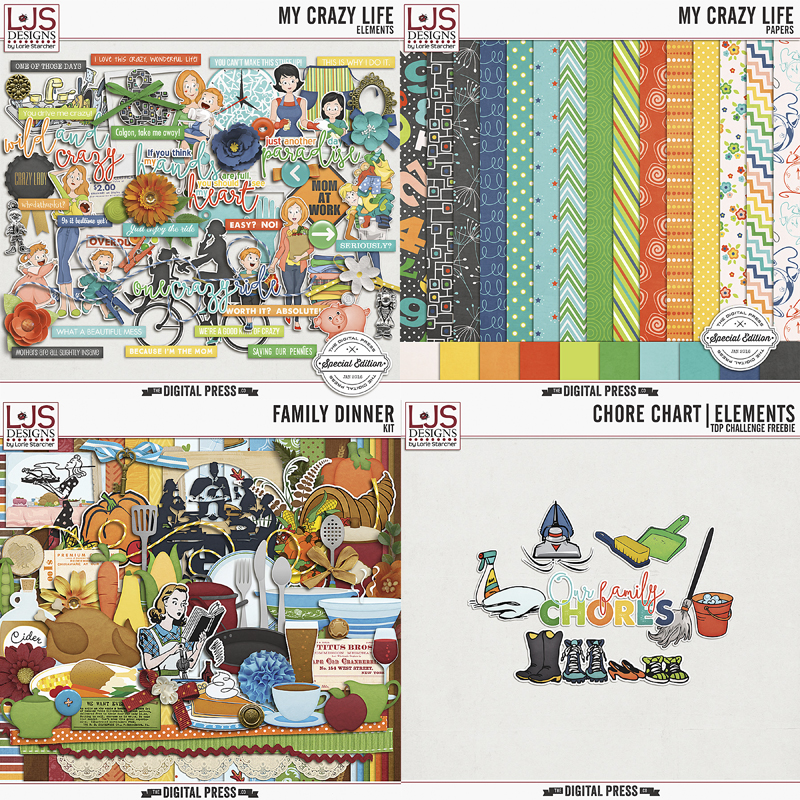 Supply-wise. all I needed for my chart (apart from the two pieces of printed material), were my trusty scissors, and a split pin — nothing too tricky!
It couldn't have been simpler… I just created both the base chart and the top/rotating chore "list" in Photoshop (as though I was creating a digital scrapbook page), and then I printed both pieces out.
Next, I used the scissors to cut out the circle of the top piece… and then attached the circular top piece to the main chart with the split pin (thus allowing it to spin/rotate from person to person each week). And then, hey presto, a new chore chart was born! I am sure you can imagine the gasps of delight as I unveiled the completed chart to my family…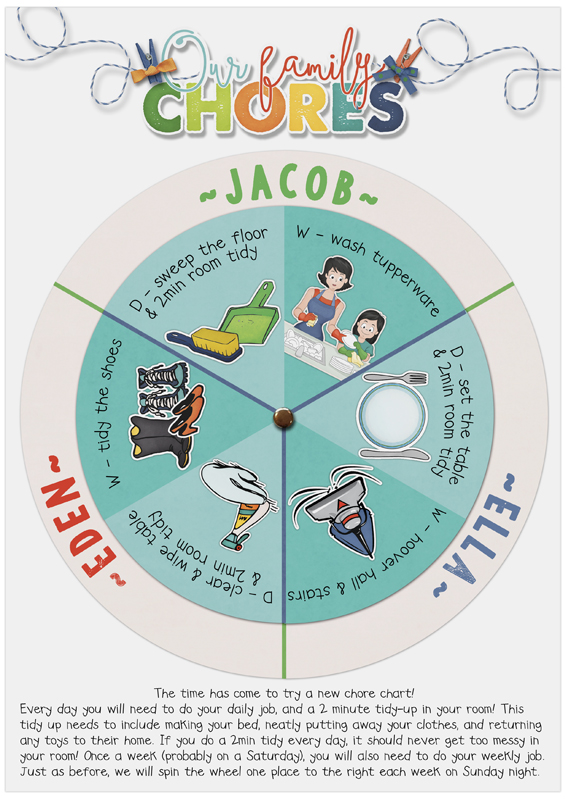 I also used a few cute papers from Lorie's My Crazy Life to make some little daily check cards (shown below). The children can write their name in the top box, and each day when they have completed their daily jobs, they can bring the card to me and we will tick the little circle, or punch out a shape with my little paper punches. It's just something to add a little more fun to the process… at least until these jobs become a habit.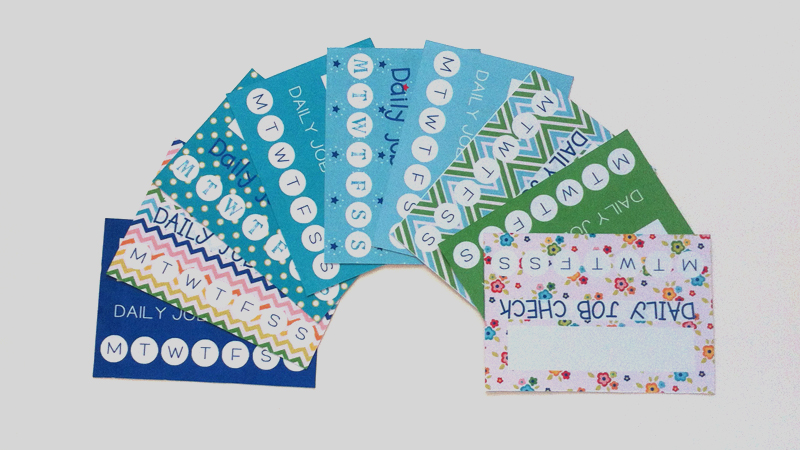 If you are thinking of renewing your goals of a clean and tidy organized home this year… why not try making a chore chart for yourself or your family? If you would like to use the chore chart elements freebie from LJS Designs, the just CLICK HERE TO DOWNLOAD IT.
Meanwhile, please come on over to the forum and join this week's hybrid challenge that is inspired by this blog post!
I'd love to have you come join in the fun, and show me what you end up making!
---

About the author  Corrin is on the creative team here at The Digital Press, and is a fan of the Big Bang Theory and a lover of cozy pajamas. She lives in the chilly South of England with her husband and 4 crazy kids, who regularly discover & plunder her secret chocolate stashes! She is still trying to get the house straight after moving 2 years ago. Who knows… maybe this will be the year she reaches the bottom of the laundry pile!