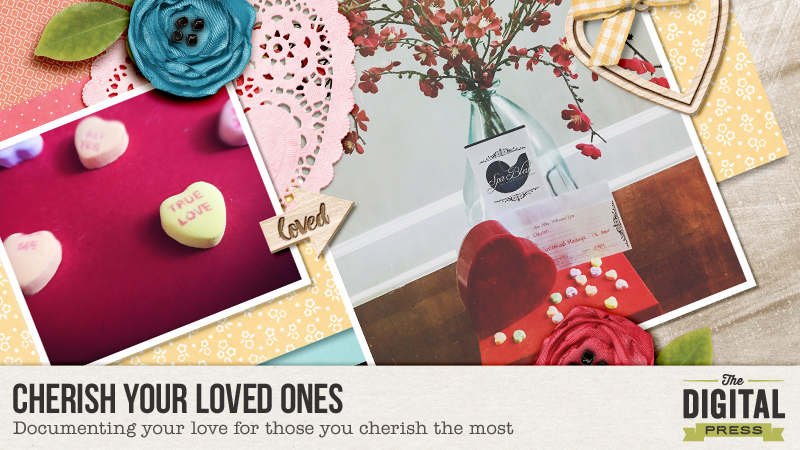 Last week, people everywhere were seen rushing to stores and scrambling for the perfect Valentine's Day gift, suitable for the special person in their lives. It's a common sight during February. While it is typical for people to shower their loved ones with flowers and candy, I've taken a different approach.  Every year, I've made it a tradition to surprise my husband with small sentiments of my affection and really center the day around him.
We've been married for over 12 years, so it's usually a challenge to get creative on finding the perfect gift every year. We recently bought a new home, and he's been working extremely hard on repairs and updates. Therefore, this year I opted for a deep-tissue massage at one of Savannah, Georgia's most sought-after spas. He was thrilled!
Here's a look at a layout I created to document this year's gift…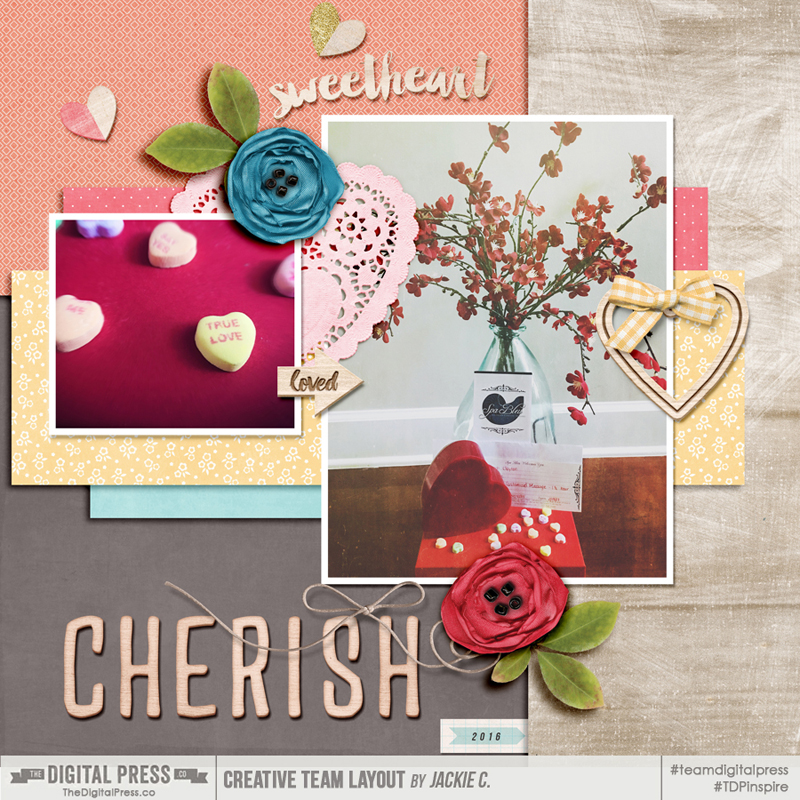 Note:  I created this layout using both Wishing Well Creation's Project 2015 February Collection and the Cherished Mini Kit from The Digital Press. To get the page done quickly, I also used a template from Duo 6: Love Me Like You Do from La Belle Vie Designs. The entire theme of these kits centered around the word "Cherish" (our word of the month here at TDP!), and so it all fit perfectly with my layout.
The point, however, is that there are a ton of "non-traditional" ways to cherish the people you love… whether your husband/wife, your friends, or your children. Here are a few of my favorite ideas that I've used in the past:
 Make a Candy Gram! These are so much fun and cost about $5!  You can be creative on your own or find a lot of ideas and clever wordings here: Pinterest Candy Gram Ideas
Cook a fantastic meal! The key to lots of people's hearts is through their stomach, right (as the old saying goes)? Ditch the expensive restaurants and have a romantic dinner at home.
Let your loved one pick the movie! Let's face it, not all women love action movies — but not all women love "chick flicks," either. The same goes for men. If your taste in movies isn't the same as that of your loved one(s)… a fun way to show your love is to let them choose, and then suck it up and "suffer through" whatever genre it is that you don't adore!
Make a mini scrapbook of current and past pictures of the two of you! The Digital Press even has some fantastic mini albums and templates that will make it a breeze!
Most importantly — don't limit these things to one day a year! Valentine's Day is great and all, and it's a fun way to celebrate the people we love the most. But cherishing those you love is something that can be done throughout the entire year, and being mindful of doing it regularly will only make those bonds stronger. That's part of why I love that this post is being written the week after Valentine's Day. 🙂
What are some ways you have chosen to cherish your loved ones? Come share your ideas (we're always looking for ideas for ourselves!)… and join us in the forum for a fun challenge!
Happy Scrapping!
---

About the Author  Jackie is a member of the creative team here at The Digital Press. She lives in Savannah, Georgia with her husband and 6 year old son.  She has an obsession for photography, exotic parrots, and of course scrapbooking!