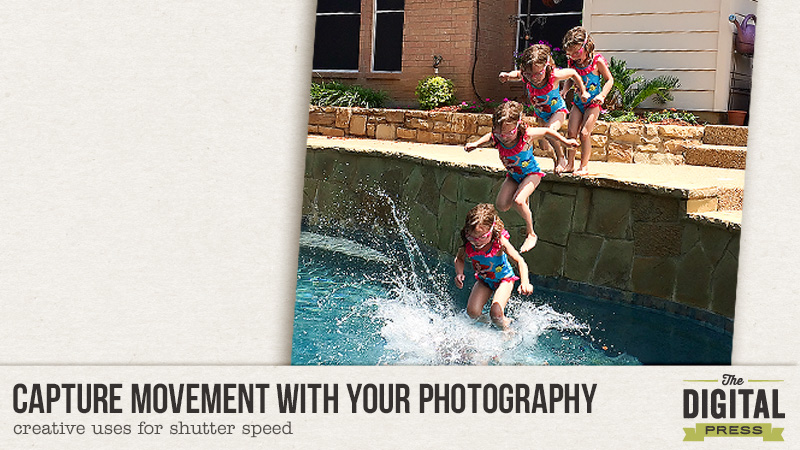 There are several ways to capture motion in photography. To capture motion, you must understand how to control your camera's shutter speed.
What is Shutter Speed?
Shutter speed is the amount of time it takes for light to enter your camera. Adjusting the shutter speed changes how quickly or slowly the shutter opens and closes again.
There are two main purposes of controlling shutter speed. The first is to adjust the exposure when shooting in manual.  A faster shutter speed will let in less light, the image will be darker.  A slower shutter speed and the image will be brighter. The second is for a more creative purpost: To capture motion. This is achieved by freezing motion with a fast shutter speed or by allowing continued motion with a slow shutter speed.
Methods to capture motion:
Stop action: use a fast shutter speed to capture a moment in time. This is ideal for capturing sports shots, fast moving kids and pets.
Motion blur: use a slow shutter speed to capture motion. This is ideal for catching a waterfall, a city scene, fireworks, or a ride at the fair.
Panning: use a slow shutter speed whilst following a moving subject. I find this technique a little tricky but has such fun results. Try following a car or child on a bike.
Here are some fun examples:
I'm hosting a challenge over on the forums at The Digital Press so grab your camera and come play along! Check it out at The Drawing Board: Challenges. See you there!

About the Author:  Farrah Jobling is a member of the Creative Team here at The Digital Press.  She lives in Denver with her amazing family, Mike, Nicholas (8), Claire (5) and Hope (1 yr old puppy).  She works from home as a photographer and enjoys scrapping her personal photos.