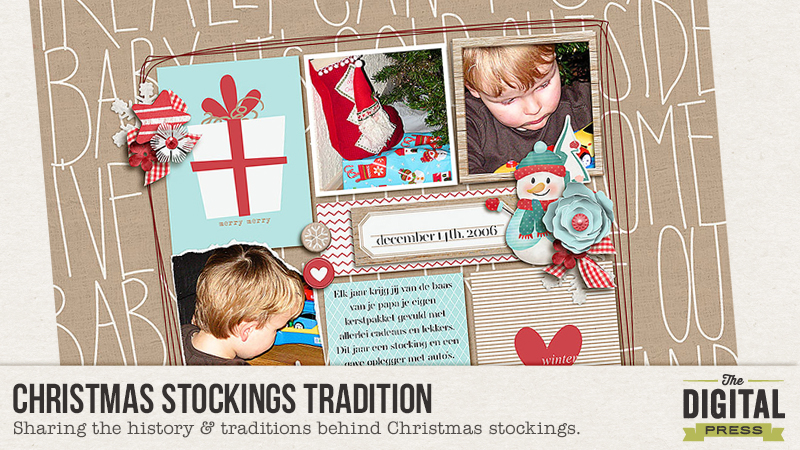 I have always been fascinated by Christmas stockings. I've seen them in TV shows and in photos by friends who live in North America. Stockings all lined up… hanging on a mantel… just beautiful. I wanted to know more about the tradition and how it all started, so I did some research.
Here is the first legend:
St. Nicholas of Myra, believed to be the inspiration for Santa Claus, was traveling through a small village when he learned of the plight of a merchant and his daughters. In one popular version of the story, the once wealthy merchant had fallen on difficult times and was worried for the future of his three beautiful daughters. He was unable to afford dowries for his daughters (money or property brought by a wife to her husband at marriage), and with no prospects for wedlock, the three young women may be subject to lives of shame.
Upon hearing of this predicament, St. Nicholas set forth to secretly help the proud merchant, knowing he would not accept an outright gift of charity. Riding his majestic white horse by the merchant's house one night, St. Nicholas tossed three bags of gold coins down the home's chimney. The bags were fortuitously captured in the girls' stockings, which had been hung by the fireplace mantle to dry. When the gold coins were discovered the next morning, the merchant and his daughters rejoiced. The young women went on to become married, and all lived happily ever after. Later, after the story spread, children began hanging their stockings by the fireplace in hopes that they, too, would receive gifts from St. Nicholas.
What a wonderful story. It really warms my heart!
The second legend is a little bit closer to home for me, though:
Another explanation for the tradition of Christmas stockings may be found in Dutch lore. In Holland, 'Sinterklaas' arrives on a ship from Spain with his assistant 'Piet' (Pete). Upon disembarking, they travel the country — with Sinterklaas upon his noble white steed, and Piet riding a mule. Dutch children would leave treats of carrots and hay in their clogs (wooden shoes) for the horse and mule, and Sinterklaas would, in turn, fill the shoes with small gifts for the children after the horse and mule had enjoyed their treats.
When Dutch settlers immigrated to America, they brought many of their traditions with them. Over time, Sinterklaas came to be known as Santa Claus, and it is quite possible that wooden clogs were eventually replaced by stockings.
We celebrate Sinterklaas every year, and still place a shoe in front of the fireplace (or for those who don't have a fireplace, shoes in front of the back door do nicely, as well). In the shoes we place carrots & treats for Sinterklaas and his horse, and the next morning children find small gifts in their shoes, in return.
I've used stockings as decoration in our house during Christmas… but I never filled them with gifts. I just didn't know. The first time my son received gifts in a stocking was when he got his yearly Christmas gifts from my husband's boss (how awesome is that?!). The stocking was filled with lots of treats; the marshmallows were his favorite, but a small truck was a close runner-up. 🙂
I created a layout using Woodsy Winter (the December 2015 shop collab by the TDP design team), as well as Templated Duo #2 by Mommyish featuring Alina, and The Original Torn Bits No. 06 by creashens. Here's a look: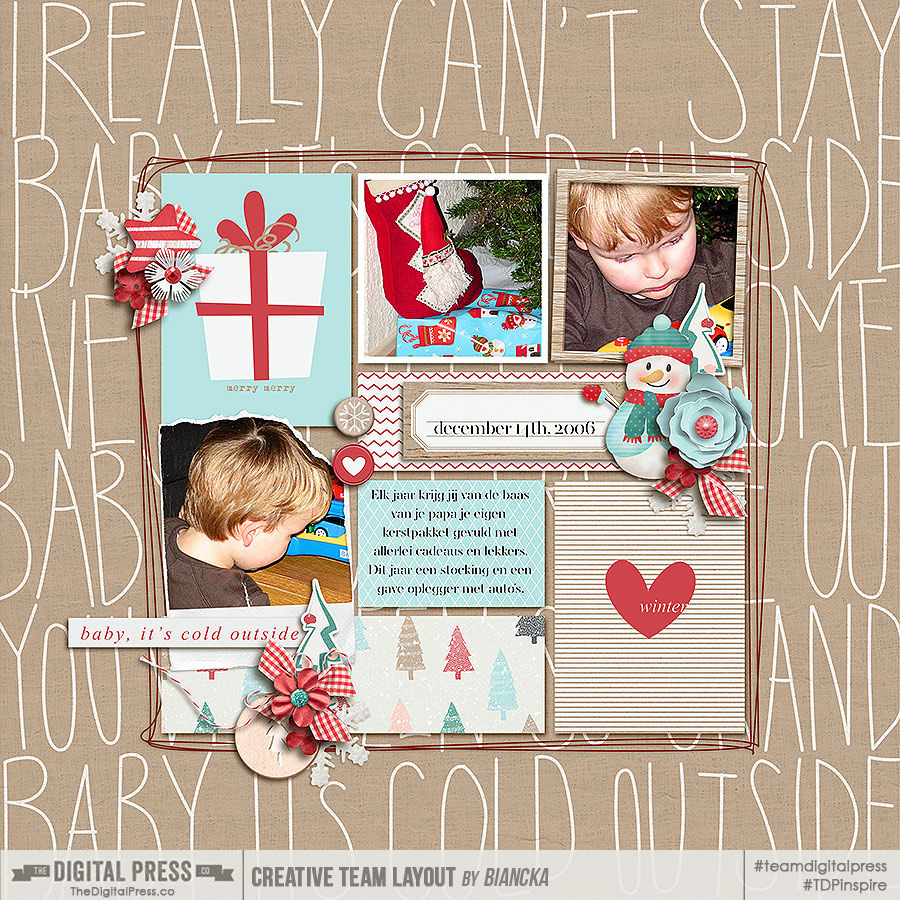 Now it's your turn to tell me… what is the best gift you've found in your stocking? Was it a small gift with an emotional story… or a "big" gift that from your wish list? For those of you who don't use stockings… what other traditions do you love? And what was your all-time favorite Christmas present? I would love to hear all about it, so leave me a comment. Additionall, if you made a layout, link me up and I'll leave you some love.
Happy Holidays!
---

About the Author Biancka is a creative team member here at The Digital Press. She is a stay-at-home mom (SAHM), a wife to Edwin, and mom to Jasper. She lives in the east of The Netherlands (about 30 minutes from the German border). She is addicted to scrapping, but also enjoys baking, reading books (mostly thrillers), watching her favorite TV shows, and photography.