Today is Day Two of our 10 Holiday Tips & Tricks series… and we have something really yummy (and easy!) to share with you today — Christmas Tree Cupcakes!
If you're in need of something yummy and festive for a holiday goodie exchange, or a holiday party, or simply to give to friends/neighbors… these cupcakes are perfect! You can make a few dozen in no time at all & have plenty to share!
I made a layout about these cupcakes a few years back, and I have been asked to bring them to our annual goodie exchange every year since! Here's a look…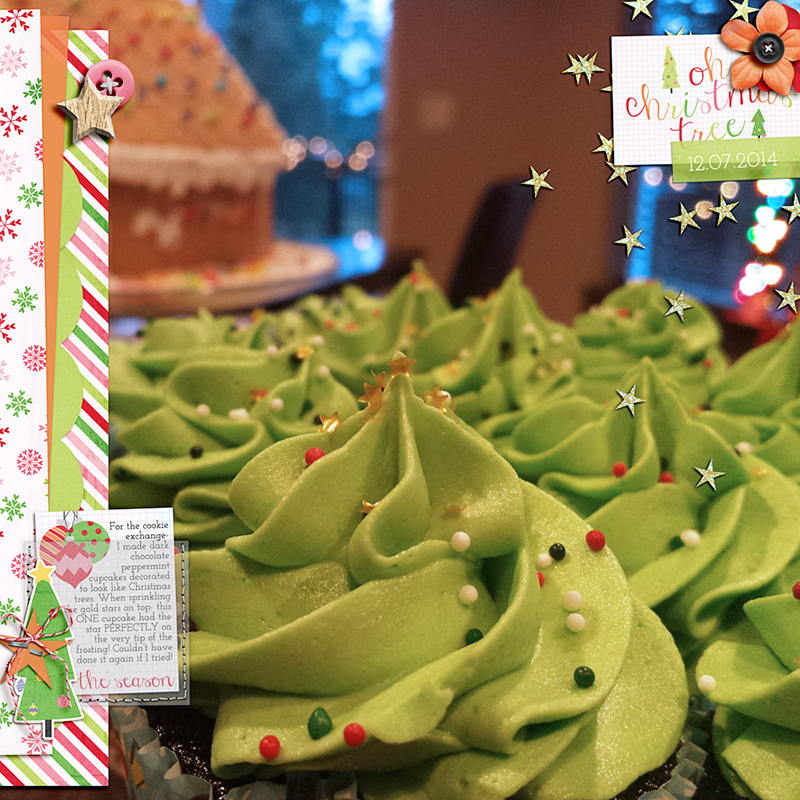 To start — let's gather our ingredients:
24-36 cupcakes, cooled
(go ahead & use a boxed mix! Just add an extra egg, use sour cream instead of oil, and milk instead of water… and no one will know you didn't make them homemade!) 😉
1-1/2 cups (3 cubes) of room-temperature butter
3-to-4 cups of powdered sugar (exact amount to taste)
1 tablespoon vanilla extract
1M frosting tip & frosting bag
(I prefer the disposable Wilton bags because #easycleanup)
Green gel icing color
preferred decor
(for the following photos I used rainbow nonpareils, but any sprinkle will do! In the previous photo/layout, I used holiday-colored nonpareils and gold stars)
Extracts, if desired
(peppermint is a fun one to use with the green color!)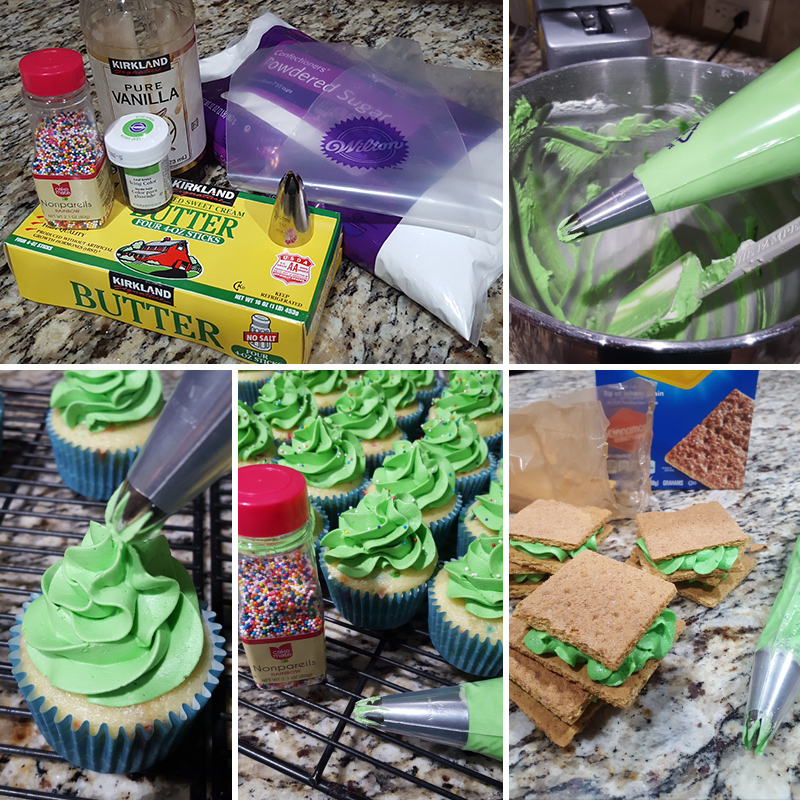 Start with the butter in the mixer & beat the heck out of it — seriously — approximately 10 minutes! Once it is white & super fluffy, you're good to slowly add in the powdered sugar.
As you add the sugar, taste it occasionally as you go; typically, I use about 3-1/2 cups of sugar.
After the sugar is all incorporated, add the tablespoon of vanilla. Now it's time to add coloring or extracts. Add a teaspoon at a time until you reach the desired color/flavor.
To decorate… trim the tip off of the frosting bag, drop in the 1M tip & then fill it up with your delicious buttercream. To make the tree shape — start on the outside of your cupcake & make 3 circles- going smaller as you get to the top. Finally, add your sprinkles… and voila! Christmas tree cupcakes!
*FOOTNOTE* my favorite thing to do with the left over buttercream (besides squirt it straight into my mouth!) is to put it between graham crackers & then into the freezer. My kids call them Freezer cookies! 🙂
---

About the Author  Amie is a craft-loving dental hygienist who lives in Washington state. She loves her husband, her two kids (ages 8 & 5), and her English Bulldog… as well as coffee, baking cupcakes, daffodils, glitter & sprinkles, reading a good book, and lip gloss — not necessarily in that order.