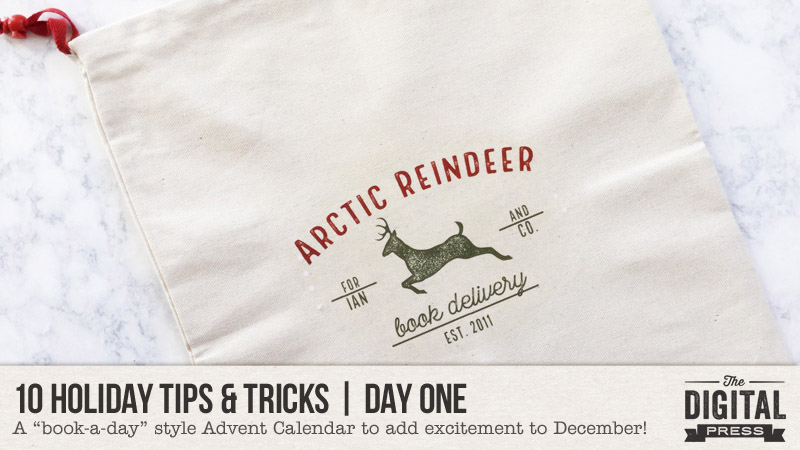 Hello there! Amie here (of Little Lamm Paper Co.)… wishing you a very Happy December and welcoming you to Day One of the 2017 edition of our always-popular 10 Holiday Tips & Tricks series here on The Digital Press blog!
Today I'm here to share a fun "book-a-day" style Advent Calendar that I am doing this December with my son, Ian. I'm hoping this post is early enough to be helpful for anyone who has kids (or book-loving adults?) in their household and still needs Advent Calendar ideas for the upcoming holiday season!
I'm not going to lie… originally, in the beginning, my plan was to wrap up 24 books individually and tag each one with the numbers 1-24… but then I found a really easy (and actually quite fun!) "lazy" way to get this project up and running — an awesome time-saver, and yet still exciting for the recipient!
I was saved from the work (and waste) of endless wrapping by none other than the Dollar Spot at Target (you red card holders know where that is!). There, I found some cute burlap-ish gift bags and bought one to use as a daily "Santa Bag," of sorts, to deliver each day's book. I decided to alter one of my own home decor designs — the Arctic Reindeer print — to make an iron-on transfer for the bag…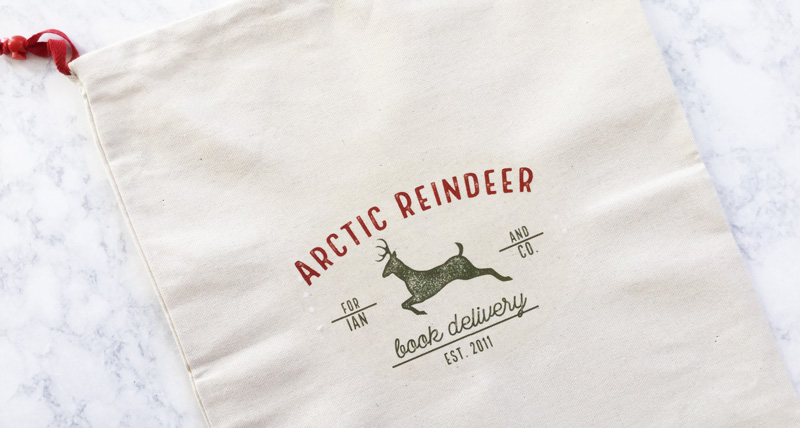 After making birthday shirts for 6 years now, I definitely have a few tips to share for successful iron-on transfers…
Don't forget to reverse your image! If the image is not backwards on the paper, it will be on the shirt/bag. 😉
Don't use the "iron transfer" setting on your printer. This has always come out with fuzzy images on any printer I've ever owned. Instead, I reverse the image myself in Photoshop… and I print it out as a photo on matte paper at the best printing level. This gives me a perfect crisp image every time.
LINT ROLLER YOUR CLOTH BEFORE DOING THE TRANSFER! We have 2 cats and a bulldog in our house, and no surface stays clear for more than 2 seconds. Most of my son's birthday shirts have a cat hair embedded into the image if I forget this step.
Don't forget to let the image cool completely before taking off the paper.
Save money by planning ahead. I've learned not to buy iron-on transfers from local big-box stores like Office Depot, etc. (where I have, in the past, spent $18 on the same item I could have gotten from Amazon for $8).
With regard to the book-a-day part of this Advent Calendar project… I have heard of some people who wrap library books or buy used books (BetterWorldBooks is a great used book source). Some people also just use any stories — they don't necessarily have to be Christmas-themed!
For our family, we unwrap our last book on December 23rd due to the fact that we spend Christmas Eve with family. On that final night, my son gets a new book and a set of pajamas as his final gift. This year, we got him the Fantastic Beasts and Where to Find Them book because it has a Griffin on the cover (a family name!)… and also some Star Wars PJs so he can wear them to the late showing of the upcoming The Last Jedi movie on his birthday, which is December 26. 🙂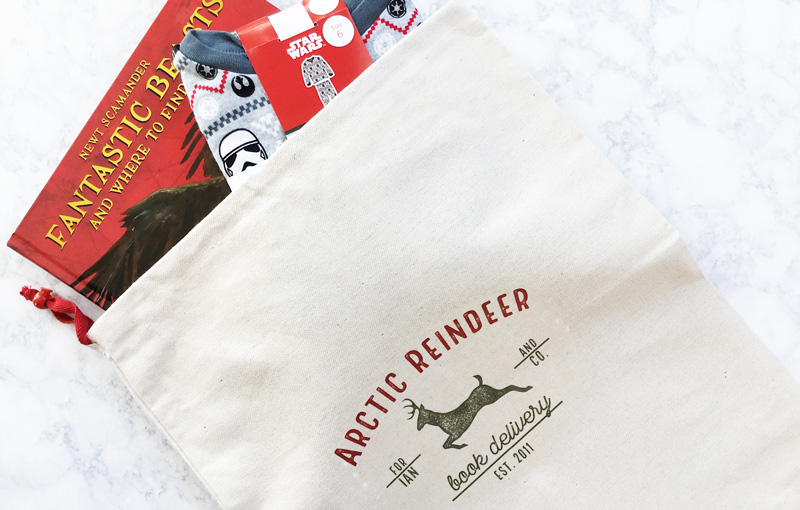 To make sure I remember to re-fill the book bag each night… I have set a reminder on my phone for 9:00pm each night starting on November 30th — and that's when I put a new book into the sack. Then, the sack will go into the basket with any books that we have already opened…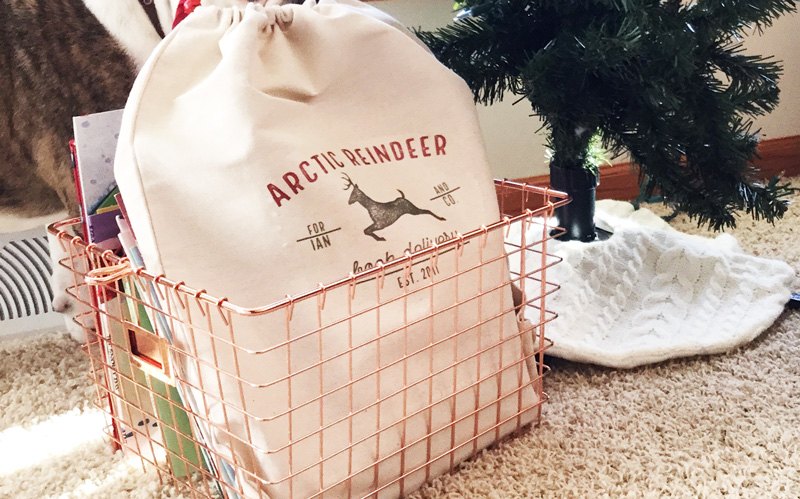 Every morning when Ian wakes up, there will be a new package under the tree.
In case you need some ideas for books… here are some of my of favorite Christmas/winter-themed books from over the years…
Christmas for Greta and Gracie by Yasmeen Ismail
The Day Santa Stopped Believing in Harold by Maureen Fergus
Maple & Willow's Christmas Tree by Lori Nichols
Bear's Winter Party by Deborah Hodge
Bear Stays Up For Christmas by Karma Wilson
The Gingerbread Man Loose at Christmas by Laura Murray
Beyond the Pond by Joseph Kuefler
The Tea Party in the Woods by Akiko Miyakoshi
Du Iz Tak by Carson Ellis
Harold at the North Pole by Crockett Johnson
The Snowy Day by Ezra Jack Keats
Olive, the Other Reindeer by Vivian Walsh
A Wish to Be a Christmas Tree by Colleen Monroe
The Christmas Wish by Lori Evert
Olivia Helps With Christmas
Walking in a Winter Wonderland by Richard B Smith
Wendell The Narwhal by Emily Dove
The Christmas Eve Tree by Delia Huddy
The Lost Gift: A Christmas Story by Kallie George
The Great Spruce by John Duvall
The Wish Tree by Kyo Maclear
First Snow by Bomi Park
Little Penguins by Cynthia Rylant
The Little Reindeer by Nicola Killen
Pick a Pine Tree by Patricia Toht
Red and Lulu by Matt Tavares
Walk This World at Christmastime by Debbie Powell
If you're thinking of trying this… head over to The Digital Press's challenge forum and get the details about how you can earn challenge points for December 2017 at TDP if you try any of our "Holiday Tips & Tricks" throughout the month as they appear here in this blog series! Additionally, I'd love to see any photos of your December/holiday projects using TDP goodies in the gallery this month, so link me up after you're finished creating and uploading! 🙂
---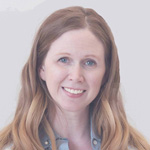 About the Author  Amie Lamm is the designer behind Little Lamm Paper Co. at The Digital Press. She is a work at home mom/graphic artist living in Fargo, North Dakota with her hubby, her almost 6 year old son, 2 lazy cats, and a hyper bulldog. She survives her days with copious amounts of coffee and recorded episodes of Fixer Upper.