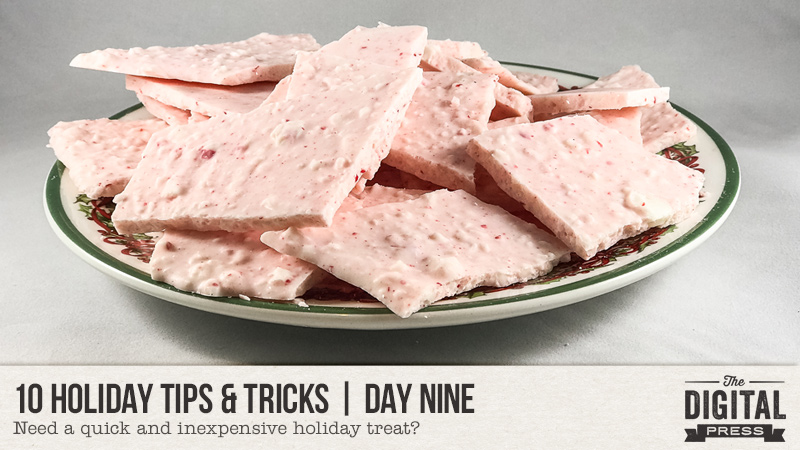 Welcome to Day Nine of the 2017 edition of our always-popular 10 Holiday Tips & Tricks series here on The Digital Press blog!
Today I'm here to share a really quick and inexpensive holiday treat recipe… homemade peppermint bark!
Each year during the holiday season, we love taking Christmas goodies to neighbors, friends, piano teachers, debate coaches, UPS drivers, mailmen… and pretty much everyone else in our lives! My college kids also like baking for their friends, roommates, girlfriends, professors (or anyone else they want to impress!). Unfortunately, the problem with making so many goodies all season long… is that eventually, we just need a recipe or two that is fast, easy, cheap, and delicious! This one serves those needs!
After many years of trying recipes, our family finally found one for Peppermint Bark that fits the requirements — and the best part is it's so simple that kids of all ages can make it themselves!
Peppermint Bark
INGREDIENTS
— 1 pound vanilla-flavored candy coating (cut up into smaller pieces)
— about 24 hard peppermint candies (more or less to taste!)
— 1 tsp peppermint extract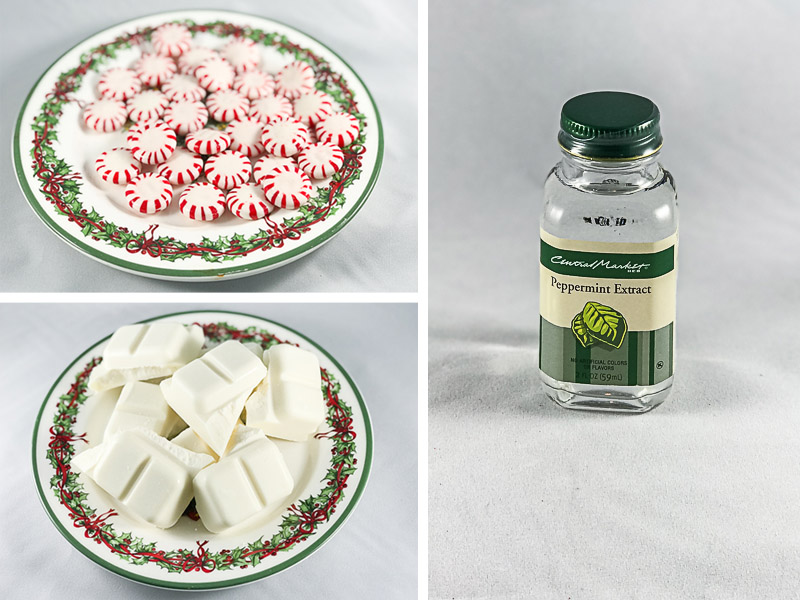 Yup, that's it! Just three ingredients!
And the best part is… it's not only easy, but flexible, as well. What do I mean? Well, if you want me to be honest, I'll tell you that my mommy brain has kicked in more than once in the past, and I've forgotten to buy the peppermint extract (additionally, my college kids have elected to save money and not buy it, either, at times… so we've left the extract out multiple times and no one has truly known the difference). On the flip side of that… we tend to be a really "pepperminty" family, and so at other times I've actually used more candies than listed above — a tweak that not only makes it taste great, but also affects the crunch factor. 🙂
INSTRUCTIONS
Line a cookie sheet with aluminum foil or wax paper (we never have wax paper on hand, so I use aluminum foil).
Crush the candies. I have a food processor, and we use this… but my college kids just place them in a gallon bag, cover it with whatever they have nearby (towels, or dirty clothes, haha), and smash it with hammers, books, or anything else that's heavy. As long as it's not their laptops or cell phones, I'm happy.
Melt the candy coating in a microwave-safe dish for 1 minute on high. Take it out, stir, and put it back in the microwave for another 30 seconds on high. Keep repeating this until the candy coating is smooth and melted. *TIP* make sure you truly do take the time to stop and stir, as simply heating it on high for 2 minutes + may or may not result in a smelly and inedible glob. Don't ask me how I know this.
Next, mix in the crushed candies and peppermint extract… and then spread the melted candy onto the prepared cookie sheet. *TIP* the thinner you spread it, the further the recipe goes.
Freeze for 30 minutes or so and then break it into pieces. The candy can be stored at either room temperature or hidden in the freezer where children can't find it — and either way it tastes great!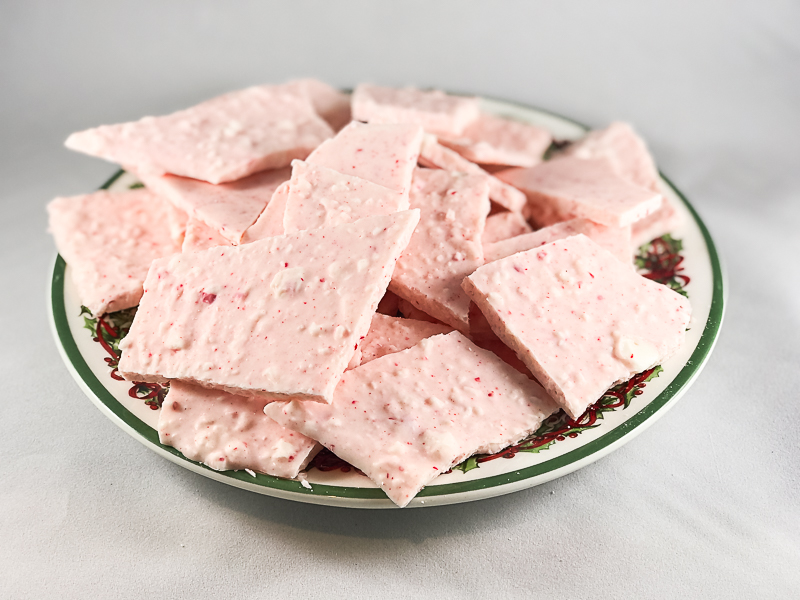 See how easy this is? No oven required, not many dishes to wash, and the total recipe costs less than $5. You can't ask for more than that!
Now, you can certainly make this candy fancier by using both chocolate AND vanilla candy coating. Just make sure the first layer (usually chocolate) is hard before adding the second layer (usually vanilla). Adding this second layer often makes the bark look prettier (and who doesn't love chocolate?!)… but it's important to note that adding the chocolate candy coating, also, makes the process take longer and makes the recipe slightly more expensive. Thus, our family often just sticks with plain vanilla (unless we really, really like you 🙂 ).
Have fun with the recipe, and feel free to change it to your liking!
If you're thinking of giving this recipe a try… head over to The Digital Press's challenge forum and get the details about how you can earn challenge points for December 2017 at TDP if you try any of our "10 Holiday Tips & Tricks" throughout the month as they appear here in this blog series!
---

About the author  Robin is a member of the creative team here at The Digital Press. A wife of 25 years and a mom of 4 crazy children (3 in college and 1 still at home), she says that her life occurs mostly in the car as she transports said crazy kids to their many, many homeschool activities. When not driving, Robin loves to make her family cringe by pulling out her camera again (and again, and again…).