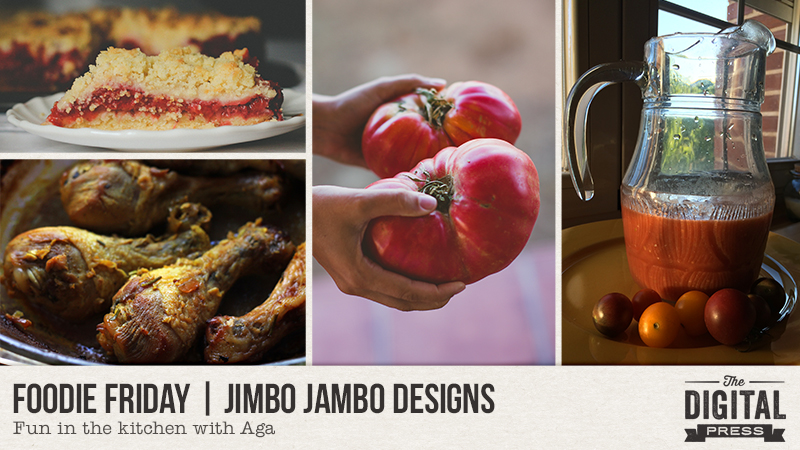 Hi everyone! It's Friday, and as always that means it's time for another edition of our Foodie Friday series here on The Digital Press blog! This week, we're featuring Aga of Jimbo Jambo Designs. This amazing designer has already been featured twice (if you want to learn even more about her, you can find her first feature article from October 2016 HERE, and her second feature article from May 2017 HERE).
In addition to creating super fun and inspiring templates, she has many other talents as well… including cooking! Let's discover the three fabulous recipes she will be sharing with us today…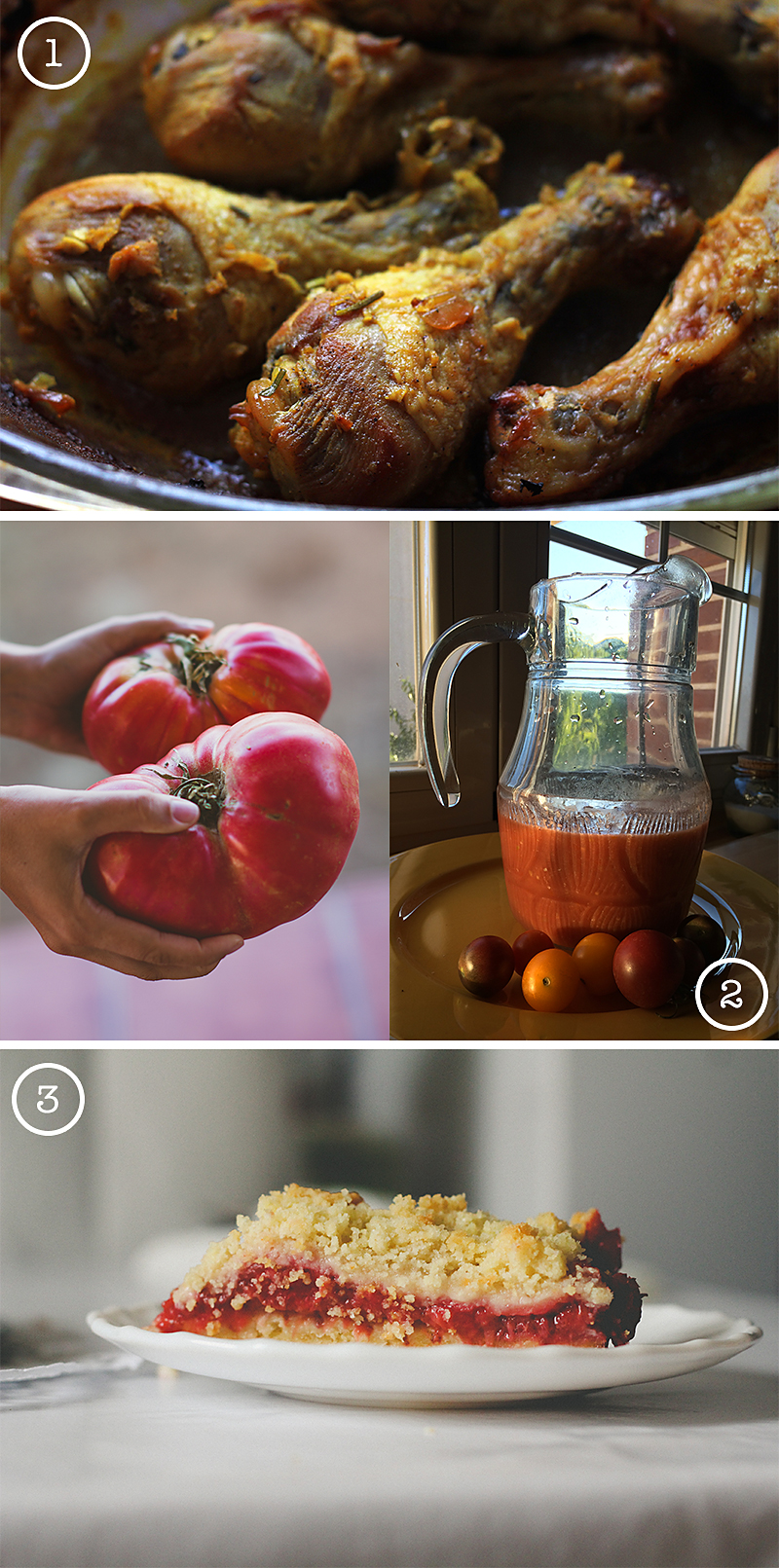 What are those yummy things you see, above?
Chicken in Garlic and Orange Juice
Gazpacho Andaluz
Strawberry Crumble Cake
---
Chicken in Garlic and Orange Juice
INGREDIENTS
4-6 pieces of chicken
1/4 teaspoon salt
1/3 teaspoon pepper
1/2 cup orange juice
1 teaspoon honey
1 teaspoon ground ginger
1/2 teaspoon curcuma
2  clove of garlic
a bit of rosemary and cayenne (pepper) if you like spicy food.
INSTRUCTIONS
Season chicken with oregano, salt and pepper, to taste; set aside.
Melt butter in a large oven-proof skillet over medium high heat. Add chicken, sear both sides until golden brown, about 2-3 minutes per side; set aside.
Mix all ingredients and heat up without boiling and leave to cool.
Add chicken and toss to coat. Cover and marinate at least 3 hours up to overnight in the refrigerator.
Place into oven and roast until completely cooked through, reaching an internal temperature of 180 degrees C, about 25-30 minutes.
---
Gazpacho Andaluz
INGREDIENTS
1 kilo of ripe tomatoes (with an accentuated red color)
1 green pepper Italian type (about 60 grams)
1 piece of cucumber (about four fingers wide)
1 piece of onion (about 100 grams)
1 clove garlic
3 tablespoons olive oil
3 tablespoons of white wine vinegar
1 small spoonful of salt
Optional: 1/2 green apple (for example a Golden) and cold water
INSTRUCTIONS
Wash tomatoes, apple, cucumber and pepper well. Let it drain. If you want you can remove the tomatoes' skin.
Remove the corner and seeds from the pepper, cut it into four or five pieces and put it with the tomatoes.
Peel the clove of garlic and put it with the rest of the vegetables.
Take the piece of onion (peeled) and cut it into three or four pieces. Add to the blender jar.
Take a piece of cucumber about four fingers long and peel it. Cut it into four or five pieces and to the blender.
Now that all the vegetables of the gazpacho are in the glass of the blender we will turn it on (well covered) and we will leave it working until there is no piece of vegetable left (the time will depend on the power of the blender).
Now add the salt, the oil, and the vinegar. I advise you to start with three tablespoons of vinegar and to rectify (adding more) to your liking. Give the blender five seconds and try. Rectifies of salt and vinegar to taste.
makes 4 glasses (1 liter)
---
Strawberry Crumble Cake
INGREDIENTS FOR CRUST
200 g of wheat flour or spelled or oat flour
50 g of rice or potato flour
1 teaspoon of baking powder
150 g butter (cold)
50 g sugar
1 egg
INGREDIENTS FOR CRUMBLE
150 g of wheat flour
50 g of rice or potato flour
50 g sugar
125 g butter (cold)
INGREDIENTS FOR FILLING
800 g strawberries
3 tablespoons of potato flour
powdered sugar
INSTRUCTIONS
Put baking paper in a form of a size 24 x 34 cm.
Put into the bowl both flours, add baking powder, sugar, cut into pieces butter and an egg. Rub your fingers with the rest of the ingredients into a small crumble, then quickly knead the dough by combining the ingredients into a homogeneous sphere. Place the bottom and a piece of the side of the mold with the dough. Punch the bottom with a fork and put in the fridge. Heat the oven to 180 degrees C.
Place the baking tray with the dough in the oven and bake for 15 minutes for a pale golden color. Take out the dough, but do not turn off the oven.
Crumble: pour the flour into the bowl, add the sugar and cut into pieces cold butter. Rub the butter with the rest of the ingredients with your fingers until you have a crumble (small pastry crumbs).
Strawberries: cut into smaller pieces (eg into quarters), put in a bowl, mix with potato flour.
Put the strawberries on top, put the crumble on top and put in the oven. Bake for approx. 35 – 40 minutes for a golden color. After baking sprinkle with powdered sugar.
---
All of those recipes look amazing, right? Aga is a world traveler, and it definitely shows in the foods she prepares! I love them! Unfortunately, I won't be able to try the gazpacho because I'm allergic to raw tomatoes… but I hope you'll tell me in the comments if it's as tasty and delicious as it sounds!
And of course, it wouldn't be a designer feature week without a fantastic sale and a special Free-With-Purchase offer! Not only is Aga's entire shop marked down 30% OFF throughout her entire feature week (sale prices will be valid through 11:59pm ET on Thurs 2/8)… but she also has the following Free-With-Purchase offer available in her shop all week long, as well — spend $10+ in the Jimbo Jambo's shop at The Digital Press and get the following item completely FREE!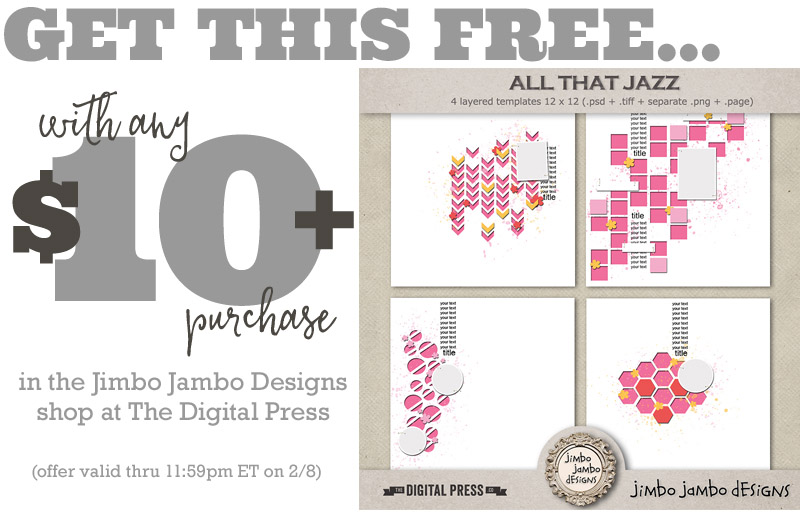 ---

About the author  Chloé is in charge of PR and communication for her small town by day, is a digiscrapper "by night," and a photographer whenever the light is beautiful. She lives with her man and fur-babies in a small town of Alsace (in the northeast of France), where she loves to read, watch good TV shows (TWD being her absolute favorite), and just hang out with her friends — no matter if they are close by, online, or away in her Swiss hometown. She recently became quite obsessed with Bullet Journaling, FLyLady and Zero Waste.