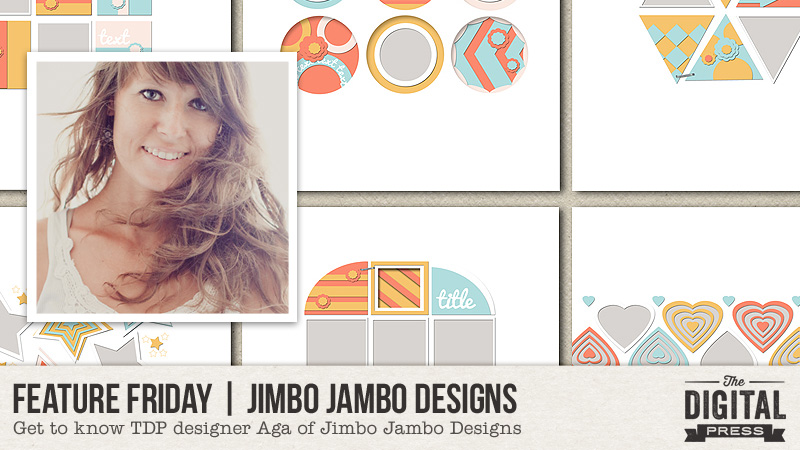 Once again, it's Feature Friday… and this week, we are super excited to introduce you to Jimbo Jambo Designs! The designer behind Jimbo Jambo Designs is my dear Aga, whom I've known for the past few years. When I first saw her designs, I was blown away! Her templates are so unique and they have always stood out; I can always recognize her work, no matter which gallery I am viewing. After falling in love with her work, I reached out to her to declare my digi crush on her designs(!)… and sweet as she is, she took pity on me 😉 and offered me a role on her creative team. We've been friends ever since, and I couldn't be more thankful for that!
I'm proud to showcase just a few of my favorite products from the Jimbo Jambo Designs product catalog —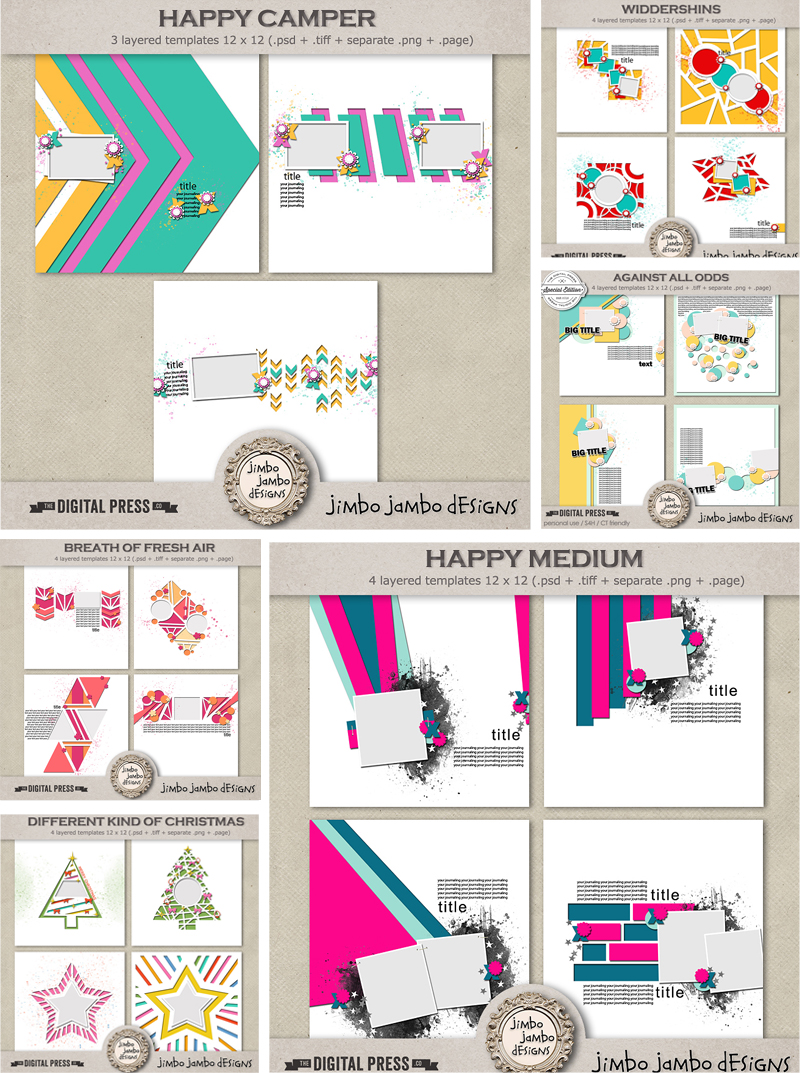 To get to know Aga a little better, I asked her a few questions. Here is what she had to say…
Where do you live?
I live in Spain but I'm leaving it next month to travel around. I will not be staying in one place for too long!
When you're not designing, what do you do with your time?
Designing is not my full-time job, so actually I design in my free time. I'm also fond of photography, reading books, and sports.
What are 5 tidbits of trivia we might not know about you?
— I come from Poland.
— I love traveling and I'm always planning new trips.
— I haven't studied anything connected with art but economy.
— I love action movies — the ones that usually men love.
— I can't stand pastel colours (now you know why I normally use the strong colours in my templates)! 🙂
Which of your products is your favorite?
I think my favorite one at this point is Tickety Boo…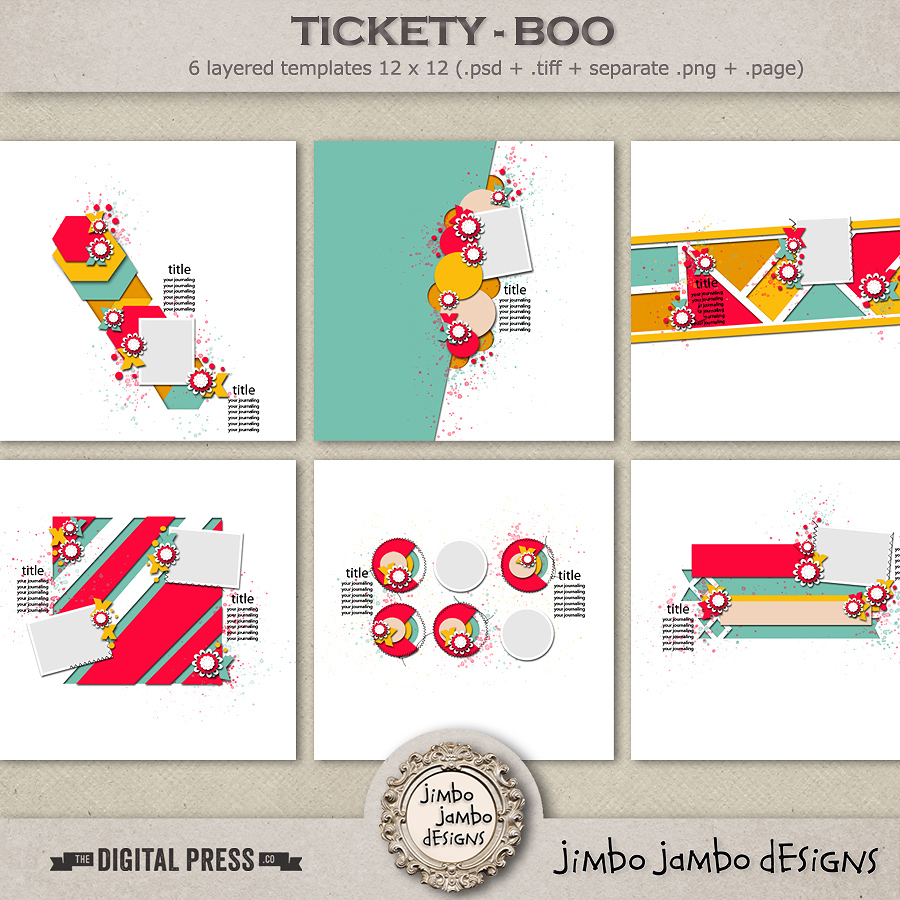 And now, here are a selection of gorgeous pages made with Aga's unique and versatile templates…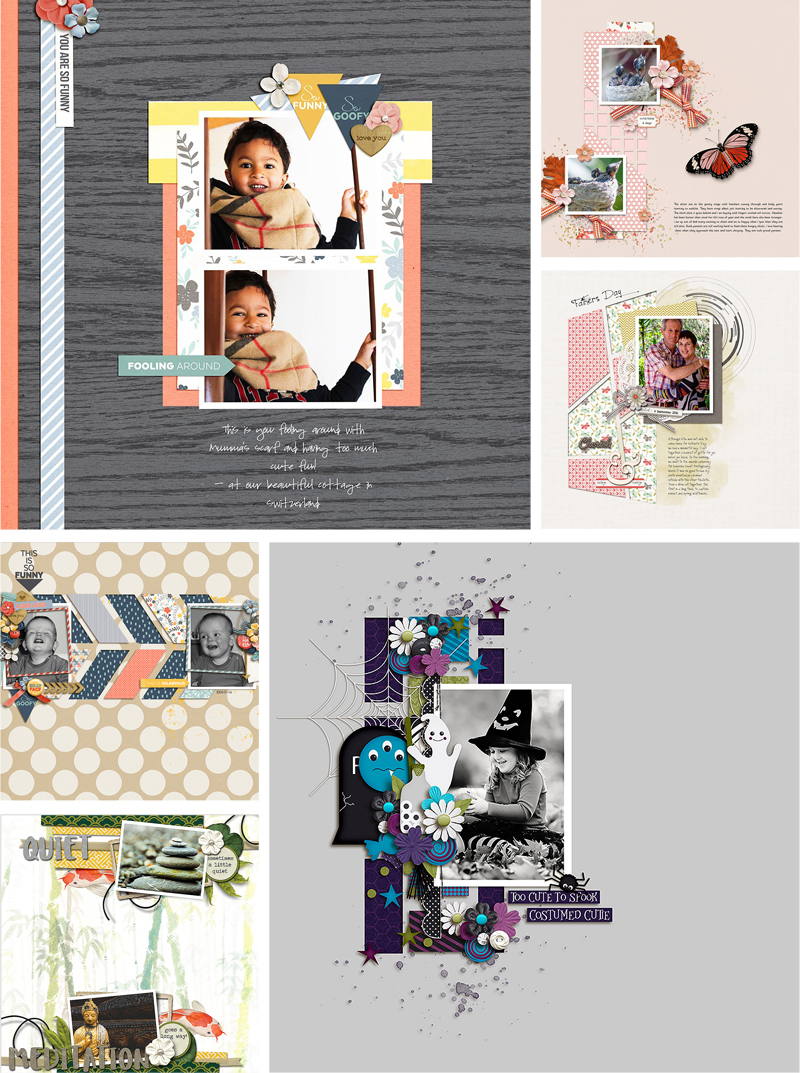 I am so glad to have had the opportunity to help you get to know Jimbo Jambo Designs a little better today! Now that I have you drooling over all of the digi loveliness she creates… your next step will be to go check out her shop here at The Digital Press and take advantage of the 30% OFF SALE IN HER STORE throughout this entire week (the sale will end at 11:59pm ET on Thurs 10/27). Enjoy, and happy scrapping!
---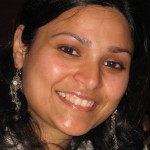 About the Author  Pallavi resides in Mexico City with her husband and her ever-growing little son, Rajveer. She has previously lived in Calcutta, Pune, San Francisco, Chicago, and London. She reflects all these places in her pages as she captures her everyday stories. She is an alumnus of Northwestern University. Currently, she is learning photography and working towards getting to a healthy weight. Her days are full and she loves it that way!