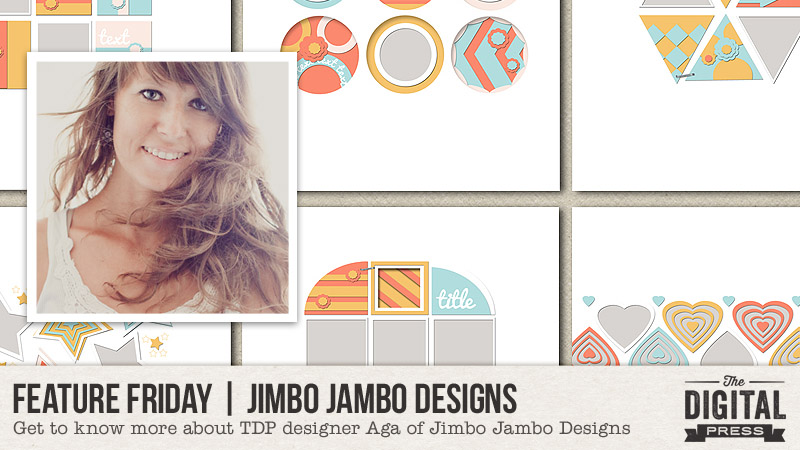 It's Friday, and time for another edition of our Feature Friday series here on The Digital Press blog! This week, I am excited to feature Aga of Jimbo Jambo Designs. This is Aga's second feature here on the blog (you can find her first feature from October 2016 HERE)… and whereas last year we used our feature series to help you get to know some fun trivia about your favorite designers, this year we're going to use our designer feature series to give you a little peek into our designers' creative spaces, and more insight into their creative processes.
When I talked with Aga, I found out that she is a woman after my own heart — and does not have a regular workspace right now because she's traveling the world! In November of 2016, she sold what she could of her worldly possessions and left her apartment in Spain to go travel throughout Africa and Asia. Her journey has already taken her through South Africa, Thailand, Myanmar, and Cambodia… and last I heard, she was leading to Laos next.
Her "normal" workspace, in her words, is "a bed, my laptop, nice music, and me." How simple and wonderful! And luckily, that's a workspace that she has been fortunate to to take with her on her amazing adventure… though, instead of a bed, she seems to have found some cozy little coffee shops and patios to work from, as shown here…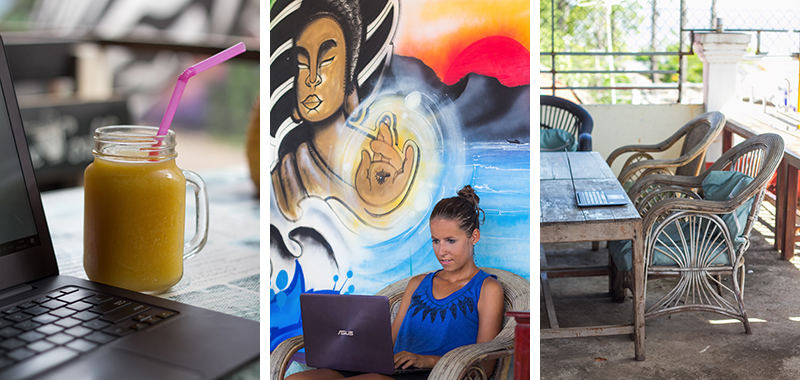 Then we asked her to share a Top 5 list with us that is representative of her at this point in her life… and she definitely had one ready, based on her travels! She shared with me her Top 5 Travel Tips…
Don't be afraid to change your life! Just do what you want to do without fear, even if the rest of the people think you are crazy! The fear is your worst enemy!
Everything can be solved. There is no situation that can not be solved if you think reasonably and stay calm.
Try to look for not touristic places in touristic places. Look for locals or hostels managed by the orphan children. The great thing about them is that they are always more friendly and you can learn so much about their culture from them… and you help them by staying there.
Less is more. Do not take as many things as you can. Big mistake! Everywhere in the world you will be able to buy what you need.
Don't try to see everything. Take your time to relax and enjoy your travels. Running from one place to another may be good as you will have many photos, but you're not going to enjoy it as much.
I find such inspiration in what she's said, and I definitely hope that others do, too. There's a lot of wisdom there!
Even though she's been constantly moving around the world, however, Aga has still found time to design her amazing templates. She's got such a unique style, and says that she finds inspiration in some of the places she's been visiting. Her template designs are so great and I've seen some really wonderful layouts that have been created with them. The shapes, cutouts, and arrangements are truly unique to her — so make sure to check out her shop at TDP, if you haven't already.  She's got so many creative templates, it was hard to pick favorites… but here are a few that I love…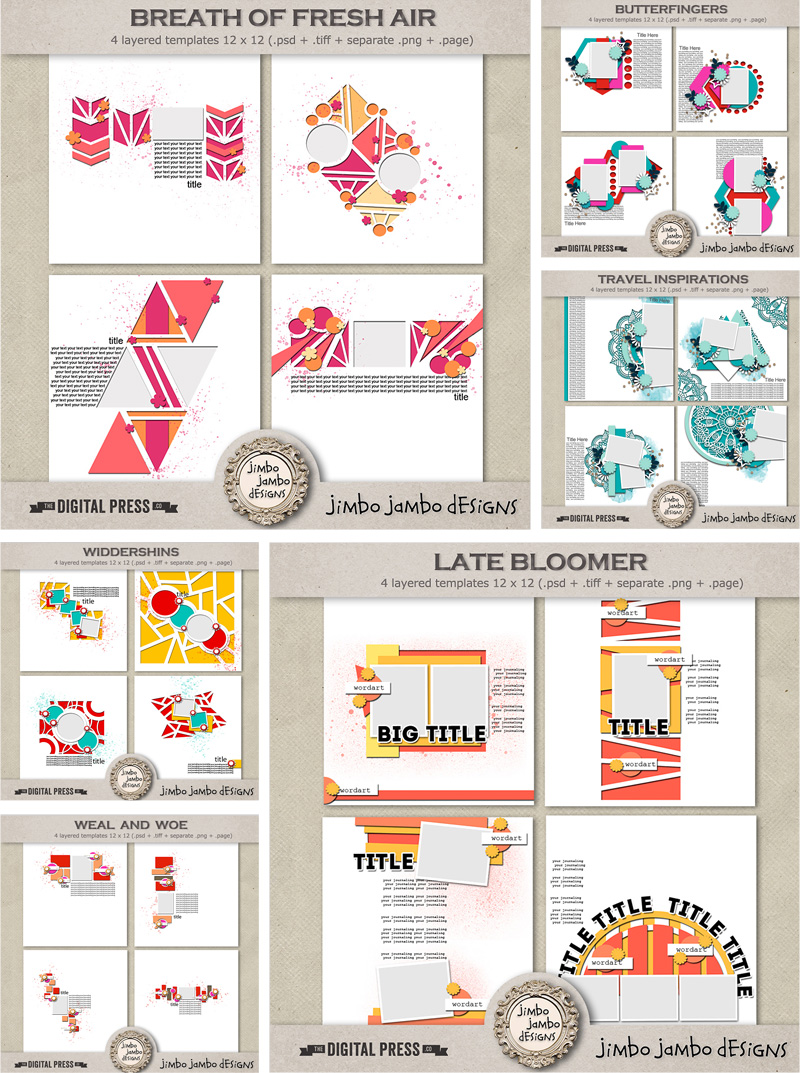 Here are just a few of the fantastic pages I was able to find that use templates by Jimbo Jambo Designs…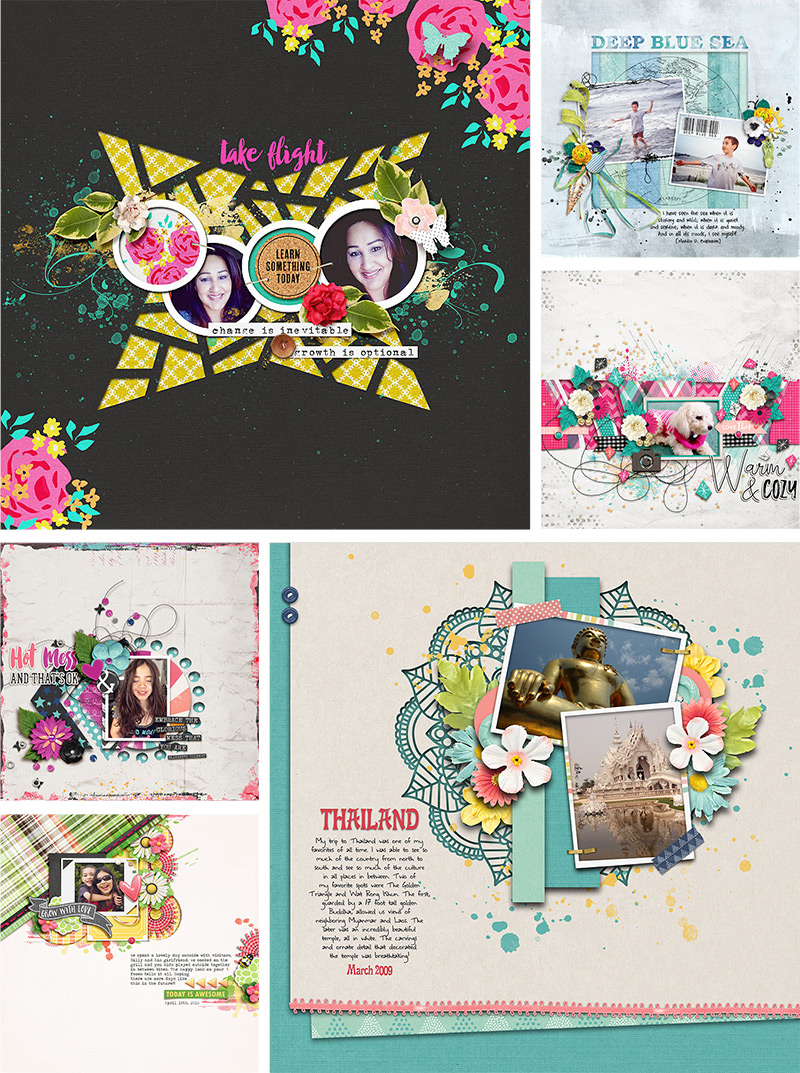 Aga is such a humble person and finds so much joy out of creating templates, but even more joy and inspiration when she sees us using them. As we finished talking, she expressed true gratitude to her fans and wanted to send out thanks to everyone who has purchased her products.
And as a side note, if we've got any JJD fans in Asia, Aga said that she would LOVE to meet you over coffee, or just to get together and chat. As I fellow traveler, I know that it's awesome to get recommendations for sights to see, restaurants, etc. from the locals… so if we've got a crew in Asia who follows her designs, let's help her out! She did tell me she's up for some scrapping sessions with her fans. Kinda makes me want to scoot over to Laos!
This coming week as we celebrate her Feature Week, you will find her entire shop at The Digital Press on sale 30% OFF (sale will run through 11:59pm ET on Thursday 6/1).
Additionally, Jimbo Jambo Designs has a special Free-with-Purchase offer for everyone this week! Don't miss out on this opportunity to stock up on your favorite products from Jimbo Jambo Designs while they're on sale… and you can snag her "Even Steven" template set for FREE with any $10+ purchase in her shop — this week only!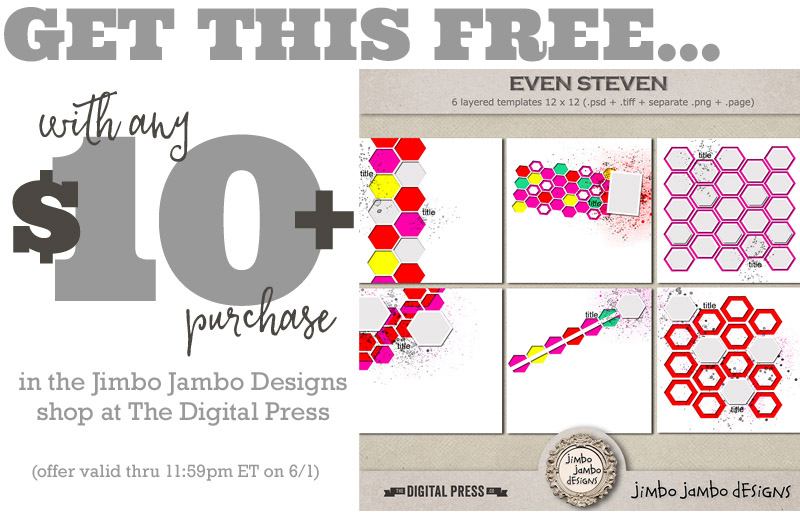 ---

About the Author  Shannon has been completely addicted to digiscrapping since she began in early 2016 (though she's been a scrapper since 2000). Her early morning ritual of a few quiet hours of scrapping while sipping a chai tea is her favorite part of each day. She is also the owner of a web design company, and when she's not at the computer designing websites or digiscrap layouts, she's probably hiking one of the local mountains in her hometown of Phoenix, Arizona. She is an avid reader and loves to travel to foreign countries.