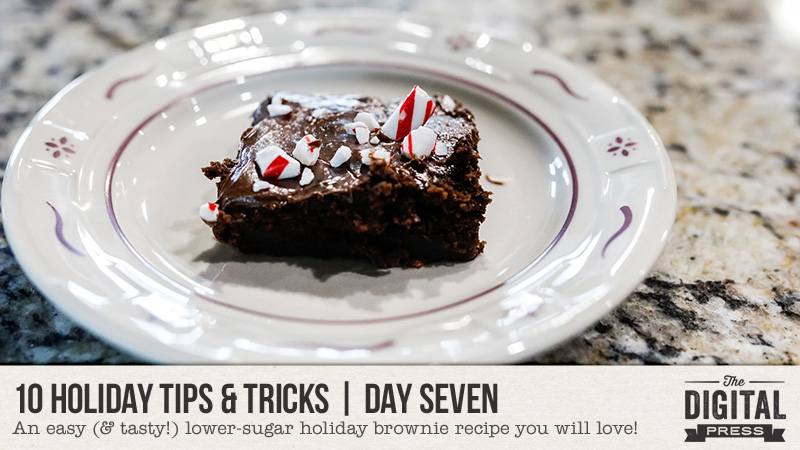 Happy December, everyone, and welcome to Day Seven of our annual 10 Holiday Tips & Tricks series here on The Digital Press blog! Today I'm here to share a recipe for Peppermint Brownies – with a twist. The twist is that they're lower in sugar content… and the secret is in the pop! For some reason, a carbonated beverage takes the place of the oil and eggs. I'm not sure why, but since it works, I'm happy!  We bake brownies for every occasion and since there are so few ingredients needed,  all I have to do is keep the brownie mix in the pantry and I'm good to go!
Peppermint Brownies
INGREDIENTS
— 1 box of sugar free brownie mix
— 1 – 12 ounce can of diet pop (any flavor will do)
— 1 can of frosting (any kind will do)
— 3 candy canes (more or less to taste)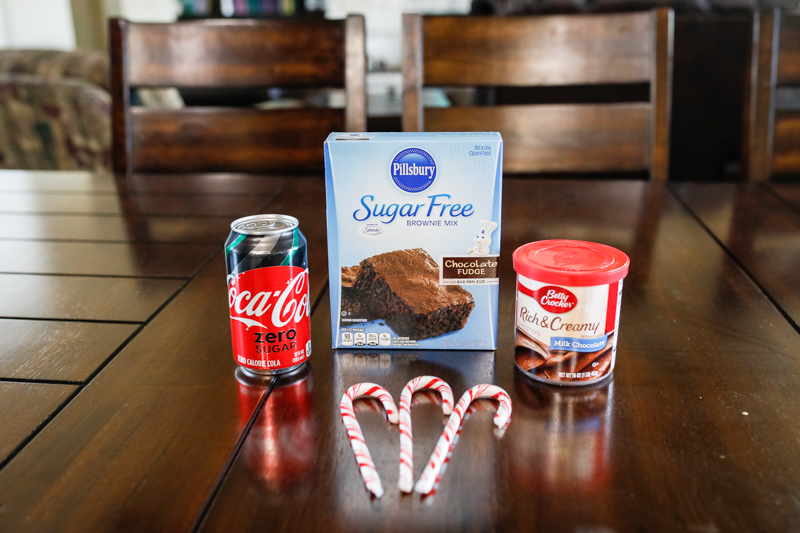 INSTRUCTIONS
— Mix together the brownie mix and pop in a bowl until there aren't any more clumps.
— Spray an 8×8 pan with nonstick cooking spray (I use Pam), and add the batter (note: it will be very runny & it sort of doesn't look like it will work… but it does for some reason!).
— Bake at 350 degrees for 25-30 minutes or until toothpick comes out clean when checked.
— Let the brownies cool completely before frosting them.
— Carefully smash the candy canes in a ziplock bag with a hammer until you have crumbles.
— Add the crumbles on top of the icing and ENJOY!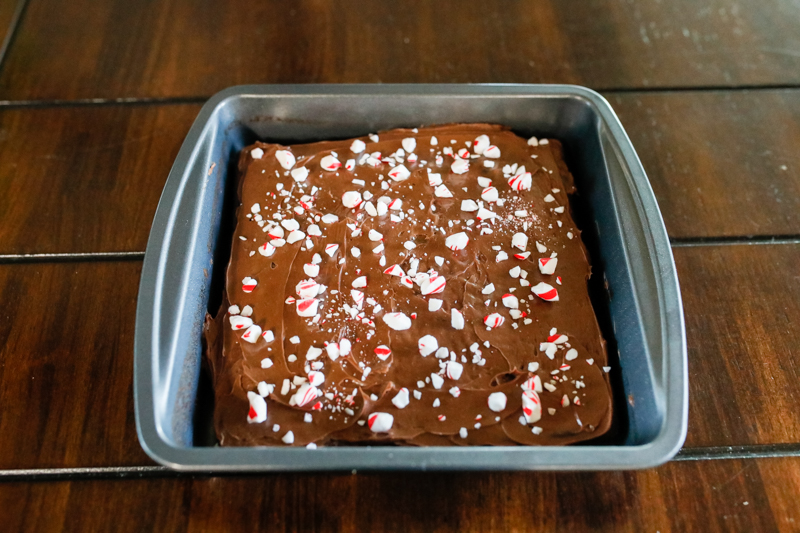 That's it! See how easy it is? My children could make this all by themselves when they were younger! And even better yet, this recipe is VERSATILE! You can use any diet pop you'd like; for instance, my family loves it with Diet Dr. Pepper, too! Or, if you don't like sugar-free ingredients, you can use regular brownie mix and any regular pop you like, as well, and it still tastes great in the end. Feel free to change the icing and toppings, too (we also love M&M's on ours). This recipe is just plain easy and fun to make.
Speaking of which… if you're thinking of trying this, head over to The Digital Press's challenge forum and get the details about how you can earn challenge points for December 2018 at TDP if you try any of our "Holiday Tips & Tricks" throughout the month as they appear here in this blog series! Additionally, we'd love to see any photos of your December/holiday projects using TDP goodies in the gallery this month, so link us up after you're finished creating and uploading!
---

About the author  Robin is a member of the creative team here at The Digital Press. A wife of 26 years and a mom of 4 crazy children (3 in college and 1 still at home), she says that her life occurs mostly in the car as she transports said crazy kids to their many, many homeschool activities. When not driving, Robin loves to make her family cringe by pulling out her camera again (and again, and again…).