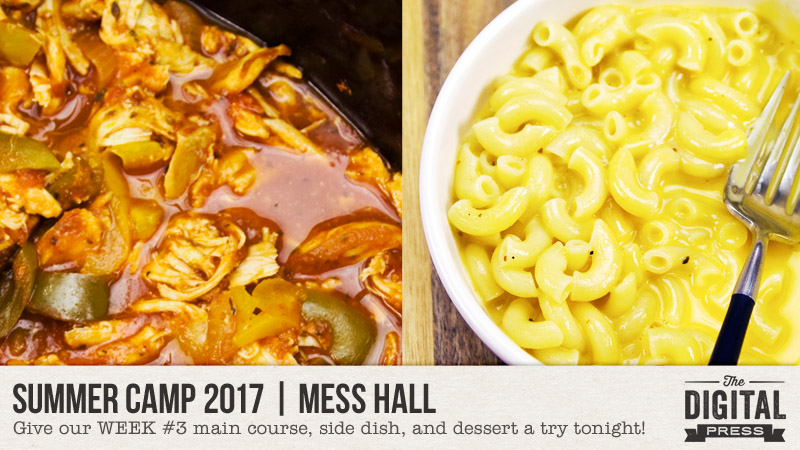 Hello, and welcome to the third edition of our weekly "Mess Hall" feature — part of The Digital Press's big SUMMER CAMP 2017 event this July!
If you haven't already checked out our lineup of activities for SUMMER CAMP 2017… definitely swing through the forum, grab yourself a badge tracking card, and join the fun! We're only halfway through the month, and there's still plenty of time to jump in! We've got events, challenges, tutorials, and more lined up throughout the month of July… including a weekly FOOD article, like this one! 🙂
Each Sunday throughout the first 4 weeks of July, members of our team will be here on the blog sharing a meal with you — a main course, side dish, and dessert (or cocktail!) that are each tried-and-true (tested personally by members of our team!). Give any of the meal items a try, and you could earn a SUMMER CAMP 2017 badge! Get the full details HERE.
So… let's jump right into this week's meal!
Whereas our first week's meal (WEEK #1, found HERE) was Italian-inspired… and the second week's meal (WEEK #2, found HERE) was Mexican-inspired… this third week's meal by TDP designer Kristen Magee of k.becca is very comfort-food-inspired! I mean, who doesn't love themselves a flavorful slow-cooker masterpiece, and some good old-fashioned mac-n-cheese?! YUMMM!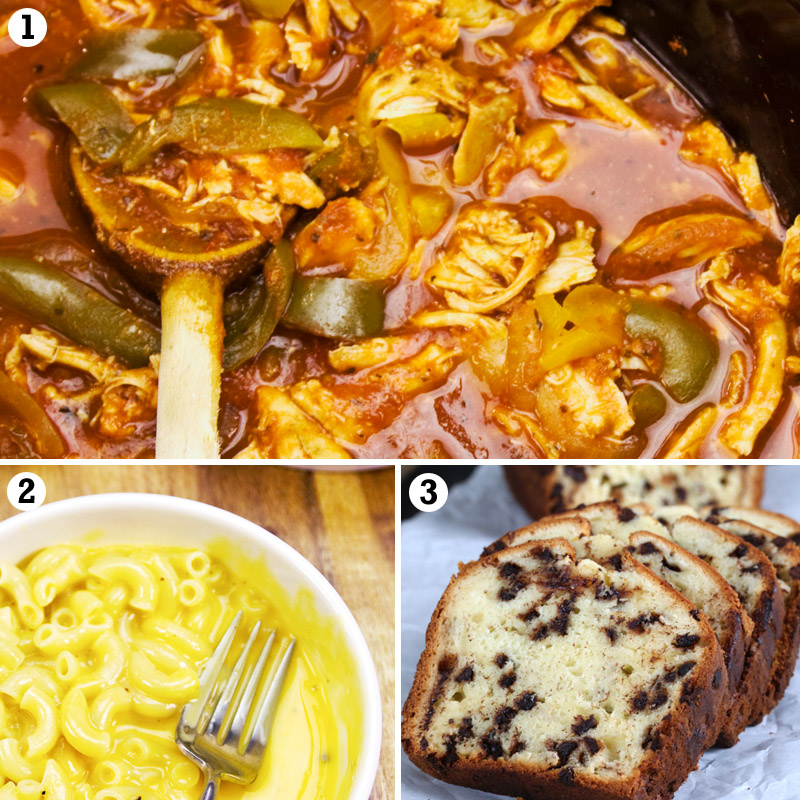 photo credits to [1] and [2] TDP Designer Kristen Magee and [3] Gluten-Free on a Shoestring
What is that up there, you ask?
Slow Cooker Italian Chicken & Peppers
Kristen's Favorite Stove Top Mac-&-Cheese
Gluten-Free Chocolate Chunk Quick Bread
We keep saying it every week, and we'll say it again — just YUM, about all of it! You truly won't be disappointed if you give any of these recipes a try.
---
SLOW COOKER ITALIAN CHICKEN & PEPPERS
Kristen had the following to say about this recipe: "Slow cooker recipes are so great when you're short on time or on hot days when you don't feel like turning on the oven. I love that this recipe is so flexible. Serve it over pasta or rice, or spoon some onto sandwich buns for a slightly messy but super tasty meal."
INGREDIENTS NEEDED
—3 bell peppers (any color)
—1 medium onion
—24 oz (1.5 lbs) boneless, skinless chicken breasts or thighs
—1 tsp basil
—1 tsp oregano
—3 cloves of garlic, minced
—1/2 – 1 tsp. crushed red pepper flakes (optional – if you want the sauce to have a bit of a spicy kick)
—24 oz jar marinara sauce
—salt & pepper
INSTRUCTIONS
—Slice the bell peppers and onions into 1/4 inch wide strips. Lay half of the cut onion and peppers in the bottom of a 4 quart / large slow cooker.
—Place the chicken breasts on top of the onions and peppers and season with salt and pepper. Sprinkle the basil, oregano, minced garlic, and (if using) crushed red pepper flakes over the chicken.
—Cover the chicken with the remaining onion and peppers, and pour the marinara sauce over top.
—Place the lid on the slow cooker and cook on high for four hours or low for eight hours.
—After cooking, remove the lid and use tongs or two forks to shred the chicken. The chicken should be so tender that it just about falls apart on its own.
—Stir everything together after shredding the chicken and serve over pasta or rice. Or you can do what I did : grab some rolls and make sandwiches with it!
[recipe adapted slightly from an original recipe found on Budget Bytes]
---
KRISTEN'S FAVORITE STOVE TOP MAC-&-CHEESE
Kristen had the following to say about this recipe: "Mac & cheese is one of my favorite comfort foods, and this recipe is incredibly cheesy, creamy, and delicious. Plus, you can make it in one pot on the stove top! On several occasions, I've sprinkled crumbled bacon on top and served it as a main dish with a side of broccoli or mixed vegetables. So good!"
INGREDIENTS NEEDED
—8 oz (1/2 lb) elbow macaroni
—4 Tbsp butter
—2 eggs
—6 oz evaporated milk (or, I've also tried this recipe with half-&-half, a mix of cream and 2% milk, and whole milk… and it's always turned out great!)
—1 tsp kosher salt
—1/4 tsp fresh black pepper
—1/2 tsp hot sauce
—1/2 tsp yellow or Dijon mustard
—10 oz mild or sharp cheddar cheese, grated (the original recipe calls for sharp cheddar, but I prefer mild cheddar so that's what I use. You can even mix both!)
INSTRUCTIONS
—In a large pot of boiling, salted water cook the pasta to al dente and drain.
—Return the pasta to the pot and melt in the butter. Toss to coat.
—In a mixing bowl or measuring cup, whisk together the eggs, milk, hot sauce, mustard, salt, and pepper.
—Stir into the pasta and add the cheese. Over low heat, stir continuously for 3-5 minutes or until creamy. For the first few minutes, it might not look like it's going to come together, but once the cheese starts to melt, everything becomes creamy very quickly.
[recipe adapted slightly from an original recipe by Alton Brown]
---
GLUTEN-FREE CHOCOLATE CHUNK QUICK BREAD
Kristen had the following to say about this recipe: "A moist and tender, not-too-sweet quick bread that is so yummy no one will guess it's gluten free!"
INGREDIENTS NEEDED
—1-3/4 cups (245g) all-purpose gluten free flour (I use Bob's Red Mill 1 To 1 Baking Flour)
—6 Tbsp (54g) cornstarch
—1 tsp xanthan gum (omit if your flour blend already contains it)
—1 tsp vanilla
—1-1/2 tsp baking powder
—1/2 tsp baking soda
—1/2 tsp kosher salt
—3/4 cup (150g) granulated sugar
—6 Tbsp (84g) unsalted butter, at room temperature
—1 cup (227g) plain yogurt, at room temperature
—2 eggs (120g, out of shell), at room temperature
—4 oz. chopped milk or dark chocolate (chocolate chips work great, too!)
INSTRUCTIONS
—Preheat oven to 350°F. Spray a standard 9-inch by 5-inch loaf pan with non-stick spray and set it aside.
—In the bowl of a stand mixer (or a large bowl with a hand mixer), place the gluten free flour blend, cornstarch, xanthan gum (if needed), baking powder, baking soda, salt, and sugar. Whisk to combine well with a separate, handheld whisk or a fork.
—Create a well in the center of the dry ingredients. In a measuring cup, whisk together the yogurt, eggs, and vanilla. Add the butter and the yogurt/egg/vanilla mixture into the well in the center of the dry ingredients.
—Mix on medium speed with the paddle attachment of your stand mixer (or a handheld mixer) for 2-3 minutes, or until the batter is combined and smooth. The batter will be thick.
—Fold the chopped chocolate into the batter with a spatula until the chocolate is evenly distributed throughout the batter. Scrape into the prepared baking pan. To create a dome shape, run a wet spatula along the edges of the pan and pull the batter toward the center.
—Place the pan in the center of the preheated oven and bake for 30 minutes. Reduce the oven temperature to 325°F, and continue to bake for another 20-35 minutes*, or until the top of the loaf springs back when pressed lightly and a toothpick inserted in the center comes out with, at most, a few crumbs attached.
—Remove from the oven and allow to cool in the loaf pan for 15 minutes before transferring to a wire rack to cool completely. Once cool, slice and serve.
* Per Kristen: the original recipe states to continue baking for 20 minutes after reducing the oven temperature, but in my oven it always takes about 30-35 minutes to finish baking. So, I'd suggest checking with a toothpick at 20 minutes to see if it's done. If not, continue baking for a little longer.
[recipe adapted slightly from an original recipe found on Gluten-Free on a Shoestring]
.
Want to give one of these recipes a try and earn your WEEK #3 MESS HALL BADGE for TDP's SUMMER CAMP 2017? Come get the details in the forum —> HERE.
.
---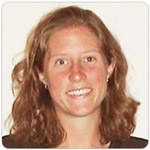 About the Author  Laura Passage is the owner of The Digital Press, and also the designer behind Wishing Well Creations by Laura Passage (WWC). She works now as a graphic designer in both the digital and paper scrapbooking industries, but previously spent over a decade working as a college soccer coach. She lives in the Pacific Northwest with her husband and two young sons (affectionately referred to as The Tiny Terrorists), and will rationalize eating coffee ice cream for breakfast to anyone who questions it.