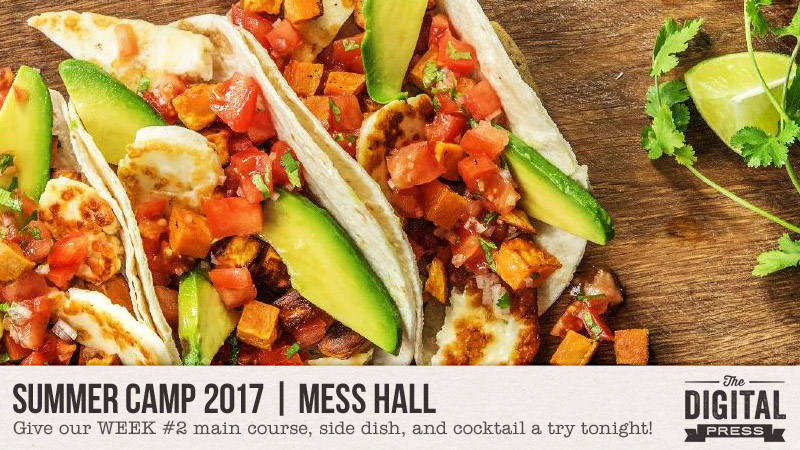 Hello, and welcome to the second edition of our weekly "Mess Hall" feature — part of The Digital Press's big SUMMER CAMP 2017 event this July!
If you haven't already checked out our lineup of activities for SUMMER CAMP 2017… definitely swing through the forum, grab yourself a badge tracking card, and join the fun! There's still time to jump in! We've got events, challenges, tutorials, and more lined up throughout the month of July… including a weekly FOOD article, like this one! 🙂
Each Sunday throughout the first 4 weeks of July, members of our team will be here on the blog sharing a meal with you — a main course, side dish, and dessert (or cocktail!) that are each tried-and-true (tested personally by members of our team!). Give any of the meal items a try, and you could earn a SUMMER CAMP 2017 badge! Get the full details HERE.
So… let's jump right into this week's meal!
Whereas last week's meal (WEEK #1, found HERE) was very Italian-inspired… the WEEK #2 meal is every bit as Mexican-inspired! The main course, in particular, is pretty unique and fun (but again, sooooo quick & easy!)… and the food we've accompanied it with is just YUMMMM!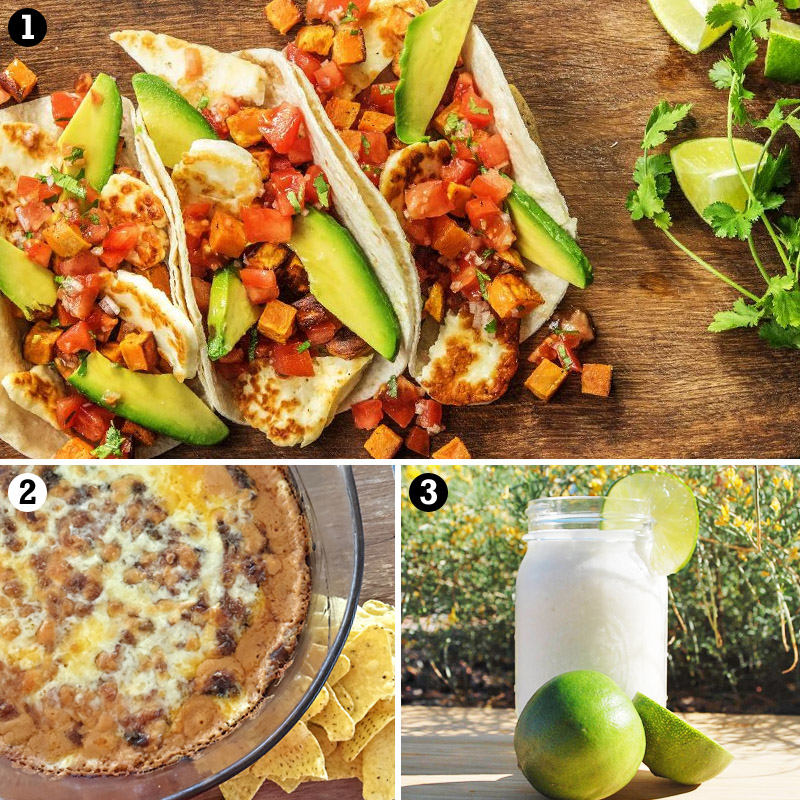 photo credits to [1] Hello Fresh [2] TDP Designer Rachel Hodge and [3] TDP creative team member Carrie
What is that up there, you ask?
Grilled Cheese Tacos (w/ Avocado, Sweet Potato, & Tomato Salsa)
Rachel's Bean Dip & Chips
Carrie's Frozen Coconut Limeade
We said this last week, and we'll say it again — just YUM, about all of it! You truly won't be disappointed if you give any of these recipes a try.
---
GRILLED CHEESE TACOS
This recipe has become a once-every-other-week thing in our household in the past few of months, ever since the first time we tried it. It's sincerely that good (and easy!). And to think… the first time I saw the recipe, I thought it sounded a little bit too weird. Well, if weird = delicious, then yes.
INGREDIENTS NEEDED
—6 flour tortillas
—6-8 oz "grilling cheese" (otherwise known as Halloumi cheese; I buy mine at Trader Joe's and it comes in a package that looks like THIS)
—1-2 medium tomatoes (orig. recipe calls for "1 roma" but I usually use the equivalent of 2, and not just roma — even a cup of grape tomatoes works fine!)
—1 avocado
—1 sweet potato
—1 medium shallot
—1 lime
—1/4–1/2 oz fresh cilantro (because I use slightly more tomato, I also use more cilantro)
—olive oil OR vegetable oil (your preference; I use olive), salt, and pepper
INSTRUCTIONS
—Pre-heat oven to 400 degrees & wash/dry all produce items; quarter the lime and juice half of it
—Peel the sweet potato & dice into 1/2-inch cubes; toss w/ a small amount of oil, salt, and pepper on a foil-lined baking pan (for easy clean-up)
—Bake the sweet potato for about 20-25 minutes (toss around on the pan at about the 15 minute mark)
—Finely dice the shallot (orig. recipe calls for 1 Tbsp; but again, I use the whole shallot because I am using extra tomato & because I like shallot!)
—Dice the tomato, and chop about half of the cilantro leaves into small pieces (save the rest for garnish)
—Mix the tomato, chopped cilantro, shallot, and juice of half a lime in a bowl; season w/ salt & pepper to taste & set aside
—Peel & pit the avocado and cut it into slices; set aside
—When the sweet potato is almost finished roasting, heat about 1 Tbsp of oil in a non-stick frying pan over medium-high heat
—Fry the grilling cheese slices about 1-2 min per side (the Trader Joe's variety comes pre-sliced in 6 slices; or, slice yours first into about 1/4-inch thick slices)
—Once the cheese slices are golden brown and warmed up, fold a damp paper towel around the tortillas and microwave for about 30 seconds (or if you prefer not to microwave, you can heat them in a damp paper towel that is covered completely in foil for about 5 min in the oven before you turn the oven off)
—Fill each tortilla with cheese, sweet potato, avocado slices, spoonfuls of tomato salsa, and some of the leftover cilantro garnish; serve w/ remaining lime wedges
[recipe adapted slightly from an original recipe found on Hello Fresh]
---
RACHEL'S BEAN DIP & CHIPS
Is there anything more satisfying than a warm, gooey, bean dip served with corn chips when you're throwing together a quick-&-easy Mexican-inspired dinner night? TDP Designer Rachel Hodge has just the recipe to fill that need! YUM.
INGREDIENTS NEEDED
—250g (8oz) block cream cheese (at room temperature)
—300g (2 cups) sour cream
—½ bunch spring onions (chopped)
—1 jar mild or medium salsa
—1 packet taco mix
—1 can refried beans
—1 green chili (finely diced)
—sprinkle of dried oregano
—sprinkle of cheese
—corn chips
INSTRUCTIONS
—Mix all the ingredients together EXCEPT for the cheese & corn chips, and place mixture in a baking dish
—Bake at 180 C (350 F) for 1 hour
—Remove from oven & immediately sprinkle cheese over dish; bake for another 5 mins (or until cheese is melted)
—Serve with corn chips!
---
CARRIE'S FROZEN COCONUT LIMEADE
This last recipe is a fun one because it can be served kind of like a dessert, after your meal… or as a cocktail, before your meal… or both! TDP creative team member Carrie loves to make this recipe in 2 stages — her kids get a serving from Stage 1 (pre-rum)… and the adults get a serving from Stage 2 (with rum added). It's a fun way to let everyone in the family enjoy cocktail hour!
INGREDIENTS NEEDED
—5 cups of ice
—3/4 cup original (not lite) coconut milk
—4-6 Tbsp frozen limeade concentrate
—3 Tbsp water (or Malibu rum) 😉
INSTRUCTIONS
—Blend the first 3 ingredients first (mixing in a blender on high until smooth)
—If serving to kids, too, pour out glasses for the kids before adding the rum (and then add rum & another cup or so of ice cubes & blend again)
—Can be served with lime slices on the glass (and/or in frozen mugs/glasses/etc. to keep it colder!)
[recipe adapted slightly from an original recipe found on dessertnowdinnerlater.com]
.
Want to give one of these recipes a try and earn your WEEK #2 MESS HALL BADGE for TDP's SUMMER CAMP 2017? Come get the details in the forum —> HERE.
.
---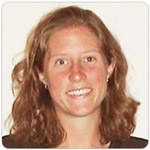 About the Author  Laura Passage is the owner of The Digital Press, and also the designer behind Wishing Well Creations by Laura Passage (WWC). She works now as a graphic designer in both the digital and paper scrapbooking industries, but previously spent over a decade working as a college soccer coach. She lives in the Pacific Northwest with her husband and two young sons (affectionately referred to as The Tiny Terrorists), and will rationalize eating coffee ice cream for breakfast to anyone who questions it.