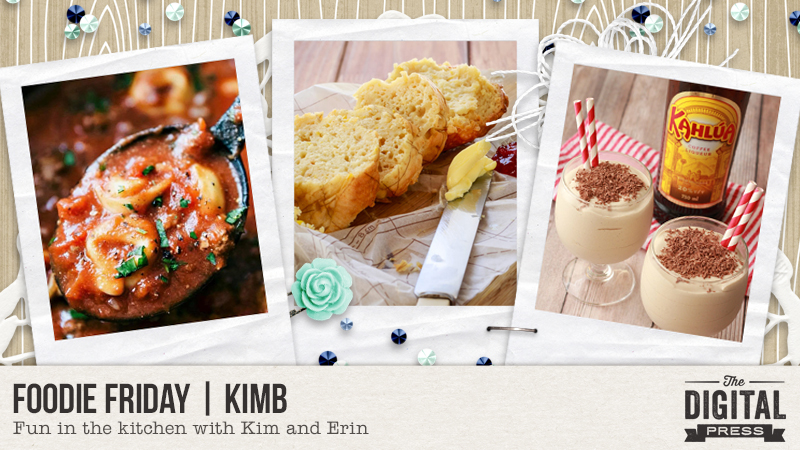 Welcome to another edition of our Foodie Friday series here on The Digital Press blog!
This week, we are featuring KimB, and peeking into her kitchen to learn a few of her favorite recipes. This is Kim's third feature on The Digital Press blog (if you want to learn even more about her, you can find her first feature article from June 2016 HERE, and her second feature article from February 2017 HERE).
According to Kim, " These are totally South African recipes and family favourites that are used when we have guests over who end up staying for dinner."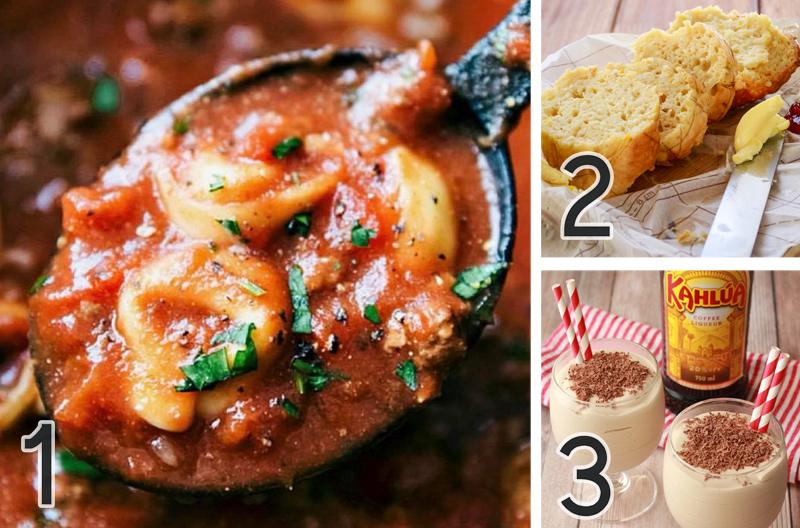 So, what are these delicious things you see pictured above?
Lasagna Soup
Sweetcorn Bread
The Don Pedro
---
LASAGNA SOUP
This recipe is one that I, Erin, recently found via a friend on Facebook.  It is perfect for warming up on a cold winter day, or enjoying al fresco on a breezy summer evening.
INGREDIENTS NEEDED
2 TBSP olive oil
2 28 oz cans of organic fire roasted tomatoes
About 4 TBSP organic tomato paste
About 4 cups chopped yellow onion
2 tablespoons minced garlic or 4 cloves minced
1 tsp red pepper flakes
4 tsp oregano
4 bay leaves
8-12 cups chicken stock
salt and pepper to taste
fresh basil
1 package of your favorite pasta
FOR THE TOPPING
One small bag Italian cheese mix
1- 15 oz container ricotta
Italian seasoning
Salt pepper
INSTRUCTIONS
Heat olive oil in a large stock pot

Add onions and garlic and sauté until nice and fragrant

Add beef and cook until brown (drain if needed)

Add seasonings and tomato paste and cook on medium stirring until the paste turns a nice rusty reddish brown color

Add tomatoes, 

 broth, 

bay leaves, 

salt and pepper to taste

Bring to a boil and then let simmer 30 mins



Cook pasta separately until al dente
Mix together the cheese topping ingredients in a seperate bowl
Build each bowl with some pasta covered in broth and topped with a huge dollop of the cheese mix!
Add fresh chopped basil as a tasty garnish.
---
SWEETCORN BREAD
About this recipe, Kim says, "I cook this when I need to whip up something quickly without having to worry about finding or following a recipe as it is quick and easy and a super delicious crowd pleaser! "
INGREDIENTS NEEDED
500 g (4 C) self-raising flour
5 ml (1 t) salt
pinch of smoked paprika
60 ml (4 T) melted butter
3 eggs
375 ml (1½ C) plain yoghurt
1 x 410 g can Cream Style Sweetcorn
125 ml (½ C) grated cheddar cheese
INSTRUCTIONS
In a large bowl, sift together the flour, salt and paprika.
In a separate bowl, whisk the melted butter, eggs and yoghurt together and stir in the tin of Cream Style Sweetcorn.
Pour the sweetcorn mixture into the flour mixture and mix with a wooden spoon to bring together into a soft batter.
Spoon the batter into a loaf pan that's greased and floured, and sprinkle the cheese over the top.
Bake in a preheated oven at 170°C for 30 – 45 minutes or until baked through.
Serve warm
 VARIATIONS
Add 2 Tbls chopped chives/spring onions(green parts) or any herbs of your liking/ cooked bacon or ham / chillies or jalapeños
Or serve with JAM for a sweet version.
---
THE DON PEDRO
Kim says "Nobody is exactly sure where the 'Don Pedro' originated from, but it's one that all South African's love to drink and it's so easy to make.  It's a grown up milkshake/ dessert cocktail usually served in a stemmed wine glass but any glass will do. Some call it a cocktail and others a dessert.. I can drink it anytime! LOL"
INGREDIENTS NEEDED
1 cup good quality vanilla ice cream
2 shots Kahlua
2 tablespoons cream (or milk for a less richer version)
Grated chocolate or flake for garnish
Short straw
INSTRUCTIONS
In a Blender – Blend the ice cream until soft and creamy
Add the liqueur and cream/milk and blend until smooth.
Pour into a stemmed glass/ or jam jar for a modern twist.
Grate chocolate over top for garnish and serve with a short straw
 VARIATIONS
Add a swirl of chocolate syrup around glass inner for a 'sexier' look… or …replace the chocolate with sprinkled cinnamon.
---
Well I don't know about you, but I am ready for a good meal!
Meanwhile, it wouldn't be a designer feature week without a fantastic sale and a special Free-with-Purchase offer… so you'll be excited to see what KimB has in store for you! Not only is her entire shop marked down 30% OFF throughout her entire feature week (sale prices will be valid through 11:59pm ET on Thurs 1/18)… but she also has this awesome deal in her shop all week long, as well! Spend $10+ in the KimB shop at The Digital Press and get her brand-new (just released today!) TA DA : Kit completely FREE!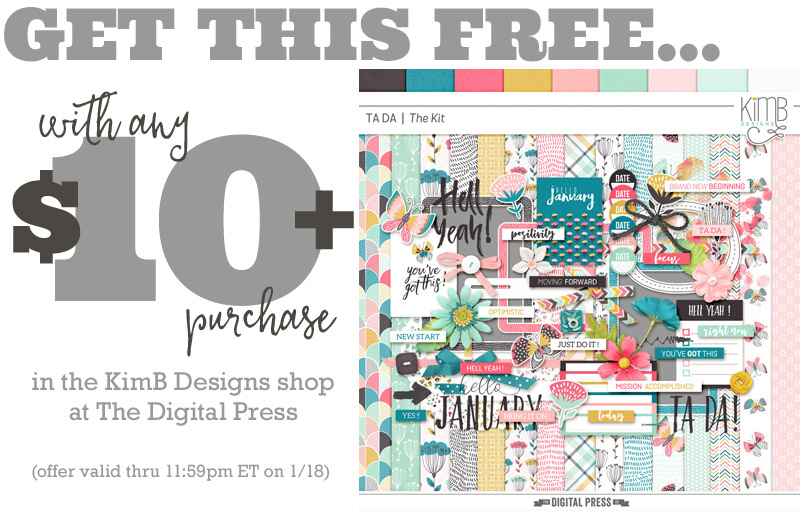 ---

Erin is an artsy crafty kind of girl who is currently dabbling in far too many things, but is working hard to enjoy every moment of it, while avoiding the rain, which is difficult due to living in the land of many rains. She is slowly learning to use her smart phone to capture all the fun little bits of life that would otherwise go unremembered in the busy craziness that is raising a family!