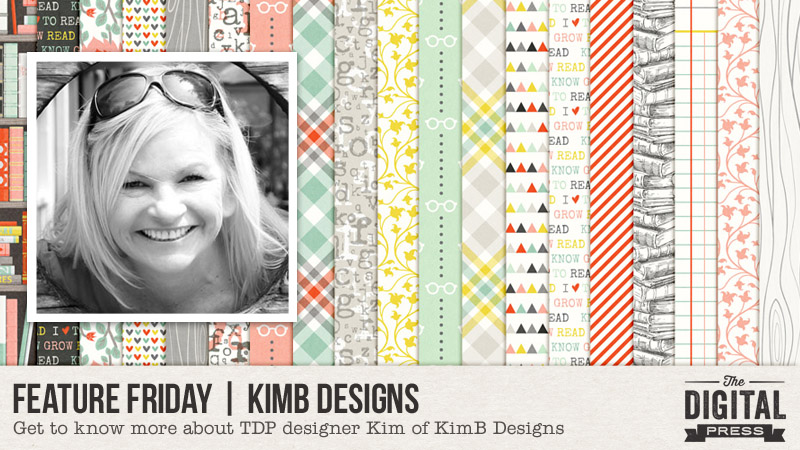 Hello everyone, and welcome to another edition of our Feature Friday series here on The Digital Press blog! Today, I am super excited to be showcasing the talented Kim of KimB Designs! This is Kim's second feature here at TDP (you can find her first feature article from June 2016 HERE)… and whereas last year we used our feature series to help you get to know some fun trivia about your favorite designers — this year, we're going to use our designer feature series to give you a little peek into our designers' creative spaces, and more insight into their creative processes.
So with that in mind, here is a look at Kim's creative space… where you'll often find her scanning real-life items, extracting them in Photoshop, and converting all of it into the finished digital products we have all come to know and love…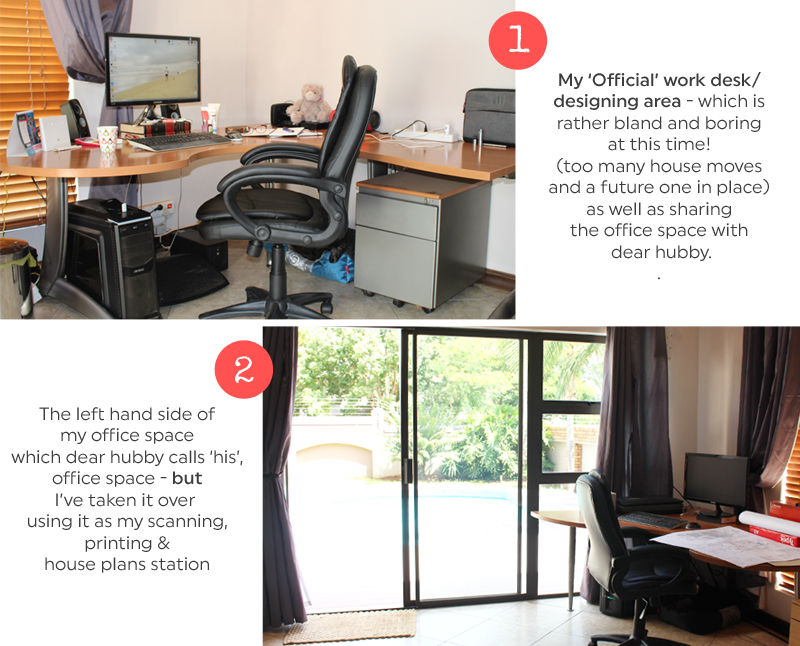 When speaking about her office space, above, Kim said… "Due to three house moves in the last 6 years, my office space has become a little boring and minus any interesting and creative decor. With another move coming up in 6 months, lets just say it's going to stay like that LOL! I share my space with my hubby who uses his desk (now my adopted scanning and printing area) only on the odd occasion. I'm lucky enough to have big sliding doors which stay open to the pool and backyard right through the year. Nothing like fresh air to keep the old brain active."
We also asked Kim to share with us a Top 5 list that is representative of herself at this point in her life… and she chose to share a list of Top 5 Things She Currently Needs to Keep Herself Sane (which makes sense, from someone who is smack in the middle of a long-distance move that involves building a new house, as well!)…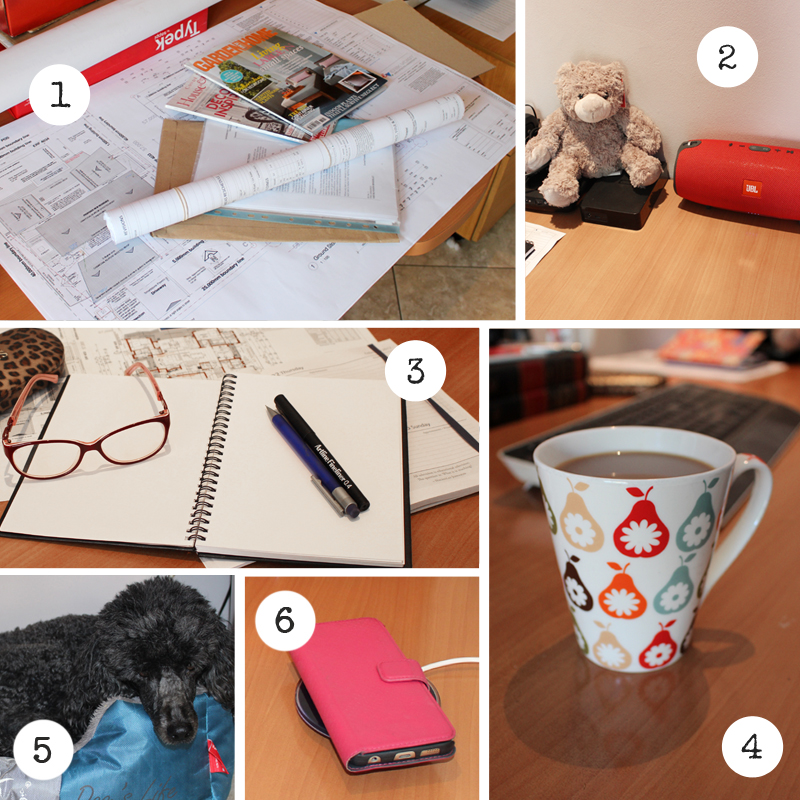 Kim's Top 5 (okay, 6! haha) Things She Currently Needs to Keep Herself Sane…
"Due to seemingly living on an airplane right now (an ill father, a move, and our new house in progress)… these are my constant desk/sanity companions without which I cannot live…"
House plan drawings, documentation, and home magazines for inspiration (when I get the time to browse them, that is). Having to constantly answer questions from the architects and builders while on the fly means these have to be at my fingertips for quick access.
My bluetooth speaker, which is permanantly playing music (anything from the 70's right through to new house music… an eclectic mix, just like my designing) — and a little furry fellow that was a gift from one of my fellow designers from overseas, which makes me smile every time I see him sitting on my external drives (keeping them safe LOL).
Reading glasses (old age sucks!), my sketch book, pencil, fineliner (for the times I doodle and get inspired for a kit I want to design), and a diary which is my saving grace right now.
COFFEE… and I wish it had an automatic refill button! LOL
My constant companion, Pepsi, who will sit with me under my desk all day until I get off for the day…
My phone… permanently on charge next to me as it rings all day recently thanks to the home building (and of course it's the lifeline to my family).
As for Kim's products and design style… she creates lovely digital scrapbooking kits, stamps, templates, and more. Her designs are perfect for the everyday scrapper, the pocket scrapper, the scrapper who likes a more minimalist style, and even those scrappers whose style falls in more of an art journaling realm. Kim's designs have a whimsical and fun feeling to them. You can tell she takes time and puts heart into her art. There is no mistaking a kit/collection made by Kim, and you will be hard-pressed to find another one like it!
Don't just take my word for it, though… have a peek! Here is just a sampling of what you will find in the KimB Designs shop here at The Digital Press…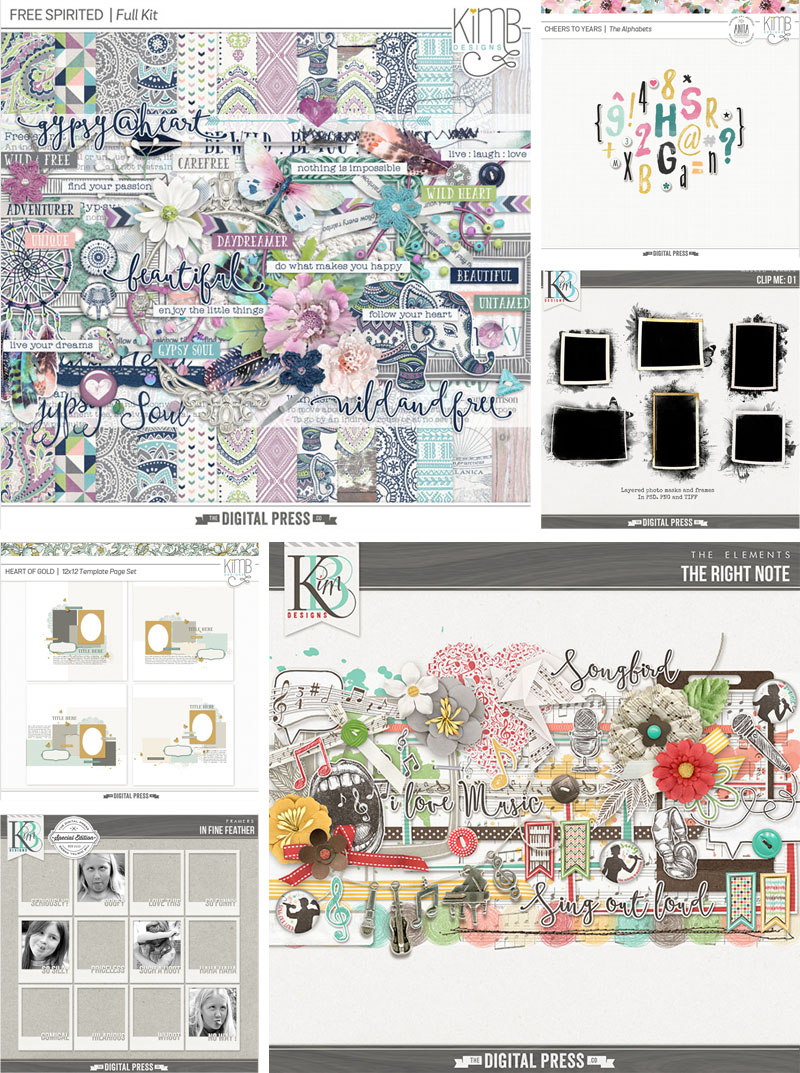 See?! I told you she has some fantastic, fun, and original designs! 🙂
If you are anything like me, though, you also like to see products in action. Here are some layouts that were created using Kim's designs…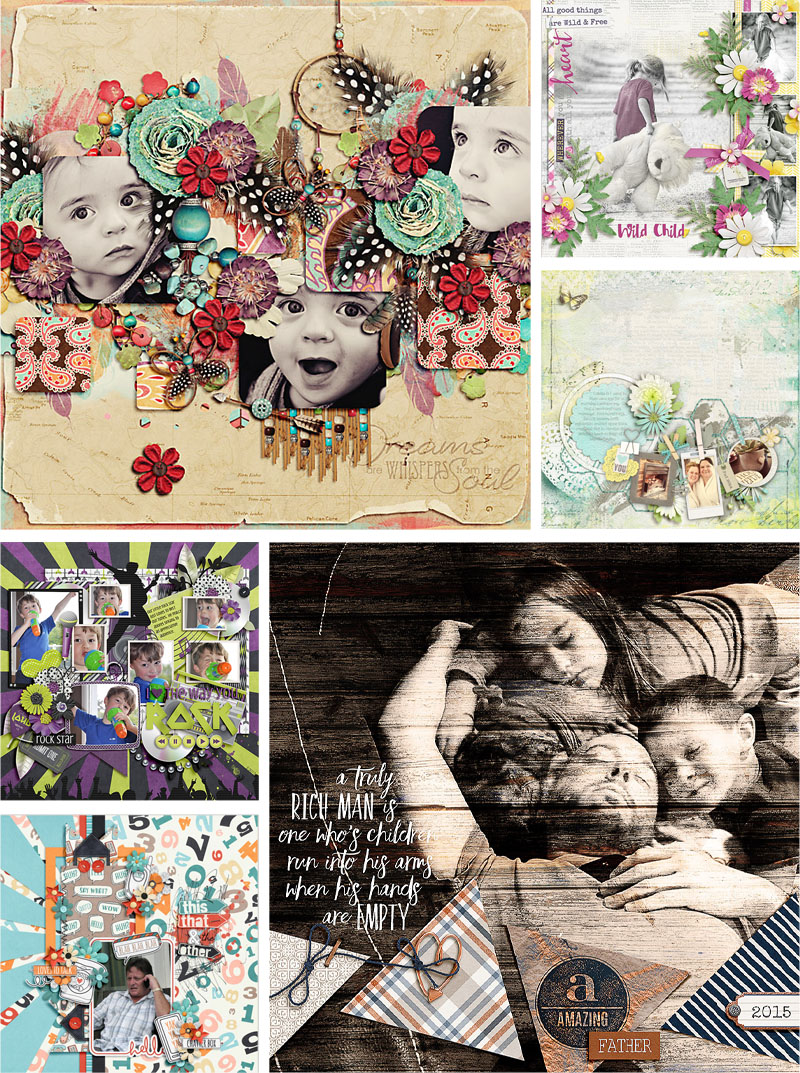 And there you have it, everyone! I hope you enjoyed getting to know a little bit more about Kim, and I have no doubt you will adore to find out that Kim's shop here at the Digital Press will be 30% OFF all week! (the sale will end at 11:59 EST on Thursday 2/16). Check your wishlist, and don't miss out on this great chance to clear it at a discount!
Additionally, this week only — you can snag the following FREE KIT with any $10+ purchase in the KimB Designs shop at The Digital Press! Exciting stuff…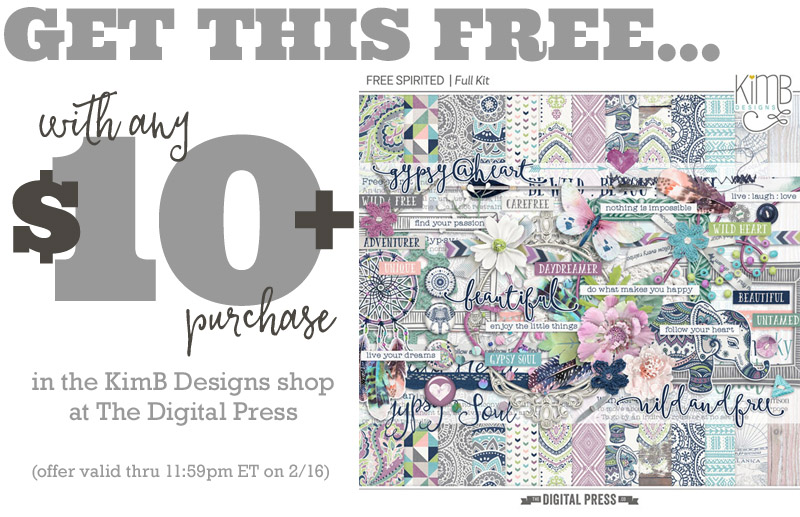 ---

About the Author  La'Shawn Castings is a creative team member here at The Digital Press. She is a 30-something, full-time working, nerdy, somewhat lazy, digi-scrapping, photo taking, college football loving, panda obsessed, yellow wearing, Harry Potter nerding, Doctor Who watching, historical fiction reading, southern wife & mom.