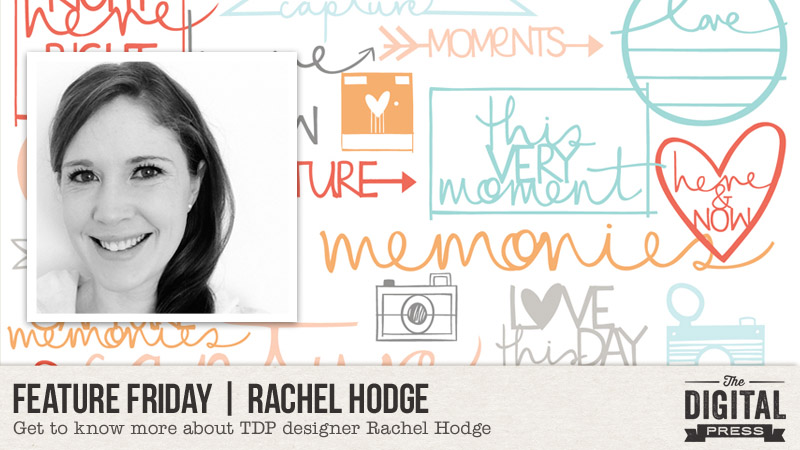 Yay! Once again, it is Friday! That means it is time for a new Feature Friday post here on the TDP blog, and today we are featuring Rachel Hodge!
Rachel lives in Australia with her husband and 4 kids, and aside from family, her loves are… photographing the everyday, scrapbooking, finding hints and ideas that make her say "that's clever!", home decor, and holiday planning! It sounds like a busy life, and yet Rachel still finds some time to design the gorgeous assortment of digital stamps and cut files that we all adore!
This is Rachel's second designer feature here on TDP's blog (you can find her first feature article from August 2016 HERE)… and whereas last year we used our feature series to help you get to know some fun trivia about your favorite designers — this year, we're going to use our designer feature series to give you a little peek into our designers' creative spaces and more insight into their creative processes.
We asked Rachel to show us a peek of her creative space, and maybe tell us a little about her creative process. As such, here's a quick look at the space in which Rachel gets creative…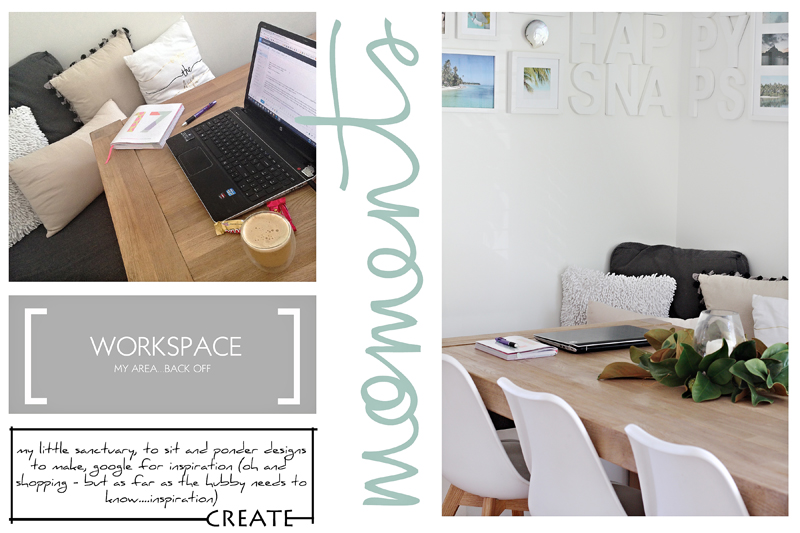 Of her workspace, Rachel says, "OK, my desk space is pretty much (well, actually it's not "pretty much" — it IS!) my dining table! I like to plonk myself at one end and sit down with my diary & my coffee and just design away!"
It definitely sounds like a practical place to work, for a stay-at-home mum with small children. And just look at that "HAPPY SNAPS" wall art, too! Love it! 🙂
We also asked Rachel to give us a Top 5 list that is representative of her at this point in her life, and she chose to share these 5 Things That Are "Me" Right Now…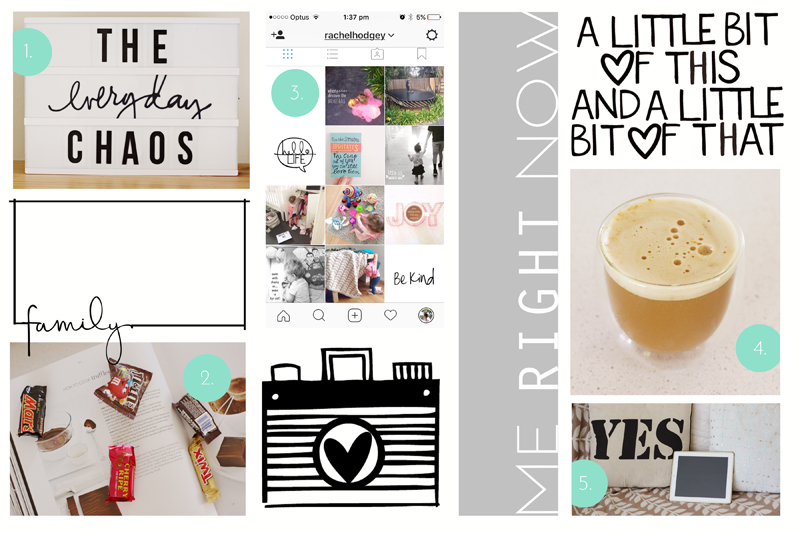 My Lightbox — which displays the current events in our household. Right now, it's set to "the everyday chaos" …because a house of 6 is pretty much that! Between school, kinder, playgroup, groceries, cleaning, trainings, sports on the weekend, drum lessons, cooking dinner, and scrolling on Instagram — chaos sums it all up perfectly!
Chocolate — I think I may have said this before, but I seriously CANNOT STRESS IT ENOUGH… chocolate for me is not a "need" but a "NECESSITY," people! A NECESSITY!
Instagram — I'm loving Instagram at the moment! It's where I seem to be getting a lot of inspiration… for not only craft related things, but also for everything from home decor, to food, to holiday destinations (oh yeah!).
Coffee — If the family is to function, and survive, and make it to the next day… then I need my coffee!
My iPad — I love getting to the end of the day, when the kids are in bed (I don't care if they aren't asleep as long as they are QUIET AND IN THEIR BED)… I fluff up the pillows and sit on the couch with my iPad, watching my shows/movies/anything with Chris Hemsworth in it… 🙂
Oh, I think many of us can relate to the chaos and the chocolate! And maybe one day Rachel will make a cutting file of Chris Hemsworth… but until then, here's a peek at some of the other fun and fabulous creations that you will find in her store at The Digital Press…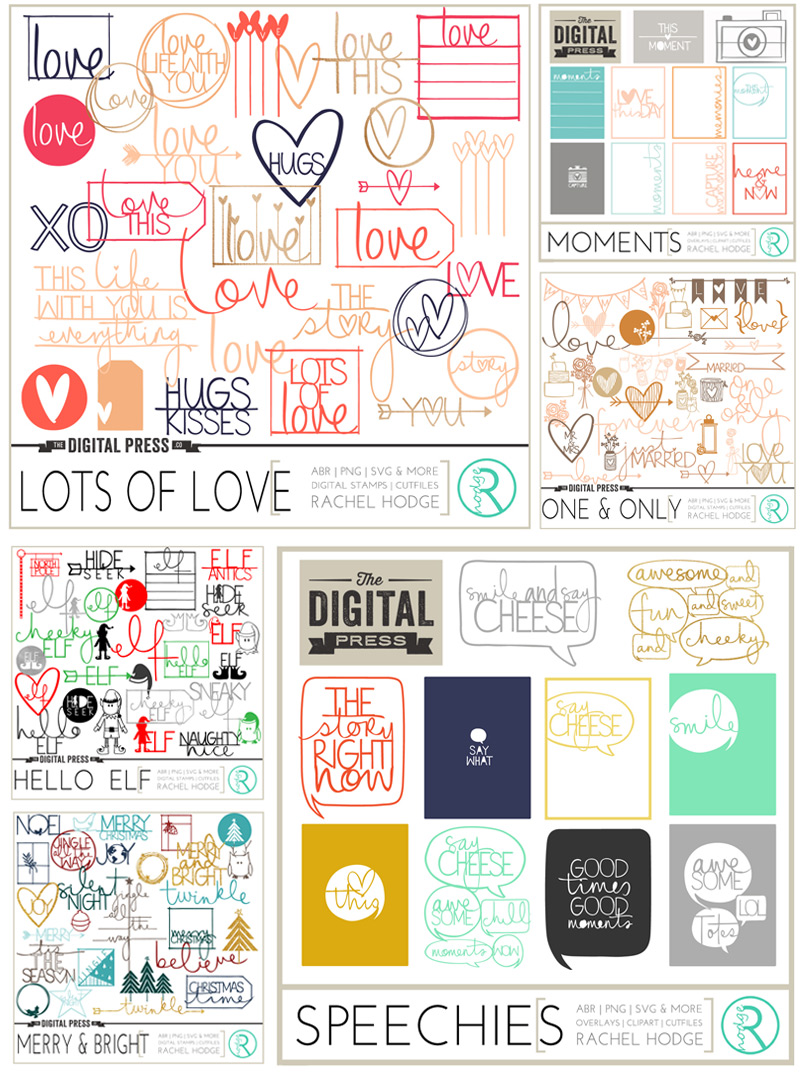 Aren't her products fun?! I love Rachel's designs! They are so versatile, and she has something for just about every occasion.
Here are some crafty projects that were made using Rachel's creations (you can see her designs on the following layouts as stamps, stickers, word art, titles, journal/filler cards, illustration elements, and more… even repeated to make wordy papers, at lower-left… so many fun options!)…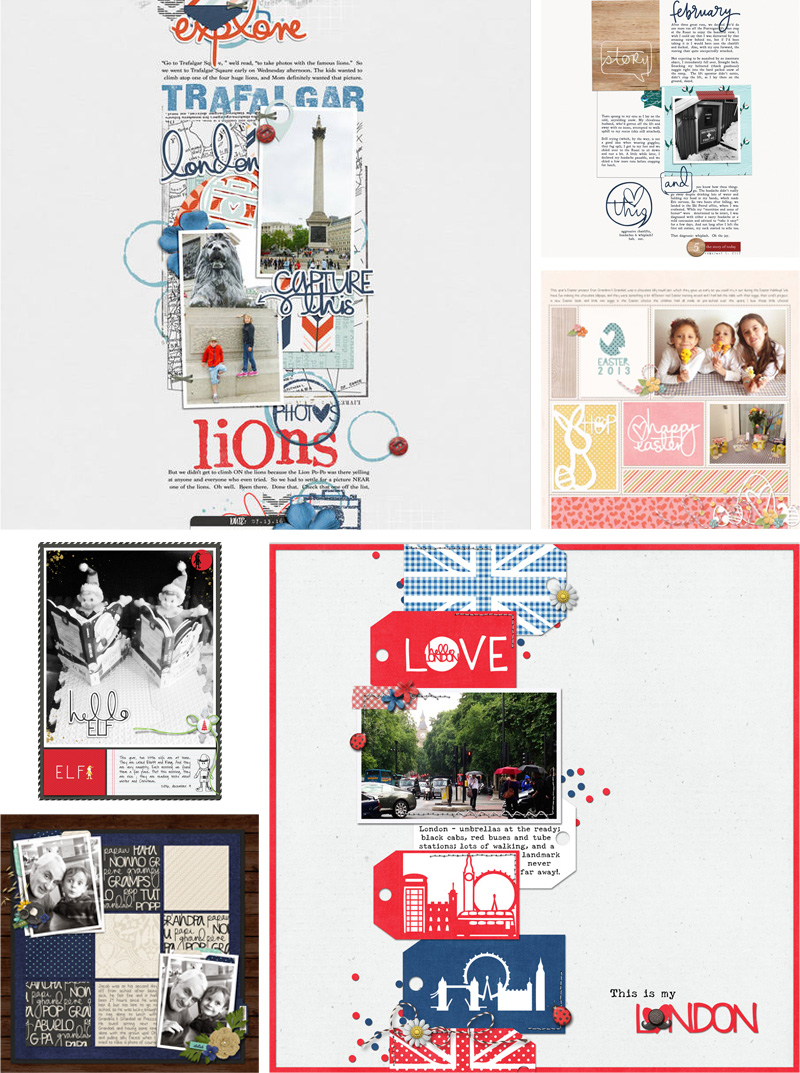 I hope you have enjoyed seeing her workspace, as well as finding out a little more about her creative process. To celebrate her feature week, her entire shop at The Digital Press will be 30% OFF all week long (sale ends at 11:59pm ET on Thursday 3/23)… so if you've got any of her products on your TDP wish-list, now's a great time to clear them off!
Additionally, Rachel has a special Free-With-Purchase offer for everyone this week! Don't miss out on this opportunity to stock up on your favorite products from Rachel Hodge , and you can snag her brand-new "Month by Month" Set for FREE with any $10+ purchase in her shop — this week only!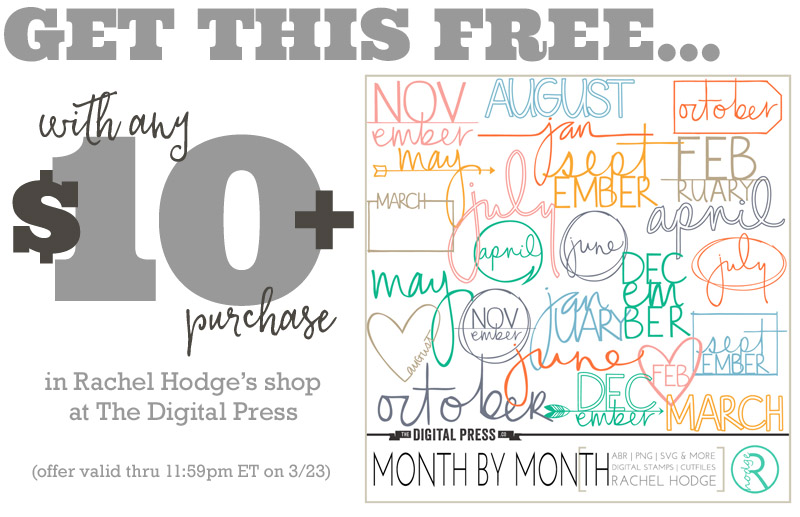 ---

About the Author  Corrin is on the creative team here at The Digital Press. She is a fan of the Big Bang Theory and a lover of cozy pajamas. She lives in the breezy South of England with her husband and 4 crazy kids, who regularly discover & plunder her secret chocolate stashes! She is still trying to get the house straight after moving 3 years ago. Who knows… maybe this will be the year she reaches the bottom of the laundry pile!