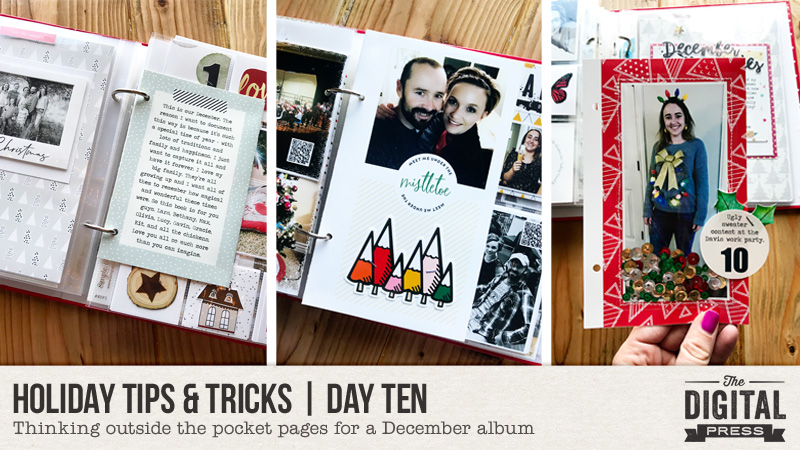 Hello! Welcome to Day Ten of our annual Holiday Tips & Tricks series here on The Digital Press blog!  I'm here to share a little bit of my family's December album and show you how I went outside the pocket pages to add interactive elements or tell a special story.
Pocket pages can be such a helpful tool to get things organized and finished up quickly, and I love them, but this year I wanted to try adding some texture and bulk to my album.  It's always fun flipping though an album with different size pages! And it makes the reader slow down a little and see things they might otherwise have missed.
Here is my intro for 2018.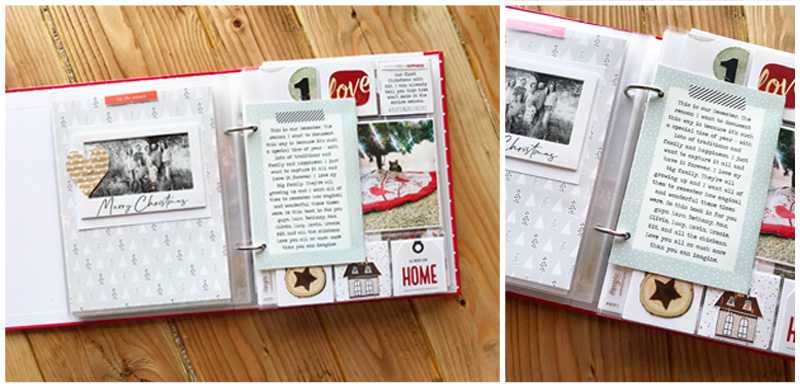 (December Stuff by Dunia Designs)
This is a letter to my family telling them why I make this album. I used a printed pocket card for the journaling and a patterned paper from the same kit for the back.
Here I used Photoshop Elements to merge word art onto a photo.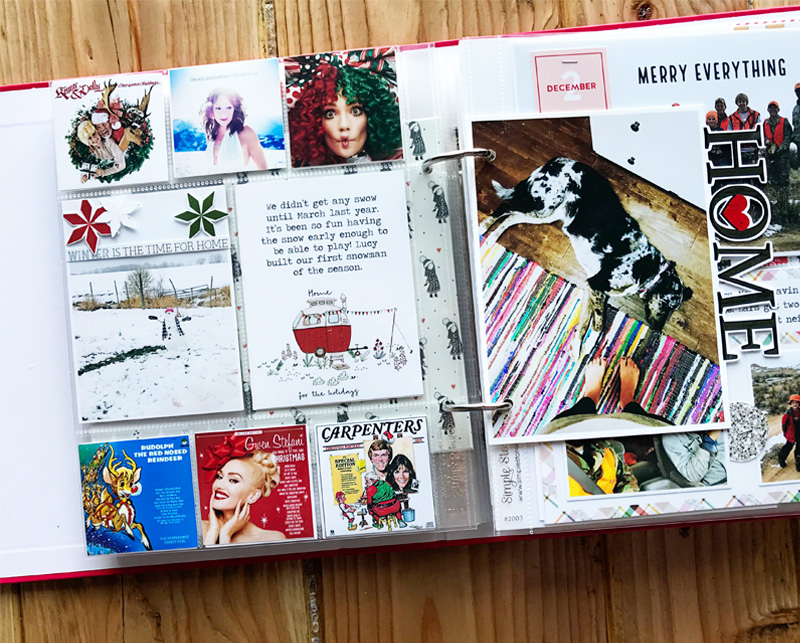 The back is a journaling card merged with the striped paper to cover the word art on that side. I added a photo and a little flower.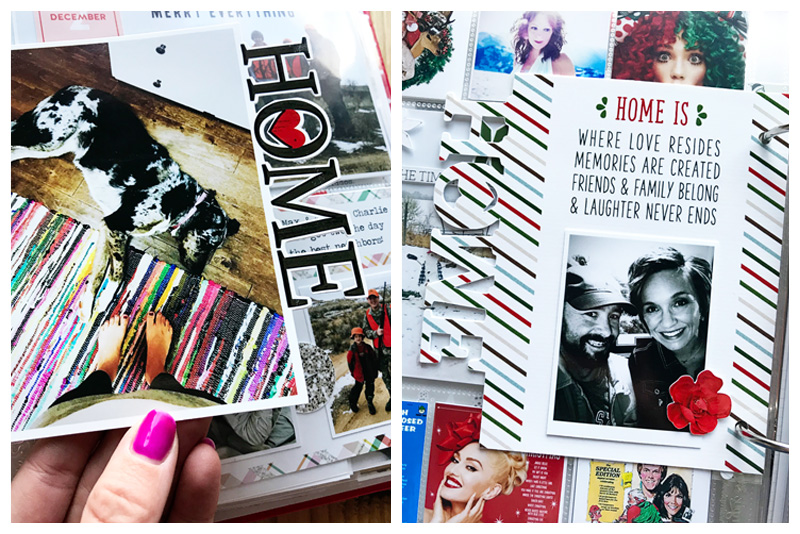 (Home for the Holidays Collab)
These next pages surprised me. Amie of Little Lamm Paper Co. makes the most amazing travel notebook and photo templates. I usually pass them up because I've never made a travel notebook in my life, but I grabbed them for my December album this year. They were so perfect! I love love love how these pages turned out. These templates are so easy to work with and so versatile.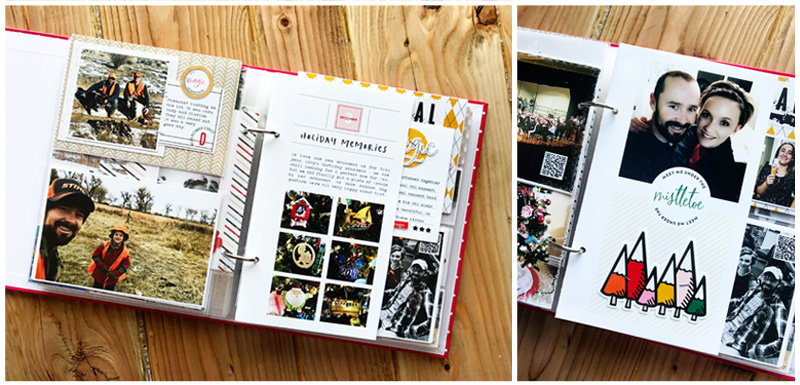 (Sparkle by Little Lamm Paper Co.)
This page was a new experience for me. I enlarged a journaling card to fit my album, printed it on vellum, and then used self seal to make my own transparency.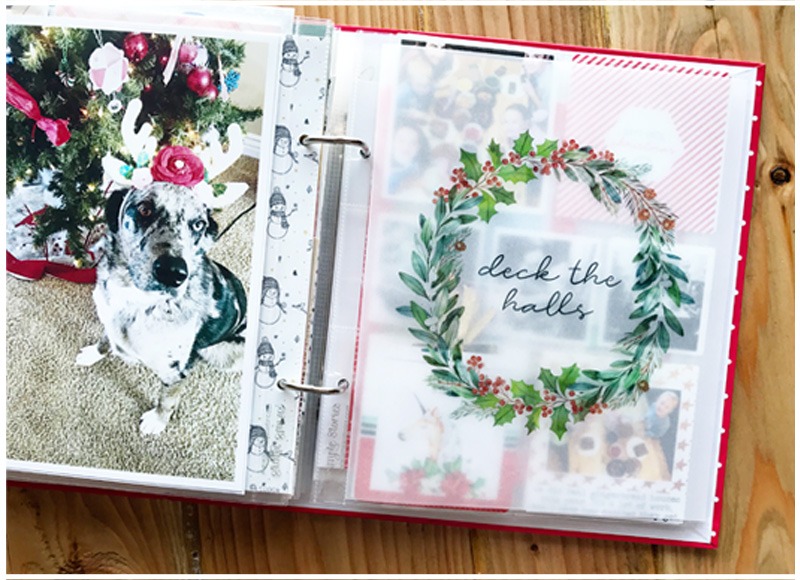 (Christmas Magic Journaling Cards by Cornelia Designs)
Here I took the photos of all the gingerbread creations from my kids and turned them into tags that you can pull out of the pocket card.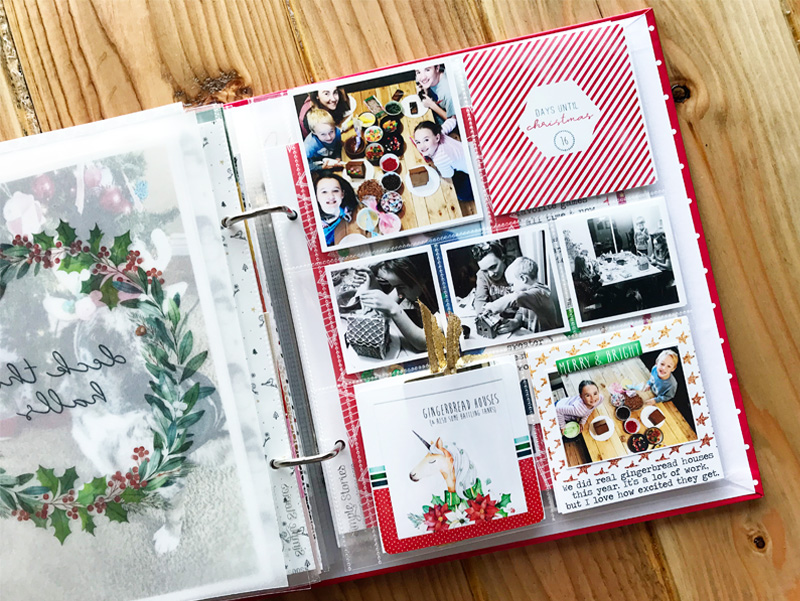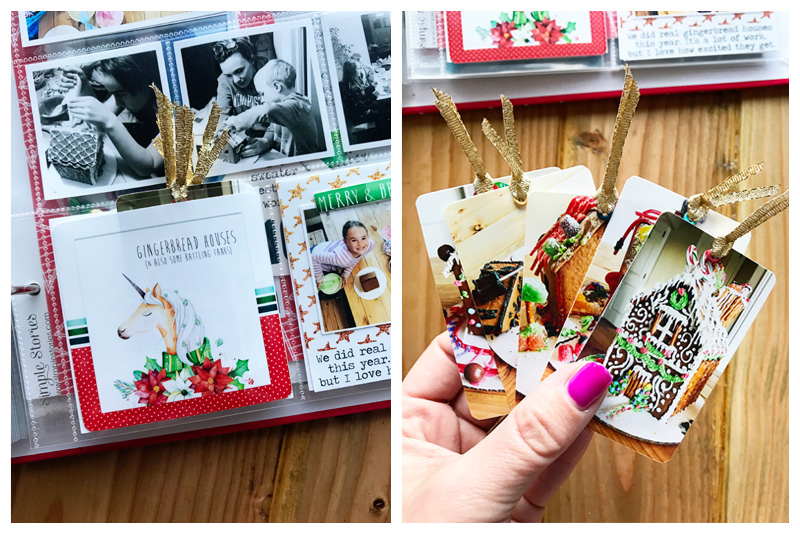 (Christmas Magic by Cornelia Designs)
This last page I want to share includes a shaker card.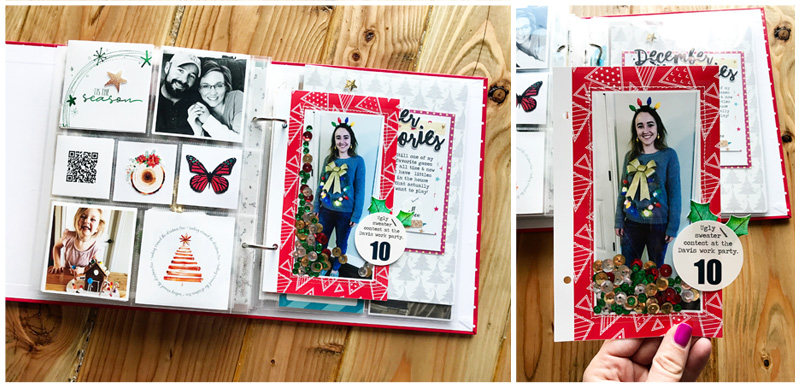 Vellum is usually the go-to for shaker cards, but since I'm using a photo, I wanted to be able to actually see it clearly. I cut down a pocket page just a little bigger than the photo and sewed along three edges, dropped some sequins in and sewed it the rest of the way up. Ta-da! My daughter is now a shaker card. She thought it was hilarious.
I hope you liked these ideas for adding some "extras" to your pocket pages. In the past I've done an all digital December album and was thinking that it would have been awesome to add some hybrid pages.
If you're thinking of giving this project a try… head over to The Digital Press's challenge forum and get the details about how you can earn challenge points for December 2018 at TDP if you try any of our "Holiday Tips & Tricks" throughout the month as they appear here in this blog series! Also, we'd love to see any photos of your holiday projects using TDP goodies in the gallery this month, so link us up after you're finished creating and uploading!
---

 About the Author  Kate is on the hybrid team here at The Digital Press. She lives on the Utah/Colorado border with her husband, 5 kids, 10 chickens, a dog named Gracie, and a cat named Kit. She's a city-born girl who found she's really a country girl at heart. She can be found outside, barefoot, and probably in her garden.