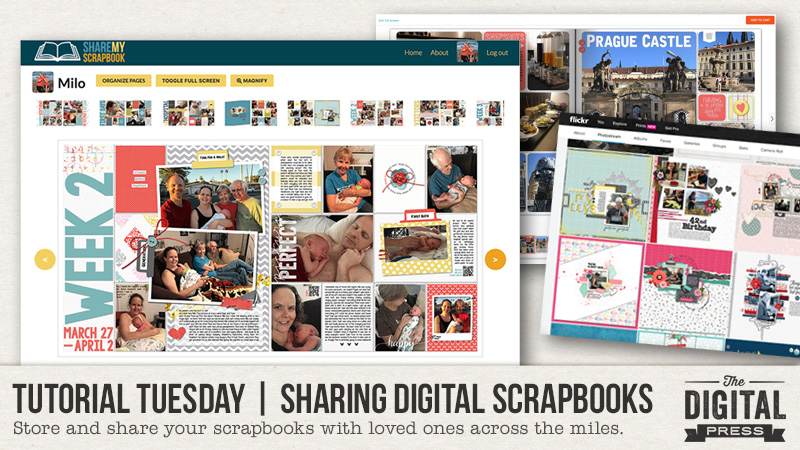 Hi there scrapping friends, and welcome to another edition of our Tutorial Tuesday series here on The Digital Press blog!
This week, I'm here to share a topic this week that's a bit near to my heart. It's an answer to the question — how do I store my scrapbooks and share them with friends and family across the miles — AND take them with me wherever I go?
A few years ago, I got on a huge minimalism kick. Inspired to declutter my life, I went through my entire house and sold or donated carload after carload of clothes… unused electronics… unnecessary furniture… books… oooooh, so many things!
My minimalist ambitions were even more motivated by an insatiable desire to travel that I share with my husband. We are basically digital nomads, and rarely stay in one place for very long. Over time, though, I found that it bummed me out that I didn't have a great way to take my scrapbooks with me, since I like to look back on them often. On top of that, it got really old, really quickly to have to lug around box after box of super heavy scrapbooks every time we moved — whether the traditional paper scrapbook albums of my past, or even the books & albums I printed from my digital creations.
In addition to all of that… here I had all of these wonderful albums of memories with friends and family, but these books were only sitting on my coffee table. I wanted to share the albums with the friends and family who were featured in them… and those friends and family live all over the country, which makes sharing a physical book rather difficult.
So with a desire to share these memories across distances, minimize my household, and be able to take my books with me wherever I go… I decided to find a way to share my scrapbooks digitally.
How to do this?
Well, there are obviously social media sites like Facebook, Instagram, and Pinterest where we can share our layouts (and I do!)… but I wanted a way to share a full album, with the option to have it private, and I wanted it to "feel" like looking through a physical scrapbook.
Therefore, I did a lot of research and enlisted the help of my tech-savvy husband to find a solution that worked for me.
What I want to share with y'all today is a few ideas of ways to do this — in case anyone is in a similar boat. There are several services out there that let you upload your own layouts and share either a gallery of images (in our case, a gallery of layouts) or full albums created from a collection of layouts. To name a few:
What I personally ended up finding is that while these were all great services, none were geared specifically toward digital scrapbookers in the way that I wanted.
My husband is a computer programmer, and in order to help me out he ended up creating a brand new service just for folks like us! It's called ShareMyScrapbook, and it is now the site I prefer to use. It's got a really simple interface: I can see all of my scrapbooks at once, digitally-stored, and easily shared (see below)…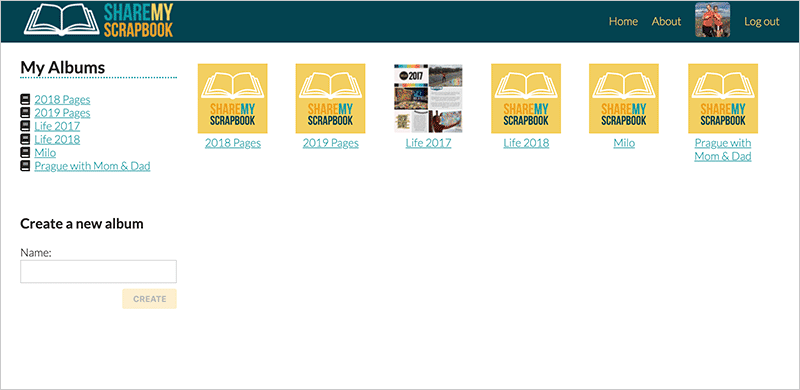 For each album, when I click into it, it feels like looking at a real physical scrapbook…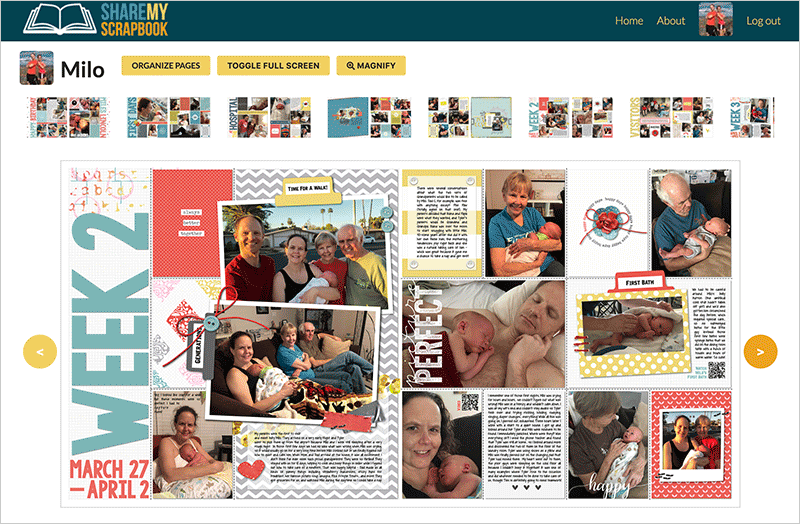 There are options to create albums that are either single page spreads or double page spreads, and you can set your albums to be either public or private.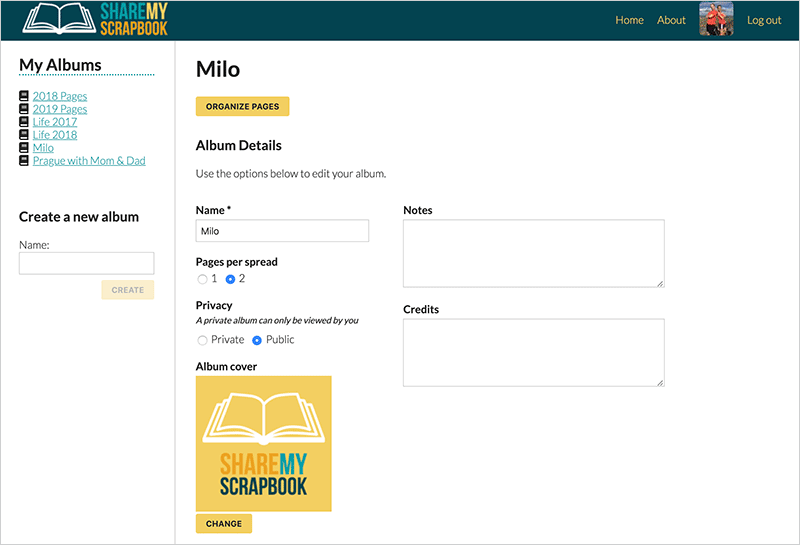 Then, something I really like, there is a way to enter credits for which designer's products you used for any given page, as shown here…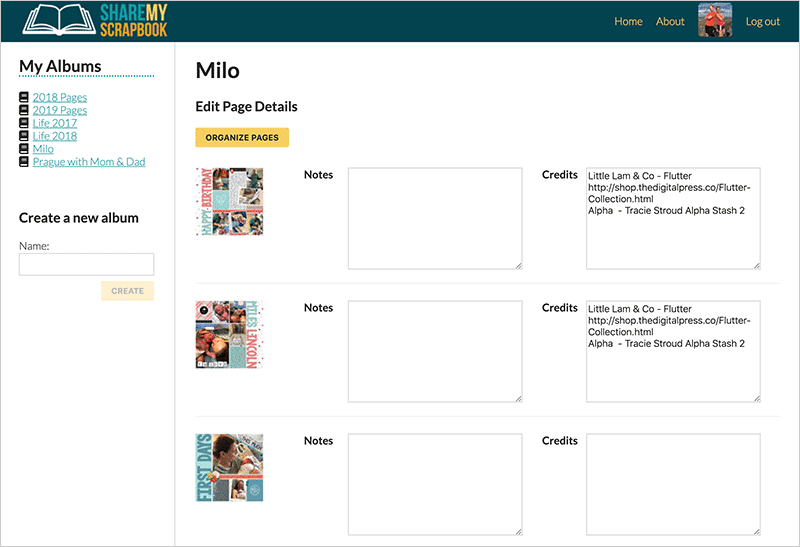 And the albums are super easy to share. There is a unique link for each album that you can email to friends and family or post on Facebook.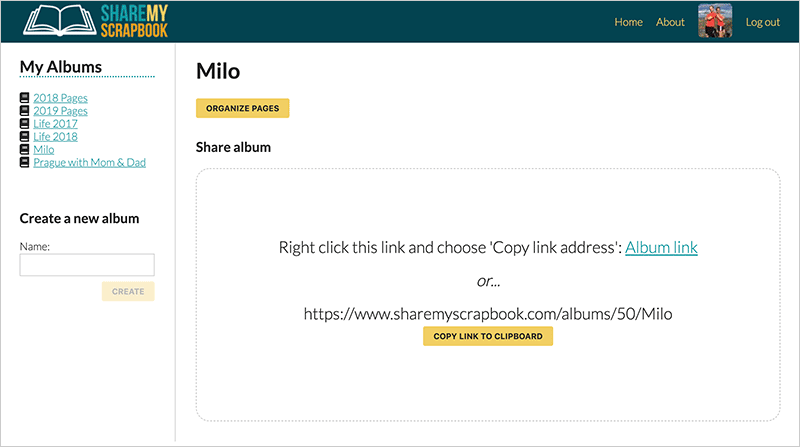 So now… everything I create is available everywhere I go, there are no heavy boxes to lug around, and my albums are easily shareable across distances. It's the perfect solution for a gal who wants to keep things simple and yet wants to carry her memories with her everywhere!
And I feel like I'm not the only one who has some of these problems… so I thought it would be helpful to share this solution here on The Digital Press blog in case you've been looking for something like this to simplify your own memory-keeping!
Though ShareMyScrapbook.com is my favorite because it was designed specifically for digital scrapbookers, the other services mentioned above (and there are probably tons more, too) can be used in a similar fashion to share your beautiful layouts with people you love!
---

About the Author  Shannon has been completely addicted to digiscrapping since she began in early 2016 (though she's been a scrapper since 2000). Her early morning ritual of a few quiet hours of scrapping while sipping a chai tea is her favorite part of each day. She is also the owner of a web design company, and when she's not at the computer designing websites or digiscrap layouts, she's probably hiking one of the local mountains in her hometown of Phoenix, Arizona. She is an avid reader and loves to travel to foreign countries.