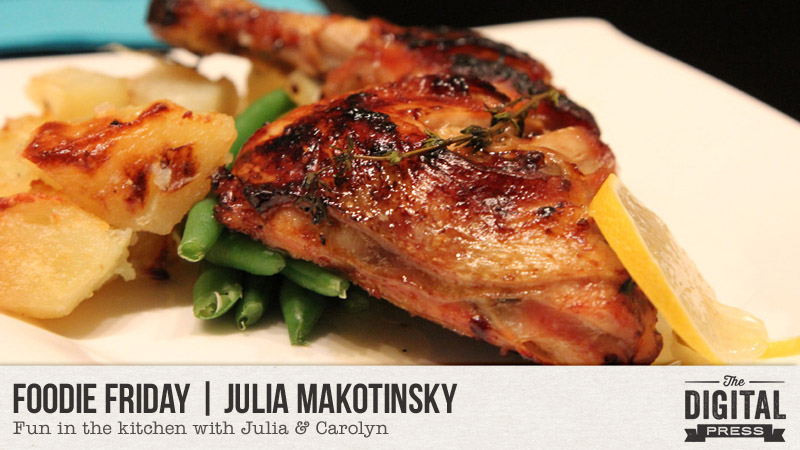 Hi everyone! It's Friday, and as always that means it's time for another edition of our Foodie Friday series here on The Digital Press blog! This week, we're featuring Julia Makotinsky who recently jointed The Digital Press as a permanent design team member. Therefore, as this is Julia's first blog feature here at TDP, I have asked her to give a brief introduction.
Julia was born in Moscow, Russia… but now resides in New York in the USA, where she has lived for a little over 25 years. She graduated as an illustrator from the Fashion Institute of Technology in New York, and then later began designing digital scrapbook kits in 2008. She says, "learning as a designer is a never-ending process. But designing is my passion — and not only digitally. My style is mostly hand-painted/sketched and illustrative, and I do love to sketch. I am a night owl and quiet evenings are the time when most of my creativity begins. I love to drink black tea with lemon or fresh mint. I also love to ski, I love living right by the ocean, I love riding my bicycle in summer, and I love reading books and flipping actual paper pages (rather than kindle). "
If you have not checked out Julia's store here at The Digital Press yet, you are in for a wonderful surprise! Her extraordinary and unique art features prominently in her designs, which are also highly colorful.
Julia also loves to cook… and says, "we Russians are big on cooking — especially during holidays — and most of our food is very colorful, both in taste and calories! 🙂 I prefer more healthy choices, lately, however."
Here's a look at two of Julia's favorite recipes, and one of mine…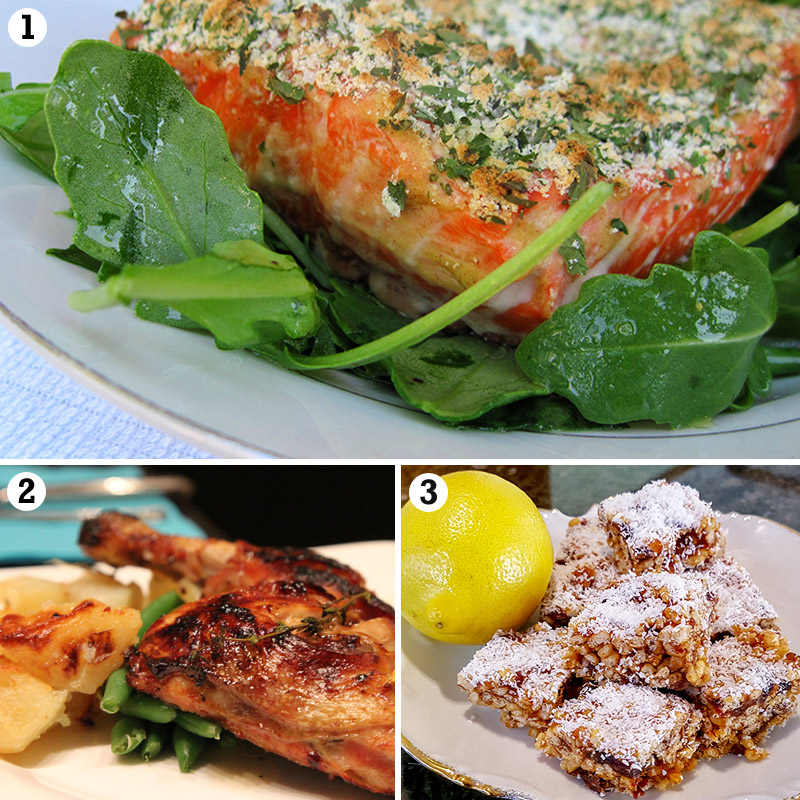 What are those amazing, delicious-looking items you see up above?
Herb Crusted Salmon with Arugula Salad

Oven Baked Chicken
No-Bake Date Slice
---
Herb Crusted Salmon with Arugula Salad
INGREDIENTS
2

salmon fillets (6oz each)

1

heaping tablespoon coconut flour

2

tablespoons fresh parsley (or dried, if you have on hand)

1

tablespoon olive oil

1

tablespoon dijon mustard

salt and pepper, to taste
FOR THE SALAD
2

cups arugula

1/4

red onion, sliced thin

juice of 1 lemon

1

tablespoon white wine vinegar

1

tablespoon olive oil

salt and pepper, to taste
INSTRUCTIONS
Preheat oven to 450 degrees.
Place salmon fillets on a parchment or foil lined baking sheet.
Top your salmon off with olive oil and Dijon mustard and rub into your salmon.
In a small bowl, mix together your coconut flour, parsley, and salt and pepper.
Use a spoon to sprinkle on your toppings on your salmon and then your hand to pat into your salmon.
Place in oven for 10-15 minutes or until salmon is cooked to your preference.
While the salmon is cooking, mix together your salad ingredients.
When salmon is done, place salmon on top of salad and consume.
---
Oven Baked Chicken
In Julia's words "This is my girlfriend's recipe… and all of our friends absolutely love it, I've cooked it myself at my house many times, but I still prefer hers. It's the easiest recipe ever and the best part there is no measuring involved!"
INGREDIENTS
Chicken thighs or entire legs (thigh and drumstick) fatty part cooks best so chicken breasts won't work
salt and pepper

minced garlic from the jar
INSTRUCTIONS
Preheat oven to 400 degrees.
Place chicken into oven pan, sprinkle each piece with salt and pepper working it into chicken, use your hands to smear it on all sides.
Do the same with minced garlic even going under the skin.
Cover the entire pan with aluminum foil on top and place in the oven for an hour.
After an hour remove the foil and using  a spoon baste each piece of chicken with the juice that came out of the pieces. Place them back into the oven uncovered for another hour, basting occasionally as required.
 "That's it! It takes 2 hours to cook all together but it's sooooo delicious and juicy inside and crisp outside, and can be served with any side dish of your choice such as mashed potatoes, salad, pasta etc."
---
No-Bake Date Wafers
"This was my own favorite biscuit recipe growing up as a child. My mum used to prepare it whenever she needed something quick to take out. Now we only prepare this at Christmas, due to the sugar content… but I still love it." ~Carolyn
INGREDIENTS
4 cups puffed rice or Rice Bubbles

3/4 cup sugar

2

oz margarine

1 large lemon (juice and rind)

1/2 pound chopped dried dates

1/2 teaspoon vanilla extract

4 Tablespoons unsweetened desiccated coconut.
INSTRUCTIONS
Line biscuit tin (rectangle app 12″ x 7″) with paper then sprinkle half of coconut over base.
Cook dates on stove top (medium heat) until soft with sugar, butter and lemon rind. (This will take app 15 minutes)
Remove from stove and add all remaining ingredients (except coconut).
Spread mixture over coconut in lined tin then sprinkle remaining coconut over firmed down biscuit.
Cool in fridge before cutting into squares.
---
I hope that you have enjoyed these new recipes from Julia and myself. Let us know if you decide to try one of them, or if you have any questions!
Meanwhile, it wouldn't be a designer feature week without a fantastic sale and a special Free-With-Purchase offer! Not only is Julia's entire shop marked down 30% OFF throughout her entire feature week (sale prices will be valid through 11:59pm ET on Thurs 2/15)… but she also has the following Free-With-Purchase offer available in her shop all week long, as well — spend $10+ in Julia Makotinsky's shop at The Digital Press and get the following item completely FREE!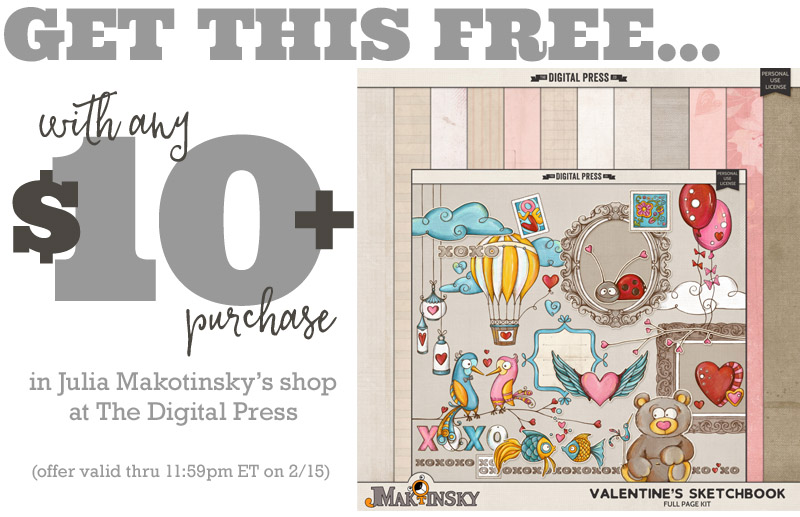 ---

About the author  Carolyn lives with her partner and 2 rescue dogs on 5 acres of paradise in the hinterland of the Sunshine Coast, Australia. Her camera, along with an assortment of lenses, is never out of sight. When not taking photos, she loves cooking and gardening and, of course, scrapbooking.