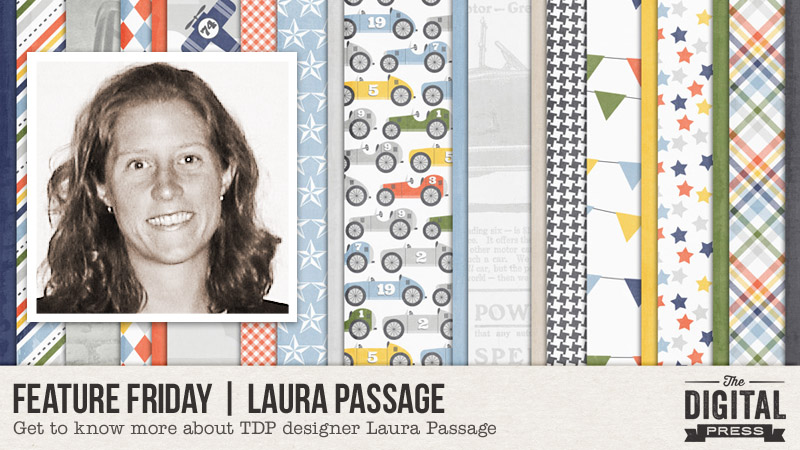 Hello everyone, and welcome to another Friday… and another edition of our Feature Friday series! This week, the spotlight is on the super-talented and creative designer (and our very own TDP chief) Laura Passage! This is actually Laura's fourth feature here on the blog (you can find her previous features from July 2016 HERE… from July 2017 HERE (including a look at her crafty workspace!)… and her Foodie Friday article from February 2018 HERE w/ yummy food ideas/recipes!).
This time around, in order to learn even more about Laura, we asked her to share 5 Things We Might Not Already Know About Her…
I'm in my mid-40s and I still drive around (nowadays, in a mini-van, haha!) listening to old-school rap and "classics" like the Beastie Boys. Every once in a while, I'll suddenly have one of those weird epiphany moments during which I suddenly realize that I'm not in my 20s anymore… and then I think about my own parents (back when I was a kid, driving around listening to music from the 50s)… and I realize how old I am now… and the whole thing is disorienting and shocking. HA!
I'm married to my very best friend in the world, and we've known each other for over 25 years. When we first met (at which time I was a freshman in college, and he was a senior)… the very first thing he ever said to me was, "oh, great… we have a freshman with an attitude." #TrueStory #SoRomantic
I have a super duper big-time coffee addiction …one which has only recently developed (like, literally in the past 5 years or less)… after I spent the first 35-40 years of my life never drinking coffee or caring about it at all). Now, however, in my mid-40s? MUST. HAVE. COFFEE. Every day. Favorite? A mocha.
People are usually surprised to learn that I formerly played women's semi-professional soccer back in the late-1990s, after graduating from college and completing my college soccer "career." This was in the days before a true professional women's league existed in the United States (the WUSA was established a few years later, in 2000).
Along those same lines… most people are surprised to learn that I have no formal training in graphic design. Instead, I first earned my college undergrad degree in psychology… later earned a master's degree in sports administration… and then went on to work as a college soccer coach for about a decade. During that time, I became a self-taught web designer… a skill which I later transitioned into designing graphics for the scrapbooking industry (both digital, here at The Digital Press… and paper/physical products, through numerous companies such as Echo Park Paper and Carta Bella Paper, etc.).
Fun trivia tidbits, right?
Well, when it comes to Laura's design work… you likely already know, if you have ever had a chance to work with some of her products, that they have a distinctly paper-ish style and feel, mimicking traditional paper scrapbooking products. I always love the cool stickers that can be found in her kits… the distinctive word art bits… the colorful papers and elements… and her clean-cut, geometric layout templates. Laura also has a giant range of amazing pocket-style cards and templates that are perfect for pocket scrapping, planners, journals, and hybrid projects! Whatever the theme, her kits are always full of surprises and fun to work with.
Here is a sampling of some of my personal favorites from Laura's shop here at The Digital Press. Believe me, it was really hard to narrow it down to just these few…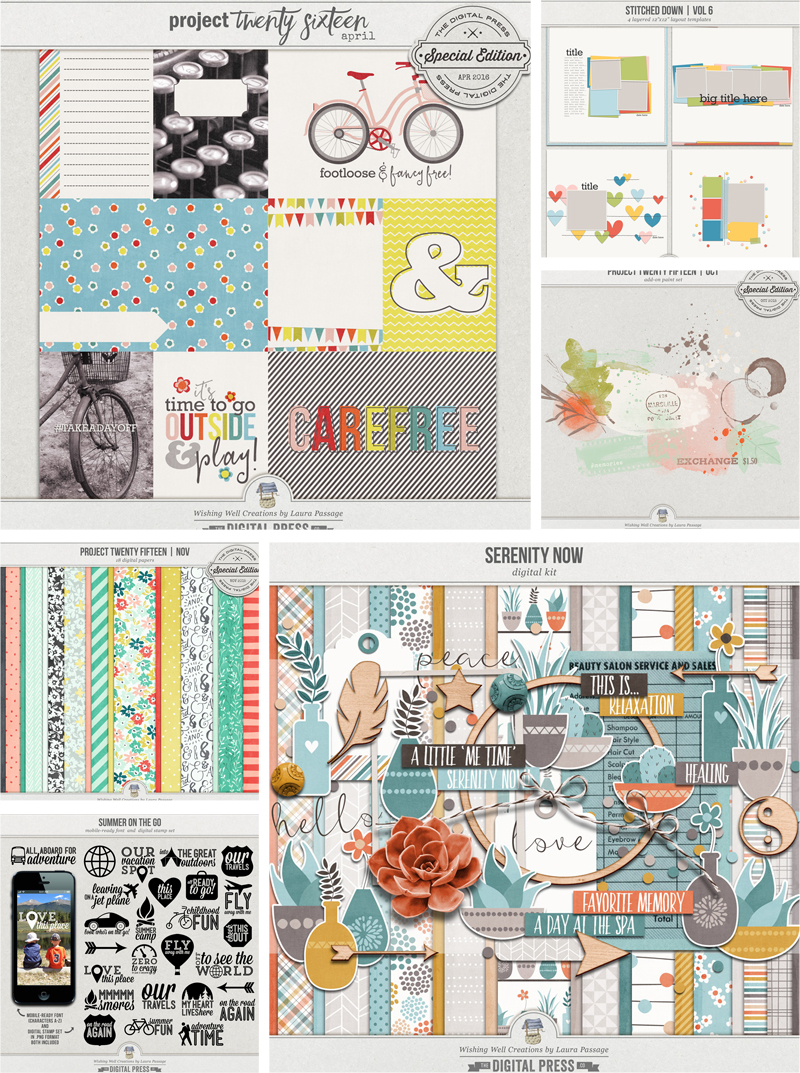 And to give you just a glimpse of how versatile these products are, and all the fun ways they can be used… here's a look at just a few of my favorite projects from the gallery at TDP, which is always full of beauties from Laura's shop (and you can check out all the different layouts using Laura's products here in her designer gallery)…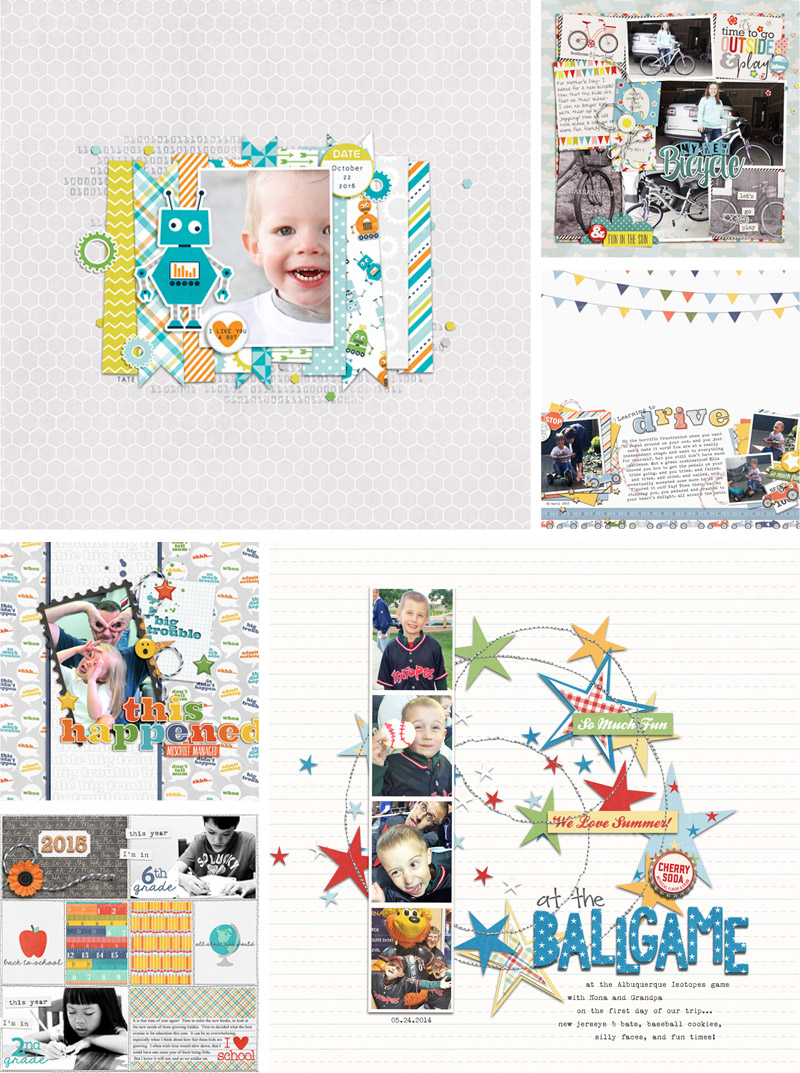 Aren't those all so great?!
Hopefully, today's feature article has given you even more insight into Laura's creative style and her persona. Aren't you excited about her amazing digital artwork? If so, I have good news — because during her upcoming Feature Week here at The Digital Press, Laura's entire shop will be marked down 30% OFF all week long (the sale will end at 11:59pm ET on Thurs 7/26). Don't miss it!
And that's not all! Laura also has a special Free-with-Purchase offer for you this week, as well! Don't miss out on this opportunity to stock up on your favorite products from Laura's shop, and you will get this brand-new (just released today!) full kit — Hole Foods — for FREE with any $10+ purchase in her shop (this week only, though… because again, this offer ends at 11:59pm ET on 7/26).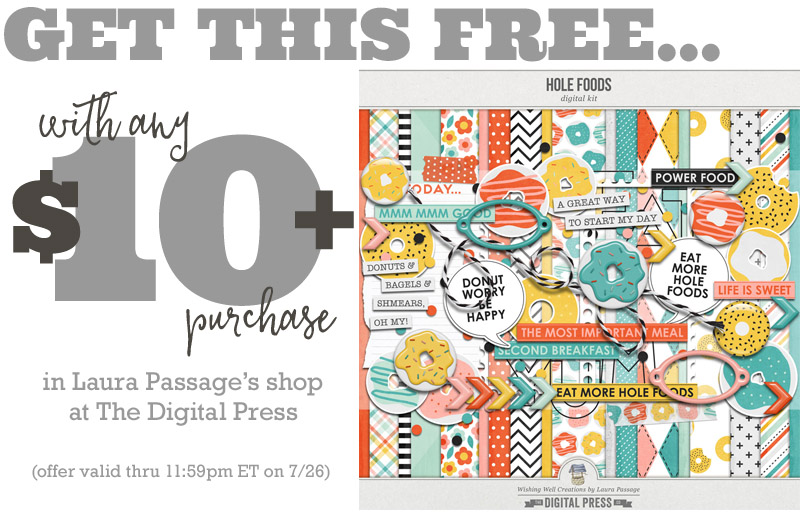 And even better news… guess what's on the way to Laura's shop at TDP early next week? It only happens once a year, and you will NOT want to miss it…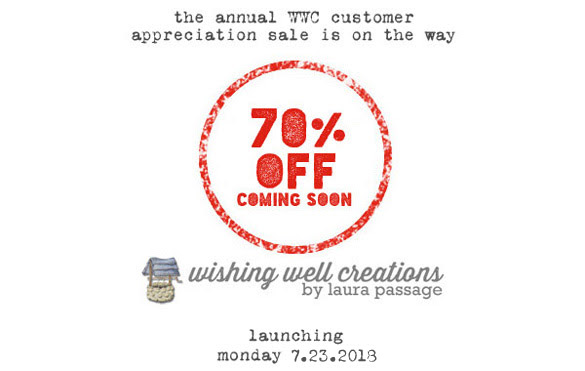 CLICK HERE if you'd like to receive a one-time e-mail to let you know when the big event begins!
---

About the Author  Shivani Sohal is a donner of many alter-egos. A finance professional by day in busy London, she morphs into a seemingly normal mum of two in the evenings and weekends. She is constantly found with her fingers in too many pies and juggling the metaphorical balls. That is living on the edge for her; aided by the two ankle biters and a darling hubby who define the warm and mushy for her. She is ferociously dedicated to memory keeping — almost immune to any nay-sayers (or equally-disruptive crying children or annoying house fires!); keeping her head down and forging ahead at all times.