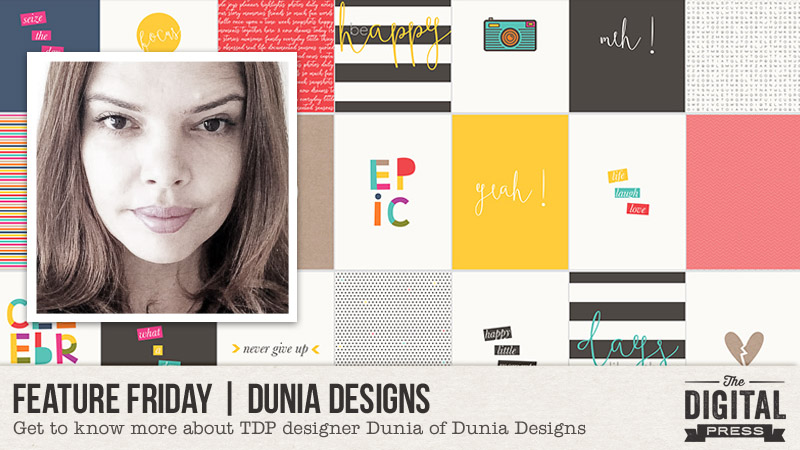 It's time for another edition of our Feature Friday series here at The Digital Press… and this week, we are excited to feature Dunia from Dunia Designs here on The Digital Press blog! This is Dunia's  second feature here on the blog (you can find her first feature from September  2016 HERE)… and whereas last year we used our feature series to help you get to know some fun trivia about your favorite designers… this year, we're going to use our designer feature series to give you a little peek into our designers' creative spaces and more insight into their creative processes.
With that in mind, we asked Dunia to show us her creative space — where she works to come up with all of her fantastic digital designs. This is such a great, clean, simple work space (you should see mine, in comparison!).  And doesn't this space perfectly reflect her design style, which is also clean and simple?! 🙂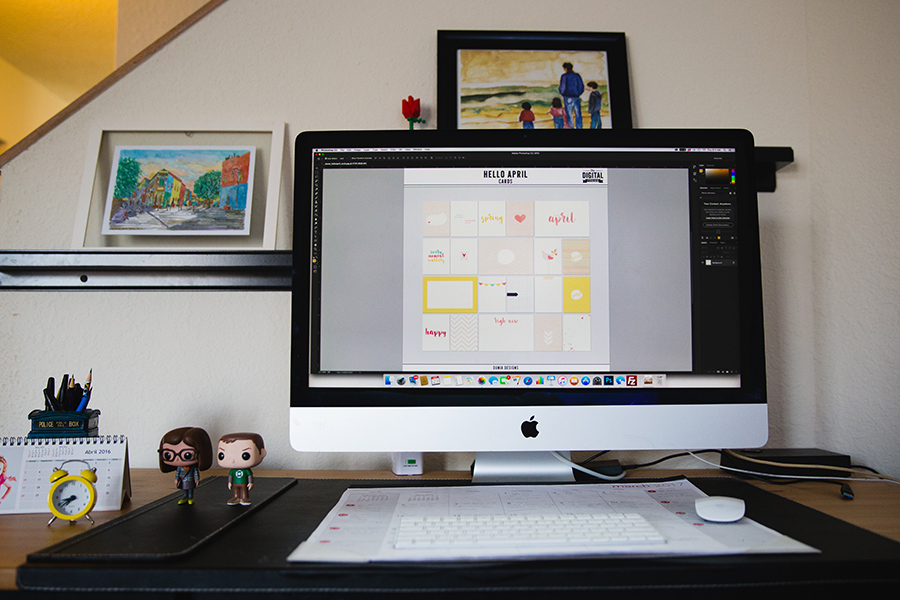 We also asked Dunia to give us a "Top 5" list that is representative of her at this point in life, and she gave us a list of her Top 5 of her Favorite Pastimes:
Reading: At the moment, she reads "The Terrifying Tales by Edgar Allan Poe." Since she wants to improve her English, she reads a lot at the moment.
Walking: She loves to walk with her friends in her neighborhood.
Playing: She loves playing with her kids. During the winter, they play a lot of board games… like Clue, Monopoly, Jingo, etc.
 Netflix: She is addicted to Netflix. A few of her favorite series and films are: Sherlock, House of Cards, and Stranger Things (among others).
Listen to music: She is a Rock-n-Roll person, and especially loves older music from artists like Led  Zeppelin, Metallica, Motorhead, ACDC, etc.
As for her digital design style… Dunia creates beautiful kits and collections that are perfect for traditional digital scrapbooking pages, as well as for pocket scrapping-style layouts and projects. She is known for her fantastic pocket cards. Whether you are a scrapper who is documenting everyday life… or individual holidays, vacations, or events… her products are perfect for clean and simple-style scrappers.
Here are just a few of my favorite items from Dunia's shop at The Digital Press…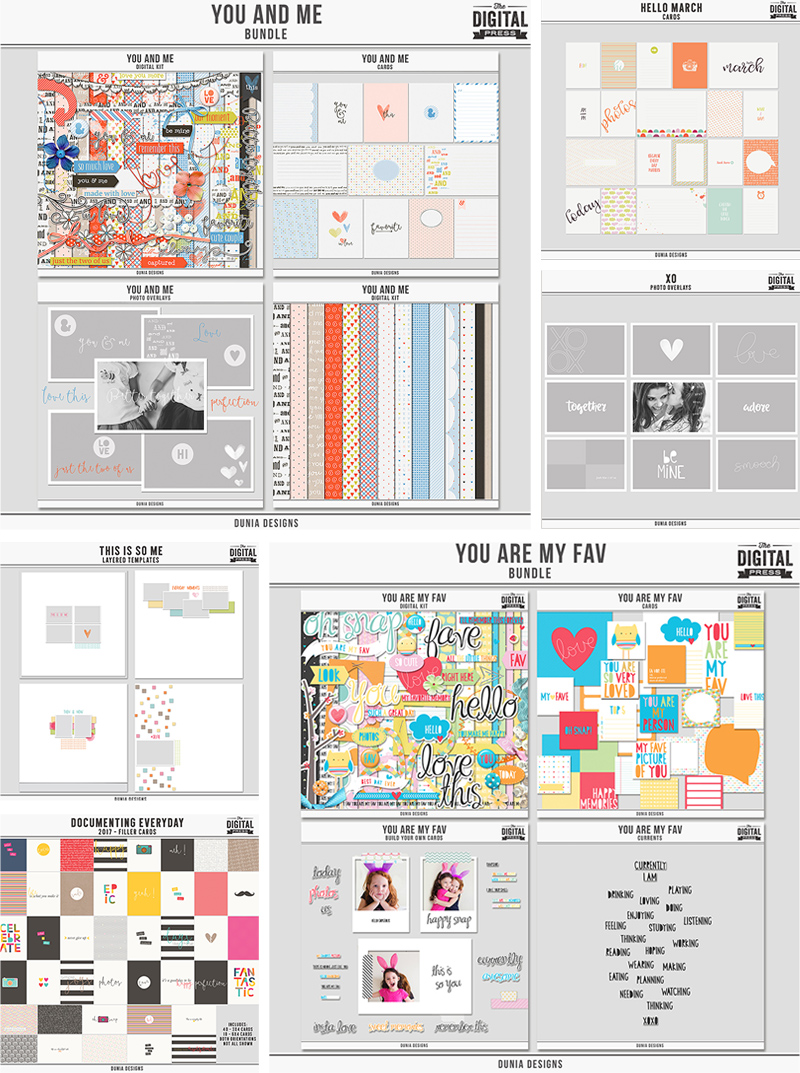 Dunia Designs' products are super versatile and easy to use for all kinds of projects. Here is a look at a sampling of just a few of our favorite projects using Dunia's products…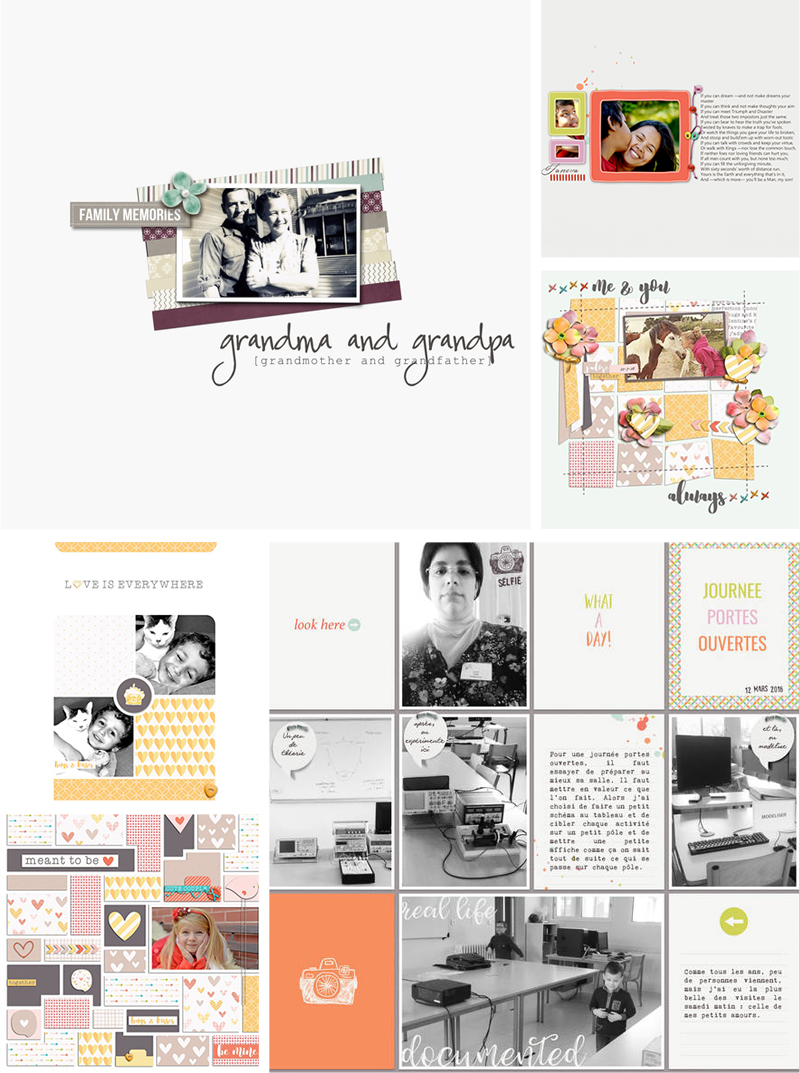 I hope you enjoyed getting to know a little bit more about Dunia Designs, as well as getting a look at her work space and some of her amazing products! And as if that wasn't enough fun… her entire shop will be 30% OFF throughout this coming week (the sale will end at 11:59pm ET on Thursday 4/13)!
Additionally, this week only — you can snag Dunia's "My Kind of Day" Collection for FREE with any $10+ purchase in the Dunia Design shop at The Digital Press (this offer also ends at 11:59pm ET on Thurs 4/13)…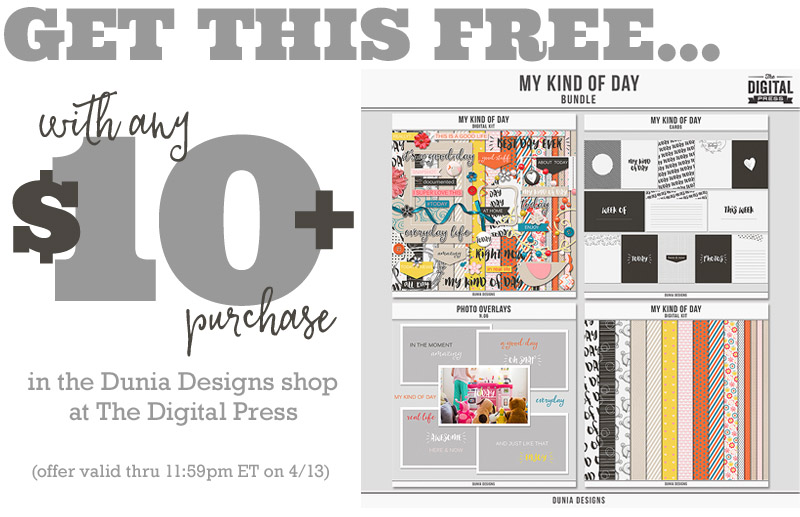 ______________________________________________________________________________________________________________

About the author  Astrid is a member of the creative team here at The Digital Press. She lives with her husband and her 2 teenage/adult kids in Germany. As a mini-jobber with only 10 hours/week, she has plenty of time for her digital scrapbooking hobby. She has Netflix and Amazon Prime, and is addicted to nearly all series. Vampires, zombies, vikings… it doesn't matter; she likes everything. She loves the ocean and the summer heat, but lives in the opposite: mountains. Therefore, she loves visiting her family in Algeria or the south of France.
Merken
Merken
Merken
Merken
Merken
Merken
Merken