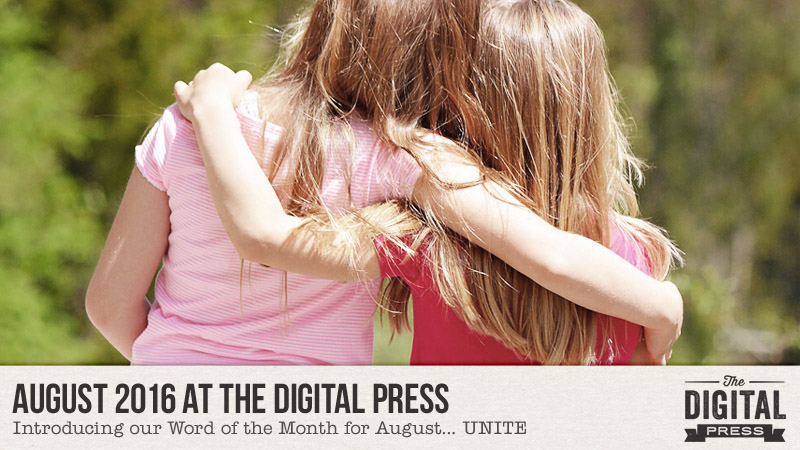 It's August… and here at The Digital Press, we've kicked things into full-gear as we jump right into our bi-annual Pennysaver event!
We're also really excited about our newest Word of the Month for August 2016 here at TDP… UNITE. The 2016 Summer Olympic Games begin on Friday (in Brazil), and we thought this word really embodied the spirit of what the games represent, and was therefore a great choice for August. We also think it's a beautiful, timely choice of words… given the social and political unrest that we have been experiencing here in the United States in recent months (which isn't limited to our country, but can be found worldwide in many forms). Sometimes it's wise to focus on the things that bring people together, rather than on the things that divide them.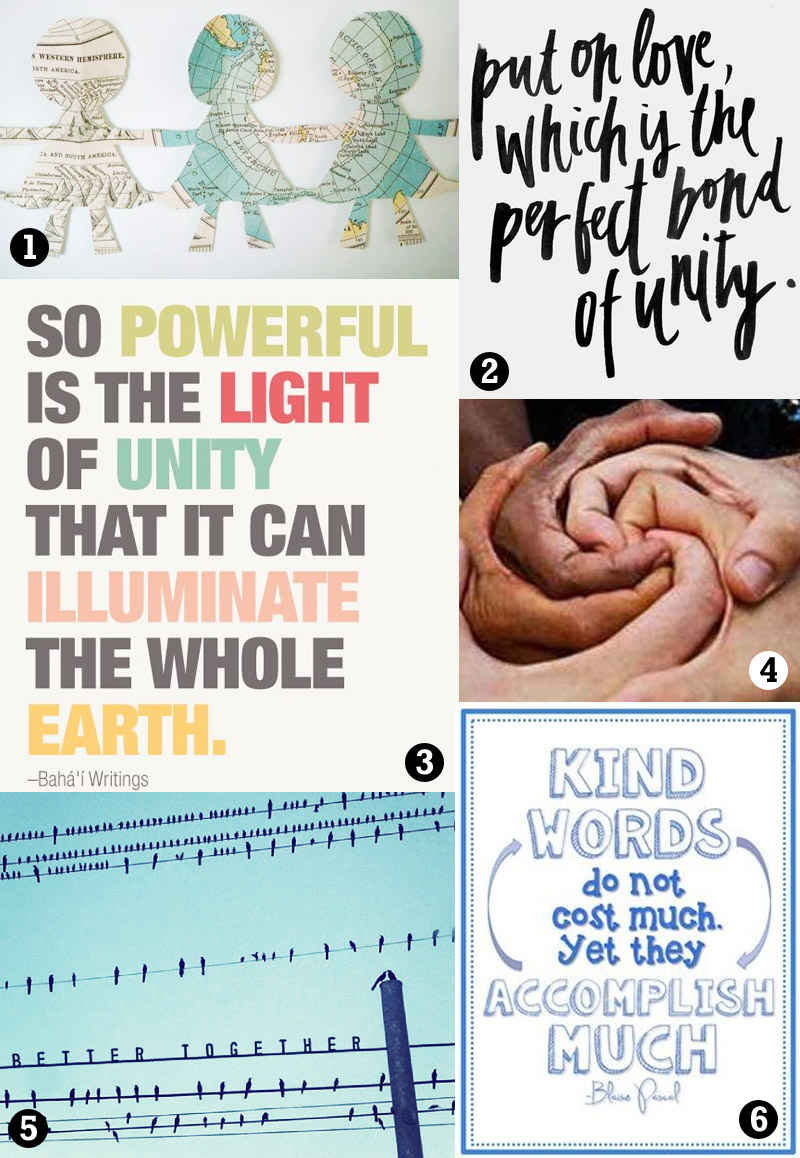 image credits [1] [2] [3] [4] [5] [6]
Looking for ways to incorporate this feeling of unity into your scrapping and crafting this month? Come join us at TDP! We're jumping into another month of our increasingly-popular Challenge System for August, and there are so many fun new things in store for you throughout the month of August — including a challenge that specifically calls upon our new word of the month — UNITE. 🙂
We have 9 new challenges waiting for you in THE CROSSWORD SECTION — a.k.a. our forum's challenge section — a fun play on words that we love because (a) #WeAreNerdyThatWay, (b) our challenges have always been loosely connected to our Word of the Month at TDP (get it? "crossword" haha)… and (c) it fits nicely into TDP's news/press theme.
Here's a peek at the challenges you'll find throughout August 2016…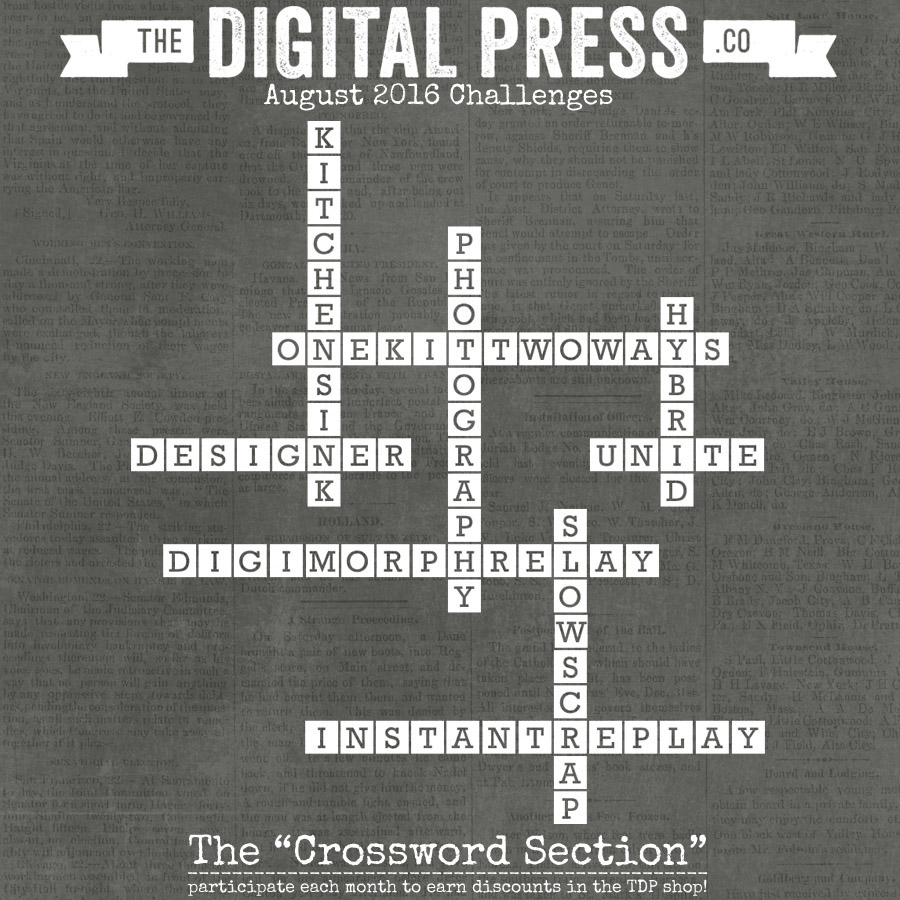 Get more information about our monthly challenge system HERE.
Meanwhile, make sure you check out our newest TDP collaborative collections — and yes, there are TWO this month(!) — One Kit Two Ways, which launched today in the shop. The design team had so much fun with this collection, which uses the same color palette for two very different kits (one for boys, one for girls)… and we think you'll see/feel how much fun they had designing it when you work with this amazing coordinated collection of scrappy goodness!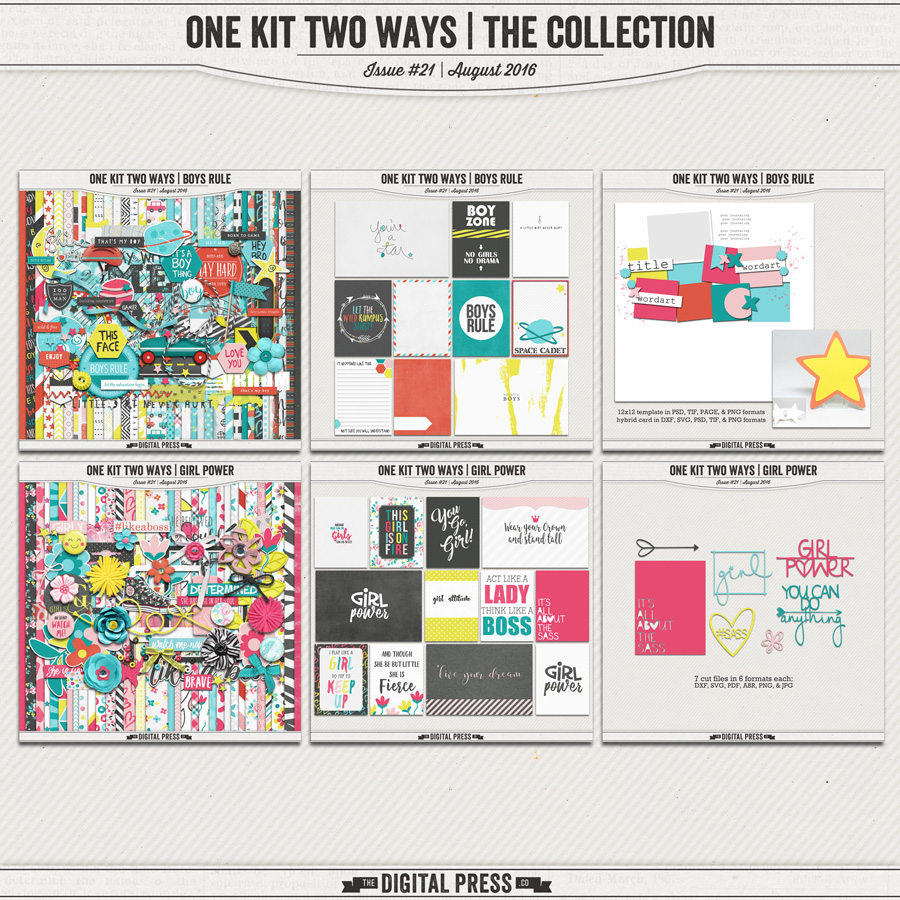 The best news of all? Because it's a Pennysaver month here at TDP, you can buy all of the pieces separately (just $1.00 each!)… or you can even get the entire collection — which is actually made up of TWO full collections — for just $6.00 in August only (that's less than the regular price of any of our site's shop collabs… and there are TWO collabs in it!).
Speaking of Pennysaver… don't forget that it officially launches tomorrow (Tues 8/2) with a batch of fantastic new products that are all JUST $1.00/ea THROUGHOUT AUGUST! We'll be releasing new items into the shop every Tuesday and Friday all month long, so grab a cup of coffee (or tea, or Mountain Dew… whatever you prefer!) and come browse the August 2016 Pennysaver category in the shop!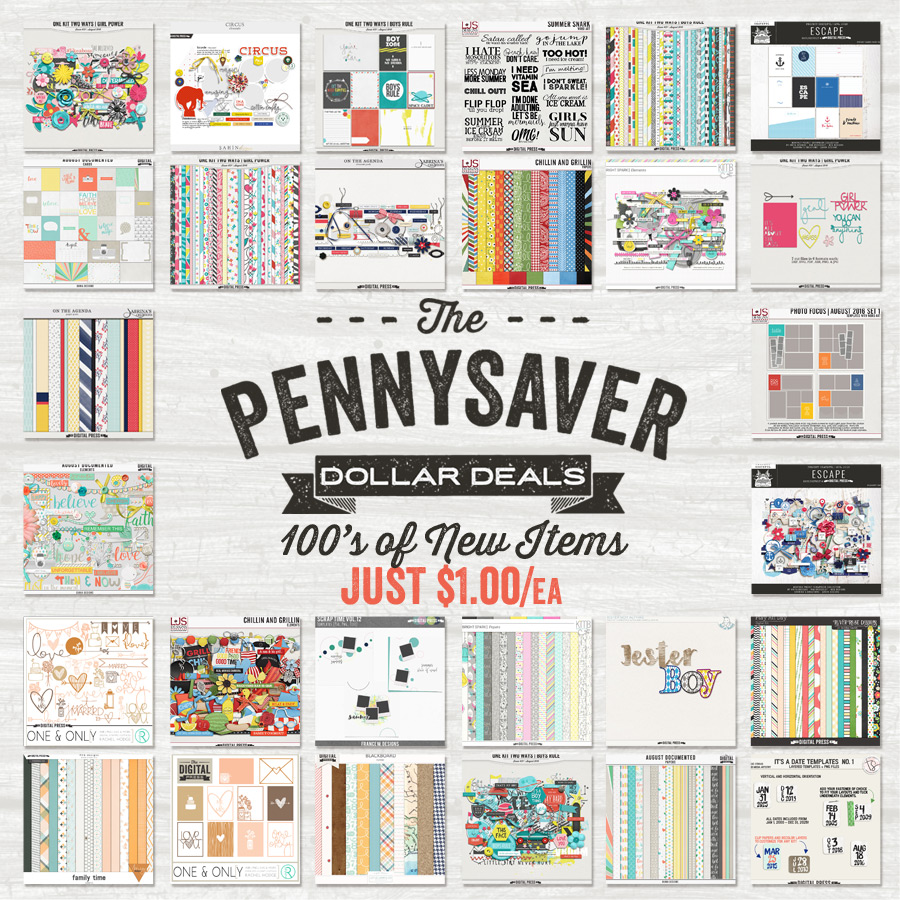 We look forward to spending August with you at The Digital Press.
---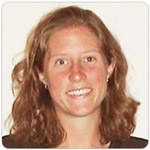 About the Author  Laura Passage is the owner of The Digital Press, and also the designer behind Wishing Well Creations by Laura Passage (WWC). She works now as a graphic designer in both the digital and paper scrapbooking industries, but previously spent over a decade working as a college soccer coach. She lives in the Pacific Northwest with her husband and two young sons (affectionately referred to as The Tiny Terrorists), and will rationalize eating coffee ice cream for breakfast to anyone who questions it.