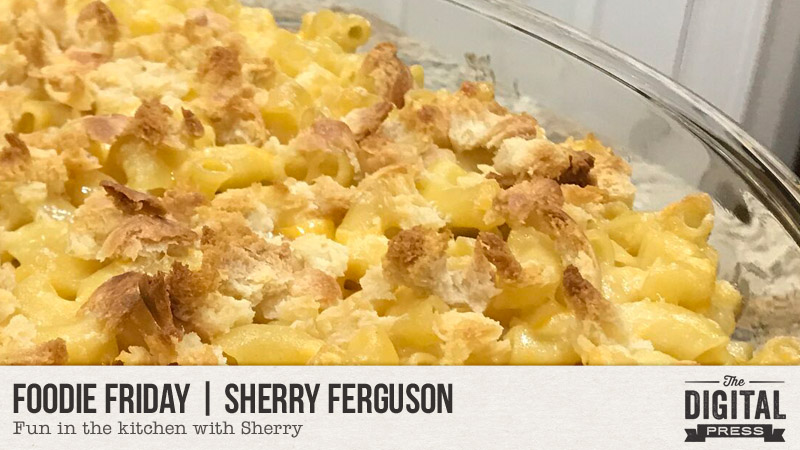 Welcome to another edition of our Foodie Friday series here on The Digital Press blog!
Due to our 10 Holiday Tips & Tricks series in December 2017, it's been quite a while since we ran one of these Foodie Friday posts on the blog… but if you remember this series from last year, it is a combination of our weekly designer features along with some food and recipe fun in the kitchen! Every week on Foodie Friday, you get the chance to peek into the lives (and kitchens!) of some of your favorite TDP designers and creative team members.
This week, we are featuring Sherry Ferguson, and peeking into her kitchen to learn a few of her favorite recipes. This is Sherry's third feature on The Digital Press blog (if you want to learn even more about her, you can find her first feature article from July 2016 HERE, and her second feature article from February 2017 HERE).
According to Sherry, "I cook a lot for my younger daughter who has so many food allergies she can't eat out. Here are some things I find myself making for her over and over. The girls and I are carb lovers so not a lot of meat in these recipes… but you can always add your own meat to the pizza or the macaroni."
Here's a peek of what she's been cooking up for us…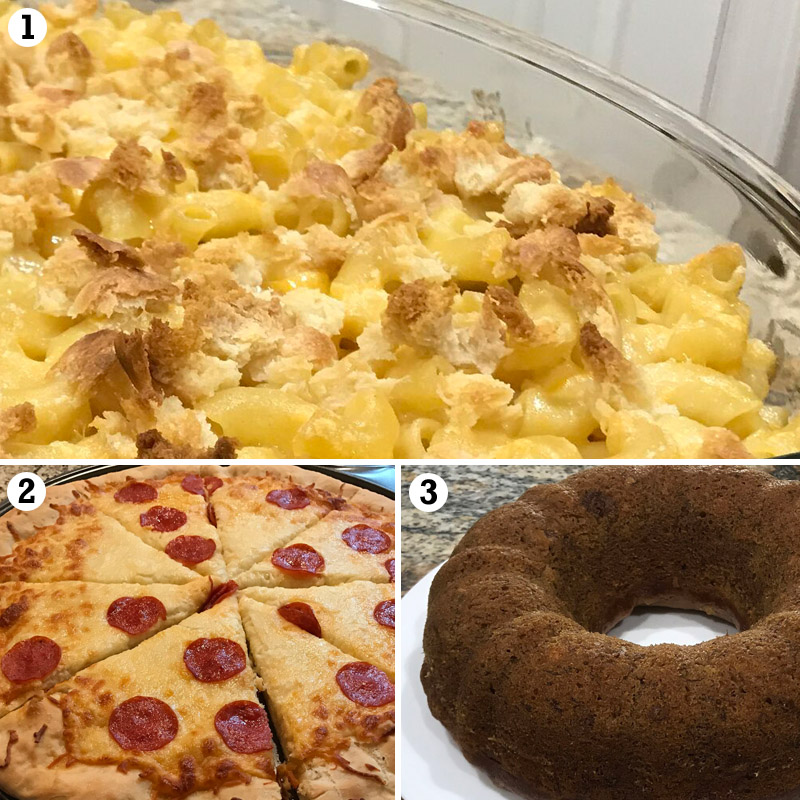 photo credits for [1] [2] and [3] to TDP designer Sherry Ferguson
So, what are these delicious things you see pictured above?
Easy Baked Mac & Cheese
Quick Homemade Pizza
Banana Cake
---
EASY BAKED MAC & CHEESE
Sherry says, "I swap in homemade breadcrumbs on the top instead of Panko."
INGREDIENTS NEEDED
—1 (16 oz.) package elbow macaroni or shell pasta
—8 tablespoons butter, divided
—2 cups heavy cream or half and half, warm
—2 cups shredded cheddar cheese
—1 cup shredded mozzarella cheese,
—1 cup shredded Monterrey Jack cheese,
—8 ounces Velveeta, cubed
—1 cup Panko breadcrumbs
—Salt and pepper, to taste
INSTRUCTIONS
—Preheat oven to 350 degrees. Cook pasta according to package directions for 8-10 minutes or until al dente; drain.
—Meanwhile, melt 6 tablespoons of the butter.
—Transfer pasta to a large bowl and toss with melted butter. Stir in cream.
—Add shredded cheese and Velveeta and mix well. Season with salt and pepper to taste.
—Pour pasta mixture into a greased, 9×13 baking dish (cheeses will not be melted yet).
—Melt the remaining 2 tablespoons of butter and stir into the breadcrumbs. Sprinkle the breadcrumbs over the macaroni.
—Bake for 30-35 minutes or until cheese is hot and bubbly and topping is golden brown.
---
QUICK HOMEMADE PIZZA
About this recipe, Sherry says, "We always skip the sauce on ours… but the beauty in making your own is you can add whatever you like!"
INGREDIENTS NEEDED
—1 tablespoon yeast
—1 cup warm water (use hot water from the tap)
—1 teaspoon honey
—1 teaspoon salt
—1-2 Tablespoons olive oil
—2-1/2 cups unbleached flour (I usually add 1 cup whole wheat)
—cornmeal (optional)
—sauce and toppings of choice
INSTRUCTIONS
—Add yeast to a mixing bowl and pour the 1 cup of hot tap water over it and mix.
—Add the remaining ingredients and let the mixer run at medium speed until the dough clears the side of the bowl (you can do this by hand: beat vigorously for 30 strokes).
—Let dough rest in the bowl 15-20 minutes while you preheat the oven and prep the toppings.
—On a large baking sheet or pizza pan/stone, sprinkle a bit of cornmeal. With oiled hands, remove the dough from the bowl and pull/shape into a general rectangle or circle (depending on your pan), then lay it on top of your cornmeal coated pan. Using a rolling pin or your hands, flatten and stretch the dough to fill the pan.
—Bake the dough for 10 minutes in a 425 degree oven (you don't have to, but it ensures a fully cooked center crust, no matter how many toppings you add).
—Remove prebaked crust from the oven and spread with your toppings: sauce, shredded cheese, cooked meat and chopped vegetables.
—Place topped pizza back into oven and bake for 10-15 minutes more, or until cheese is melted and toppings are browned.
—Slide the whole pizza from the pan to a cutting board and slice into pieces.
---
BANANA CAKE
Sherry says, "This is such an easy cake to make, and the bananas themselves help bind it since there are no eggs."
INGREDIENTS NEEDED
—1-3/4 cups ripe banana, mashed (about 4 medium bananas)
—1/2 cup oil
—2 cups flour
—3/4 cup brown sugar, firmly packed
—1 tsp baking powder
—1 tsp baking soda
—1/2 tsp salt
—vegetable cooking spray
INSTRUCTIONS
—Preheat oven to 350 degrees. Coat bundt pan with vegetable cooking spray and then set aside.
—In a large bowl, combine flour, brown sugar, baking powder, baking soda, and salt. Stir well and then set aside.
—In another bowl, combine banana and oil. Stir well.
—Add banana and oil mixture to the dry ingredients, stirring just until moistened.
—Spoon all of the batter into the bundt pan.
—Bake 40-50 minutes* or until a cake-tester inserted in the center comes out clean.
—Cool in pan for 10 minutes first, and then remove from pan and cool completely on a wire rack.
—Cake can be served plain for breakfast… or topped with chocolate glaze and served for dessert… etc.
*NOTE: Sherry bakes hers for just 35 minutes; it likely depends on your oven, etc.
---
We're betting that you're hungry just reading through these recipes, and that you can't wait to try them out!
Meanwhile, it wouldn't be a designer feature week without a fantastic sale and a special Free-with-Purchase offer… so you'll be excited to see what Sherry has in store for you! Not only is her entire shop marked down 30% OFF throughout her entire feature week (sale prices will be valid through 11:59pm ET on Thurs 1/11)… but she also has this awesome deal in her shop all week long, as well! Spend $10+ in the Sherry Ferguson shop at The Digital Press, and get her "A Tranquil Life" Kit completely FREE!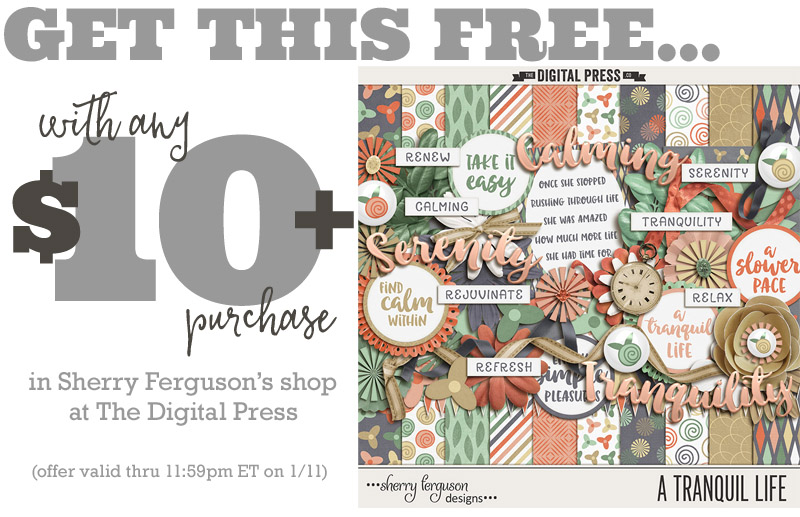 ---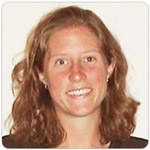 About the Author  Laura Passage is the owner of The Digital Press, and also the designer behind Wishing Well Creations by Laura Passage (WWC). She works now as a graphic designer in both the digital and paper scrapbooking industries, but previously spent over a decade working as a college soccer coach. She lives in the Pacific Northwest with her husband and two young sons (affectionately referred to as The Tiny Terrorists), and will rationalize eating coffee ice cream for breakfast to anyone who questions it.