It's Tutorial Tuesday! If you're anything like me, you like to recreate techniques you see on other layouts. I'm a sucker for paper layouts and saw a lot of them lately that included heart halos in some fashion. If it's either cutouts or paper pieces, I love them all.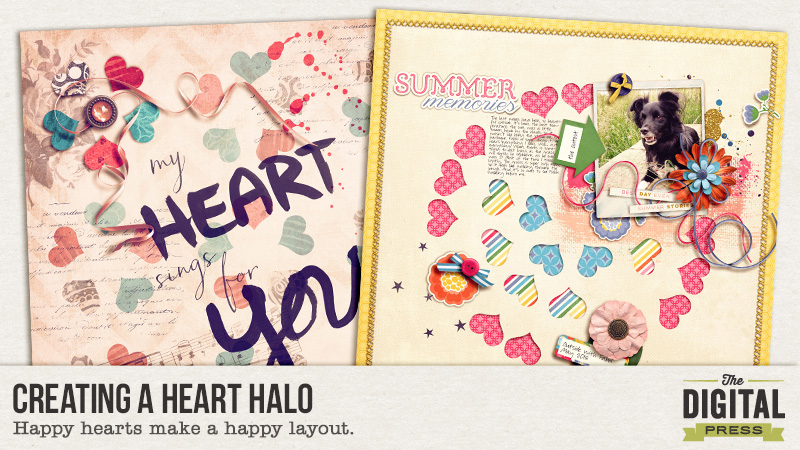 My first layout with heart halos came out pretty, at least in my world.
I hope now you know what I mean by heart halo. It's a circle of hearts. With their bottom pointing to the center of the circle. I'm going to scraplift myself to show you how I did it.
Prep your canvas first, in my case it's 3600×3600 px and get a solid paper in or leave your solid background.
The first thing you want to do is creating a virtual middle of your heart halo. I did this with two guides, one vertical, one horizontal. Click on View → New Guide and type in half of the width of your canvas (6 inch or 1800 px for me). Do that again and check the other orientation the second time.
Next you draw a shape.
Click and hold the Shape tool, choose the Custom Shape tool. Click on a fill color that is different enough from your background, no stroke.
In the Shape window, click on the little cog and on Shapes. Now load the "Shape" collection. When you are asked to save before, you of course can. If you only used PS shapes this far, there is not much to save.
In the "Shape" collection you will find the heart. Click on it to make it active.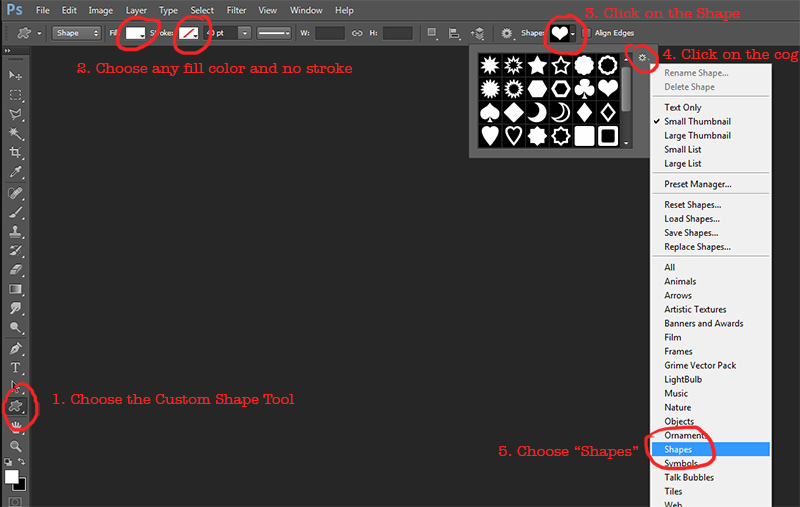 Now click and drag on your canvas and when you feel you got the shape like you want it, release the click and go back to your move tool (shortcut v).
Align the vertical center of your heart with the vertical guide a little above the crossing of the guides. Do this manually with your move tool active. There is no need to make it 100% exact. It should look something like this: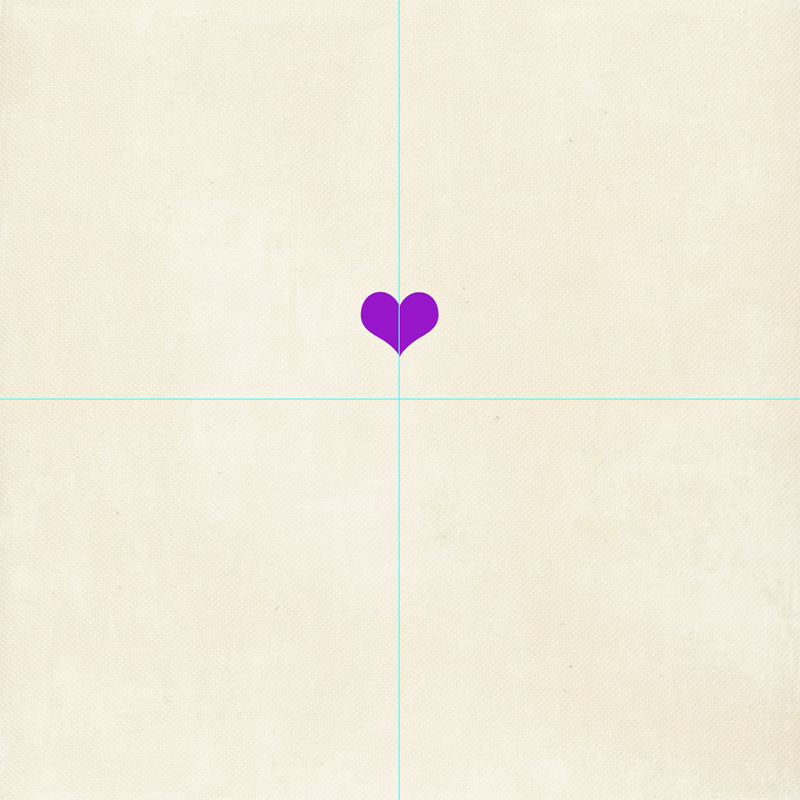 The Math
Before you proceed, make a decision on how many hearts you want in your halo circle. In my first example both inner and outer circle have 12 hearts. This is the easiest to recreate, because you don't have to do any math. I will show you later why.
I show you now how to do the math anyway, because in the upcoming layout, I will use 5 hearts in the inner circle. I will try to make it as easy as I can, even for the math challenged. One round of a circle has 360 degrees. If you want to evenly distribute your hearts around your circle (what I'm doing here), you have to divide the 360 degrees by the amount of hearts you want to have in your circle. In my example with 5 hearts in one circle: 360 degrees : 5 hearts =72 degrees. Math can be so beautiful when you combine it with hearts! So every heart will be 72 degrees apart from the next heart when you are having 5 hearts in your circle.
With that in mind, we continue with our aligned heart. Copy it (ctrl/cmd+j)
Click on one corner to make the Transform tool active
You see that little crosshair in the middle of the heart. Pull that one to the point where the two guides meet. It's good to be as close as you can but don't worry about placing it 100% correctly.
In the details for the tool you see that little degrees sign. Type 72 into it. Press Enter two times.
Before you pressed Enter two times it should look like this: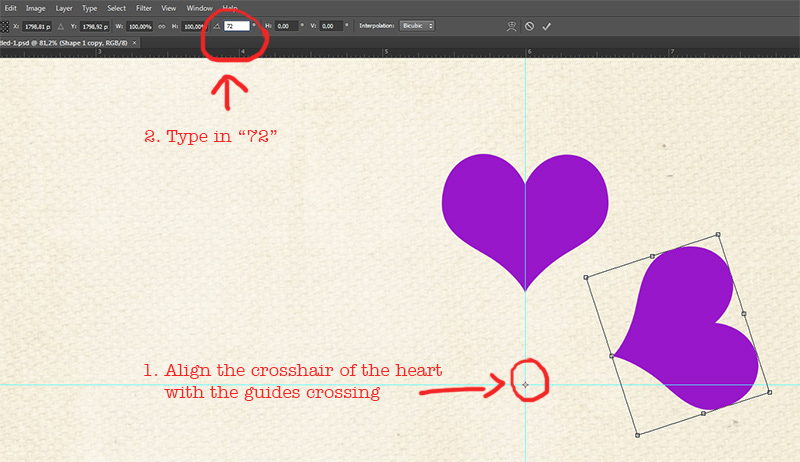 You've now got two hearts and they are 72 degrees apart. Isn't that romantic? Well, but you want more hearts. You can now proceed slowly by copying the second heart, align the crosshair and type in 72 into the degrees, or you can do it faster by doing more math.
Copy the first two hearts, have both copies active
Align the crosshair of the two of them with the guide crossing
Type 144 into the degrees (72 x 2=144)
Press Enter two times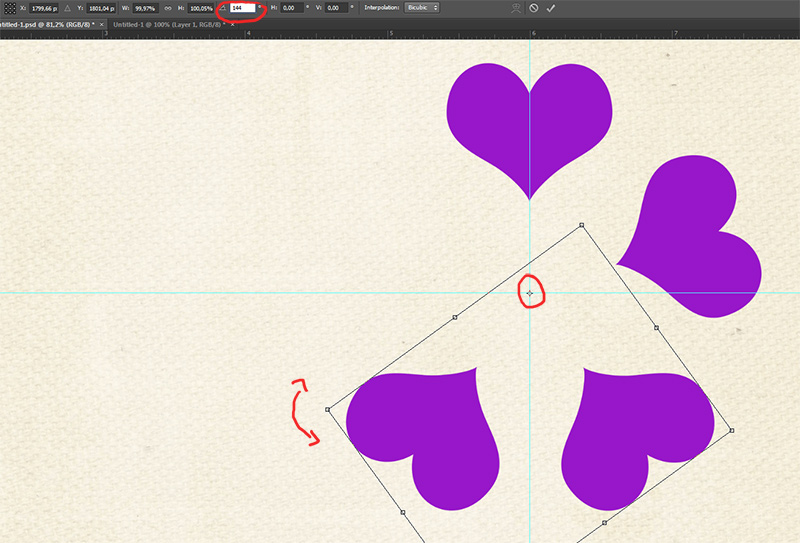 Now make the 5th and  completing heart.
In my upcoming layout I created two more halos concentring (is that a word?) my first halo. The middle circle has 10 hearts which are 36 degrees apart from each other (360 : 10), the outer circle has 20 hearts, 18 degrees (360 : 20) apart. You can see in this picture, that I didn't work very exact. The lowest heart is not 100% aligned with the guide. It doesn't matter though as you can see in the following layout.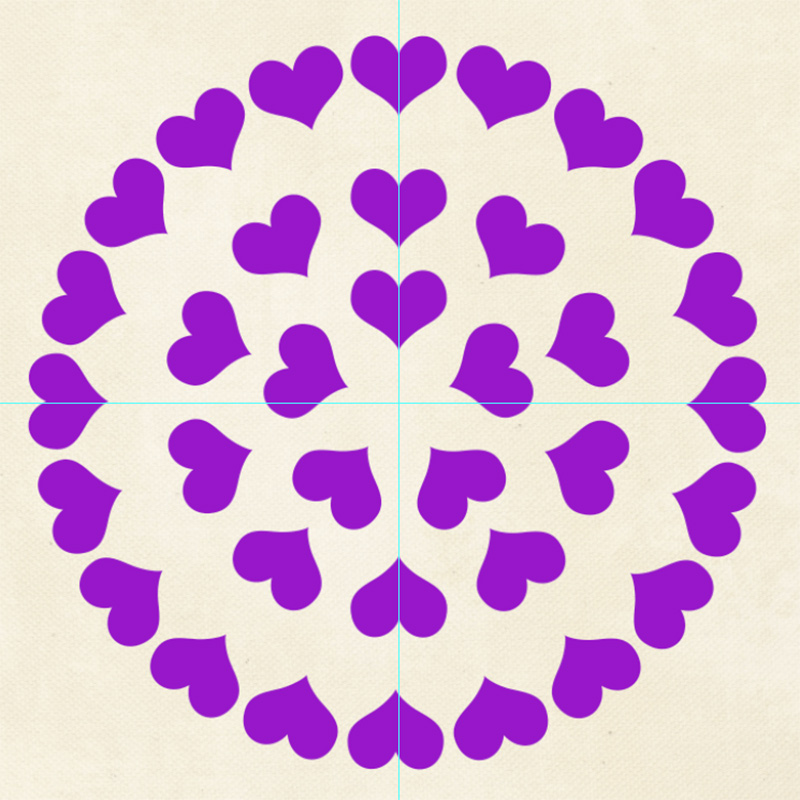 You can leave all hearts single as they are (*sob*) or you can group them or merge them to your liking. I merged every circle into a single layer for my layout and used the hearts to make cutouts. I also randomly erased a heart (*cry*). So that's what I came up with:
And I tried something else: I made several small heart circles and blended most of them into the background for an art jounaling layout.
My second and third layout above have a multiple of 5 hearts (1 x 5, 2 x 5, 4 x 5). If you want to use a multiple of 2 hearts in a circle (like 2 x 2 = 4 hearts or 6 x 2 = 12 hearts like me in my first layout), you don't have to type in the degrees and don't have to do any math. PS has a standard feature that makes it easy for you. When you copied your first heart and aligned the crosshair, hold shift and click/drag one transformation corner to turn the heart around. The heart will move in 15 degrees increments around your circle until you let go of the corner. This way you can create up to 24 hearts in your halo (360:15), depending on which increments you use.
Of course you can use any shape you want for making halos. This is not limited to hearts.
If you have any question, feel free to ask in the comments. Also if you see a technique that you want me to explain, I will do what I can to recreate it for you and prepare a tutorial for you! Let me know what you like to see in the comments, too! Have fun creating!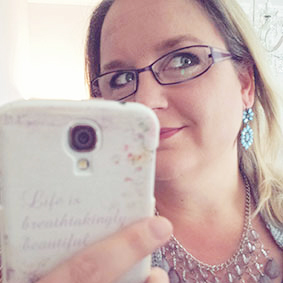 About the Author: Alina enjoys sitting in front of her large computer screens too much. Apart from that she loves walking her dog and watching sunsets while being amazed of life in general. She is married to her best friend. Tries to manage the needs of her two cats and her dog and badly fails when they all want their cuddle time at once. Everything else is scrapping, taking photos and currently crafting. Having said that, she needs a bigger craft room.