For this challenge I want you to step outside of your comfort zone. I certainly did and I definitely feel like I'm waving a neon sign which is definitely not something I would ever do. I am asking you to pick a day where you know you will have more time to hear your inner thoughts. A day where you can hear these random, mundane, quirky, sad, honest and true thoughts. A day where you are inside your head more. For me this was Saturday. One of my toughest days because both kiddos are with me. My son is gifted and having an attitude right now plus my toddler is well a toddler. So the days are long and the thoughts in my head go round and round. Perfect day to listen to these thoughts and write them down. I am laying myself bare and I am hoping you will as well. I know for some of you the thoughts might not be something you want to share; but the point of the exercise is to embrace these thoughts and celebrate them. And for us scrapbookers the best way is to make a layout.
Listen to the inner thoughts. Listen and spend some time inside your head. Jot down all those thoughts from the day or if you can't do a day do half a day, at least. And make a pretty layout about it. Listening to all those thoughts makes you see the good, the sad and can be a reflection of you. This may also give you the push to make change. With me, I already know and am working on being not so hard on myself. I hope you have fun listening to your inner thoughts and enjoy being inside your head some more.
Here is my layout. And don't forget to snap a photo of yourself to include in the layout! I didn't my hair fancy or made sure the background was fancy or got myself in some nice clothes; I just snapped a few photos and hoped for the best.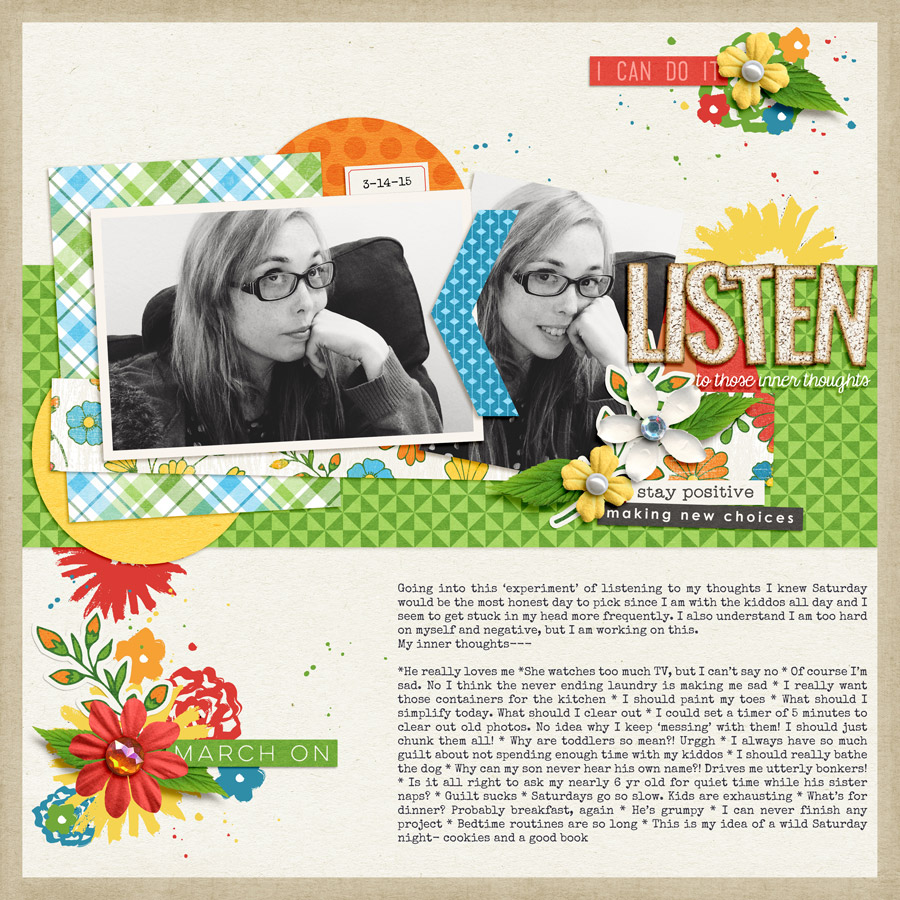 I can't wait to see what's inside your head!
---

About the Author
: Sabrina is a wife and mom to two kiddos- Captain and Sunshine- living in sunny California. When she has free time she loves to do some type of project whether it is scrapbooking, a string art board, a washi tape project or other DIY project that is usually inspired by Pinterest. Her favorites are creating colorful layouts or pocket pages.  Another lofty goal she has for the year is reading 100 books.